Review of Empower Network- My Experience
Updated on: by Leisa Good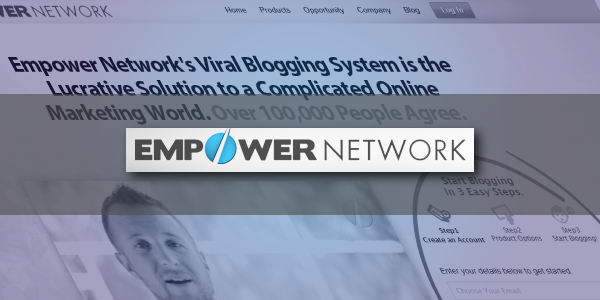 Need Easy Extra $350+/Month For Free?
Let me begin by saying that I really don't like writing reviews on companies, which I find "questionable", but this one had too many red flags for me.
Now, I know that there are a lot of "die hard" Empower Network people, who really believe that this is their ticket to wealth and a better lifestyle. Actually, it was one of those very people who introduced me to the Empower Network. It was a friend of mine, in whom I had great admiration and respect, as well as who attended my church.
Now, I knew that she was making money and signing people up with this program, so it was even harder for me to try it and not like it. Or at least not find it a fit for me.
Founded by Dave Sharpe and Dave Wood, two men who pride themselves on being previously broke and homeless, Empower Network was founded in October 31, 2011. It took off and by the end of 90 days both of the Dave's together had an accumulative total of about $10,000. Then their income went from there to consistently making that much and even more each and every month.
As of last check, Empower Network had an Alexa Ranking of globally 805 and in 258 in the USA. This was based on a Google search in February 2013.
The Empower Network is a blogging platform where you have your own blog and affiliate links and sell the blogging platform itself as well as a list of other related products.
How did I get recruited into Empower Network?
When I was first recruited into the Empower Network, I was told that I would need my own Empower Network blog for $25 a month. While I could enjoy the ownership of having my own blog hosted on the Empower Network server, I would not be able to make any money until I joined the Affiliate Program for an additional $19.95 a month. This would allow me to recruit others and earn a 100% commission on all products.
The biggest "red flag" for me was every time I turned around it was something else to sign up for. I was constantly told that I'd never really make any money unless I signed up for these additional products.
How do you get started with the Empower Network?
"Are you a wuzzy?" and "Are you all in"?
These were frequent questions asked to all of us in teleconferences, online seminars, and in emails. A "wuzzy" was someone who was hesitant or cautious.
When I left the current programs were the:
Fast Track Program which consisted of the eight core principles of the program. One of the most important principles was to blog everyday, and you could take the basic blog or the advanced blog and customize it. This was part of the original blog and affiliate program for $25 and $19.95, respectively.
The Costa Rica Intensive was a one time payment of $500 with information and training videos that were taken from a trip to Costa Rica made by the two Dave's.
$15K Formula was a one time payment of $1,000 to have access to additional training videos, materials, and successful top earners.
Inner Circle was a $100 a month with additional videos that were not offered in the basic $25 a month or $19.95 a month affiliate program.
Master's Program was a one time fee of $3,500 to attend a training by the two Dave's but did not include airfare, lodging, and food. However, sometimes you could find a team member willing to drive and split the cost of lodging and food.
There was also the GVO (additional one set up by my Team), which was a product itself that backed up files, similar to Carbonite. The product had its own affiliate program called Pure Leverage/Simple Leverage. With its own affiliate program, GVO was about $10 a month.
Altogether, to be "all in", your monthly average (including additional workshops in which to travel) would be about $500. That is my rough calculation, which could even be more depending on how much money you were willing to spend on travel.
Need Easy Extra Cash?
Pinecone Research, a leading name in online survey panel honesty, absolutely guarantees $3 cash for every survey you complete!
Take advantage of their time limited New Membership drive and register NOW. Join today: 100% free!


Unlike other affiliate programs, you actually must purchase the products to be able to sell them.
Dave Woods has the motto that you cannot really sell or sell passionately what you don't own yourself.
How are you paid at Empower Network?
Money is paid out by e-wallet, so you will need to sign up for that as well. But once you receive your own blog, there is a link for that in the control panel.
Also, you are paid 100% commissions once you sign someone up for any of the programs. If it is a one-time only payment, then you are paid 100% of that one-time. If it is a monthly fee you are paid 100% of that monthly fee for your commission with the only exception being the $19.95 affiliate fee.
How is Empower Network structured?
Everyone had a sponsor, a team, and the large all-inclusive Empower Network. The Empower Network had frequent webinars and conference calls at night. Then the team would also have calls during the week usually at noon. The meetings had hints of training but most of it was found in the products themselves, which is why you needed to not be a "wuzzy" and be "all in" and buy everything. Red flag for me!
I mean, really. If you want a blog go to WordPress or Blogger and download a template. You can also pick up a domain name for $10 to $12 a year on GoDaddy.com or get monthly hosting and support both at HostGator for $9.95 a month. Much cheaper and completely legitimate.
While I could never really understand how the individual blogs handle SEO, I found out that everything I wrote was actually on my blog but on their server. Not giving me the best ranking, but transferring the rankings to them. In fact, when I decided to leave Empower Network, I found out that there was no way to delete my blog from their server. I was told that they have not figured it out yet.
So, I could only delete my posts and pictures, but not my blog. I certainly was able to delete my former Blogger blog without any problems.
Is the Empower Network a MLM or pyramid scheme?
While Empower Network admits to being an MLM (Multi-Level Marketing) company, but in a good way. After all, MLM is a proven business model used by well-known companies such as Mary Kay Cosmetics, Tupperware, etc.
Now a pyramid scheme is different because it is when you sell something that is of no actual value, just a way for your downline to sign up and then make the money from them.
I found the training to be vague but with strong salesmanship about buying another product; however, I don't think that they are totally a pyramid scheme. My reason for that is because they do offer the GVO, which is an actual product for backing up a computer or laptop.
Also, I believe that the blogging platform–although overpriced–does offer a marketing model that could be used to market other online businesses. This would be at the $25 level. However, those are the only two products–in my opinion–that would qualify for an actual valuable product or service.
Did any good come out of this?
As an eternal optimist, I would have to say "yes". While I was not new to blogging, I did learn to use two marketing tools which were zti.me for affiliate link protection and Social Media Bar to upload posts to Facebook. Speaking of Facebook, Empower Network was also banned from Facebook. However, as of my last investigation, Dave Sharpe was trying to work something out.
Now taking the good with the bad, I did develop–at least at that time–the discipline for blogging. I faithfully blogged every day and took great pride in my subject matter. In other words, I really tried to introduce my readers to good business topics that would grow their Empower Network businesses. However, I could never bring myself to recruit anyone into my own business network, because I could not get clear on what we "sold".
I also learned that if I am going to work this hard to market an affiliate program then I might as well work this hard to market my own virtual assistant business.
I did meet a lot of hardworking people at the Empower Network. Many who were new to blogging and not knowing where to start. Then there were those who really did try to help those new to blogging.
Conclusion
I know that there are those making money, and there are those who are not. I just did not have a good gut instinct about the Empower Network. At the end of the day, I would like to think that I made a positive difference in someone's life. For me, this is accomplished with products and/or services that I am pleased and unashamed to offer. It just wasn't a good fit for me.
Since then, I have researched online and found two other people with opinions similar to mine. You know how when you are really going through something, you start to reach out to others who might share the same view?
The reviews are:
http://adventurepaul.com/beware-of-the-empower-network-scam
and
http://lissowerbutts.com/empower-network-scam-or-legit
For those that are happy with Empower Network, I do wish them the best. Just too many Red Flags for me!
Related Posts:
Earn Everything… nearly!
Join Opinion Outpost, one of the few faithful and honest survey panels and earn cash and gift cards for your opinion. Stack your points and redeem them: Simple! No hidden fees and completely free!


Earn Everything… nearly!
Join Ipsos iSay, one of the few Faithful and Honest survey panels and earn prizes, gift cards and donations. Stack your points and redeem them: Simple! No hidden fees and completely free!