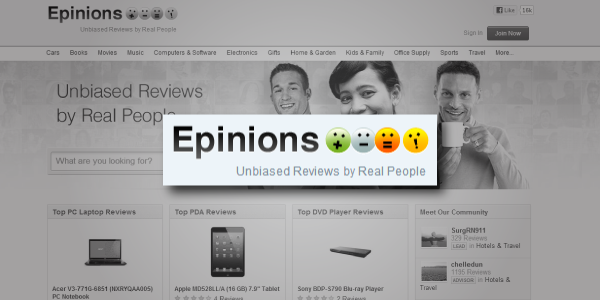 Need Easy Extra $350+/Month For Free?
If there is one thing that we work-at-homers (WAHers) know, it is that our opinions count. Not only do our opinions count, but with the right work-at-home company, we can also get paid for our opinions.
One place of these companies is Epinions.com, where you can earn money writing product reviews for 30 different categories of products. Some of the most popular categories include cars, software and computers, electronics, kids and family, and sports.
Online opinion/surveys/review writing sites are really nothing new to most of us who have been working at home for a few years. There are well-known reputable sites such as Pinecone Research as well as those companies, which border on being a work-at-home scam.
What makes Epinions different?
Epinions has made Clark Howard's List of Legitimate Work at Home Companies for 2012. It will be interesting to see what he names for his list in 2013. Most of you will recognize Clark Howard as the nationally syndicated consumer expert and host of The Clark Howard Show.
What exactly is Epinions?
Again, Epinions is a place where reviewers can earn money writing product reviews, and consumers can go to find information on these products. Epinions is a service of Shopping.com, an eBay company founded in 1999, to help consumers make comparative buying decisions.
How does Epinions work?
Epinions will pay .01 for every "hit" you get on your review plus once you become established, you can become a part of the income share program.
There are product reviewers averaging $100 a year, and there are top earning reviewers making $1,600 a year.
To maximize your earnings, you will need to participate in the income share program. This would be similar to the revenue sharing programs offered at Squidoo and Red Gage.
You can also earn money by signing up other product reviewers using your referral link to Epinions as well as collecting affiliate royalties by linking to Epinions from your web site.
Eroyalty credits can also be earned, cashed, and paid to you.
How do consumers use Epinions?
Consumers can log on at any time and research a product before buying. For example, a consumer could go and research a popular toy such as Ty the Bear then read the reviews. Reviews can be good, bad or mixed.
When a consumer decides to buy the product after reading the reviews, there are links on the review page for different vendors selling the product and at what price.
Over time, most consumers will create their own "Web of Trust" and add the reviewers that they follow and trust to give them the information they need.
How is pay handled at Epinions?
Epinions pays once a month via PayPal on the 15th of the month. If you are actively writing product reviews and have a balance of $5 or more, you will receive a payment from Epinions.
Need Easy Extra Cash?

Join e-Poll, one of the few faithful and honest survey panels and earn cash - paid via PayPal - gift cards for Amazon, Best Buy, iTunes, Starbucks, and Walmart, plus Retail e-vouchers.
The surveys are aimed at entertainment-related research, covering such things as personal TV watching habits, give feedback on new TV commercials or to review DVDs that are sent to your home.
For USA residents aged 13+. No hidden fees and completely free!


How do you get started with Epinions?
Go to www.epinions.com and click the Join Now button in the upper right hand corner.
You will use one of your email addresses and a password of your choice to help create your account. You will also need a PayPal account.
Once you join Epinions, you will have full access to a members center where you will have all the information you will need to be successful at Epinions. Everything from how to write a product review to how to understand the rating guidelines will be in your member center.
There is also a member forum to guide you as well as a news archive is dating back from 2001.
My overall opinion of Epinions?
I think Epinions is a legitimate source of additional income. While I would caution anyone wanting to make it their primary source of income, I think it could certainly be a great additional "WAH egg to have in the basket".
I also think that it could become a great conversation starter or self-promoting tool just knowing that you are writing reviews for products. This would be particularly helpful if these were products in your field of expertise or used within your industry. For example, if you are a virtual assistant, you could establish yourself in your field by writing product reviews on home office furniture.
How do I apply at Epinions?
Go to www.epinions.com and click on Join Now button in the right hand corner.
Good luck to all who apply.
Related Posts:
Want more money?

Join Surveyo 24 #1 paid survey site. It's easy - complete a survey and receive payment. No hidden fees and completely free!