Review of ispeakuspeak AKA ISUS
Updated on: by Amy Kennedy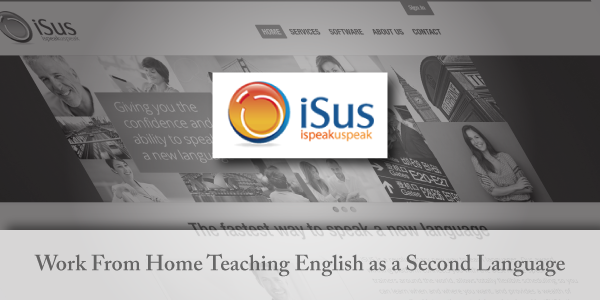 Need Easy Extra $350+/Month For Free?
Do you have a love for the English language?
Do you also enjoy helping and teaching others?
Well, then ispeakuspeak.com might be the right work-at-home (WAH) opportunity for you.
What Exactly is ispeakuspeak or ISUS as It is Called?
Similar to Idapted.com, ispeakuspeakor ISUS is an innovative online language platform where students learning English go to practice their language skills. The platform connects the students, the trainers, and the ISUS pedagogical team.
These international students already speak, read, write, and understand English but want to become more adept at conversational English. Many of these students could also use the language skills in their professions for negotiations, meetings, email, and other communication. This is where you the virtual trainer would be needed.
While  ISUS claims to consider applicants without formal experience- they do list "ESL or other educational field qualifications and/or experience" as a requirement. You need a desire to teach conversational English to students who want to learn and practice. The students are willing to chat about anything from their last vacation to today's weather. In addition, most of the students are also professionals who would like to chat about their careers.
ISUS offers a full range of language learning solutions including the ISUS Web Chat also known as ISUS Virtual. There is also ISUS Magazine, which is an online magazine that includes videos, audios and up-to-date content from around the globe to spark interest in the online learner.
Lastly, there are both economical online tutoring services to guide learners through independent e-learning programs as well as face-to-face training. Face-to-Face learning is held in traditional classrooms controlled by ISUS that blends seamlessly with the online contents.
What Types of Jobs Are Available at ISUS?
Trainers are needed at ispeakuspeak who would be trained and fluent in GlobalEnglish.com, which is a cloud-based program for business English in global companies. GlobalEnglish.com provides on-demand software solutions in 15 different languages.
What Are the Hours at ISUS?
Trainers work from Monday through Friday for approximately 25 to 30 hours. Most students are between the ages of 25 to 55 and need English for their current jobs. As a trainer, you can work as much or as little as you want. The times will vary for the time zones of the countries where the students are located.
What Skills/Special Training Do You Need?
The main responsibilities of the online trainer would be to:
teach the class (25 minutes long).
send feedback to the student after every session (5 minutes to do).
monitor the student's progress.
ESL or (English as a Second Language) or other teaching experience is generally expected of candidates although exceptions are made and thorough training is provided before formal ISUS certification. While those with teaching experience will be considered first and foremost, ISUS is more interested in "enthusiastic, motivated individuals who are passionate and committed to helping people learn." With that in mind, candidates should meet the following criteria:
be a native English speaker
be IT literate (and have telephone, computer, Skype, broadband Internet connection)
be ESL or other educational field qualifications and/or experience
be someone with business experience who is considered highly-valued
What is the Training Like?
ISUS prides itself on being the only platform to combine face-to-face learning with online learning. It also uses the already-mentioned software known as GlobalEnglish.com to train and maintain current levels of interfacing.
Trainers are supplied with all lesson materials (Grammar, Vocabulary Development, Role-Plays, Discussions, Follow-up, and Listenings) designed to cover an entire academic year of 10 months. The telephone class method is easy to apply, practical, and relevant.
ISUS has a 3-Step Methodology When Teaching:
Need Easy Extra Cash?
Pinecone Research, a leading name in online survey panel honesty, absolutely guarantees $3 cash for every survey you complete!
Take advantage of their time limited New Membership drive and register NOW. Join today: 100% free!


Prepare – The trainer is trained and prepared to instruct the student.
Connect – Connection is made between trainer and student using the ISUS training tools.
Consolidate – The trainer consolidates what the student has learned and offers feedback.
How Does Someone Get Certified at ISUS?
After initial application filtering, a candidate will receive a first screening telephone call interview of 10 to 20 minutes. Selected candidates will then be given access codes to our ISUS platform to watch training tutorials on method and materials. A "practice student" will be assigned to the "teacher" and a second interview will be conducted using a role-play interview method.
If the candidate performs well in this interview, he/she will receive a final induction session on materials and methodology. A final certification class will be assigned to the candidate as the last step in the process. Having completed this class, the candidate will receive an ISUS Tutor Certificate and can come on board as a staff member.
The entire process can be conducted over the space of 5 days, requiring 5 to 10 hours of the candidate's time. Training is free for the trainer, but obviously, students do pay for the services. This is why you see free trials mentioned on their web site.
Computer/Equipment Requirements
For the trainers, a hard-wired laptop or PC is preferred. Most major browsers are supported via ISUS's web portal. As technology grows, iPads and iPhones may also be introduced to the trainers. Once hired you will be given logins and passwords to the ISUS's online training tools. Students are encouraged to use a variety of technology.
There is also a community/forum for trainers to go and get ideas for training and share with other trainers.
Is this a Phone Based Job?
ISUS does require that you have a phone. Work at ISUS is done via the telephone or VoIP. Generally, this would mean you need a quiet and dedicated work environment.
Are You an Independent Contractor or an Employee?
Trainers are considered "freelancers" or independent contractors and responsible for their own taxes.
What is the Pay Scale at ISUS?
Pay is based on country, experience, and other economic considerations. From what agents working there have told me, it begins at $13 to $15 per hour in US dollars for US workers. Again, pay will vary from contract to contract, so make sure you know what your rate would be if hired.
When is Payday at ISUS?
Payday is at the end of the month within 5 to 10 working days of your submitted end-of-month data (depending on your country of residence). This process is all managed with ISUS through which you will receive an automatic statement of your monthly earnings.
What is My Overall Impression of ISUS?
I was impressed with the state-of-the-art technology offered by ISUS. I was equally impressed with how the technology was presented and explained in everyday language on their web site. I also was impressed with their web site and its content and layout explaining the company and its mission.
How Can an Interested Applicant Apply to ISUS?
Go to the ISUS web site for the application page. Make sure that you also read the security guidelines and the job description tabs to the left of the application form before applying.
Good luck to each person who applies.
Alternatives to ispeakuspeak
Duolingo is a popular free language learning platform that offers courses in many languages, including English. Its gamified approach to language learning is fun and engaging.
Duolingo covers a wide range of vocabulary and grammar, organized into themed lessons.
Babbel is a comprehensive language learning platform that offers a more structured approach compared to Duolingo. Babbel's courses are divided into real-world topics and situations, which make them practical for everyday use.
It's a subscription-based service, but it provides in-depth content and a personalized learning experience.
Rosetta Stone has been a leading language learning tool for many years. It's known for its immersive teaching technique, which emphasizes learning language in the context of complete sentences, without translation.
This helps to develop a more intuitive understanding of the language. It's a premium service, but its quality and depth of content justify the cost.
italki is a platform that connects students with private language tutors. It's a great alternative for those who prefer a more personalized and interactive learning experience. You can find tutors that fit your budget and schedule lessons at times that suit you.
It's especially good for those wanting to practice their conversational skills.
Coursera offers a variety of online English courses from universities and institutions around the world. It provides a more academic and formal approach to language learning. While some courses are free, others come at a cost.
Coursera is a great option for those looking to study English in a more structured, traditional academic setting.
Related Posts:
Earn Everything… nearly!
Join Ipsos iSay, one of the few Faithful and Honest survey panels and earn prizes, gift cards and donations. Stack your points and redeem them: Simple! No hidden fees and completely free!