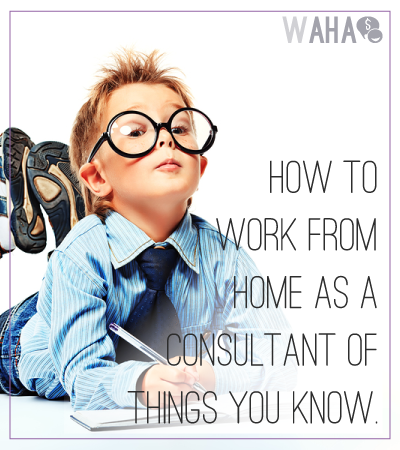 Ever feel that you a great deal of knowledge about one particular subject, but nowhere to use it?
Need Easy Extra $350+/Month For Free?
Or maybe at one time you worked outside the home in a career and now want a way to incorporate that knowledge into your work-at-home (WAH) business?
Well, then maybe you can become a microconsultant at Maven.co.
What Exactly is Maven?
Maven is a database that connects experts in many professions by making them microconsultants and then allowing them to correspond in a vibrant way to form the Maven community.   Maven believes that anyone can be a consultant, because everyone is good and knowledgeable about something.  So therefore, anyone should be able to hang their virtual consulting shingle and become a consultant and get paid to do it.   
There are polymer scientists, teachers, and racecar drivers to name a few types of experts.  Maven is only in a few countries: US, Canada, UK, India, Australia, and China.
It is a site similar to Zintro.
How Does Maven Work?
"Microconsultants" or those wanting to be sign up and create a free account which includes selecting a category or from several categories and then setting your hourly rate.  You will be notified by email when there is a match for someone wanting your services.
Your name and personal information will be protected.  You may respond to the requester with either a phone call (paid by the hour) or answering their electronic survey (flat fee).  All correspondence done with the client is done via Maven's site to be able to protect both parties and resolve any conflicts.
How Can You Get Started with Maven?
Obviously, the first thing would be to go to the website and create an account.  However, before selecting your categories and then setting your rates, it would be helpful to read the entire site with an emphasis on "Terms of Service" and "Privacy".  Both of these links are at the bottom of the site.
Maven also offers workshops upon occasion.
How is Pay Handled at Maven?
Payment is made through a variety of ways at Maven.  You may request PayPal, EFT, bank wire transfer or a paper check if you are in the US and Canada.   They also have referral program where you can earn 10% commission on those that you refer.
You will be considered an independent contractor and responsible for your own taxes.  If you do earn over $600 in a calendar year, then Maven will send you a 1099 Form.
What is My Overall Opinion of Maven?
I don't think that this is something you can do full-time. It seems like something you can do on the side.   I do think Maven could be a useful tool in helping someone launch a freelance business.
How Can You Apply to Maven?
Go to www.Maven.co sign up and create an account.
Need Easy Extra Cash?

Join e-Poll, one of the few faithful and honest survey panels and earn cash - paid via PayPal - gift cards for Amazon, Best Buy, iTunes, Starbucks, and Walmart, plus Retail e-vouchers.
The surveys are aimed at entertainment-related research, covering such things as personal TV watching habits, give feedback on new TV commercials or to review DVDs that are sent to your home.
For USA residents aged 13+. No hidden fees and completely free!


Good luck to all of those who apply.
Related Posts:
Want more money?

Join Surveyo 24 #1 paid survey site. It's easy - complete a survey and receive payment. No hidden fees and completely free!