Share Your Interest in Politics and Earn Money with NextWave at Home
Updated on: by Amy Kennedy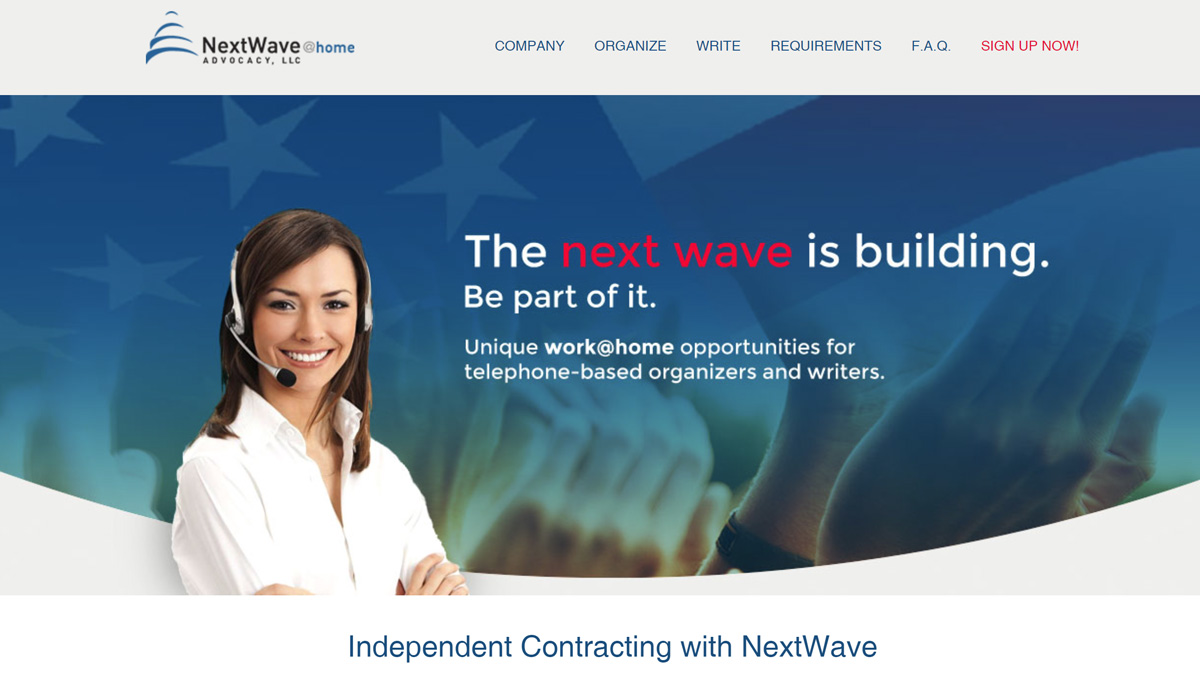 Do you enjoy politics and current events?
Need Easy Extra $350+/Month For Free?
Have you ever worked a political campaign and really enjoyed it?
Well, then NextWaveatHome.com might be the right work-at-home (WAH) opportunity for you.
NextWave offers work from home jobs for people who have an interest in political and social advocacy.
There are positions available for those who want to work on the phone and for writers!
This NextWave at Home review will clue you into all the details of the
What is NextWave or NextWaveatHome?
Not to be confused with NexRep, a WAH phone job, or NextWave Wireless, the wireless Internet connection, Next Wave Advocacy, LLC (formal name) is a political advocacy company that hires agents and allows them to work from home.
NextWave offers both phone and writing positions to work ongoing political campaigns.
Surprisingly enough, NextWave is located in Washington, DC—the Nation's capital—as well as the outskirts of Arlington, Virginia and is considered a bipartisan firm.
NextWave diversely works with a wide range of organizations, corporations, trade associations, and advocacy groups.
Its role has been and is to help citizens take an active part in legislation and regulation at the federal, state, and local levels.
This is accomplished by engaging citizens to open up and discuss key points in the policymaking process.
What Types of WAH Jobs Are Available?
While jobs are posted as they open on their web site, Next Wave does have several positions that open at different times through the year.
Everyone working from home is considered part of the "Go Team".
Although there are writing and phone positions available, there are agents who do both writing and calling.
Questions are asked of the callers and then once information is gathered it is written into an advocacy letter for the given campaign.
Need Easy Extra Cash?
Pinecone Research, a leading name in online survey panel honesty, absolutely guarantees $3 cash for every survey you complete!
Take advantage of their time limited New Membership drive and register NOW. Join today: 100% free!


These are some of the more common Next Wave jobs and their descriptions:
Grassroots Outreach Phone Agent
This is the most popular position at Next Wave and many agents seem to love the job.
As a phone agent, you'll be calling citizens to help educate them on important political issues and social issues that can influence political campaigns and voting.
You'll adhere to somewhat of a script when you call, but you don't be making pushy sales calls to people like you would in telemarketing.
While the phone positions are not scripted as most phone jobs are, there are guidelines on the ShiftBoard for what to say and not to say over the phone.
The goal is to sound conversational and engage the caller to be able to gain an understanding of where the caller stands on the current issues in the campaign.
Your conversations will be recorded, and those recordings will then go to writers, who transform your conversations with citizens into reports, articles, letters, and more.
Grassroots Writer
As a writer for Next Wave, you'll be responsible for writing content based on the recordings of phone conversations collected by outreach phone agents.
This content can take on a variety of forms depending on the needs of Next Wave and its clients at the time.
For example, you might need to write a persuasive letter to political leaders based on the comments collected during phone calls.
You might also be contracted to write an informative article about the points you uncovered during recorded calls.
What you write might be a good combination of research and real comments provided by callers.
Next Wave writers must also have a strong interest in political matters and excellent writing skills.
Grassroots Editor
Editors – you guessed it – edit the work of writers.
This position isn't mentioned much on the site but is one you'll instead learn more about if you happen to see an opening on the jobs page.
Editors must have an excellent command of the English language, be able to fact-check for accuracy, and have strong writing skills.
Team Lead
A team lead coordinates the activities between phone agents, writers, and editors to ensure that everything runs smoothly with the information collection and writing process.
Team leads are similar to project managers.
Next Wave runs projects on an as-needed basis to meet the needs of its clients.
Everyone assigned to a project will also be assigned to a team lead, who will be the main point of contact for any questions and concerns during the length of the project.
Are You an Independent Contractor or an Employee at NextWave?
All positions mentioned are IC or Independent Contract positions.
You will be responsible for your own taxes and should receive a 1099 for the year if you make $600 or more this year or any year in the future.
You can always check with an accountant to learn more about tracking your income and reporting it on your taxes.
What Are the Hours at NextWave?
Since you're an independent contractor, you won't be restricted to a set schedule when you work with Next Wave.
However, after training, NextWave prefers that agents work a minimum of 20 hours per week.
You are encouraged to build your own schedule and work any time between 9 a.m. to 9 p.m., Monday through Saturday.
Project requirements can vary, though, which may influence the hours during which you should be available for work.
Generally, the company tries to pair people with projects in or near their time zone so that they can call people during normal business hours.
Most projects last a few weeks but some might last a few months.
Earn Everything… nearly!
Join Opinion Outpost, one of the few faithful and honest survey panels and earn cash and gift cards for your opinion. Stack your points and redeem them: Simple! No hidden fees and completely free!


You'll never be obligated to accept a project you don't want to work with, but do keep in mind that consistently turning down projects may cause you to forfeit your position on the team.
Once you have access to a project you accept, you can view the open time blocks and schedule yourself accordingly.
Next Wave says you can schedule yourself in one-hour blocks but requires that you schedule yourself two hours at a time.
In other words, there are no ½-hour time blocks available and each work session must be at least two hours long.
How Do You Become Certified to Work for NextWave?
You can head to the NextWave website to apply for any position via the Sign Up Now link.
If there are open positions available, you'll see them listed on that page.
First, you'll need to fill out a basic form that asks for your personal information, skills, and relevant experience, if applicable.
After applying via this initial form, you will be contacted for a phone interview.
This interview will be like an over-the-phone audition to determine whether you have the right voice, demeanor, and communication skills to become a part of the team.
If you do well, you will be sent the typing test, grammar test, and writing test via email.
These final assessments are only applicable for those who wish to become writers with NextWave.
If your phone audition and assessments are successful, NextWave will invite you to a final telephone interview to complete the process.
Then, you can sign your contracts and other paperwork to get started.
What Skills/Special Training Do You Need to Work at NextWave?
There is no prior political experience necessary to become a part of the NextWave at Home team, which is great news for people looking to make a career switch or who are just starting out in the field.
You must have a good command of the English language and be computer literate.
Requirements will vary depending upon whether you will be a writer or phone agent.
An interest in politics and current events are a plus.
College degrees are welcome, but not a requirement.
For the Team Leader position, there are additional requirements, since this is a more managerial-type job.
The requirements would be posted next to the job on their web site.
NextWave doesn't hire contractors to be both phone agents and writers from the get-go, but if you prove that you're worthy of doing both, you could get invited to do so eventually.
What is the Training Like at NextWave?
All phone agents and writers will be required to complete the company's training process before they begin regular work.
The training process consists of self-paced videos and materials that introduce you to your new job, workstation, software, and more.
During this time, you'll also meet your team leader who gets assigned to you once you complete the screening process and paperwork.
Some reports online say that training is paid for by NextWave, but unfortunately, nothing on the company's website confirms this.
What are the Computer/Equipment Requirements?
Each agent is an independent contractor who supplies his/her own computer workstation, voice-activated headset, and high-speed Internet connection.
A progressive dialer is used to dial the phone from the computer. The Five9 software system of dialing is used.
In order to integrate with the NextWave system, your equipment must meet some basic requirements.
Supported Operating Systems:
Windows 2000 Service Pack 4 or higher
Windows XP SP 2 or higher
Windows Vista 32-bit SP1
Windows Vista 64-bit SP1
Windows 7 Professional 32-bit
Windows 7 Professional 64-bit
Windows 7 Ultimate 32-bit
Windows 7 Ultimate 64-bit
Windows 7 Home Premium 32-bit
Windows 7 Home Premium 64-bit
Processor:
Intel Pentium IV 1500MHZ or greater
Or equivalent (based on published benchmark results)
Memory:
1 GB or more if using Windows 2000 or Windows XP
5 GB or higher with Windows Vista and Windows 7
Java Runtime Environment: Version 1.6.15+ (6.0) The 32-bit version is required for softphone use
Screen resolution: 1024×768 or higher
Sound card
Anti-virus software: Current and updated
PC headset with microphone (no microphone required for those only doing writing)
Broadband Internet connection (cable, DSL, fiber optic)
Web Browsers:
32-bit versions of either Internet 7 or higher (IE 8 is preferred)
Firefox 3.0 or 3.5
Please note that you must have a high-speed Internet connection.
Dial-up and satellite do not function with the NextWave system. At the current time, mobile devices—smartphones, tablet PCs, etc.—do not meet the minimum standards for operability and connection speeds.
Cell phone modems and other cell networks plugging into a computer also do not work with the NextWave portal.
What is the Pay Scale and When is Payday?
I've seen a few different reports of NextWave pay, so I'm not sure what the actual pay is.
However, the website says that pay is either per project or provided hourly.
It just varies with each project and its client's needs.
I've seen some reports that say NextWave pays between $11 and $12 per hour, on average.
Others say it's closer to $13 or $14.
So, it really seems to depend on the project itself.
On the plus side, NextWave says that its system automatically tracks the time you work, so you won't have to use a separate time tracker to keep track of your hours and pay.
Some reports also say that NextWave has some bonuses and incentives in addition to its regular pay.
For the writers, if enough information is gathered from the call to piece together an advocacy letter, then there is an additional $1.
If the client signs the letter and returns it, then another $1 is added to the invoice.
With all this being said, it's safe to say that NextWave should be treated more like a side gig than a full-time job.
Since you're an independent contractor, $13 per hour is more like $9 or $10 per hour at a regular job because you'll pay more in taxes, so it's not really enough for most people to earn a comfortable living.
Payday is weekly and deposited into the agent's checking account via direct deposit.
What Do Other Workers Say About NextWave?
Like most work at home jobs, NextWave has some mixed reviews from its past and current workers.
One of the common praises I see about the company is that the scheduling is really flexible for people who can't stick to a regular schedule due to family needs or other circumstances.
You're only required to schedule time blocks with a minimum of two hours, which gives you plenty of flexibility to schedule yourself in the morning, take a break to pick the kids up from school, and work a couple more hours in the evening, for example.
Some reports say that you get bonuses, too, if you hit your minimum requirement of 20 hours per week.
Another positive about NextWave is that many agents and writers say that the work is relatively consistent compared to other similar independent contractor jobs they've had.
Once you're on a project, you'll continue working on the project until you and your team complete it, so you'll always have an idea of how much more you'll have left.
Now, for the drawbacks.
NextWave is a grassroots company that focuses on political education.
You'll sometimes need to discuss political issues that you don't have an interest in, or ones you feel strongly about one way or another.
That means you could be discussing the other side that you feel strongly against.
No matter what, you need to stay unbiased, as it's a huge part of the job not to let your own feelings get in the way.
Another con that's interesting because it negates what many others have said is that work can be irregular.
I suppose this depends on where you're located, your past performance, and various other factors.
Some people seem to get steady work from NextWave while others call it "sporadic," so it makes sense for there to be certain factors the company might look for when it decides to recruit for new projects.
It doesn't cost anything to sign up and go through screening and training, though, so you're not wasting money to get yourself in the system and open to receiving offers for work.
What is My Overall Impression of NextWave?
I think NextWave is a good extra side-job or "WAH egg" to have in your basket.
I would not depend on it solely for an income source as campaigns can suddenly end without notice.
Some campaigns only last a week while others may last a month.
From the threads I have followed on various WAH sites, many agents do really enjoy the work and rave about the company's professionalism.
However, there are always going to be some people a job just doesn't work well for.
This is one of those jobs that won't please everyone, but it definitely is a legit opportunity that has remained popular in the work from home world for several years now.
Other Sites Like NextWave
If you are passionate about sharing your political interest, you can also try the following sites:
Medium is a popular online publishing platform that allows users to write and share articles on various topics, including politics.
You can create your own publication or contribute to existing ones and earn money through the Medium Partner Program, which pays writers based on the engagement their articles receive.
Steemit is a blockchain-based social media platform that rewards users for creating and curating content.
By posting political content, engaging with the community, and earning upvotes, you can accumulate Steem cryptocurrency, which can be converted into real-world rewards.
Substack is a platform that enables writers to start their own newsletters and earn money through paid subscriptions.
If you have insightful political analysis or commentary to offer, you can build a subscriber base and monetize your content on Substack.
While not exclusively focused on politics, Patreon is a membership platform that allows creators to receive recurring payments from their fans or supporters.
By offering exclusive political content, updates, or even live discussions, you can attract patrons who are willing to financially support your work.
Upwork is a freelancing platform where you can find opportunities to offer your political writing or research skills on a project basis.
Clients post job listings, and you can apply to work on assignments that align with your expertise.
It offers a diverse range of political writing and research gigs that can help you earn money.
How Can an Interested Applicant Apply to NextWave?
All applicants can read more about the positions and fill out an application by visiting the web site's job opening page using the Sign Up Now! link.
Sometimes, the company doesn't have any available positions.
If this is the case, you'll see a message saying to check back later.
Good luck to all who apply.
Have you worked with NextWave at Home? If so, please drop a comment down below to let us, and others, know more about your experience. Everything you share helps others on their path to finding their ideal work at home career!
Related Posts:
Earn Everything… nearly!
Join Ipsos iSay, one of the few Faithful and Honest survey panels and earn prizes, gift cards and donations. Stack your points and redeem them: Simple! No hidden fees and completely free!