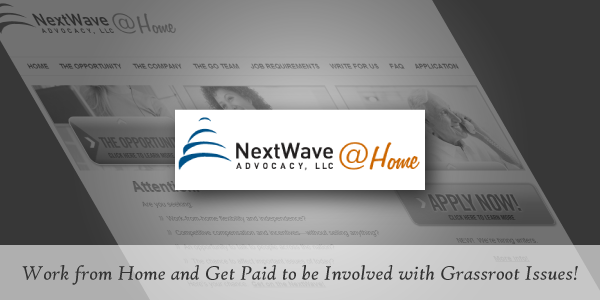 Need Easy Extra $350+/Month For Free?
Do you enjoy politics and current events?
Have you ever worked a political campaign and really enjoyed it?
Well, then NextWaveatHome.com might be the right work-at-home (WAH) opportunity for you.
What is NextWave or NextWaveatHome?
Not to be confused with NexRep, a WAH phone job, or NextWave Wireless, the wireless Internet connection, Next Wave Advocacy, LLC (formal name) is a political advocacy company that hires agents and allows them to work from home. NextWave offers both phone and writing positions to work ongoing political campaigns.
Surprisingly enough, NextWave is located in Washington, DC—the Nation's capital—as well as the outskirts of Arlington, Virginia and is considered a bipartisan firm. NextWave diversely works with a wide range of organizations, corporations, trade associations, and advocacy groups. Its role has been and is to help citizens take an active part in legislation and regulation at the federal, state, and local levels. This is accomplished by engaging citizens to open up and discuss key points in the policy making process.
What Types of WAH Jobs Are Available?
While jobs are posted as they open on their web site, most of the jobs are:
  Grassroots Outreach Phone Agent
  Grassroots Writer
  Grassroots Editor
  Team Lead
  Fulfillment Coordinator
While the phone positions are not scripted as most phone jobs are, there are guidelines on the ShiftBoard for what to say and not to say over the phone. The goal is to sound conversational and engage the caller to be able to gain an understanding of where the caller stands on the current issues in the campaign. Everyone working from home is considered part of the "Go Team".
A progressive dialer is used to dial the phone from the computer. The Five9 software system of dialing is used.
There are agents who do both writing and calling. Questions are asked of the callers and then once information is gathered it is written into an advocacy letter for the given campaign.
What Are the Hours at NextWave?
After training, NextWave prefers that agents work a minimum of 20 hours per week. You are encouraged to build your own schedule and work any time between 9 a.m. to 9 p.m., Monday through Saturday.
How Do You Become Certified to Work for NextWave?
After applying on their web site (see link at the bottom of this article), you will be contacted for a phone interview. If you do well, you will be sent the typing test, grammar test, and writing test via email. The writing test is only for those agents who will be writing.
Need Easy Extra Cash?

Pinecone Research, a leading name in online survey panel honesty, absolutely guarantees $3 cash for every survey you complete!
Take advantage of their time limited New Membership drive and register NOW. Join today: 100% free!


Additionally, if you are working the phones, you will be sent a phone assessment to complete with instructions via email. This assessment will determine how well can you read a script, role-play, and how professional you sound over the phone.
What Skills/Special Training Do You Need to Work at NextWave?
You must have a good command of the English language and be computer literate. Requirements will vary depending upon whether you will be a writer or phone agent.
An interest in politics and current events are a plus. College degrees are welcome, but not a requirement.
For the Team Leader and Fulfillment Coordinator, there are additional requirements, since these are more managerial-type jobs. The requirements would be posted next to the job on their web site.
What is the Training Like at NextWave?
Training lasts for two days and is approximately 2 hours each day. Training is also paid.
What Are the Computer/Equipment Requirements?
Each agent is an independent contractor who supplies his/her own computer workstation, voice-activated headset, and high-speed Internet connection. In order to integrate with the NextWave system, your equipment must meet some basic requirements.
Supported Operating Systems:
Windows 2000 Service Pack 4 or higher
Windows XP SP 2 or higher
Windows Vista 32-bit SP1
Windows Vista 64-bit SP1
Windows 7 Professional 32-bit
Windows 7 Professional 64-bit
Windows 7 Ultimate 32-bit
Windows 7 Ultimate 64-bit
Windows 7 Home Premium 32-bit
Windows 7 Home Premium 64-bit
Processor:
  Intel Pentium IV 1500MHZ or greater
  Or equivalent (based on published benchmark results)
Memory:
1.0 GB or more if using Windows 2000 or Windows XP
1.5 GB or higher with Windows Vista and Windows 7
Java Runtime Environment:
  Version 1.6.15+ (6.0) The 32-bit version is required for softphone use
  Screen resolution: 1024×768 or higher
  Sound card
  Anti-virus software: Current and updated
  PC headset with microphone (no microphone required for those only doing writing)
  Broadband Internet connection (cable, DSL, fiber optic)
Web Browsers:
32-bit versions of either Internet 7 or higher (IE 8 is preferred)
Firefox 3.0 or 3.5
Please note. You must have high-speed Internet connection. Dial-up and satellite do not function with the NextWave system. At the current time, mobile devices—smart phones, tablet PCs, etc.—do not meet the minimum standards for operability and connection speeds. Cell phone modems and other cell networks plugging into a computer also do not work with the NextWave portal.
Are You an Independent Contractor or an Employee at NextWave?
All positions mentioned are IC or Independent Contract positions. You will be responsible for your own taxes and should receive a 1099 for 2013 if you make $600 or more this year or any year in the future.
What is the Pay Scale and When is Payday?
NextWave pays its agents every week at $11 or $12 an hour. For the writers, if enough information is gathered from the call to piece together an advocacy letter, then there is an additional $1. If the client signs the letter and returns it, then another $1 is added to the invoice.
Payday is weekly and deposited into the agent's checking account via direct deposit.
What is My Overall Impression of NextWave?
I think NextWave is a good extra side-job or "WAH egg" to have. I would not depend on it solely for an income source as campaigns can suddenly end without notice. Some campaigns only last a week while others may last a month. From the threads I have followed on various WAH sites, many agents are really enjoying the work and raving about the company's professionalism.
How Can an Interested Applicant Apply to NextWave?
All applicants can read more about the positions and fill out an application by visiting the web site's Job Opening page.
Good luck to all who apply.
Related Posts:
Want more money?

Easy Extra Cash! Join the famed Nielsen Computer and Mobile Panel site, install the app and earn rewards just for using the Internet as you do today! Nielsen gives away $10,000 each month.
Guaranteed 100% free membership.