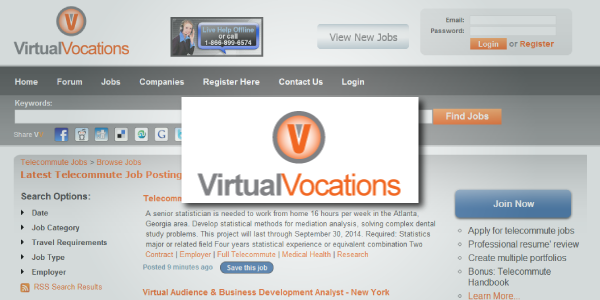 Need Easy Extra $350+/Month For Free?
Several months ago, I received an email with a job listing in it from a client of mine "P.J." raving about this wonderful freelance site. She went on to boast about two good paying contracts that she had found there: one telecommuting and one solely work-at-home.
Curious as I am, I just had to learn more about this site. Especially after seeing the type of job and salary listed in the email.
How did Virtual Vocations get started?
Virtual Vocations began in February 2007 and was founded by two siblings, who recognized the changing workforce. With rising gas prices, family commitments, and technology more people could begin working at home.
Even though more people could begin working at home, the Internet also brought with it—as we all know—its share of work-at-home scams.  This is why Virtual Vocations carefully screens all of the jobs.
Most of the jobs at Virtual Vocations are telecommuting jobs, but they are beginning to add more jobs that can be done 100% at home.
Jobs are in fields such as accounting, bookkeeping, writing, and web design with the usual jobs you would expect to be performed in an office. There is also a need for advice nurses and attorneys.
Jobs are full-time, part-time, long-term, short-term, and can lead to a permanent position. Telecommuting should be at least 20% of the job.
Virtual Vocations is also a member of the International Association of Employment Web Site.
How do you get started with Virtual Vocations?
With Virtual Vocations, you go to www.virtualvocations.com and click on the Register Here navigation button at the top of the web site. You type your name and email address in the appropriate fields and then you create a password for your account.
You then select the subscription that you want. You may pay $6.99 weekly, $15.99 monthly or $49.99 for a six-month subscription. This is payable via credit card or PayPal. This can also be canceled in advance.
How do you set up your profile at Virtual Vocations and how is it different from other work-at-home job sites?
While putting together your profile at Virtual Vocations, you may upload work samples, and attach a resume. Your uploaded files can be in pdf, doc, wpd, rtf, wps, docx format.
One difference in Virtual Vocations and other work-at-home/bidding sites is that every time you apply for a job, your resume is automatically attached to your application. Work samples may also be attached but are optional.
Need Easy Extra Cash?

Pinecone Research, a leading name in online survey panel honesty, absolutely guarantees $3 cash for every survey you complete!
Take advantage of their time limited New Membership drive and register NOW. Join today: 100% free!


How do freelancers bid for jobs and how is it different from other bidding sites?
Actually with Virtual Vocations, you won't be bidding on but applying to jobs. This would be done just as if you were applying to a regular Brick and Mortar job. Again, the majority of the jobs are telecommuting jobs which is why a resume is automatically attached each time you apply.
These jobs are carefully screened by Virtual Vocations and are hourly, salary or project pay. These rates are set by the client with commission-only jobs and fee-based jobs not accepted. No doubt we have all seen those commission only jobs on other bidding sites.
What are some of the perks that go with a paid membership to Virtual Vocations?
Once you have put together your profile and selected your paid subscription (weekly, monthly or six-months), you will be able to search for jobs by date, job category, travel requirements (remember this is largely telecommuting), job type, and/or employer.
You can also create a search feed that will automatically send relevant jobs to your designated email account.
There is a monthly newsletter sent to all members as well as a blog and forum.
While most bidding sites have a search feeds, blogs, and forums—they biggest perk is the free resume enhancing service. Virtual Vocations will rewrite your resume for you.
How is the pay handled at Virtual Vocations?
Payment is received by PayPal and will usually be paid two weeks.
What is my overall impression of Virtual Vocations?
After meeting a few others besides P.J. who have had great experiences at Virtual Vocations, I would say give it a try it. If you can afford the membership fee or justify it by good paying jobs, I would do it. One woman I met was very happy with her $15 an hour full-time 6-month assignment.
How can I apply to Virtual Vocations?
Again, go to www.virtualvocations.com and click on the Register Here navigation button at the top of the web site.
Good luck to all who apply.
Related Posts:
Want more money?

Easy Extra Cash! Join the famed Nielsen Computer and Mobile Panel site, install the app and earn rewards just for using the Internet as you do today! Nielsen gives away $10,000 each month.
Guaranteed 100% free membership.