Virtual Vocations Review 2023: Can You Find Your Dream Remote Job Here?
Updated on: by Amy Kennedy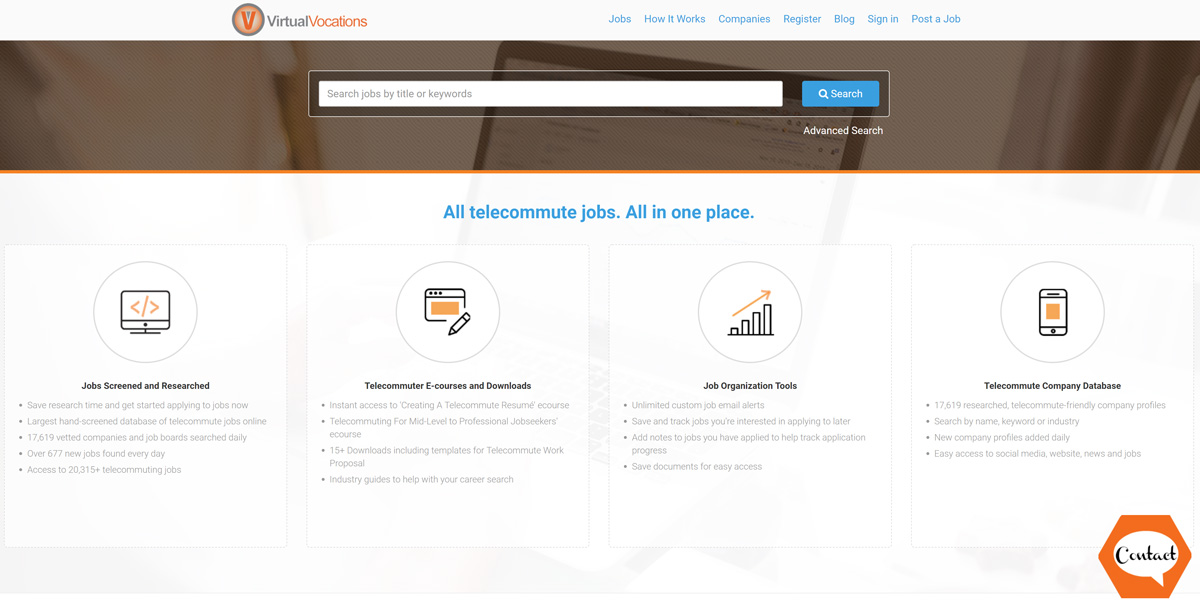 Several months ago, I received an email with a job listing in it from a client of mine "P.J." raving about this wonderful freelance site.
She went on to boast about two good paying contracts that she had found there: one telecommuting and one solely work-at-home.
Curious as I am, I just had to learn more about this site.
Especially after seeing the type of job and salary listed in the email.
That site is called Virtual Vocations, and it continues to be one of the leaders for job search sites for people who want to work from home or work remotely.
Is Virtual Vocations worth it for you to try?
I looked more into the site to find out whether it's legit (my client sure seems to think so!) or a scam, and whether it might be able to find you the job of your dreams.
What is Virtual Vocations?
Virtual Vocations began in February 2007 and was founded by two siblings, who recognized the changing workforce. With rising gas prices, family commitments, and technology, more people could begin working at home.
Even though more people could begin working at home, the Internet also brought with it—as we all know—its share of work-at-home scams.
This is why Virtual Vocations carefully screens all of the jobs.
Most of the jobs at Virtual Vocations are telecommuting jobs, but they are beginning to add more jobs that can be done 100% at home.
Jobs are in fields such as accounting, bookkeeping, writing, and web design with the usual jobs you would expect to be performed in an office.
There is also a need for advice nurses and attorneys.
Jobs are full-time, part-time, long-term, short-term, and can lead to a permanent position.
Telecommuting should be at least 20% of the job for most of them, although you may find jobs that are 100% remote.
Virtual Vocations is also a member of the International Association of Employment Web Site.
In addition to offering job searches, Virtual Vocations has several resources for people looking for work, especially in the telecommuting space.
You'll find job alerts, note-taking for jobs you're interested in, company databases, e-courses, and more resources to help you continue learning and land that dream job.
How is Virtual Vocations different from other work at home job sites?
Upon first glance, Virtual Vocations seems really similar to FlexJobs.
If you're familiar with FlexJobs, you'll know that it's a paid subscription site that gives you access to flexible jobs, most of which are telecommuting.
That means that some of the work may be remote, but the other part of it will require you to visit your place of employment sometimes for meetings, job duties, training, etc.
Virtual Vocations is also a paid subscription site that offers telecommuting jobs that are part-time, full-time, contract, and more.
So what's the difference?
To be honest, the two are quite similar, so you may need to try them out yourself to figure out which one you want to stick with.
But one thing that does stand out with Virtual Vocations is its many resources for people who want to work a flexible job with telecommuting.
Not only can you search the site's huge database of jobs, but you can also search company profiles, take e-courses to expand your learning, find work proposal templates, and more.
Basically, you'll have everything you need to start your new career and learn all about telecommuting right at your fingertips when you join Virtual Vocations, making it much more than just another job search site.
It's important to note that Virtual Vocations may not be the best choice for people who strictly want to work from home.
Although some telecommuting jobs require on-site visits rarely, others might require them more frequently (up to a few times per week).
They do exist, but fully remote jobs are rare to come by on Virtual Vocations.
For fully remote jobs, you might want to stick with the following sites that focus more on freelancing and remote work:
Remember, too, that right here on Work at Home Adventures, we list brand new non-phone jobs, phone-based jobs, and other jobs you can do right from your home office!
You can also check out our Now Hiring section to see what's available in the work at home world in almost any industry.
We update this a few times a week to keep you current!
How do you get started with Virtual Vocations and what are the subscriptions like?
With Virtual Vocations, you go to www.virtualvocations.com and click on the Register navigation button at the top of the web site.
You type your name and email address in the appropriate fields and then you create a password for your account.
Signing up with Virtual Vocations immediately places you on a free account, which is something that FlexJobs doesn't offer (to see any of the listings there, you'll need to have a paid subscription).
A free account gets you a lot of goodies, like:
The ability to upload and store documents you need for applications
Saving jobs
Getting job alerts via email
Daily job leads
A free e-course about telecommuting
You can also select the subscription that you want if you want to pay after signing up.
The cost for a Virtual Vocations subscription is similar to FlexJobs at $15.99 per month, $39.99 every 3 months, or $59.99 every six months.
As you can see, the more months you subscribe for, the lower the cost.
You can pay for your subscription with PayPal or a credit card and you can cancel from your online account at any time.
If you do cancel, you'll still have access to premium features for the rest of your subscription term.
A paid subscription gives you access to:
The full Virtual Vocations job database
The full database of online courses
Job application history
Priority job alerts
So, why might you need a paid subscription?
As great as the free subscription is, there's a big downfall with it: You can't apply to jobs or see their full listings without a membership.
Virtual Vocations gives you a taste of what's available on the site, but you can't really do anything with it unless you're willing to pay for a subscription.
How do you set up your profile at Virtual Vocations?
While putting together your profile at Virtual Vocations, you may upload work samples, and attach a resume.
Your uploaded files can be in pdf, doc, wpd, rtf, wps, docx format.
One difference in Virtual Vocations and other work-at-home/bidding sites is that every time you apply for a job, your resume is automatically attached to your application.
Work samples may also be attached but are optional.
So, you're definitely going to want to make sure that your resume is up to snuff before applying.
I'd suggest taking a look at your resume every week while you're actively searching for and applying to jobs, just to double check for errors and make sure everything is up to date.
Also, take time to completely fill out your profile because recruiters can find you on the site to recruit you to their jobs.
A complete, well thought out profile is much likelier to get you a dream gig than one that has only a few sentences and missing half its answers.
How do freelancers bid for jobs and how is it different from other bidding sites?
With Virtual Vocations, you won't be bidding on jobs, but will instead be applying to them.
This would be done just as if you were applying to a regular Brick and Mortar job.
Again, the majority of the jobs are telecommuting jobs which is why a resume is automatically attached each time you apply.
However, you can also find contract, freelance, and 100% remote jobs here, but you won't have to bid on them like you would on places like Upwork.
These jobs are carefully screened by Virtual Vocations and are hourly, salary or project pay.
These rates are set by the client with commission-only jobs and fee-based jobs not accepted.
No doubt we have all seen those commission only jobs on other bidding sites, so it's refreshing to know that Virtual Vocations takes time to weed these jobs out as a benefit for its members.
What are some of the perks that go with a paid membership to Virtual Vocations?
Once you have put together your profile and selected your paid subscription (monthly, 3-month, or 6-month) you will be able to search for jobs by date, job category, travel requirements (remember this is largely telecommuting), job type, and/or employer.
The filters here are really helpful for finding exactly what you're looking for, both with your industry and the type of job.
You can also create a search feed that will automatically send relevant jobs to your designated email account.
You can do this, too, with a free account, but remember that you won't be able to see the full job listing or apply to the job unless you have a paid membership.
These job alerts can come daily or weekly, so be sure to set your preference in the email settings of your account.
There is a monthly newsletter sent to all members as well as a blog and forum.
While most bidding sites have a search feeds, blogs, and forums, Virtual Vocations offers all that and more.
One of the biggest perks is the free resume enhancing service.
Virtual Vocations will rewrite your resume for you, which is great if you have a lot of helpful experience but aren't wonderful with putting it all into words in an organized resume format.
I also love all the telecommuting resources you can find as a paid member of Virtual Vocations.
Whether you're completely new to this kind of work or you've already had telecommuting experience, you can still find helpful information that can further you in your career on the site through e-courses, guides, blogs, templates, and more.
How is the pay handled at Virtual Vocations?
Virtual Vocations is simply a service that connects you with telecommuting jobs all over the world, so it won't be paying you directly.
Instead, you'll apply to the jobs you find interesting and that match your skillset.
If you get accepted for a job, you'll need to work out with your employer how payment is handled.
Many listings include some of this information, but you can always chat with a recruiter more during the application process to find out exactly how much the position pays and how often.
Is Virtual Vocations a legit place to find remote jobs?
There are a lot of Virtual Vocations reviews from real members who've tried the site, so I sifted through them to find some of the most common praises and complaints.
Here's what members have had to say:
Pro: Vetted jobs
Virtual Vocations claims to vet its jobs before they get posted, meaning you don't have to worry about scams like you might on other job boards where recruiters can post whatever they want.
It's nice to know that sifting through scams isn't something you'll need to do here (although you should always keep your eyes peeled when searching for jobs because it's always possible for something to slip through the cracks).
The job alerts you receive are also hand-picked according to your preferences for jobs, so you should only receive alerts for jobs you might be genuinely interested in.
Pro: Helpful job filtering
According to a lot of members, one of the biggest perks of Virtual Vocations is its ease of use when searching for jobs.
There are plenty of filters you can use to find exactly what you're looking for without spending hours scrolling through every job to find something you're interested in.
There are also a lot of jobs posted here with new ones posted every day, so you definitely shouldn't have a shortage of stuff to look for!
Con: Some services cost extra
You already need to pay money to take full advantage of everything Virtual Vocations has to offer.
Unfortunately, you might need to pay more if you want to take advantage of some of the resources for workers like yourself.
For example, it'll cost you a few hundred dollars more just to use the resume writing service that gives you a professional resume review, comparing yours to industry standards and helping you redo your CV and LinkedIn profile.
While that service might be totally worth it for some of you, that's more costs you'll need to throw in on top of what you already pay for a subscription.
Personally, I believe that these extras should all be offered to people who already pay for a membership without adding more costs.
Con: No free trial
Similar to FlexJobs, Virtual Vocations offers no free trial.
This is almost unheard of for any paid subscription service nowadays, so it's strange to me that they can't even give a trial for a couple of weeks to make sure it's something you want to pay for.
Fortunately, the service is easy to cancel should you decide it's just not right for you, but you'll still need to pay to try it out.
And, for those who try to avoid giving out their financial information online as much as possible, it could be a major drawback that you'll need to do it if you want to try Virtual Vocations.
What is my overall impression of Virtual Vocations?
After meeting a few others besides P.J. who have had great experiences at Virtual Vocations and reading through reviews from real members, I would say give it a try.
If you can afford the membership fee or justify it by good paying jobs, I would do it.
One woman I met was very happy with her $15 an hour full-time 6-month assignment.
I've seen plenty of others land good jobs they're happy with using Virtual Vocations.
For many of them, paying the monthly fee was beneficial because it gave them access to several job listings they wouldn't have found otherwise.
I'd suggest paying for one month and using it several times each week to see everything it has to offer.
If you continuously aren't finding jobs, you're interested in or that fit your needs, then cancel before your first month is up.
You'll still have access for the full month you paid, so you don't have to worry about wasting money.
If you do decide Virtual Vocations is the right site for you, you might want to consider getting a longer subscription if it fits within your budget because each month will be a little more affordable.
Although I don't necessarily love the idea of paying to search for jobs, I think of Virtual Vocations a little differently.
You're actually paying for a service that helps you find telecommuting jobs and gives you resources to help you in your job search.
Alternatives to Virtual Vocations
While Virtual Vocations is a popular platform, there are several alternatives worth exploring. These platforms provide curated lists of remote job listings, connecting job seekers with various industries and roles.
Here are some options worth exploring:
FlexJobs is a reputable platform that specializes in flexible and remote job listings.
It offers a wide array of remote positions across various industries.
With additional features such as skills testing, job search tips, and career resources, FlexJobs provides a comprehensive approach to finding remote work opportunities.
If you're looking for curated remote job listings from companies of all sizes, Remote.co is a great choice.
The platform offers an easy-to-navigate interface, job categories, and an abundance of resources related to remote work.
From remote team management to productivity tips, Remote.co has you covered.
As a popular job board dedicated solely to remote work, We Work Remotely covers a broad range of job categories.
Whether you're seeking a remote position or looking to showcase your resume to employers, this platform allows you to browse remote jobs and connect with remote work opportunities.
Remote OK is a comprehensive remote job board that aggregates job listings from various sources.
With its user-friendly interface and job categories, it provides an efficient way to find remote jobs.
You can filter listings by location, skill set, and other criteria to refine your search.
Remote Work Hub serves as a platform connecting job seekers with remote job opportunities.
It offers a curated list of remote jobs, along with valuable resources and articles focused on remote work and productivity.
This platform can be a valuable resource for those seeking remote employment.
How can I apply to Virtual Vocations?
Go to www.virtualvocations.com and click on the Register navigation button at the top of the web site.
Fill out the quick form and decide if you want to stick with the free subscription or go right for a paid one.
Good luck in your job search!
Have you used Virtual Vocations to search for jobs? What are your thoughts of it? Leave a comment down below to help others who might be considering it for their future searches!
Related Posts: