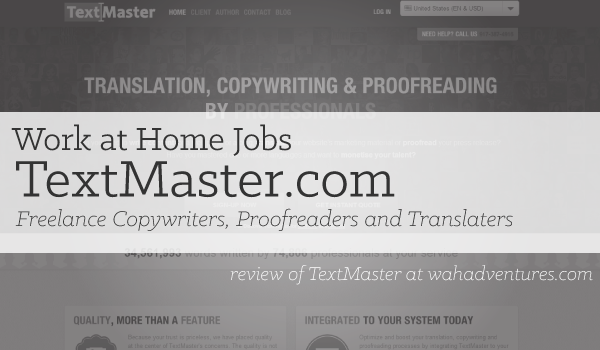 Need Easy Extra $350+/Month For Free?
TextMaster offers Copywriting, Proofreading and Translation services to a variety of clients. They provide web content for blogs and articles as well.
Today we will be reviewing the basic jobs offered to freelancers at TextMaster as an overview. Later, in a future article, we will share some freelancer experience with TextMaster by some of our very own writers.
Freelance Jobs at TextMaster
TextMaster has three positions freelancers can apply for through their site. These positions include copywriting, translating and proofreading. You can apply for all three positions, or just one or two- whichever you qualify for and are interested in.
What is the Application Process Like?
The application process at TextMaster is easy to follow and simple.
First, anyone can create an author account at TextMaster by registering for the site. Once you are logged into their Author dashboard you will be able to apply for whichever of the positions you desire.
Applying for each position will require a controlled sample of work. For example, the proofreading application process involves editing a paragraph they give you.
Be sure to review each sample for your application thoroughly before submitting.
After submitting you will receive an email response (mine came within 72 hours) to tell you if you are accepted or if your application failed. The good news, that I can shamefully tell you, is that if you failed the application they at least tell you why your submission was rejected.
Pay Rate at TextMaster
The pay rate at TextMaster varies a lot! So much, that it almost feels ridiculous to even tell you that they say it  can vary from 1.4 cents per word to 15 cents per word. It seems, the longer you write at TexMaster and the higher quality work you complete- the higher paying work you will be offered. I do believe you will know the paying rate before accepting work. Again, we will have more details on this soon.
Payment Method
TextMaster pays via PayPal. You can request payment once your account balance reaches $65. Although TextMaster's FAQ page says the minimum payout is $70 the Author dashboard shows $65.
Amount of Work at TextMaster
At this point, it is hard to judge the work available at TextMaster. The writers I have spoken to who have been accepted tell me they have not seen very much, if any work.  We will have a better idea of the workload in our future article, after the writers have had some time on the site.
My Experienced Opinion of TextMaster
As with any of these content mill type of companies- it's great to have as many eggs in your basket as possible. TextMaster has a professional website that is easy to navigate. At this point I would encourage anyone interested to go through the simple application process, but don't have hopes of making a full time income at TextMaster, at least not yet.  There isn't much information about TextMaster in the Work at Home Forums.
While there may not be much work available through TextMaster, it is clear they have clients as they have been actively hiring freelancers through Elance.  So, there is a lot of potential here.  (The TextMaster at Elance is apparently not connected to this TextMaster- according to rep from TextMaster.com)
Need Easy Extra Cash?

Join e-Poll, one of the few faithful and honest survey panels and earn cash - paid via PayPal - gift cards for Amazon, Best Buy, iTunes, Starbucks, and Walmart, plus Retail e-vouchers.
The surveys are aimed at entertainment-related research, covering such things as personal TV watching habits, give feedback on new TV commercials or to review DVDs that are sent to your home.
For USA residents aged 13+. No hidden fees and completely free!


TextMaster's Referral Program
Companies who are looking to spread the word about their services use referral programs. Currently TextMaster is offer a referral program that will pay you when authors register and work. You can earn 10% of your referrals income over 12 months of their registration. It's a nice little bonus but can also mean you will see undo praises and promotion of TextMaster from people more interested in receiving referral money than helping you out.
Check out TextMaster
My Refferal Link  |  Non Referral Link
Related Posts:
Want more money?

Join Surveyo 24 #1 paid survey site. It's easy - complete a survey and receive payment. No hidden fees and completely free!