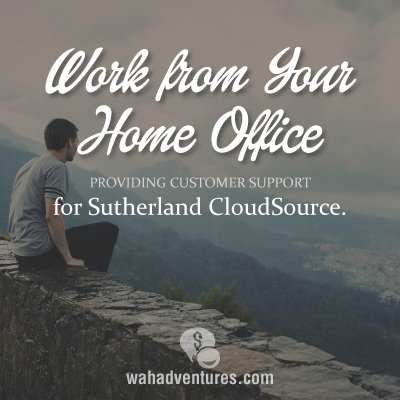 Do you enjoy offering stellar customer service?
Need Easy Extra $350+/Month For Free?
Do you want set pay and benefits?
Do you have excellent written and oral communication skills?
Well, then becoming a customer service agent at Sutherland CloudSource might be the right work-at-home job fit for you.
What Exactly is Sutherland CloudSource?
Sutherland CloudSource is the remote service division of Sutherland Global Services, which has become a global leader in the Business Process Outsourcing (BPO) for customer service and customer interactions for some of the most recognized Fortune 500 customers.
With the headquarters located in Rochester, New York the company reaches across more than 40 operational centers via Sutherland CloudSource to countries such as Brazil, Bulgaria, Canada, China, Colombia, Egypt, India, Jamaica, Malaysia, Mexico, Philippines, the United Arab Emirates, the United Kingdom, and the United States.
Sutherland CloudSource helps businesses win, because businesses get the best talent and a larger pool of applicants when they can also select from the remote employee pool.  And from this remote talent pool are retired professionals as well as professionals who for have chosen to stay home with their children or work from home for a variety of reasons.  This is where some of you work-at-homers (WAHers) come in!
Sutherland CloudSource prides itself on offering a flexible, part-time schedule in a fun yet cutting-edge industry.  They also mention the thoroughness of their training on their website.  You will be happy to know that Sutherland CloudSource also made FlexJobs' list for 100 Top Companies with Remote Jobs.
What Are the Basic Requirements/Special Skills?
While Sutherland CloudSource does have legal requirements in compliance with state and federal laws, they are also looking for the basic requirements suitable to this type of job as well.  To work there, you:
must be over the age of 18.
be legally permitted to work in the US.
be reliable and also flexible.
be detail-oriented and willing to offer superior customer service.
should possess good self-management and self-motivation skills.
should have the ability to apply good judgement and make on-the-spot decisions.
must have an understanding of general business operations and resources.
What Are the Computer/Home Office Requirements?
Some employment opportunities—not all—will only allow Windows Vista to be installed.  Other clients will allow for Windows 7/Windows 8/Windows 8.1 as well as Mac OS X.  So, if you are a "Mac lover" this may be a good work-at-home option for you.
Other considerations for your PC or laptop will include:
7 to 2.0 Ghz Dual Core processing (the faster the better) depending on the program.
2 to 4 GB RAM (the more RAM the better) depending on program.
10 GB hard drive space.
1 Mbps upload speed with a 3 Mbps download speed.
One or more available USB ports (2.0 or greater).
Sound/audio support.
USB headset with dual ear and noise cancelling microphone.
The three headsets that were tested by Sutherland CloudSource and sell for under $40 were:
Logitech USB H570e
Jabra UC VOICE 150
Microsoft LifeChat LX-6000 for Business
It appears that they do allow other headsets to be used, but these are the ones tested and preferred.
Need Easy Extra Cash?

Pinecone Research, a leading name in online survey panel honesty, absolutely guarantees $3 cash for every survey you complete!
Take advantage of their time limited New Membership drive and register NOW. Join today: 100% free!


What Are the Hours and Pay at Sutherland CloudSource?
The hours are generally part-time during business hours or even slightly extended past business hours in the clients' time zone.  While the hours are considered flexible, they are not 24/7.
The pay seems to be comparable to an outside-the-home customer service type job.  However, I am told that the few remote technical support jobs that are available do NOT pay well.  Again, this article is more concerned with the remote customer service jobs than any other remote positions.
Are You an Independent Contractor or an Employee?
You are a part-time employee at Sutherland CloudSource.  Even part-time, you will be offered the same benefits as full-time employees and also receive a basic 401k package.  There is also promotion from within the company for remote workers as well as their outside colleagues.  However, you cannot work for another remote call center as it will be considered conflict of interest.
What is My Overall Impression of Sutherland CloudSource?
It looks like a great company to work for as a customer service agent.  It also looks like there is plenty of room for advancement.  Also, if the remote agent ever wants to transition into a regular B&M (brick and mortar) job with Sutherland, it appears that there are also opportunities to do that.
What Do Others Think?
While I wasn't able to find out too much about Sutherland CloudSource, I did find a few reviews about the main company, Sutherland Global Services.  I get the impression that Sutherland CloudSource is still growing and evolving with not many reviews as of yet.
How Can an Interested Applicant Apply?
Go to their website and apply.  You must apply on the website and submit all information there.  Sutherland CloudSource does not accept resumes which were submitted outside of the recruiting page of their website.
Good luck to all those who apply.
Related Posts:
Want more money?

Easy Extra Cash! Join the famed Nielsen Computer and Mobile Panel site, install the app and earn rewards just for using the Internet as you do today! Nielsen gives away $10,000 each month.
Guaranteed 100% free membership.