Sutherland CloudSource Review: Work from Home in Customer Service
Updated on: by Amy Kennedy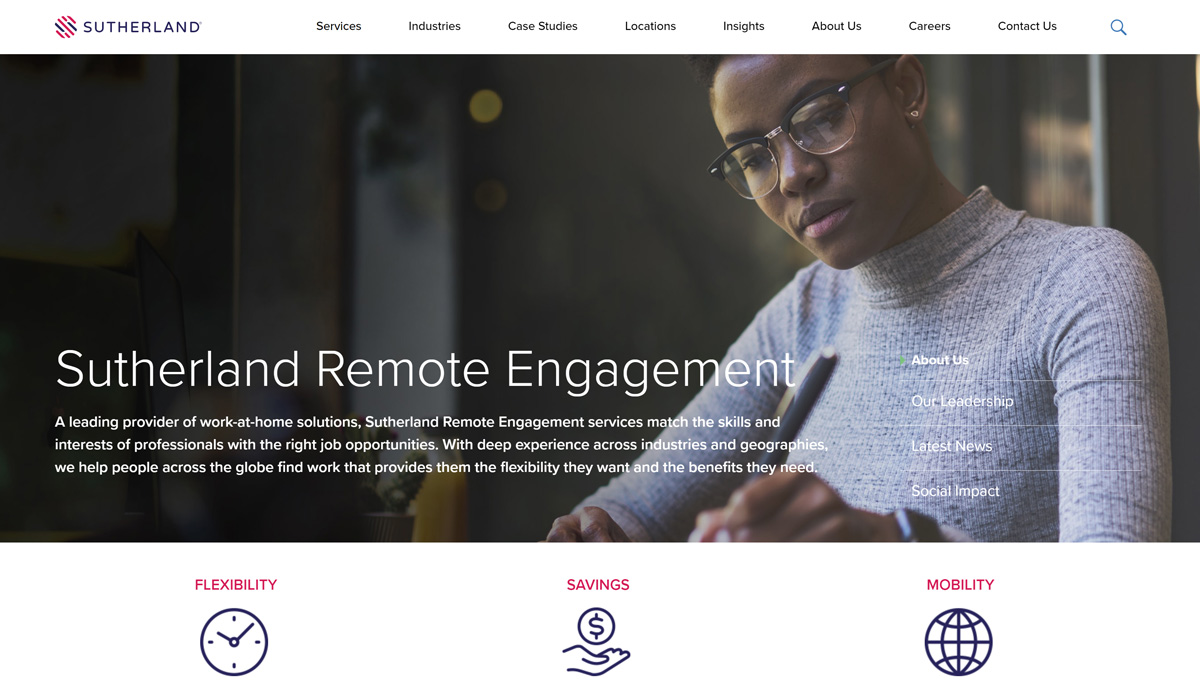 Do you enjoy offering stellar customer service?
Need Easy Extra $350+/Month For Free?
Do you want set pay and benefits?
Do you have excellent written and oral communication skills?
And, have you always wanted to work from your home office?
Well, then becoming a customer service agent at Sutherland CloudSource might be the right work-at-home job fit for you.
Since we first wrote this Sutherland Global Services review a few years ago, Sutherland CloudSource has become Sutherland Remote Engagement.
Although its name has changed, the basics of the job haven't.
However, the company has since added some different positions, requirements, and procedures, so I think it's important to update this review with the newest information.
Let's dive right in!
What Exactly is Sutherland CloudSource (Now Sutherland Remote Engagement)?
Sutherland CloudSource, now known as Sutherland Remote Engagement, is the remote service division of Sutherland Global Services.
Sutherland Global Services has become a global leader in the Business Process Outsourcing (BPO) for customer service and customer interactions for some of the most recognized Fortune 500 customers.
Mostly, it helps businesses all over the world build their own remote teams and utilize technology to get their jobs done efficiently.
With the headquarters located in Rochester, New York the company reaches across more than 40 operational centers via Sutherland CloudSource.
The company operates in countries such as Brazil, Bulgaria, Canada, China, Colombia, Egypt, India, Jamaica, Malaysia, Mexico, Philippines, the United Arab Emirates, the United Kingdom, and the United States.
Sutherland CloudSource helps businesses win because businesses get the best talent and a larger pool of applicants when they can also select from the remote employee pool.
And from this remote talent pool are retired professionals as well as professionals who for have chosen to stay home with their children or work from home for a variety of reasons.
Need Easy Extra Cash?
Pinecone Research, a leading name in online survey panel honesty, absolutely guarantees $3 cash for every survey you complete!
Take advantage of their time limited New Membership drive and register NOW. Join today: 100% free!


This is where some of you work-at-homers (WAHers) come in!
Sutherland CloudSource prides itself on offering a flexible, part-time schedule in a fun yet cutting-edge industry.
They also mention the thoroughness of their training on their website, which can really help those who work from home understand the job before they start.
You will be happy to know that Sutherland CloudSource also made FlexJobs' list for 100 Top Companies with Remote Jobs.
What Will I Do as Part of the Sutherland Remote Engagement Team?
Sutherland's Remote Engagement Team is made up of remote workers all over the world, just like you.
As a team member, you'll be one of the people that Sutherland can pick from when a client needs to build its remote team.
Say, for example, a healthcare company in California is looking to create a customer service team of East Coast workers to offer more customer support hours.
If you're based in New York and have customer service experience, you might qualify as a best-fit candidate for that client.
Basically, Sutherland matches its clients and their needs to remote workers on the Remote Engagement Team who have the skills they need, which could range from customer service to tech support to sales and everything in between.
The positions are typically flexible in that you can decide if you want to work part-time or full-time hours and only accept roles with clients who meet your scheduling needs.
Many of them offer evening hours or weekend hours for those who need them.
However, depending on the needs of the client, you might need to have a specific schedule within those hours or meet a number of hours per week.
Sutherland does state that it will try its best to work with you if you need schedule changes depending on your performance and the needs of your current program.
Sutherland partners with other similar companies, like FlexJobs and Teleworks USA, to recruit people like you to clients who need help.
What Are the Basic Requirements/Special Skills Needed for the Sutherland Remote Engagement Team?
While Sutherland CloudSource does have legal requirements in compliance with state and federal laws, they are also looking for the basic requirements suitable to this type of job as well.
To work in most positions, you:
must be over the age of 18.
be legally permitted to work in the USA.
be reliable and also flexible.
be detail-oriented and willing to offer superior customer service.
should possess good self-management and self-motivation skills.
should have the ability to apply good judgment and make on-the-spot decisions.
must have an understanding of general business operations and resources.
Each client will, of course, have its own requirements for its job, so it's important that you fit the bill with your skills and experience.
Sutherland also notes that applicants must have a separate office space with a door in which they can work.
That means that those who have children in the home during work hours may not be the best fit for the job, as you'll typically need to make calls that require no background noise.
Finally, Sutherland does require a criminal background check of all employees before they join the team.
Some clients may also require a credit screening.
It's unclear whether Sutherland or applicants need to pay for these screenings.
I've also read on some reviews from current and past employees that drug screenings may be required by clients, which is an odd requirement for work at home staff.
However, the Sutherland website doesn't indicate this requirement.
What are the Computer/Home Office Requirements?
Some employment opportunities—not all—will only allow Windows 10 to be installed because it's the latest version of Windows.
Other clients will allow for Windows 7/Windows 8/Windows 8.1 as well as Mac OS X.  So, if you are a "Mac lover" this may be a good work-at-home option for you.
Other considerations for your PC will include:
Dual or Quad-Core processing (the faster the better) depending on the program.
2 to 4 GB RAM (the more RAM the better) depending on program.
10 GB hard drive space.
1 Mbps upload speed with a 5 Mbps download speed.
One or more available USB ports (2.0 or greater).
Sound/audio support.
USB headset with dual-ear and noise-canceling microphone (Sutherland recommends the Plantronics PLNAUDIO478 or Logitech USB H570e, which are both under $40 but still high quality)
Sutherland also states that wireless and satellite internet systems are not allowed to be used because they don't work with the system.
What Are the Hours and Pay at Sutherland Remote Engagement?
The hours are generally part-time during business hours or even slightly extended past business hours in the clients' time zone.
Earn Everything… nearly!
Join Opinion Outpost, one of the few faithful and honest survey panels and earn cash and gift cards for your opinion. Stack your points and redeem them: Simple! No hidden fees and completely free!


While the hours are considered flexible, they are not 24/7 and you'll still need to fit your schedule into the needs of the client.
The pay will also vary with each client and project.
You'll be able to see this information before accepting a project you match with, though.
According to some reports online, the pay is comparable to other similar remote customer service jobs.
For some, it's not quite enough, but I'm sure that all depends on how well the client is willing to pay.
Sutherlands via a pay card or direct deposit every two weeks.
I do want to point out, though, that not everything with Sutherland is about pay.
Sutherland actually offers an excellent benefits package for its remote workers that can far outweigh the potentially mediocre pay you get from a client.
The benefits include paid training, paid time off, performance incentives, career development opportunities, ongoing support, and vision, dental, and health benefits.
Are You an Independent Contractor or an Employee?
Unlike similar remote positions, you'll be considered a part-time employee at Sutherland CloudSource.
Even part-time, you will be offered some of the same benefits as full-time employees and also receive a basic 401k package.
There is also promotion from within the company for remote workers as well as their outside colleagues.
However, you cannot work for another remote call center like you would be able to as an independent contractor as it will be considered conflict of interest.
Sutherland expects, since you're an employee, that you'll leave your schedule open for its clients.
What is My Overall Impression of Sutherland Remote Engagement Services?
It looks like a great company to work for as a customer service agent.
It also looks like there is plenty of room for advancement.
Also, if the remote agent ever wants to transition into a regular B&M (brick and mortar) job with Sutherland, it appears that there are also opportunities to do that.
I appreciate that the company offers paid training and seems to give remote workers all the tools they need to get started with their program and maximize their success.
One drawback, in my opinion, is that the jobs aren't really as flexible as Sutherland makes them seem.
When you get hired into a program, you'll need to meet the scheduling needs of that client.
So, you might be able to say you want to work mostly evening hours on a part-time schedule, but you can't necessarily choose your own hours.
You'll still need to stick to a schedule that works for your client.
You also can't do this job with kids in the home, which can be a major drawback for parents who need a job that won't require them to put the kids in daycare.
I do also want to remind you that you might have to pay for some things before you start working here.
Although it's not necessarily unusual to have to shell out a little money for equipment to start a job at home, I do understand that this can be considered a negative for families who really don't have the money to spare.
What Do Others Think?
When we first wrote this article, there wasn't much information on the web about Sutherland's remote jobs.
There's definitely more now, so it's much easier to see what other people who have worked with the company think about it.
One common complaint I've seen has to do with the training process.
Some workers feel that, while it's thorough, it lasts way too long – up to a month, in some cases – making it take longer for you to get started working.
Others also have some complaints about pay.
I've seen some employees mention they make between $8.50 and $11 an hour, depending on the client, but expected to be making more.
It also seems that the system you work from can be a little clunky and outdated, according to some employees.
One complaint that really concerns me is that several employees note that transitioning to other programs can be difficult and stressful.
One reviewer, for example, said that she and her team were given only 30 days notice before their program was ending and many of them weren't able to transfer to other suggested programs because they didn't meet requirements.
That can be pretty scary if you don't have another job to fall back on.
On a positive note, several reviewers do agree that their managerial and support teams were excellent to work with and very helpful throughout the length of their programs.
How Can an Interested Applicant Apply?
To sign up to be a part of the Sutherland Remote Engagement Team, you just need to go to the website and apply.
Once you submit your information, you should hear back from Sutherland soon about the next steps.
Many employees say that the application process itself is relatively straightforward and easy to get through.
If you don't currently see any positions open for the Remote Engagement Team, you can always submit your information to the Talent Network instead.
Sutherland will keep your information on file and let you know when the position becomes available.
Does Sutherland Offer Other Remote Positions?
Yes!
Sutherland Global does have other remote positions available on its Jobs page that might suit you better than a role with the Sutherland Remote Engagement Team.
Most of them are part-time and non-managerial, but there are also some more skilled managerial jobs that are remote.
I do want to point out that the Jobs page doesn't only list Sutherland's remote positions.
You'll also find several on-site positions, so be sure to look for the ones that say something like "Remote" or "Offsite" in the location description.
You can always check out the website for open positions, but here are a few of the most common and popular jobs from Sutherland:
Tech Support and Sales Consultant
This is definitely one of the more popular remote careers at Sutherland Global.
These are full-time work from home positions that are available in 36 states.
For the job, you'll be working on a service-focused team providing basic tech and customer support to customers of clients.
The role does require some sales experience, too, because you'll need to be doing things like suggesting other relevant products or upselling to customers.
You should also have excellent knowledge of the products you'll be working with so that you can make helpful recommendations to customers.
The training for this program is mandatory and will require a full-time schedule, 5 days a week for 8 hours a day.
Four of those hours will be in a classroom environment while the other four are self-paced.
The full training lasts for 6 weeks before you begin working.
Sutherland usually breaks up training into different blocks, so you can decide which one best meets your scheduling needs.
Some weekend and evening hours will be required.
A high school diploma is a requirement and you'll also need two 20-inch monitors set up in your home office.
Mortgage Underwriter
Self-motivated applicants can apply for the Mortgage Underwriter position to help clients remotely with their approval and denial process for mortgages.
You'll be responsible for inputting important applicant information that leads to a decision about a mortgage.
Based on the information you gather you'll help make those important decisions.
Only a high school diploma or GED is required of candidates, but a college degree in a relevant field is preferable.
You'll also need to have at least 3 years of underwriting experience under your belt.
You should be able to multitask, communicate well, and work efficiently to excel at this job.
Professional .NET Developer
Do you have techie experience developing apps using the .NET platform?
This position could be just the remote job you're looking for.
Although this position can be remote, you'll still need to collaborate with the rest of the team to complete design tasks, visualize a concept, etc.
You'll need at least 5 years of development experience with .NET applications, at least 1 year of experience developing web applications, and thorough proficiency with the Microsoft Office suite.
Digital Marketing Automation Expert
Those who have experience in marketing and proficiency with Marketo can apply for this position, which focuses on boosting the marketing efforts of Sutherland.
You'll be working with the rest of the marketing and design team to conceptualize campaigns and keep them moving from start to finish.
Therefore, you'll need to be an excellent communicator and team player.
At least 3 years of inbound marketing experience is necessary, plus a strong sense of design, familiarity with HTML and CSS coding, CRM experience (Salesforce preferred), and an understanding of opt-ins and other parts of a successful sales funnel.
Accounting Associate
Some of Sutherland's accounting jobs are on-site while others are remote.
Some of the positions are also for Sutherland itself, while others are accounting positions for clients.
As an accounting associate with Sutherland, you can assist with taking charge of client accounts and documents.
You might also be in charge of paying employees and other expenses.
If you sign on for accounting duties for clients, you can help them handle their customers' accounts and fulfill any other accounting clerical tasks they might have.
Most accounting positions will need applicants with a high school diploma or GED, at least 5 years of accounting experience, and proficiency with Excel and Microsoft Word.
You should also have some customer service skills, as you may need to occasionally contact customers to remind them about their payments or ask account-related questions.
Common FAQs about SUTHERLAND CLOUDSOURCE
What Is Sutherland CloudSource?
Sutherland CloudSource is a cloud-based workforce solution offered by Sutherland Global Services. 
It allows businesses to leverage a global network of remote professionals to meet their customer engagement and support needs. 
Through Sutherland CloudSource, companies can access a scalable, on-demand workforce that is trained to deliver exceptional customer experiences.
How Does Sutherland CloudSource Work?
Sutherland CloudSource operates on a cloud platform, enabling companies to tap into a diverse talent pool of remote workers from various locations worldwide. 
The platform facilitates the recruitment, onboarding, and management of these remote professionals. 
Businesses can seamlessly integrate the Sutherland CloudSource workforce into their operations, ensuring a smooth customer engagement process.
What Are The Benefits Of Using Sutherland CloudSource?
Increased Scalability and Flexibility
With Sutherland CloudSource, businesses can easily scale their workforce up or down based on their changing needs. 
Whether there's a seasonal demand surge or a need for additional resources, the cloud-based solution allows for quick and efficient adjustments to meet customer demands.
Access to Global Talent
Sutherland CloudSource provides access to a vast pool of skilled professionals from around the world. 
Businesses can tap into this global talent pool to find individuals with specific language skills, cultural knowledge, and expertise. 
This enables them to better serve diverse customer bases.
Cost Savings
By leveraging Sutherland CloudSource, companies can reduce operational costs associated with in-house staffing. 
They can avoid expenses related to recruitment, training, infrastructure, and employee benefits, as Sutherland takes care of these aspects for the remote workforce.
Enhanced Customer Experience
It does so by providing well-trained, dedicated professionals who are equipped to handle customer queries, resolve issues, and provide support. 
This results in increased customer satisfaction and loyalty.
How Are Remote Professionals In Sutherland CloudSource Selected And Trained?
Sutherland Global Services follows a rigorous selection process to identify qualified candidates for its remote workforce. 
Applicants undergo various assessments to evaluate their skills, communication abilities, and suitability for the role.
Once selected, remote professionals receive comprehensive training through Sutherland's robust learning and development programs. 
This training equips them with the necessary product knowledge, customer service techniques, and problem-solving skills to excel in their roles and provide exceptional support to customers.
Is Data Security Ensured With Sutherland CloudSource?
Yes, data security is a top priority for Sutherland Global Services. 
Sutherland CloudSource incorporates industry-leading security measures to protect sensitive customer information. 
The platform adheres to strict data protection protocols and complies with relevant regulations to ensure the confidentiality and integrity of client data.
How Can Businesses Integrate Sutherland CloudSource Into Their Existing Operations?
Integrating Sutherland CloudSource into existing operations is a straightforward process. 
Sutherland Global Services works closely with client organizations to understand their specific requirements and tailor the implementation accordingly. 
The platform can be seamlessly integrated with existing customer support systems, ensuring a smooth transition and efficient collaboration between in-house and remote teams.
Can Businesses Customize The Sutherland CloudSource Solution To Their Specific Needs?
Yes, Sutherland Global Services understands that every business is unique. 
Therefore, they offer customization options for the Sutherland CloudSource solution. 
Client organizations can collaborate with Sutherland's experts to customize the platform to align with their branding, workflows, and specific operational requirements.
How Can Businesses Get Started With Sutherland CloudSource?
To get started with Sutherland CloudSource, businesses can reach out to Sutherland Global Services through their website or contact their sales representatives. 
The Sutherland team will guide them through the onboarding process, including assessing their needs, providing solution demonstrations, and creating a tailored plan for implementation.
What do you think about Sutherland work from home jobs? Have you worked with the team previously, or do you currently work there? We'd love to hear your thoughts – drop a comment below!
Related Posts:
Earn Everything… nearly!
Join Ipsos iSay, one of the few Faithful and Honest survey panels and earn prizes, gift cards and donations. Stack your points and redeem them: Simple! No hidden fees and completely free!