ACN Inc Review: Sell TV, Internet, and Other Services from Home
Updated on: by Amy Kennedy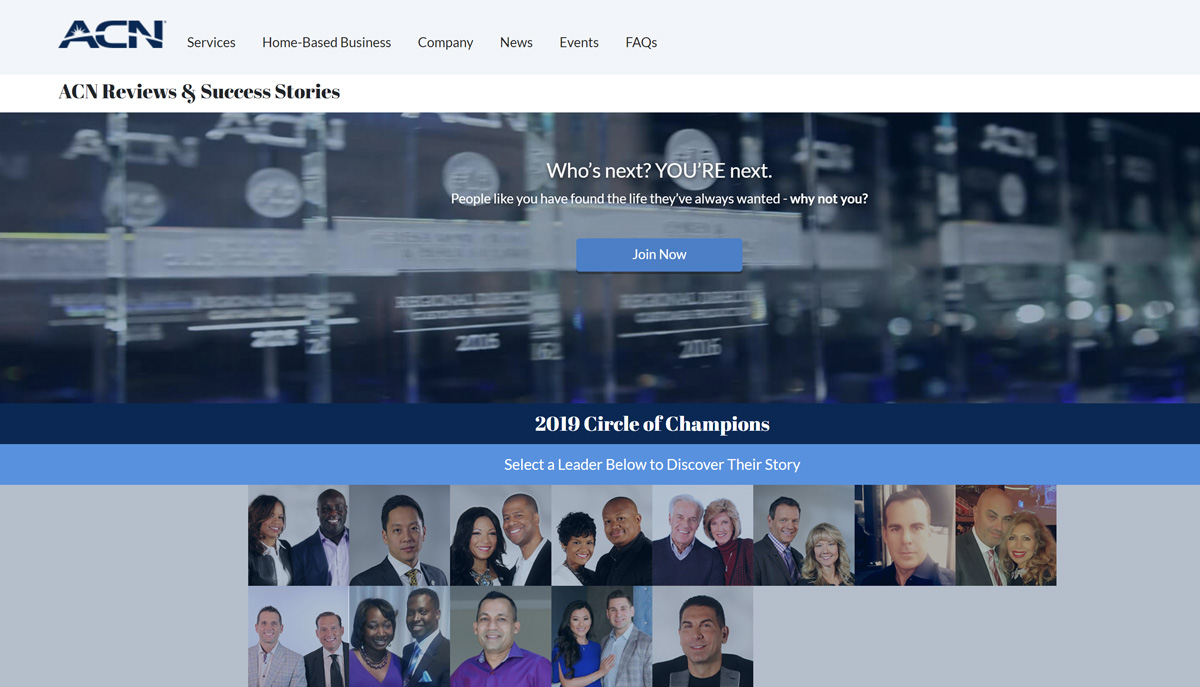 Just about everyone nowadays has internet, phone service, and some kind of TV service, usually in the form of a digital streaming service like Hulu, Sling TV, or Netflix.
Need Easy Extra $350+/Month For Free?
It's more important than ever for people to stay connected to what's going on in the world and stay in contact with the people they know and love.
Phone, internet, and TV services have kind of become less of a want and more of a necessity for the average household.
Even most schools require students to do at least some of their homework on an internet-connected computer.
According to the US Census Bureau, most United States households stay connected through a phone, mobile device, or a computer or laptop.
People are paying for the internet, TV, and phone anyway, but have you ever thought about those costs becoming profitable for you?
They can be if you sign up for the American Communications Network (ACN) business opportunity.
I researched this business model for you to bring you all the information I can find so that you can decide if it's the right opportunity for you to earn some extra cash or even earn a living.
What is ACN?
American Communications Network (ACN) is a telecommunications direct sales company founded in 1993.
What does that even mean?
Basically, the company resells internet, phone, and television services to customers, usually by bundling the services together.
It acts like a middleman between a customer and the service company, so it gets some profit by helping customers find and purchase their ideal services.
ACN offers help to both residential and business customers in 26 countries by providing them United States services that they can use on a long-distance basis.
Services for Residential Customers
The services ACN offers for residential customers include:
Home and wireless phone
Identity fraud protection
Satellite TV
Gas and electricity
Security and automation (like home surveillance systems)
TV, wireless, and internet bundles with AT&T, Frontier, and Spectrum
Services for Business Customers
For business customers, ACN offers:
Business phone lines and wireless services
Security and automation
Satellite TV
Payment processing for brick and mortar and online stores and businesses
Gas and electricity
What's the ACN Business Opportunity?
Now that we know more about ACN and what it offers, you're probably wondering how this translates into you making money.
Need Easy Extra Cash?
Pinecone Research, a leading name in online survey panel honesty, absolutely guarantees $3 cash for every survey you complete!
Take advantage of their time limited New Membership drive and register NOW. Join today: 100% free!


Well, ACN earns its money by selling bundles and other services to residential and business customers.
Every time it sells a service, it earns a profit.
You can earn some of that profit by becoming a representative who sells these services and bundles to a customer base.
You'll earn commissions when you do so because you're helping to boost sales for ACN.
The ACN business opportunity is one you can safely call a multi level marketing because you can earn more money when you have other representatives underneath you who are also selling services to their customer base.
ACN lets you not only earn your commissions from your direct sales but will also pay you a percentage of your referrals' sales.
Technically, you'll be known as an ACN Independent Business Owner.
As part of the company, you'll not only be able to make money but you can also learn everything you need to know about building your business through company training materials and events.
How Much Does It Cost to Start?
ACN does have one of the highest startup costs I've seen for a MLM company at $499 for a one-year term.
However, remember that you're starting a business and $500 isn't very much to invest in a business.
Still, I realize that this cost can be really hefty for people looking to start a business with minimal investment because they don't have a lot of extra money to spare.
What do you get for your $499?
You'll get access to all training materials, business tools, and the ability to start selling products for commissions.
How to Make Money with ACN
Everyone at ACN will start as an Independent Business Owner (IBO).
There are two ways for IBOs to earn money: Through monthly residual commissions and through weekly and monthly bonuses based on your customer acquisition.
Basically, you'll primarily earn money from your customers' monthly payments toward their services they purchase through you.
You'll get between 1% and 10% of these payments.
Then, when you recruit new customers to ACN and its services, you can earn bonuses depending on how many new customers you get.
The amount you get depends on your rank with the company.
You can move up the ranks as you gain more customers, have more members on your team, and make more sales.
The compensation plan is honestly really confusing because it uses a combination of percentages and points that dictate what you can make.
However, it does do a good job at being really detailed about how many points and potential earnings each service will bring you.
Requirements to Work as a Representative for ACN Inc
To work as a representative for ACN Inc., known as an Independent Business Owner (IBO), there are certain requirements and steps you need to follow.
Here is an explanation of the typical requirements and process:
1. Age and Legal Requirements
To become an IBO with ACN Inc., you must meet the age requirements set by your country or region.
Additionally, you will need to provide appropriate identification and legal documentation as required by ACN and any applicable laws.
2. Registration and Agreement
You will need to register as an IBO with ACN Inc.
This typically involves filling out an application form, providing personal information, and agreeing to the terms and conditions set forth by the company.
You may also need to pay a registration fee or purchase an initial business starter kit.
Earn Everything… nearly!
Join Opinion Outpost, one of the few faithful and honest survey panels and earn cash and gift cards for your opinion. Stack your points and redeem them: Simple! No hidden fees and completely free!


3. Training and Education
ACN Inc. often provides training and educational resources to its IBOs.
This can include online training modules, webinars, conferences, and mentorship programs.
It's important to take advantage of these resources to develop your understanding of ACN's products, services, and sales strategies.
4. Product Knowledge
As an IBO, it's essential to have a good understanding of the products and services offered by ACN Inc.
This includes knowledge of their telecommunications services, home security systems, energy plans, and other offerings.
The more you know about the products, the better you can communicate their value to potential customers.
5. Building and Managing Your Business
As an IBO, you will be responsible for building and managing your own ACN business.
This involves prospecting and acquiring customers, networking, promoting ACN's products and services, handling customer inquiries, and managing your sales team if you choose to recruit and build a downline.
6. Compliance with Policies and Guidelines
IBOs with ACN Inc. must adhere to the company's policies and guidelines.
This includes complying with marketing and advertising regulations, following ethical practices, and representing the company in a professional and responsible manner.
Pros and Cons of Working with ACN
These types of direct selling companies tend to have a lot of mixed reviews based on individual experiences.
ACN is no different.
The truth is, what works for some people won't work for others and ACN is just not going to be the company for everyone.
But I do think it's important to talk about some of the more common complaints and praises for ACN so that you can decide whether the company is the best place for you to start your business.
Pros
Sell Services People Pay For Anyway
One of the biggest benefits of working with ACN is that you don't have some odd product you're trying to sell that people don't really know about.
You're, instead, selling services from real telecommunication companies that people have already heard of – and these are services they use every day, like internet and phone!
I like that you don't really have to talk people into buying these services because they likely already have or need them.
There's not much of a learning curve, either, because most people already know what these services have to offer and why they are beneficial.
Can Be Profitable for the Right Person
People who are really great at selling can definitely make a profit here if they can continuously convince people to purchase services through ACN.
Since the people who sign up pay monthly for their services, you can earn money every month, without fail, as long as your customers keep their services and remain active with payments.
Add in potential bonuses and extra commissions from your team members, and there's no denying that, for the right people, ACN can be a profitable business opportunity.
A+ BBB Rating
I don't fully rely on the Better Business Bureau (BBB) to decide whether a company is legit or worthwhile, but I do use it as one of my consideration points.
ACN has an A+ rating with the BBB and has been accredited since 2008.
The company has had some complaints, but it seems like most of them have been taken care of by ACN, which is refreshing.
There are also a lot of praises from customers and from business owners who sell ACN services.
Cons
High Startup Costs
One of the most obvious drawbacks to ACN for a lot of people is its high costs to start a business.
$499 is undoubtedly pricey for many, and it doesn't actually get you a bunch of stuff to start.
You won't get free services to try out for yourself or any products to sell.
Instead, it ensures your spot on the team, gives you access to training materials and events, and lets you start selling.
That cost is only good for a year, so you'll need to spend some money annually to keep yourself in business.
In all fairness, though, there are other MLM companies that charge monthly or require you to sell a specific amount every month or quarter to remain active.
ACN just charges you up front for the year, so the cost is higher initially.
Will Be Challenging for Non-Salesy People
I mentioned before that people who are good at selling should find this type of business profitable.
On the other hand, those without selling experience or who are uncomfortable talking to new people aren't likely going to find a lot of success here.
Unfortunately, there's nothing the training materials and events can teach you if you don't have a natural ability to sell and enjoy doing it.
This opportunity requires a lot of selling to people you know and people you don't, and it won't be the right place for you if you don't like feeling like you're pushing people into buying something.
A Lot of Complaints from Customers
One of the things that really stood out to me in my research is the number of complaints ACN has from actual customers who buy their services rather than IBOs.
This is a red flag to me.
A lot of customers complain about incorrect charges (charging too much or too frequently) or still getting charged even after they cancel their services.
After contacting the company multiple times, some customers still have issues getting their money refunded or getting their services canceled.
If people aren't happy with ACN's services, then they're not going to stay on board with the company.
When they cancel, you stop getting commissions from their monthly payments, so these complaints are something you need to consider before starting your business.
I'd suggest using ACN services yourself for at least a couple of months to see how they work, how the pricing compares to other services, and how easy or difficult the cancelation process is.
Not Interested in Becoming an ACN IBO? Try This to Save Cash!
If you don't think ACN is for you, you can still save some cash if you decide to use ACN services for yourself.
You can do this through its Refer-A-Friend program.
All you need to do is login to your account and refer five new customers to Flash Wireless, one of ACN's partnered companies.
When they sign up under you, you can get your service for free.
Note that the customers you refer need to be new customers and have to stay active in their programs and on time with their payments for you to remain eligible for free service.
It won't make you money, but it can certainly help save you money on your service you need!
ACN Inc Review: Are ACN Opportunities Legit or a Scam?
ACN is one of those companies that people often associate with an MLM scam, and I can kind of see why.
Its compensation plan is detailed but really confusing for the average person, so it's almost impossible to predict how much you'll make from your sales and customers.
The company also requires a high startup cost without very much in return besides promising some training materials and support.
Face it: If you're not an awesome salesperson, you probably won't have a lot of success with this business, regardless of how much training you get.
I have seen several reports of people getting paid through ACN, so I'm not worried that it doesn't pay.
I am, however, worried that you might never make enough money in your first year to cover the $499 cost you need to pay for that year.
You need to sell a lot of services to make a decent amount of money, which can be really challenging with these types of services where people are usually reluctant to switch to a new company.
Bottom line: No, I don't think ACN is a scam.
But I do think that this opportunity is only a plausible one for expert salespersons who have a really solid network of potential customers and people who will gladly sign up underneath them to start selling.
This definitely isn't a passive income business.
It will require a lot of marketing, networking, and selling to find success, which means it won't be the right opportunity for you if you're looking for a more casual selling experience.
What do you think of ACN? Have you tried it or know someone who has? We love hearing from people with first-hand experience with a company, so be sure to share your thoughts below!
Related Posts:
Earn Everything… nearly!
Join Ipsos iSay, one of the few Faithful and Honest survey panels and earn prizes, gift cards and donations. Stack your points and redeem them: Simple! No hidden fees and completely free!