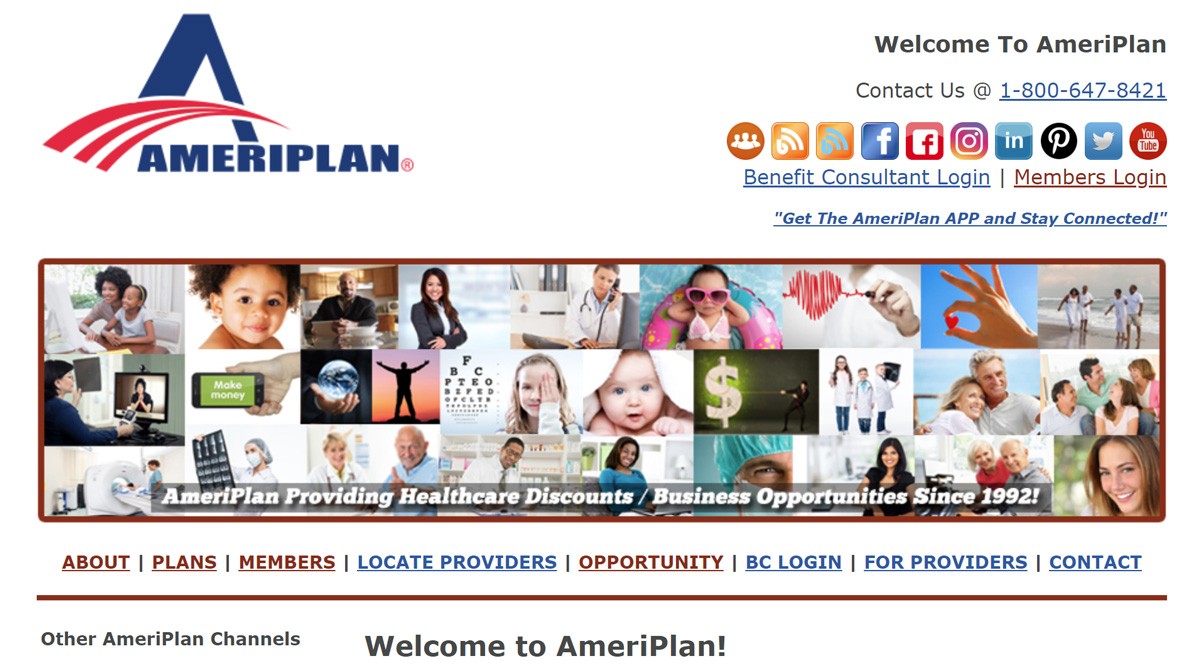 Are you looking for a work at home opportunity that works for you?
Need Easy Extra $350+/Month For Free?
AmeriPlan USA is a company that offers you a way to make money from home selling discount health memberships to people who might not have health insurance or don't have quite enough coverage.
You can work on a full-time or part-time basis, so the job can be flexible depending on your needs.
But are there other benefits for you?
What is the work like?
What do other consultants think of the work after trying it for themselves?
This AmeriPlan USA review has all these questions – and more – covered, so you can decide if its work from home opportunity is the right one for you.
What is AmeriPlan USA?
AmeriPlan USA offers membership plans for people who want to save money on healthcare.
In other words, if you're uninsured or underinsured, you can enroll in an AmeriPlan dental, vision, or medical care plan to receive discounts on the care you receive.
The plans are designed to help you save on your out-of-pocket costs you'd normally pay to go to the doctor or visit a specialist.
What AmeriPlan USA sells is not health insurance.
Instead, it's membership that discounts some health services that can be pricey, especially when you don't have much – or any – insurance coverage for them, like getting glasses or dental work.
The company has been around since 1992 and is the largest company of its type in the United States, so those are good signs that it's had a lot of success in the business.
And one of the ways it continues to make money is by offering a work from home opportunity to people who want to help the company sell its plans to new members.
These people are called Benefit Consultants, and they also have to enroll in an AmeriPlan USA plan to start taking advantage of the business opportunity.
AmeriPlan USA Plans
AmeriPlan USA has two plans for its members.
Need Easy Extra Cash?

Pinecone Research, a leading name in online survey panel honesty, absolutely guarantees $3 cash for every survey you complete!
Take advantage of their time limited New Membership drive and register NOW. Join today: 100% free!


One focuses on dental, vision, prescription, chiropractic, and hearing services for $24.95 per month.
The other includes everything in the lower-cost plan plus additional savings for non-medical services and gives you 24-hour access to medical advice.
That plan is $34.95 per month.
Each plan covers your whole household, not just one person.
It's important to note that both plans have one-time registration fees when members sign up, too.
The lower plan is $20 and the higher plan is $30 for the one-time fee.
However, these plans only provide discounts for some services rather than reimburse you for those services like your insurance company would.
You can also only get discounts from providers who work within the AmeriPlan USA network, which you can search through on the website.
All About AmeriPlan Work at Home Jobs
AmeriPlan USA offers its Benefits Consultant jobs to anyone in the United States who is open to enrolling in AmeriPlan.
The cost to become a consultant is $30 per year, and this gets you what you need to get started selling AmeriPlan USA plans.
You'll get an online business kit that includes training materials and videos, a personalized website, and an online back office system where you can view customer and sales information.
Once you get enrolled, you'll need to sell at least one AmeriPlan USA plan to become "active".
Only active members can actually get paid for their time (there's no hourly rate – you get compensated only for what you sell).
So, from what I can tell, even your first sale isn't compensated because you need that sale to become active and only active members get paid.
Once you make that first sale, you'll be eligible to earn commissions on any future sales you make with the company.
Basically, you'll need to market AmeriPlan USA plans and their benefits to people you know, or have a marketing strategy in place to reach people you don't know.
You can do this through social media channels or a blog, for example.
But you'll definitely need to be salesy and have a knack for talking to people to get the job done.
As a Benefits Consultant, you can make 40% commission on everything you sell.
Payments are made monthly, so you'll get all your commissions for one month paid with the following month's pay.
Remember that members enroll monthly, so you can still get paid your commissions every month as long as they remain active.
You have the chance to earn more, too, as you get more people to join your team.
You can become a Regional Sales Director (RSD) when you have three active members on your team or at least six people enrolled as Benefits Consultants.
If any of them move up to the RSD title, then you can start earning 15% of everything they make.
Keep moving up and you can make money on what their team members make, too.
Like most multi-level marketing businesses, you'll need to stay in communication with your team members to make sure they're staying active and their teams are staying active for this part of the deal to work out well for you.
AmeriPlan USA Bonuses and Incentives
You can become eligible for some bonuses and incentives as a consultant with AmeriPlan.
When you earn your first $1,000 as a consultant, you can get a special member pin as part of the Millennium Club.
There's also a special pin for reaching the President's Club level of $25k in earnings, and a ring you can get when you reach $100k in annual income as part of the Founder's Club.
Earn Everything… nearly!

Join Opinion Outpost, one of the few faithful and honest survey panels and earn cash and gift cards for your opinion. Stack your points and redeem them: Simple! No hidden fees and completely free!


If you happen to earn at least $50k in a calendar year through AmeriPlan USA, you earn a car.
How Do I Sell AmeriPlan USA Plans?
When you enroll as a Benefits Consultant, you'll get your own personalized website that features AmeriPlan USA information and its plan details.
You certainly can get people interested in enrolling through your website, but from what I've read in AmeriPlan USA reviews, consultants seem to have more success when they make phone calls to interested customers.
In fact, a lot of them actually cold call people, which means calling people who may not have already expressed interest in a plan through AmeriPlan USA.
Others tell their friends and family about the plans through face-to-face conversations or social media to encourage them to enroll.
Like I mentioned before, you can draw people to your website by having a content marketing strategy in place, but you still may need to give people a little push into enrolling with a phone call.
Some people also choose to sell door-to-door.
It really just depends on your selling preferences and what you feel comfortable with.
AmeriPlan USA Review: Is It Legit or a Scam?
So, is AmeriPlan USA a legitimate company?
Yes.
It's been in the business for a long time and seems like it's holding strong in its niche.
There are also a lot of consultants who write positive reviews about the company and its work from home job opportunity.
At the same time, there are a lot of complaints about the company, too.
Some of them focus on AmeriPlan USA products themselves while other complaints focus on its business opportunity.
I checked out the Better Business Bureau (BBB) to see if AmeriPlan USA was accredited and what its rating is there.
The company isn't accredited, but it does have an A+ rating, which is a good sign.
The complaints on the BBB website mostly have to do with customers trying to cancel their AmeriPlan USA plans after deciding they didn't need or want them, only to get hit with charges anyway.
However, AmeriPlan USA seems quick to handle these complaints, which is great.
So, I checked out other reviews on places like Indeed and Glassdoor to learn more about what people think of the AmeriPlan USA business opportunity, because I know you're probably here to see if it's a work at home job you think you should try.
Here are frequent complaints I saw:
Paying to Start
Although most direct sales companies like AmeriPlan USA do require you to but some sort of starter kit to begin your business, AmeriPlan's requirements are a little different – and strange.
You have to not only enroll annually to remain a Benefits Consultant, but you also need to sell a plan to someone before you can even start making money!
It might take you weeks just to get your first plan sold and you don't even make money for it.
It could be another few weeks until you make another sale that you can earn compensation from.
So, let's say you paid the $30 annual fee to become a consultant on May 1st.
You make your first sale on May 15th.
You don't get any money on that sale.
Then, you sell the lower-cost plan for $24.95 on May 26th.
You get 40% of that sale, which includes the $20 one-time fee, which comes to $17.98.
It took you almost a month just to make less than $20 and you'll have to wait until the next monthly pay date to get your cash.
Lack of Training and Support
Some consultants say they barely got any training or support to help them get started selling for AmeriPlan USA.
If you browse the website, you might notice that there's not even that much information about the plans and what you get in them, so it's not surprising that consultants are kind of left to figure things out on their own too.
When you're in the business of selling something, you really need a solid understanding of what the products entail, or you probably won't have a lot of success explaining them to others.
Not Getting Money Owed
I've seen some complaints from consultants who say they were paid by AmeriPlan USA only to have that money taken back by the company.
Or, others say that they were told they're not eligible to earn their commissions if they haven't gotten a new customer during the month.
Either way, not getting the money you're promised can be super disheartening, not to mention sketchy on the company's part.
I'm not sure what might have led to these consultants not getting their money that they're due, but all I can say is I hope AmeriPlan USA has a legitimate reason to withhold the cash.
AmeriPlan USA consultants – we want to hear from you! What has your experience been like with the company? Have you had success? Leave us a comment below!
Related Posts:
Earn Everything… nearly!

Join Ipsos iSay, one of the few Faithful and Honest survey panels and earn prizes, gift cards and donations. Stack your points and redeem them: Simple! No hidden fees and completely free!