AWOL Academy Reviews: Can These Courses Teach You Internet Marketing?
Updated on: by anvitalis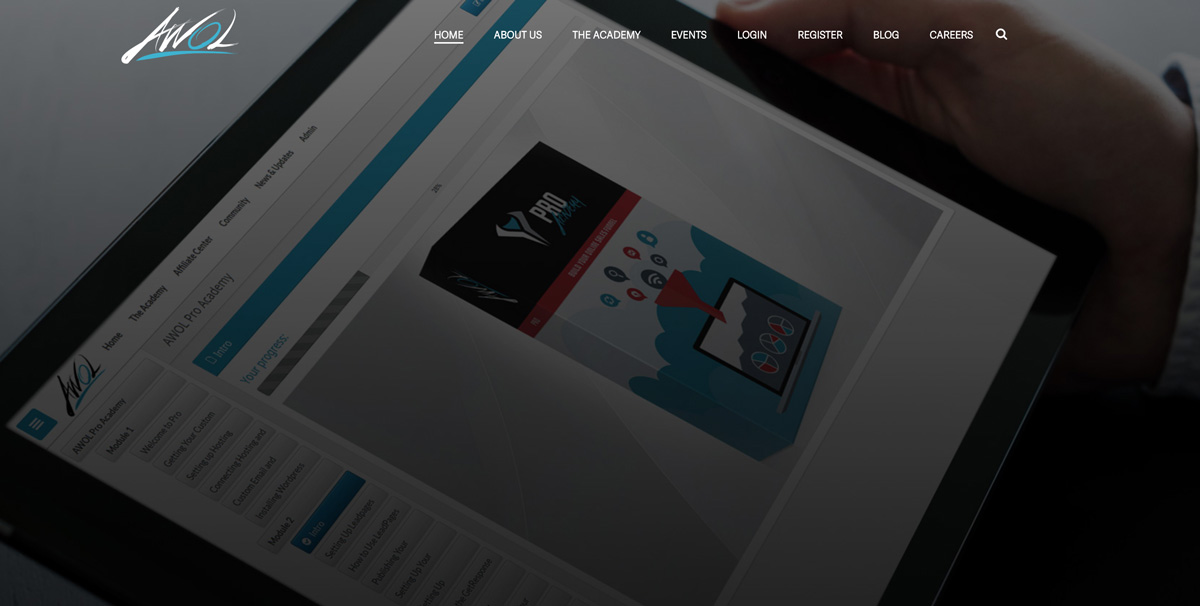 Working from home is something people all over the world strive to do.
Need Easy Extra $350+/Month For Free?
But just like any other job, a remote job can be demanding and require a lot of knowledge, experience, and skills.
Just because you're not working near your boss or other employees, that doesn't mean you can fake your expertise!
This is why I'm such an advocate for education – for any job.
When I say education, I'm talking about continuous learning to stay current on industry practices, regulations, and new ways of doing things for your job.
This is extremely important whether you're an educator, a programmer, or a freelance graphic designer.
Industries always change; therefore, jobs within those industries and the skills needed to perform them do, too.
You might see a lot of people talking about online courses and think they're a bunch of silliness designed to grab your money, but legitimate online courses can help you learn and continue to develop the skills you need for your line of work.
Which brings us to AWOL Academy, one place that insists it does just that through its programs in The Academy.
If you're already an internet marketer, or you're interested in internet marketing, then you'll want to read further to learn more about AWOL Academy and what it has to offer you.
What is AWOL Academy?
AWOL Academy was originally known as Project Academy, which is why you may have seen this name mentioned with it.
AWOL Academy more accurately represents what the company does, which is educate and support others in the internet marketing world.
AWOL stands for Another Way of Life, which is a little strange. But the Academy part refers to The Academy, AWOL's primary education center.
This is where it offers online courses to anyone who wants to learn more about marketing for the internet, whether they want to help clients do it or boost their own knowledge to help market their own business.
AWOL started in 2015, so it's only a few years old at this point.
Still, there's a lot of talk about it on the web – both good and bad.
Need Easy Extra Cash?
Pinecone Research, a leading name in online survey panel honesty, absolutely guarantees $3 cash for every survey you complete!
Take advantage of their time limited New Membership drive and register NOW. Join today: 100% free!


Who are Keala Kanae and Kameron George?
We've covered "What is AWOL Academy?" but if you've looked up information about the company, you've probably also seen the names Keala Kanae and Kameron George mentioned a lot, too, and are wondering who these people are.
These two are the founders of AWOL, and you can learn more about them on the site.
If you Google their names, you'll come up with a lot of comments about them being potential scam artists.
Mostly, people mention that they use scammy tactics to get people to sign up for their courses and learn more about internet marketing from them.
Keala Kanae claims to have learned everything he knows about internet marketing from 2012 until now.
Kameron George is a young entrepreneur who says he began running online businesses when he was only 22 years old.
Together, they seem like they do know a lot about internet marketing and it's clear that they're successful people.
Putting the two of them together to work on AWOL seems to just make sense since they know they're way around marketing on the internet.
Let's give them the benefit of the doubt and dig into AWOL itself, shall we?
What Does AWOL Academy Offer Me?
AWOL Academy offers a supportive community, a web of coaches to guide you, and educational materials and courses that help you learn internet marketing from Keala Kanae and Kameron George themselves.
I want to be clear that this isn't a work at home opportunity or business opportunity.
Instead, it's educational training designed to help people who are interested in internet marketing – either to boost their own sales or to start their own business in internet marketing – learn what they need to know to get the job done.
All About The Academy
Everything you need is in The Academy.
However, there are five different pathways you can choose, depending on the exact kind of internet marketing you want to learn more about.
Pro Academy
Pro Academy is where you'll probably want to start if you're a beginner.
This course focuses on building successful sales funnels, boosting your traffic, and making sales.
During this course, you'll have hands-on training from experts who can teach you more about making lead magnets, getting conversions, marketing through email, and more.
Internet Income Explained
This is also helpful for beginners who want to learn more about making sales online.
Internet Income Explained teaches the basics of e-commerce and digital marketing and explains it all in a series of helpful videos.
Inbox Academy
If you're struggling to learn email marketing, like building your email list and generating leads and sales through your email list, then Inbox Academy is where you need to be.
You'll learn techniques from top email marketers throughout this course, such as making your email subjects more clickable and tips for getting more readers to click on links in your emails.
Conversion Academy
Everyone who sells online needs to learn about conversions or getting people to not just click on your links to learn more, but also getting them to buy.
This course will teach you how to do that through your content, videos, ads, and other parts of your sales funnel.
Basically, you'll learn how to boost your sales by optimizing your sales funnel.
Traffic Academy
Is your website traffic where you seem to be struggling?
Face it: If you're not getting any traffic, you won't be making any sales.
Traffic Academy helps you change that by offering real techniques for boosting traffic that work.
More importantly, the course helps you learn how to get quality leads that are ready to buy your stuff so you don't waste time getting traffic that doesn't convert.
Masters Academy
Masters Academy is the big guy, the one that'll teach even more advanced internet marketers more complex stuff that can help you build a business, like planning for taxes and investing money for future growth.
Earn Everything… nearly!
Join Opinion Outpost, one of the few faithful and honest survey panels and earn cash and gift cards for your opinion. Stack your points and redeem them: Simple! No hidden fees and completely free!


AWOL Academy Pricing
When I first started browsing the AWOL Academy's products, I was impressed with the pricing – that is, until I got further into the products and saw that the dollar signs kept growing.
Here's what pricing looks like with The Academy:
Pro Academy: $99
Internet Income Explained: $49
Inbox Academy: $447
Conversion Academy: $1,797
Traffic Academy: $2,997
Masters Academy: $5,497
As you can see, the first two have affordable prices.
Even the Inbox Academy is doable, if you consider that most online courses fall within the range of $200 – $1,000.
Then there's a bump up to almost $2,000 for Conversion Academy.
I've seen similar courses that seem just as comprehensive (maybe even more comprehensive) that are much more affordable than this.
The Traffic Academy and Masters Academy are such huge investments that I'm not really sure what beginners would be interested in buying them.
After all, they're supposed to help people who want to boost their sales, so they're probably struggling to get them in the first place.
There's no denying that The Academy is an investment you'll need to think about wisely.
What If I'm Not Happy with the Academy?
Fortunately, if you do want to try out any of the AWOL courses, you're welcome to a refund if you're not fully satisfied.
According to the company's refund policy, you can try a course for 14 days.
Simply contact the email noted in the policy to request a refund within those 14 days, and you're eligible to get back everything you paid.
What Do Others Think of AWOL Academy?
It's important, before paying for anything, to check reviews!
So, I combed through a bunch of them from real, paying members of AWOL Academy to let you know what some of the most common opinions were.
Here's what they said:
Pro: Helpful, In-Depth Training
This is somewhat debatable, but I'll add it as a pro because I do see enough positive reviews about the training AWOL provides to make me think that it might work for some.
Some members note that AWOL's courses do offer a lot of information if you take advantage of it all (watching the videos, reading the materials, working with your coach, etc.).
It seems like it's one of those things that you'll get out what you put into it.
Pro: Member Support Community
One of the biggest praises for AWOL isn't actually its courses, but its member communities, like its dedicated Facebook group where members can interact with each other.
For some people, it seems like the Facebook group alone is worth the cost of a course!
Con: Really High Costs
You might not balk at the cost of one of AWOL's courses if you've already been making good money with your business.
Then again, if you're already finding success with your online business, you probably don't need these courses to begin with (besides possibly the Masters Academy to learn more about the behind-the-scenes business-y stuff).
For those who are trying to build a business, most of these courses have high price tags that are going to be out of reach for many.
Con: Self-Promotion
I've seen a lot of people mention that the AWOL Academy courses feature a lot of self-promotion about the founders and the other AWOL courses.
For example, you might start with the $99 Pro Academy to learn more about internet marketing basics.
However, according to a lot of paying members, most of the course will seem like it's talking up the founders and their other products or pushing you to buy another course to learn more.
Basically, they want you to spend more money to learn what you want to learn.
Con: Big Focus on Ads
A lot of the tactics that AWOL uses focus on placing ads to boost your business.
Of course, that means you need to spend more money on top of the courses (not to AWOL, but to wherever you place ads, like Facebook or Google).
If your goal is to learn helpful internet marketing techniques without spending tons of money on ads, then The Academy probably won't be the best place for you.
Con: Refund Doesn't Always Work
I mentioned earlier that AWOL offers a refund within 14 days if you're not fully satisfied.
Unfortunately, I've read several complaints from people who attempted to ask for a refund within their 14-day period and never got a response.
That's a huge red flag to me.
How Can I Join the Academy?
If you're interested in trying out a course with AWOL, you can register here.
You'll need to be at least 18 years old to sign up and you'll need your debit or credit card ready.
Once you fill in your personal details, you should be able to set your login name and password to get access to the materials for your course and the AWOL community.
AWOL Academy Reviews: Is It Legit or a Scam?
I'm somewhat torn on this one, but I'm leaning more toward a scam.
I just don't see enough positive information from reviews or my own research to say that AWOL Academy is a worthwhile investment for most people.
It seems more like a tiered program that just keeps upselling to its members to convince them to buy more products until they're out more than $10,000, all because they wanted to learn legitimate techniques to grow their businesses.
I'm all for learning through online courses, but these seem more like promotions instead of "courses".
You can always try a course for yourself to see what it's like and try to take advantage of the 14-day refund policy, if necessary – but you're not even guaranteed to get your money back, as some members have found out.
This one could be risky.
We'd love it if those of you with AWOL Academy experience could share with us in the comments what you thought of the courses you bought!
Related Posts:
Earn Everything… nearly!
Join Ipsos iSay, one of the few Faithful and Honest survey panels and earn prizes, gift cards and donations. Stack your points and redeem them: Simple! No hidden fees and completely free!