Babbletype Review: Earn More Through Transcriptions!
Updated on: by Amy Kennedy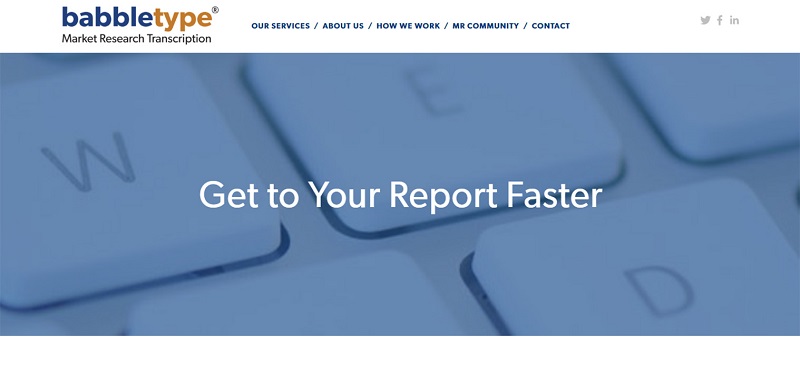 Are you trying to find a great transcription job where you can work on your own terms?
Need Easy Extra $350+/Month For Free?
Babbletype just might be the place for you to check out.
Babbletype is a transcription site that has been around since 2009.
Maybe you might recognize it by its former name of MRT.
You'll transcribe a variety of projects through Babbletype.
You'll mostly work on interviews and focus groups.
You will certainly find great projects to transcribe here, what with there being hundreds of projects every month at Babbletype.
Background of the Company
I found that Babbletype has been around in some form since 1994 and only became known as Babbletype in 2009.
This came as MRT managed a massive overhaul of its services.
I honestly have no real idea as to what this means but what I do know is that the company is based out of Philadelphia.
The site has Facebook and LinkedIn pages too.
I could not find much from people in terms of reviews of the site so I had to look around myself to get an idea of what's out there.
It was not too hard for me to find details through the Babbletype website. As is turns out, I learned quite a bit of things about what makes this place so appealing.
What Will You Do?
Sign up for Babbletype and you'll have access to an extensive variety of projects.
You can transcribe documents for all kinds of clients.
You'll capture every detail of speech and all the intricacies involved.
Need Easy Extra Cash?
Pinecone Research, a leading name in online survey panel honesty, absolutely guarantees $3 cash for every survey you complete!
Take advantage of their time limited New Membership drive and register NOW. Join today: 100% free!


Maybe you know a foreign language or two.
You can translate foreign language audio files into English-language transcripts.
You'll get access to many files in Spanish, French, Mandarin Chinese, Italian and Japanese among others.
Don't worry if you don't understand certain languages as you will have the freedom to choose options based on the languages you do actually know.
You can also provide content analysis support.
You'll read and listen to different documents and conversations and then transcribe them into a series of simple and easy to read reports.
Proofreading jobs are also available here.
You'll review different documents and compare them with what's on a file to ensure that everything is captured properly.
How Will You Get Work?
As you reach Babbletype, you'll get access to a full online listing of different jobs for you to check out.
Just choose any kind of task you want to complete.
You're free to review all the different projects and then choose to accept whatever is right for you.
You'll have until 4pm each day to sign up for assignments.
You will be confirmed to have an assignment on hand at 6pm.
You will then have to finish the assignment before 4pm the next day.
Babbletype has some great standards with regards to getting projects completed in a sensible timeframe.
Don't worry if you cannot get in to work on a certain day.
You are not obligated to choose something to do every single day.
It's not like you have to be forced into something that you aren't comfortable with handling.
You can pick any project you want so long as it's one that you are comfortable with and feel that you can complete within the right period of time.
There might be days when there isn't as much work to take in as others.
Check regularly to see what's available so you can reserve your project.
There's no limit as to how many projects you can complete either.
Just pick projects that you know are sensible.
Is This For You?
Ask yourself a few questions before determining if Babbletype if right for you:
Are you capable of working quickly?
Are you great at listening?
Can you focus on all kinds of details?
Are you great with technology?
If you answered yes to these questions then Babbletype will be perfect for you.
What Will You Get Paid?
You'll get 40 to 80 cents per audio minute for things you transcribe through Babbletype.
You'll also get 13 to 15 cents per audio minute for what you transcribe.
You will earn $1.50 for every audio minute that you translate into another language.
You'll get paid weekly through PayPal. There's no limit to what you can earn either.
Babbletype isn't going to pay you anything extra for more complicated or difficult recordings.
You've got to know how to pay attention if you want to really get paid.
How Can You Apply?
Just go to the Babbletype website and you'll find the application page rather quickly.
Earn Everything… nearly!
Join Opinion Outpost, one of the few faithful and honest survey panels and earn cash and gift cards for your opinion. Stack your points and redeem them: Simple! No hidden fees and completely free!


Check on the form and then complete a test.
You'll have to transcribe whatever is heard on a particular audio file during the application process.
It's all about seeing how well you can handle the work in question.
You've got to do as well as you can with the application test.
You have to show Babbletype that you are worthy of working with them.
You'd have to also keep on working to the same quality standard you showed in that test in order to stay employed.
Babbletype has some huge standards that you must follow.
It might take a few weeks for you to get a response after you apply for a position.
Don't worry if you don't get an answer right away.
Babbletype is pretty busy with gathering projects for people to complete.
Who Can Sign Up?
Anyone 18 years of age or older can sign up to work for Babbletype.
What are the Pros and Cons
Babbletype has its ups and downs. Before you apply to work for them, you should be aware of the following:
Pros
Flexibility:
Working as a transcriber for Babbletype often allows for flexible working hours.
You can choose assignments that fit your schedule and work from the comfort of your own home.
This flexibility can be beneficial for individuals who need to balance work with other personal commitments.
Variety of Projects:
Babbletype offers a wide range of transcription projects, including interviews, focus groups, market research, and more.
This variety can make the work interesting and provide opportunities to learn about different industries and topics.
Skill Development:
Transcribing for Babbletype can enhance your listening and typing skills.
It requires attentiveness to detail, good language comprehension, and fast typing speed.
These skills can be valuable in various professional settings and can contribute to your overall growth.
Competitive Pay:
Babbletype generally offers competitive pay rates for their transcribers.
They strive to provide fair compensation for the work done, which can be appealing for individuals seeking to earn income through transcription.
Cons
Deadlines and Pressure:
Transcribing can sometimes involve tight deadlines and fast turnaround times.
This can create pressure to complete assignments quickly and accurately.
If you struggle with time management or are easily stressed by deadlines, this aspect of the job may be challenging.
Variable Workload:
The amount of transcription work available can vary, depending on the demand for services at any given time.
This means that there may be periods of high workload followed by slower periods.
It's important to manage your expectations regarding consistent work volume.
Language Challenges:
Depending on the projects you work on, you may encounter different accents, dialects, or technical jargon that can be challenging to transcribe accurately.
This requires a good ear for understanding different speech patterns and the ability to research and clarify unfamiliar terms or concepts.
Repetitive Nature:
Transcribing can be repetitive work, as it involves listening to audio recordings and typing out the spoken content.
This repetitive nature may not be appealing to everyone, and some individuals may find it monotonous over time.
Conclusion
Transcription jobs can be tough to find because there are so many choices out there.
With Babbletype, you will not only work with some great jobs but also get them done at your own schedule.
Check this site out if you're looking for appealing jobs that you can enjoy working on.
Related Posts:
Earn Everything… nearly!
Join Ipsos iSay, one of the few Faithful and Honest survey panels and earn prizes, gift cards and donations. Stack your points and redeem them: Simple! No hidden fees and completely free!