Clearvoice Review: Is It An Attractive Place For Writers of All Interests?
Updated on: by Amy Kennedy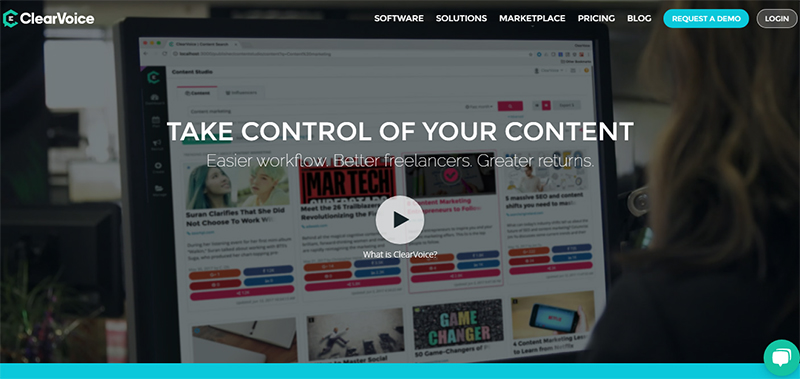 If you're looking to write stuff online then you should see how Clearvoice works.
Need Easy Extra $350+/Month For Free?
I looked around the Clearvoice website and found that it's a place that features quite a number of freelance writing jobs.
But even with that, I had a hard time trying to figure out some of the stuff listed on the site.
It still at least has some appealing things that deserve to be noticed.
About Clearvoice
Clearvoice is based out of Phoenix and focuses on content marketing.
It's a firm that works to establish content that is detailed and attractive.
I had a tough time trying to find other bits of information on the site.
I could not find any BBB info on it as all that BBB stuff on Clearvoice was for some research firm with the same name.
But at least the website goes through all the stuff that Clearvoice does regularly.
Their site focuses extensively on getting people to sign up to hire writers.
Fortunately, you can be one of those said writers.
How to Sign Up
To sign up, just go to the Clearvoice website and get to the Marketplace section where you can sign up.
You'll have to prepare your own account at the start.
You also need to show off enough of your experience in writing to get accepted.
Clearvoice requires its freelancers to have at least six top-quality articles listed on an assortment of different publications.
They have some pretty big standards but then again you'd have lots of standards yourself when you're writing.
Need Easy Extra Cash?
Pinecone Research, a leading name in online survey panel honesty, absolutely guarantees $3 cash for every survey you complete!
Take advantage of their time limited New Membership drive and register NOW. Join today: 100% free!


It's all about showing that you are a proficient writer who understands the ins and outs of what you are doing.
What Do You Require?
I didn't find any really specific requirements for getting work done here except that you need to have a computer and a consistent online connection.
Also, there's no requirement for you to absolutely be online at a certain time.
Your hours are flexible although you should probably be prompt and efficient when getting your work done so you're not late all the time.
How Do You Complete Your Work?
It wasn't very easy for me to figure out what Clearvoice does with regards to giving you work.
I noticed when looking around that the site allows you to choose which writing partners you want to work for.
You can choose to work for all sorts of people from a variety of providers.
What Types of Work Can You Do?
This is my favorite part of the site.
It lets you choose any kind of project that you want to complete.
You can choose from one of many projects.
You can select projects based on certain subjects or concepts.
The things that you can do are rather varied on this site.
You should probably look at what you are experienced in the most though.
This site has projects that focus extensively on financial and health topics among other things.
The content here comes from clients like doctors, small businesses and a whole lot more.
You're certainly going to have to work as hard as possible if you're actually going to succeed here.
What Will You Be Paid?
You'll have plenty of control over how you will be paid when working for Clearvoice.
You'll be able to set your own rate on what you can earn here.
I found one page on the Clearvoice site that might give you some ideas on how you can charge people for your work.
You can charge people based on the type of work you have, the intention of that work and how long it will go on for.
Maybe you could charge $5 for each blog post you produce, for instance.
You've got the power to do what you want when getting your charges ready but you should at least be cautious.
You don't want to price yourself out of anyone's range.
When Are You Paid?
You'll be paid immediately after whatever you submit has been approved.
It's a pretty simple structure actually.
No in terms of how you are paid, that was something that I could not find.
I would think that an online wallet service like PayPal would be used, what with the people who hire you through Clearvoice working with the same overall platform.
Who Can Sign Up?
Anyone who is at least 18 years of age can sign up to work for Clearvoice.
You can work from any part of the world too.
Earn Everything… nearly!
Join Opinion Outpost, one of the few faithful and honest survey panels and earn cash and gift cards for your opinion. Stack your points and redeem them: Simple! No hidden fees and completely free!


A majority of people that you'd be writing for are based out of the United States though.
That should be great considering how this site is clearly being targeted to an American audience.
Pros and Cons
Pros:
Access to Opportunities: Clearvoice provides a marketplace where freelancers can find a variety of content creation opportunities. It connects you with potential clients and projects that match your skills and expertise.
Streamlined Workflow: The platform offers tools and features to help freelancers manage their projects and collaborate with clients. This can streamline the workflow, making it easier to communicate, submit work, and receive feedback.
Payment Protection: Clearvoice handles the payment process, ensuring that freelancers receive compensation for their work. This can provide a level of security and assurance that you'll be paid for the completed projects.
Networking and Exposure: By joining Clearvoice, you have the opportunity to network with other professionals in the industry and potentially gain exposure to new clients. This can expand your professional network and lead to future freelancing opportunities.
Cons:
Competitive Environment: Freelancing platforms like Clearvoice can be competitive, as there are often many freelancers vying for the same projects. This means you may face challenges in winning bids or securing work, particularly if there is significant competition in your field.
Platform Fees: Clearvoice charges fees for using its platform. These fees can vary depending on the specific membership or subscription plan you choose. It's important to consider these costs when evaluating the financial viability of freelancing on the platform.
Dependence on the Platform: When freelancing on Clearvoice, you're reliant on the platform to find and secure projects. This means that if the platform undergoes changes or experiences issues, it could impact your ability to find work or maintain a consistent income.
Limited Control: Freelancers on Clearvoice may have limited control over project terms, pricing, and negotiations. The platform may have certain guidelines and requirements that you must adhere to, which can limit your flexibility and autonomy as a freelancer.
Conclusion
I was intrigued by how Clearvoice operates in terms of how you can write about lots of different kinds of topics.
Clearvoice is a place that lets you choose what you want to earn and gives you the freedom to work on any kind of project.
It was appealing to see how well the site runs but I am still not totally certain as to what all the features on the site are.
I guess the only way how you can really get all the answers is if you take a look at this page yourself.
Related Posts:
Earn Everything… nearly!
Join Ipsos iSay, one of the few Faithful and Honest survey panels and earn prizes, gift cards and donations. Stack your points and redeem them: Simple! No hidden fees and completely free!