Crowdsurf – Is It a Scam or a Great Place For Home Transcription Work?
Updated on: by Amy Kennedy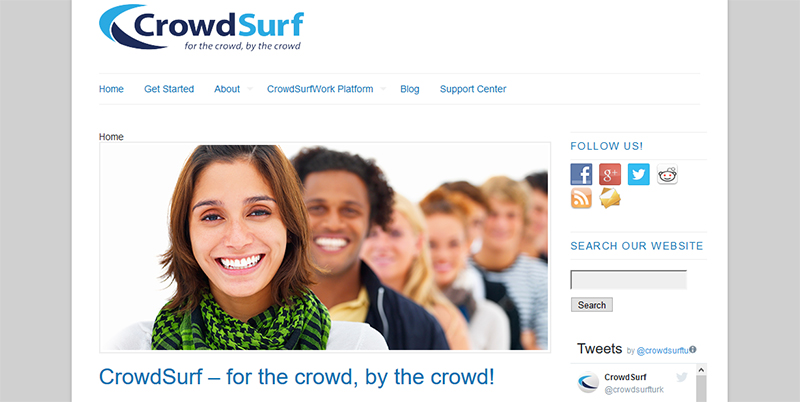 How would you like to make a difference for people who struggle to access video files?
Need Easy Extra $350+/Month For Free?
You can make a difference for those who are deaf or hard of hearing by transcribing video files.
Crowdsurf is one place that will help you do this.
At Crowdsurf, you will transcribe video files.
That's different from many other sites that focus on audio files.
But it's all about creating captions for the deaf and hard of hearing.
You'll even help those who are learning the English language.
By creating captions, you will show people who are new to the language how it works.
About the Site
I haven't seen anything on Crowdsurf's website or from other websites about when this place was formed and where it is based out of.
The Twitter feed for the place says that it's based out of the United States and that they've been around since at least 2013 but that's pretty vague information to me.
The site is pretty active in terms of reaching out to people.
It does update its social media sites often so at least I know that talk about what they do regularly.
How to Apply
Applying to work for Crowdsurf is easy to do.
Go to the main Crowdsurf website and use the link there to sign up for Work Market.
I'll talk about that in a moment.
You then have to submit your proper profile and tax information.
Need Easy Extra Cash?
Pinecone Research, a leading name in online survey panel honesty, absolutely guarantees $3 cash for every survey you complete!
Take advantage of their time limited New Membership drive and register NOW. Join today: 100% free!


It only takes about 24 hours for them to review it.
You then choose your payment method and then you're ready to go.
I'll talk about payment methods later too.
As you get onto Work Market, you will join the Crowdsurf group.
You will then complete a short assessment to analyze your skills.
It's a small task that gives you a clear idea of how well you can handle the job at hand.
You will get a profile for the site to work with after about three to five business days after passing the assessment.
How to Find Jobs
When you look for jobs with Crowdsurf, you'll be doing so with a special platform.
Specifically, Crowdsurf uses the Work Market system.
It's an alternative to the Amazon Mturk system you might have heard about before.
In fact, Crowdsurf used to use the Mturk system but now uses the Work Market instead.
The Work Market system is designed to provide you with simple access to various jobs.
You'll just click around the site, search for jobs and then accept and submit your work through the platform.
Crowdsurf will take everything you send it. It's really easy to get it all to work for you.
The best part is that Crowdsurf has an extensive training video library.
Don't think that you're going to be lost.
Crowdsurf gives information on every aspect of writing to all its members from how to transcribe properly to how to submit work and so forth.
What is the Work Like?
The work you will complete is rather easy to understand.
You will transcribe video files and create captions for them.
You'll just watch the video, transcribe what is said and submit it.
Most of these files are not too long so you can always complete lots of them in a day.
I could not find details on what types of videos you would be transcribing though.
You'll need a computer that can handle media playback features.
Don't bother with traditional speakers; use headphones so you can clearly head what people are saying.
How Are You Graded?
You will be graded based on how well you meet QC standards.
The Quality Control system entails how well you are able to accurately transcribe content.
Editors on the site are going to review what you do and give you a grade based on how you perform.
You need to have a score of 3.5 or higher out of 5 in order to stay employed by Crowdsurf.
Make sure you work carefully and be detailed if you want to stick around.
Earn Everything… nearly!
Join Opinion Outpost, one of the few faithful and honest survey panels and earn cash and gift cards for your opinion. Stack your points and redeem them: Simple! No hidden fees and completely free!


When Can You Work?
You can complete tasks at any time.
Just make sure they are completed within a certain deadline.
Try and complete enough tasks in a typical week so you don't get kicked out for being idle either.
I read that you could be booted if you don't do enough but the amount of work needed isn't clear based on what I have found.
What Are You Paid?
I read through most places that you'd be paid 10 cents for every 25 seconds of audio you transcribe.
I also found that there are quality and time bonuses for work that is done right and quickly but I haven't found any specifics about those bonuses anywhere.
You can get paid through a direct deposit system or through PayPal.
You can choose either option but you should make sure whatever you use is something you are comfortable with.
Is This a Worthwhile Site?
Crowdsurf is worth considering if you're looking for a transcription job from home.
The site is easy to sign up for and provides a great service to people.
You could make plenty of money off of the site depending on how often you work for it and how well you can complete tasks.
Pros and Cons of Crowdsurf
Pros
Flexibility
CrowdSurf offers a flexible work schedule.
This allows individuals to work at their own pace, choosing when and where they work.
This can be particularly useful for individuals who are looking for part-time work, or who have other commitments and require a flexible schedule.
Remote Work Opportunity
Work is done online, meaning it can be done from anywhere with an internet connection.
This eliminates the need for commuting, providing additional flexibility and saving time.
Skills Development
Working for a transcription service like CrowdSurf can provide valuable skills development.
Transcription work can help improve typing speed, attention to detail, and understanding of language and grammar.
These skills can be beneficial in many other lines of work.
Cons
Pay Rate
The pay rate for transcription work is often quite low, especially for beginners.
While it can improve over time with speed and experience, it may not provide a substantial income, particularly if it's your primary source of income.
Repetitive Work
Transcription work can be repetitive and tedious for some people.
It involves listening to audio files and accurately typing what is said.
If you don't enjoy this type of work, it may not be the best fit for you.
Inconsistent Work Availability
While CrowdSurf allows for a flexible work schedule, the availability of work can sometimes be inconsistent.
This means that there may be periods where there is not much work available, potentially affecting your income if you're relying on this work.
Alternatives to Crowdsurf
Rev is a well-known online transcription and translation company that provides opportunities for remote freelance work.
Video transcription is a key part of their business.
Freelancers are able to choose their projects and work on them at their own pace.
Pay is on a per-minute basis and varies based on the complexity of the work.
TranscribeMe is another popular site for finding transcription jobs.
They welcome beginners and provide training and support to their transcriptionists.
Work on TranscribeMe often involves transcribing short, 2-4 minute clips, making the work manageable and straightforward.
They also offer opportunities for advancement, with specialized transcription services that require more experience and skill.
GoTranscript is a UK-based transcription and translation company that offers online transcription jobs for beginners and professionals alike.
They focus on a variety of transcription services, including video transcription.
The company prides itself on offering flexible working conditions, allowing transcriptionists to choose their own projects and work hours.
Scribie offers a variety of transcription services, including video transcription.
They employ a unique process where the work is divided into smaller parts and transcribed by different transcribers.
This approach is followed by a review phase where the parts are assembled, checked, and corrected to ensure accuracy.
They offer a fixed rate per audio minute transcribed.
3Play Media provides a variety of services including transcription, captioning, and translation.
They employ both a technology and a human-based process to ensure high-quality, time-synched captions, transcripts, and translations.
Their jobs require a good command of English and a strong attention to detail.
Conclusion
The excitement of working for Crowdsurf is certainly something worth checking out.
At Crowdsurf, you can create captions for a variety of files with a specific system.
It's a fun and appealing way to enjoy helping people.
Related Posts:
Earn Everything… nearly!
Join Ipsos iSay, one of the few Faithful and Honest survey panels and earn prizes, gift cards and donations. Stack your points and redeem them: Simple! No hidden fees and completely free!