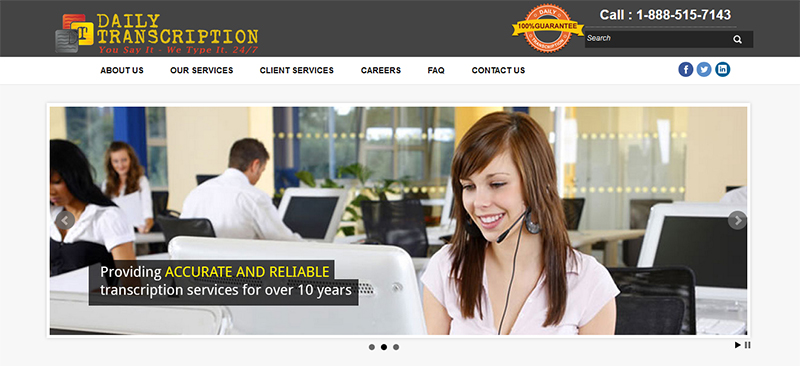 Transcription jobs should be all about variety.
You shouldn't have to just work with the same old types of transcription projects every single day.
Luckily, there's a website that actually has a good variety of jobs out there in Daily Transcription.
I found some rather interesting things out there about Daily Transcription that are worth your time.
For starters, I found that the site focuses on short-term transcription projects.
I also saw that it has a good assortment of projects in many fields.
If anything, I was intrigued by how Daily Transcription has such a good range of work.
But what is this site all about?
I decided to take a look at it in further detail.
What I found was rather appealing in that this place has a good number of jobs worth checking out.
About the Site
I decided to look up information on Daily Transcription.
The place is based out of Los Angeles with offices at the Howard Hughes Center near LAX.
I saw that they've got all their contact information and social media stuff online so it's clearly a legitimate site.
They've been around since 2005 so they clearly know their way around the field.
People have been leaving positive reviews of this site online.
Their Facebook page has a four-star rating.
They're saying that the site has lots of good transcribers on hand and that the place does well with a strong attention to detail in mind.
If you've got a strong eye for detail then you'll easily benefit from working here.
Types of Jobs
All of these jobs you'll come across include short-term options that are handled within 24 hours.
Seeing how the company is named Daily Transcription, it's no surprise.
You will work for an extensive variety of great clients when doing business with Daily Transcription.
You will work with not only legal and corporate transcription jobs but also some entertainment-based jobs.
This is great considering how you're going to be put into a variety of great situations where you'll write some intriguing stuff for many types of people.
The main website says that they work with lots of great clients.
You can work for HBO, ABC, the New York Times, Univision and much more.
A few academic spots like the Harvard Business School and University of Oregon are covered too.
You'll work with a variety of jobs as well:
Basic interview and meeting transcription tasks are included.
You can also write captions for television and online programs.
Translation services are available to. Let them know what languages you can work with so you could get even more jobs in the translation field.
How to Sign Up
Are you looking to sign up to work for Daily Transcription?
Well, it won't be hard to complete.
First, you just go to the Careers section of the company's website and then entail in your message for signing up.
You will have to send in a resume.
Check your resume carefully and make sure it's detailed and up to date.
You've got to show that you have a strong attention to detail and that you're prompt in your work.
You'll be directed to a testing site after you are properly reviewed.
This will prompt you to take a test to see how well you can complete transcription tasks.
The testing process is simple and detailed enough to give you an idea of how well you can handle a job there.
Daily Transcription isn't just going to take anyone you know.
Do You Need Anything Special?
You'll need quality transcription software to complete great jobs.
A foot pedal can be used as well although that's not needed.
I'd recommend having one just to make it easier for you to review what people are saying on a file.
How Do You Choose Work?
Don't think that someone is just going to send stuff to you to handle and force you into doing it.
At Daily Transcription, you will be able to select the projects you want to complete.
You'll choose the ones that are good based on when you're open and what you actually know how to complete.
Of course, there are times when you might not have as much work available on hand so be prepared for that.
How Are You Paid?
The payment process at Daily Transcription gives you money on a regular basis provided that you complete the tasks.
Unfortunately, I could not find details on how much money you would be paid for your work or if there are any bonuses.
I'd say that you could probably get about a dollar per minute as that's around what most other people pay transcribers for their work.
Still, I'd probably ask Daily Transcription about it beforehand.
But what I did find is that you'll be paid on a biweekly basis through the site.
You can get paid through an online wallet program for the most part.
I'd recommend using PayPal, what with that option being so popular with everyone else out there.
They say that you can use direct deposit onto your banking account through the site too.
I'd recommend sticking with an online wallet though if only because it's easier.
Conclusion
In conclusion, I found that Daily Transcription is indeed a legitimate site that has been around for a while and offers a good assortment of transcription jobs.
It's not too hard to sign up for the site either.
You should at least take a careful look at what the site offers before signing up so you at least understand what's available and that it is right for your demands.
Apply to Daily Transcription Here
Related Posts: