Decluttr Review: Can You Really Sell Your Tech for Money Online?
Updated on: by anvitalis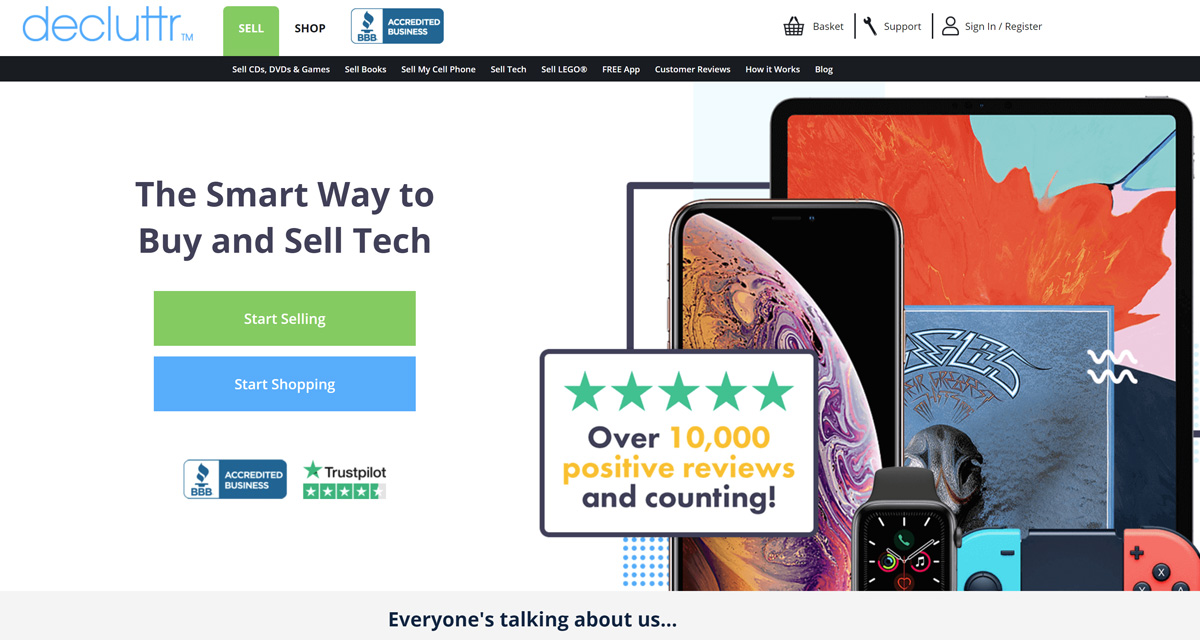 If you're consistently looking for ways to make money online, then you may have tried selling your stuff on different websites, like Craigslist or eBay.
Need Easy Extra $350+/Month For Free?
This is a totally legit way to get some money from stuff you no longer need, but not every site will give you the best price for your items.
It usually depends on what you're selling.
For example, eBay is great for collectibles and unique items, but you might have better luck selling clothing on a site like ThredUp or an app like PoshMark.
There are also sites like Decluttr.com, which helps you get rid of techie items you no longer need, like phones, video games, or smart watches.
But is the site safe to sell with? Does it actually work?
Can you really make money using it?
We've researched the company to find out how it works and give you the answers to all your questions.
What is Decluttr?
Decluttr is both a website and an app that's focused on buying and selling tech items, although it does have some other items for sale too.
On Decluttr, you can get rid of (or buy):
Video games
CDs and DVDs
Smart watches
Cell phones
Video game consoles
Tablets
Macbooks
LEGOs
Textbooks
As you can see, LEGOs and textbooks don't quite fit in with everything else, but they're there as an option.
The site started in Georgia in 2014, but it's available all over the United States and the United Kingdom.
You can buy and sell through the website or the app, which is available for iPhone and Android devices.
How Does Decluttr App Work?
Decluttr may be a selling site, but it's not necessarily what you're used to with these kinds of sites.
In other words, you won't be listing your items for sale and waiting for another person to buy them.
Instead, you'll sell them directly to Decluttr, which then resells them on its website and app.
Need Easy Extra Cash?
Pinecone Research, a leading name in online survey panel honesty, absolutely guarantees $3 cash for every survey you complete!
Take advantage of their time limited New Membership drive and register NOW. Join today: 100% free!


You can get a quote for your item before you ever send anything in, so you can decide if the quote is as high as you were hoping to get out of what you're selling.
On the website or app, you can plug in information about your item, including its name, model, and barcode.
Depending on its condition and several other factors, Decluttr will offer you a valuation for your item.
This valuation stays locked into the system for 28 days, so you're guaranteed to get that price as long as you send in your item within that timeframe.
Decluttr makes shipping easy by sending you a shipping label at no cost to you.
You just need to find a box to pack everything in safely, stick the label on your package, and send it along using UPS.
You can either give the package to your driver to pickup or drop it off at your nearest UPS location.
Once Decluttr receives and checks over your shipment, you'll get your payment!
Decluttr Pay
Decluttr offers a few options for receiving your payment, including donating the money to a charity of your choice.
Additionally, you can choose from PayPal, check, or direct deposit.
How long it takes to get paid depends on how long you take to ship your items.
In most cases, once Decluttr receives your shipment, you should expect just a few more days to get paid with a bank transfer or PayPal, or a couple of weeks to receive your mailed check.
How much you make all depends on your device, but you can get an estimate using the site or app.
As an example, I checked out the price for an Apple iPhone 7 in good condition.
Depending on the carrier, the price fluctuates between $110 and $136. An unlocked device will get you closer to $140.
But, technology prices vary greatly, so the only way you can determine how much Decluttr thinks your tech is worth is by checking out the valuator from Decluttr.
Important Note About Revised Offers
Decluttr does make it sound on its website that you will get your original offer price guaranteed.
In most cases, this is true.
However, your items must be in the condition you stated during your valuation in order to get that price.
So, say you marked your tablet in Good condition.
After inspecting it at the warehouse, Decluttr determines that it's actually in Poor condition.
You won't receive the original offer you were given because its value will be less than quoted.
Decluttr will then contact you to give you a new offer based on your item's determined condition.
You have 14 days to respond to that offer – either accept or decline it.
I'm not sure if you'll have to pay to ship your item back to you if you decline the offer, but I assume you'd have to.
All media items, like books and DVDs, that do not pass the quality inspection (for example, if a CD has a missing case or insert) will not get returned to you.
How to Maximize Your Decluttr Earnings
Not sure how to get started on Decluttr? Here are some helpful tips that will guide you toward becoming a selling master on the site:
Condition Descriptions
The last thing you want is to not be eligible for the original quoted price you received when you valuated your item.
That's why it's super important to check the condition description when you're valuating items.
Earn Everything… nearly!
Join Opinion Outpost, one of the few faithful and honest survey panels and earn cash and gift cards for your opinion. Stack your points and redeem them: Simple! No hidden fees and completely free!


Decluttr gives some good notes for each description based on what it's looking for.
For a phone to be in Good condition, for example, it needs to have no water damage and everything needs to be in working order.
However, some signs of light wear and tear are normal for any used device, so they're accepted.
A phone in Poor condition, however, will have heavier marks, scratches, or scuffs.
Each item has its own set of conditions, so be sure to read these thoroughly and mark the condition that matches best.
Doing so will save you the hassle of dealing with the quality assurance process later and will get you paid faster.
Selling LEGOs
Selling LEGOs comes with a specific set of instructions.
To sell them, you'll need to put all the LEGOs you want to sell in a zippered bag and weigh them.
You don't need to sell them by set or even make sure all the pieces for a set are together because Decluttr just pays you according to their weight.
Plug the weight of your LEGOs into the valuation system to find out how much they might be worth.
Each pound of LEGOs equals $1.
Make Sure You Complete a Full Order
An "order" on Decluttr refers to the items you're selling.
To have a full order by the company's standards, you need to have at least one tech item (video game console, phone, etc.) or at least 10 media items (DVD, video game, etc.) in your order.
So, you can't just sell 5 media items or 10 pounds of LEGOs at a time.
Your order also needs to equal at least $5 in value in order for Decluttr to process it, so you'll need to keep adding items to reach that amount before you can send it in.
Refer Your Friends
After completing your first order, you can get a referral code to help others sign up and make money with Decluttr too.
When they sign up under your code, they'll get $5 after completing their first order and you'll get an extra $5 in your account, so it's a good way to make some more money without even needing to sell.
Decluttr Complaints and Praise: Is It Legit or a Scam?
Decluttr is accredited with the BBB and has been since 2018.
It currently has a B rating and an average 4-star review, which is a good sign.
From my research based on company information and reviews from real members, I consider Decluttr a legitimate company and app.
It does what it says it'll do and pays you for your items so long as they meet the description you stated.
Here are a few common praises and complaints from Decluttr users:
Pro: $5 Minimum
Decluttr only needs you to sell a minimum of $5 worth of items to consider your order a complete one.
It used to require $15 minimum, which can be tough to do if you don't have any pricey tech items to sell.
So, it's good that the minimum is more attainable now for the average seller.
Pro: Easy Selling Process
The majority of reviewers of Decluttr agree that the selling process is extremely simple in most cases.
Valuate your item, wait for the shipping label, send it in, and get paid within a few days after Decluttr checks over everything.
This can be a good way to forego selling on an auction site or something similar where you have to wait for interested buyers to snag your items.
Con: The Quality Assurance Process Can Be Iffy
I've seen a few complaints about people getting a quote for their items that was much higher than what they were offered once Decluttr received their items based on "condition".
These users state that they were very careful about noting the proper condition only to have Decluttr say that the condition varied significantly.
We have no way of knowing who's right in these situations, but it's definitely something to keep in mind when sending in your stuff.
Con: It Can Be Tough to Sell Media
Books, DVDs, and other media must have all original cases and inserts and very little wear and tear in order to be accepted by Decluttr.
We all know that it's not easy to keep media items in almost mint condition over the years, so these can be a tough sell through this site.
Decluttr Review: Final Thoughts
Decluttr won't make you a full-time income, but it definitely can be a good way to get rid of unneeded electronics and media without waiting weeks or months for your stuff to sell (or worse – setting up a yard sale!).
I suggest trying a low-price tech item, like some older video games or even an old cell phone that's not worth much nowadays, to see how it all works.
Depending on your experience, you'll be able to more accurately judge if the site is for you.
Have an experience with Decluttr to share?
Be sure to let us know in the comments!
Related Posts:
Earn Everything… nearly!
Join Ipsos iSay, one of the few Faithful and Honest survey panels and earn prizes, gift cards and donations. Stack your points and redeem them: Simple! No hidden fees and completely free!