Disney Movie Club Review: Will This Movie Club Save You Money?
Updated on: by anvitalis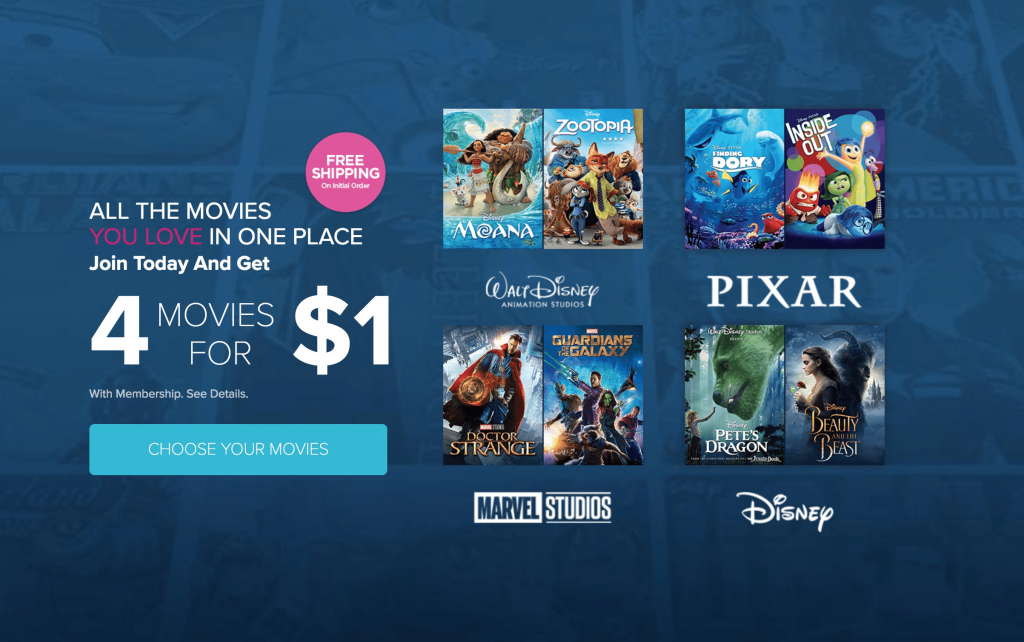 If you're like millions of other people who love just about every movie that Disney creates, then you'll probably love finding ways to save on the movies you want to buy.
Need Easy Extra $350+/Month For Free?
Enter the Disney Movie Club, a membership club that not only gives you the chance to purchase discounted Disney movies, but it also comes loaded with perks for members.
But what costs are involved?
Is the membership club worth being a part of?
We've got all your answers in this guide, which will explain how to get your DVD and BluRay Disney movies for affordable prices – and sometimes, even free!
What Is Disney Movie Club (JoinDMC.com)?
The Disney Movie Club is a membership club formed by Disney.
It's especially made for people who want to build their Disney movie collection without spending tons of money to do it.
Like many membership clubs, the Disney Movie Club offers discounts for movie purchases, rewards, and other perks that make being a member worthwhile.
If you're someone who wants Disney DVDs or Blu-Rays rather than streaming or digital movies, this club might be for you.
How the Disney Movie Club Works
To get an idea of whether this club is a good option for you, let's dig deeper into how it works:
Available Titles
The Disney Movie Club, as you can guess by its title, features movies made by the Disney company.
So, this not only includes Disney titles you think of when you think of Disney – like The Little Mermaid or Bambi – but it also includes other series that Disney owns and creates, like the Marvel and Star Wars movies.
You'll also get access to both old and new titles, and members can also pre-order new releases to get them as soon as they do get released to the public.
There's one caveat, though.
The Disney movies that have made their way into the Disney Vault are not available for purchase through the Disney Movie Club.
If a title gets released from the vault, the club will put it in stock for ordering by members, but once it's ready to go back into the vault, you will no longer be able to purchase it.
Need Easy Extra Cash?
Pinecone Research, a leading name in online survey panel honesty, absolutely guarantees $3 cash for every survey you complete!
Take advantage of their time limited New Membership drive and register NOW. Join today: 100% free!


So, make sure you keep track of when your favorite classics come out of the vault so you can be ready to purchase them from the Disney Movie Club!
Joining as a New Member
Like a lot of membership clubs, the Disney Movie Club has special discounts for people who are considering joining.
This helps you start building your Disney movie collection before you're even technically a member.
The Disney Movie Club lets you choose four movies for $1 with shipping included as long as you commit to a membership.
You can choose from any titles on its extensive list, so it's likely that you'll find movies you love.
You can also boost your discount by joining the Disney Movie Club through a rewards site, like Swagbucks or InboxDollars.
These sites often have promotions for the Disney Movie Club that not only let you get the discounted movies for joining, but they will also pay you some money for signing up through their partnered link.
Member Commitment
When you sign up to become a member of the Disney Movie Club, you agree to the membership commitment.
This isn't as scary as it sounds.
Unlike subscription clubs that require you to pay money monthly or quarterly to keep your subscription going, this is just a membership club.
You can remain a member as long as you purchase five movies at regular price within your first two years.
These five titles don't include the four that you got when you signed up to become a member. It's five additional titles aside from those.
Regular-priced movies at $19.95 and up, and any discounted movies or special promotion buys won't count toward your five-movie commitment.
Once you've purchased those movies, you won't have to purchase anymore to remain a member – but you'll still have access to all the awesome stuff members get in the club!
Costs of Membership
Once you sign up and pay your $1 for your introductory membership movies, you don't have to continue paying anything for your membership.
However, you will need to pay for the five movies to fulfill your commitment with the club and remain a member.
Fortunately, if you don't buy five movies within the first two years, you won't owe the club anything. Instead, you just won't be named as a member anymore with access to its special member discounts and promotions.
Skipping and Purchasing Movie Selections
The Disney Movie Club releases Featured Titles every four weeks or so.
Featured Titles are basically the club's suggested movies to purchase.
Members can skip that selection if it's not something they want to buy.
They can also choose to log into the site to purchase that title.
Or, they can simply not respond to a Featured Title selection and let the club send it to them and charge them automatically.
The Disney Movie Club sends Featured Title alerts through the mail so you can always see what's available and decide whether you want to buy it.
You can also log into the website to see the featured title and respond to your offer at any time.
Featured Titles usually have other options, too, like bundles with other movies or special pricing on DVD/Blu-Ray/Digital Movie combinations.
It's always a good idea to respond to your Featured Title selections with whatever option you choose just to make sure you are either skipping it or ordering it like you want to.
You can always see the response deadline by checking your mailing or heading to the Featured Title page on the website.
Read More: 21 Legit Ways to Get Free Movie Tickets (100% Legally!)
Membership Perks
The Disney Movie Club always seems to have some kind of special sale or promotions going on for members.
Earn Everything… nearly!
Join Opinion Outpost, one of the few faithful and honest survey panels and earn cash and gift cards for your opinion. Stack your points and redeem them: Simple! No hidden fees and completely free!


These sales and promotions help you save money when you buy multiple titles.
Some examples of deals include buying one movie and getting another for 50% off, saving money on bundled titles, and buying two movies at regular price to get one free.
Usually, you can't combine a sale and a promotion together to bump your price down.
You'll need to choose one offer, which you can do through your account page.
Still, all the offers are great, so you can't really go wrong.
You can also switch an offer once you have movies in your cart to see if one might give you a bit more of a discount over another one.
Members are also eligible for free lithographs and other gifts that come with some titles, while other gifts are available at discounted prices for members only.
VIP Membership
In addition to regular membership, the Disney Movie Club offers a VIP Membership,
Basically, anyone who fulfills the membership commitment within the allotted time then becomes a VIP automatically.
As a VIP, you're able to access special gifts, pins, and promotions that regular members can't access.
So, you might be able to save a little extra money and get some cool Disney stuff that are exclusive only to VIP members.
Earning Points on Disney Movies
Remember that most Disney movies give you points that you can redeem for rewards – and the same holds true when you're a Disney Movie Club member.
The eligible movies you purchase will include a code that you can enter into the Disney Movie Insiders website or app.
When you collect enough points, you can redeem them for movie tickets, toys, posters, and even a membership to the D23 Club, which is the official Disney fan club.
It's just another way that you can save money on your Disney purchases and get rewarded at the same time.
Disney Movie Club Reviews: What Do Real Members Think?
Before I jump into any purchase or membership, I like to look at reviews to see what other people think about the product or service.
I've personally used the Disney Movie Club for years and love it, but I know you'll want more than just my opinion to help inform your choice.
So I dug around the web to see what others have had to say about the club. Here are some of the more common pros and cons:
Pros
One perk that people love, including myself, about the Disney Movie Club, is that its commitment is so easy to reach.
Just five movies in two years.
If you joined the club, it's likely that you wanted to join to build your collection anyway, so that commitment is low for a Disney movie buff!
It's also great that there are no monthly membership fees or other hidden costs associated with your membership.
Just join, buy your movies to reach the commitment, and that's it.
As long as you're remembering to respond to your Featured Title, you won't ever pay for anything you don't want to pay for from the club.
Another major pro is the wide range of awesome deals that the club offers members.
And there seems to be some kind of deal or sale going on all the time, so there's always some way for you to keep saving money while growing your collection of Disney titles.
Cons
The main complaint I see with the Disney Movie Club is actually not really a complaint specific to the club at all.
Instead, it's one that falls more on the member's shoulders: A lot of people forget to respond to their Featured Title.
When that happens, you could end up getting charged for a movie you didn't really want to buy.
Unfortunately, this is something that happens frequently with these types of clubs.
What I do to remind myself to respond to titles is jot it down in my planner to check the site every four weeks.
I always do it on the same day to keep myself in the habit of checking.
That way, if I happen to miss a mailing, I still remember to respond to the Featured Title and make sure I'm only getting movies I want.
The only other complaint I've seen a few times is with the prices. Some say the prices for new Disney movies are too high in the club.
However, these prices fall in line with the prices you'd find in the store. Disney movies do tend to be a little higher than other titles anyway.
But some people prefer to shop on Amazon or eBay for movies, and it's true that your Disney Movie Club prices may not be as great as prices on those online stores.
If you wait for the right promotion, though, you could end up saving even more!
Alternative Option: Disney+ Streaming
If you're more of a digital movie person, you can also try Disney+.
Disney+ is a streaming service by Disney that not only offers tons of popular Disney movies to watch whenever you want, but it also has original TV shows for kids, families, and adults to check out.
The streaming service has been a popular one since it launched in 2019, and it doesn't show any signs of slowing down.
The downfall with Disney+ is that you won't own the movies you watch with the service.
Disney can remove and add movies at any time, which could end up taking away ones you had planned to watch or wanted to watch again.
So, if you like having a collection of Disney movies to watch whenever you want, Disney+ may not be for you.
But the service does have a large selection of titles to watch, and at less than $7 a month, it's an incredibly affordable way to enjoy your favorite movies.
You can also sign up for its special bundle that includes Disney+, Hulu, and ESPN+ for just $12.99 a month.
Read More: 11 Best Ways to Get Hulu Absolutely Free Every Month
Disney Movie Club Review: Is DisneyMovieClub Worth It?
Is the Disney Movie Club worth your membership?
It absolutely could be – but it depends on how much you love Disney movies and how you usually watch them!
If you tend to watch a movie and not watch it again (or very infrequently), then building a collection of Disney movies might not be the best solution cost-wise.
If you do like to rewatch movies and always have your options at your fingertips, then the Disney Movie Club provides an easy, affordable way to do that with lots of savings perks for members.
Plus, the club has no additional or hidden fees other than buying movies you choose to buy – as long as you keep up with responding to your Featured Titles.
I'd love to hear your thoughts about the Disney Movie Club if you've personally tried it. Let us know in the comments below!
Related Posts:
Earn Everything… nearly!
Join Ipsos iSay, one of the few Faithful and Honest survey panels and earn prizes, gift cards and donations. Stack your points and redeem them: Simple! No hidden fees and completely free!