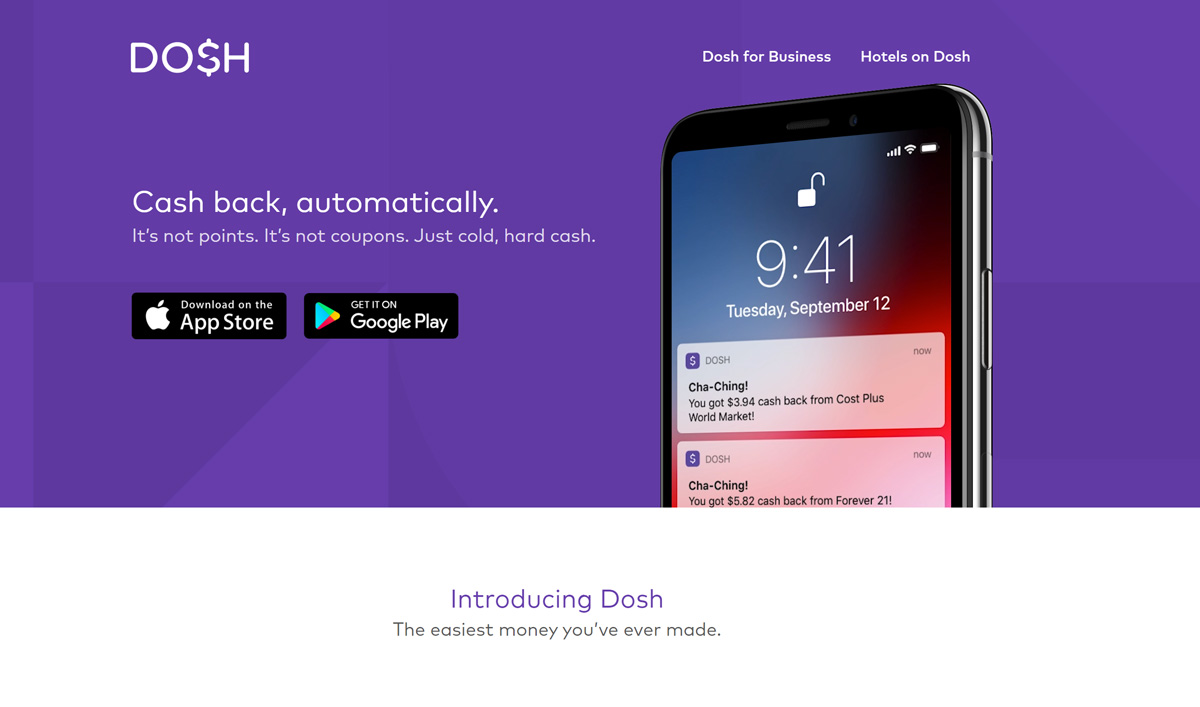 If you're not taking advantage of discounts, promo codes, sales, and cash back offers when you shop online or in-store, then you're definitely not saving money on your shopping trips or dine-out experiences.
Need Easy Extra $350+/Month For Free?
Cash back shopping is something that I got into a few years ago and haven't stopped since.
I'm not talking your usual clipping coupons and scanning them all to save some money while you shop, either.
I'm talking about using apps that make it super easy to save money shopping by getting rebates for what you purchase.
Dosh is one of those apps.
It's a newer one on the scene that's only been out a couple of years, but it's standing strong with the rest of them because of its simplicity.
This review will let you know all about how it works, if it's safe to use, and whether it's something you should consider adding to your mobile device.
What is Dosh?
Dosh is an app that literally pays you to shop!
Dosh has been around since 2017 and it's available in both the App Store and Google Play.
It's similar to Ibotta and other cash back shopping apps in that you can earn cash back for your purchases.
The difference is that, with Dash, you'll connect your debit and credit cards that you usually use to shop with.
Every time you make a purchase with those cards at a partnered retailer, Dosh will know and automatically credit you your cash back bonus.
Other shopping apps typically make you add rebates on items you want to purchase through the app, go shopping for those products, and then scan a receipt as proof of purchase.
Dosh kind of acts like an addition to your wallet instead.
All you need to do is unlock the offers you're interested in before you go shopping, make your purchases at those retailers, and Dosh takes care of the rest by identifying the purchases on your linked cards.
Dosh says that you can get up to 10% cash back, depending on what store or restaurant you use.
Need Easy Extra Cash?

Pinecone Research, a leading name in online survey panel honesty, absolutely guarantees $3 cash for every survey you complete!
Take advantage of their time limited New Membership drive and register NOW. Join today: 100% free!


What Stores are Partnered with Dosh?
There are a lot of Dosh stores that partner with the app.
You may not see all of them available to you, though, once you get signed up because Dosh works based off location.
There are some online stores to choose from, but this also seems location based.
Some of the stores you can find in Dosh if they're in your area or available to you include:
Payless
Sam's Club
Pier 1 Imports
Dunkin' Donuts
Jack in the Box
1-800-Flowers
Bark Box
Snapfish
Sephora
Edible Arrangements
Pizza Hut
As you can see, there's a little bit of everything offered, from apparel to restaurants to online subscription services.
Who Can Join and How Do I Get Started?
Dosh is currently only available in the United States to residents 18 years of age or older.
If you meet those requirements and have an eligible mobile device, you can look for Dosh in your app store.
Once you download and install the app, you can sign up using your mobile device by entering your phone number, punching in the code Dosh texts you, and then filling out your basic information.
Dosh will ask you if you want to turn on location services so that it can find stores and offers near you.
You don't have to do this, but it could make it easier for you to quickly add offers that are available to you without having to search for them.
You're now eligible to start earning!
Also, if you were referred to Dosh by someone, you should enter that person's referral code in the app to make sure they get their referral bonus.
Some referral codes also come with free cash for YOU, too, so you don't want to forget this step!
Making (and Saving) Money with Dosh
So, how does it work?
It's honestly about as easy as you can get.
Here's how you can start making money with Dosh:
Step 1: Link Your Cards
When you first sign up, you'll need to link your debit or credit cards.
Make sure you link the ones that you frequently use to shop or pay for meals when you dine out.
Linking your cards is easy and will only take a couple of minutes.
Now, whenever you make a purchase at a partnered store or restaurant with your linked cards, Dosh will automatically find that purchase and credit you with your cash back reward.
Step 2: Unlock Deals
Next, you'll need to browse through the Dosh deals to see what you want.
These should all show up right on your home screen.
You'll see a list of stores and restaurants that partner with Dosh and what their cash back amount is.
Most of my offers are 3% or 4% cash back, but Dosh does say that offers can go up to 10%, just depending on the store.
When you find ones that you want to take advantage of, just hit the Unlock button and they'll be saved in your Dosh account.
DON'T forget to do this, because your purchases won't count if you don't unlock the offer first!
Step 3: Shop
Now, you just need to shop!
Go to the stores you have unlocked offers for and shop away.
Make sure you use those linked cards when you make your purchase so Dosh can find them easily and give you your cash back.
Earn Everything… nearly!

Join Opinion Outpost, one of the few faithful and honest survey panels and earn cash and gift cards for your opinion. Stack your points and redeem them: Simple! No hidden fees and completely free!


Step 3: Get Paid
Dosh gives you the choice to get your cash back through Venmo, PayPal, or your bank account.
There's no need to link any of them until you start earning cash.
With Venmo and PayPal, you can only link once you've made at least $25 through cash back offers.
Dosh pays you completely in cash rather than points, so there's no tricky point conversions you need to do to get paid.
What you see in your account is what you get!
You might see your earnings pending for a couple of days.
That's just so that Dosh can verify with the retailer or restaurant that you did, in fact, make a purchase there.
Once everything's cleared, that money will become available to you to cash out.
You'll need $25 minimum to transfer your earnings to your preferred payment method.
Step 5: Make More Money with Your Friends
Dosh also gives you the opportunity to make some extra money by referring your friends.
You can typically earn $5 for every friend who signs up for the app, but Dosh occasionally has some special offers where you can earn even more.
You'll just need to keep an eye out on your dashboard for these.
What's great about the Dosh referral system is that your referrals might be more incentivized to sign up for it than other apps because Dosh will pay them some free money just for using your referral code.
In most cases, referred members can get $5 automatically into their account, which is a really helpful way for you to convince them to join!
What Do Others Say About Dosh?
I browsed several Dosh cash app reviews in the app stores, Reddit, and online to see what other members of Dosh had to say about it.
I was pleasantly surprised to see that the majority of users give this app a lot of praise.
Other apps of this kind tend to have a lot of mixed reviews, so it's refreshing to see one that gets talked about so highly.
But in an effort to be transparent as usual, I'm going to mention a few of the cons here as well:
Pro: Free Money to Connect Cards
When you link a credit or debit card to Dosh, you'll get your first $1 in your account.
It's that simple!
I believe this only works with your first debit and credit card you link, so you can make up to $2 just for linking your cards, which you'll need to do anyway to enjoy any of the benefits of Dosh.
Pro: Super Easy to Use
Unlike other cash back shopping apps that require you to unlock rebates, scan receipts, or click through to a partnered retailer's site from the app, Dosh does everything automatically.
The only thing you need to do is unlock the offers you want to use before you shop.
Dosh takes care of the rest by monitoring your purchases and automatically giving you cash back for the purchases that are connected to partnered retailers.
It's the most hands-off way to participate in cash back shopping.
Pro: It's Secure
One of the major bonuses of Dosh for me is that I'm not seeing complaints about potential security issues with Dosh.
I know not everyone feels comfortable linking their bank accounts and payment cards to an app – I completely understand that.
But Dosh uses bank-level security and data safeguards to make sure all your information stays protected.
Con: Must Remember to Use Debit as Credit
I mostly use my debit card rather than credit cards to make purchases.
But I don't always think to scan my debit card as credit.
Unfortunately, this is something you have to do for Dosh to recognize your debit card purchases.
If you run your debit card as a debit, Dosh won't pick up your purchase and give you your cash back.
So, you'll need to get into the habit of telling the cashier you need to run the card as credit.
Con: Cash Out Minimum is Somewhat High
Depending on how much you spend, it could take you a while to earn enough to cash out ($25).
However, with a couple of referrals each month and remembering to unlock your Dosh offers, you could end up with $25 relatively easily.
Still, some members think this cash out amount is a tad high.
Con: Not a Lot of Offers for Everyone
When I signed up for Dosh, I was kind of surprised by how few offers I have in my area.
I see in reviews that other members mention the same experience, so it's definitely worth bringing up.
I supposed that people in large cities with tons of different stores probably have more offers to unlock than people who live in suburbs or rural areas.
Personally, I have about 10 stores and restaurants that participate in Dosh within a 30-mile radius from me, which is disappointing.
Dosh App Review: Is It Legit or a Scam?
Dosh is 100% legit.
I've tried it myself and have had no issue getting the cash I've earned.
I do wish that there were more opportunities with partnered retailers for people all over the country, but hopefully this will get better after Dosh branches out more.
It is still relatively new, after all, so it might just need to work out some kinks to reach its full potential.
I'd say it's close to being there, though.
Feel free to let us know your experiences with Dosh down below in the comments!
Related Posts:
Earn Everything… nearly!

Join Ipsos iSay, one of the few Faithful and Honest survey panels and earn prizes, gift cards and donations. Stack your points and redeem them: Simple! No hidden fees and completely free!