Earn.GG Review (Now Eloot): What Does It Offer and Is It Worth It?
Updated on: by Amy Kennedy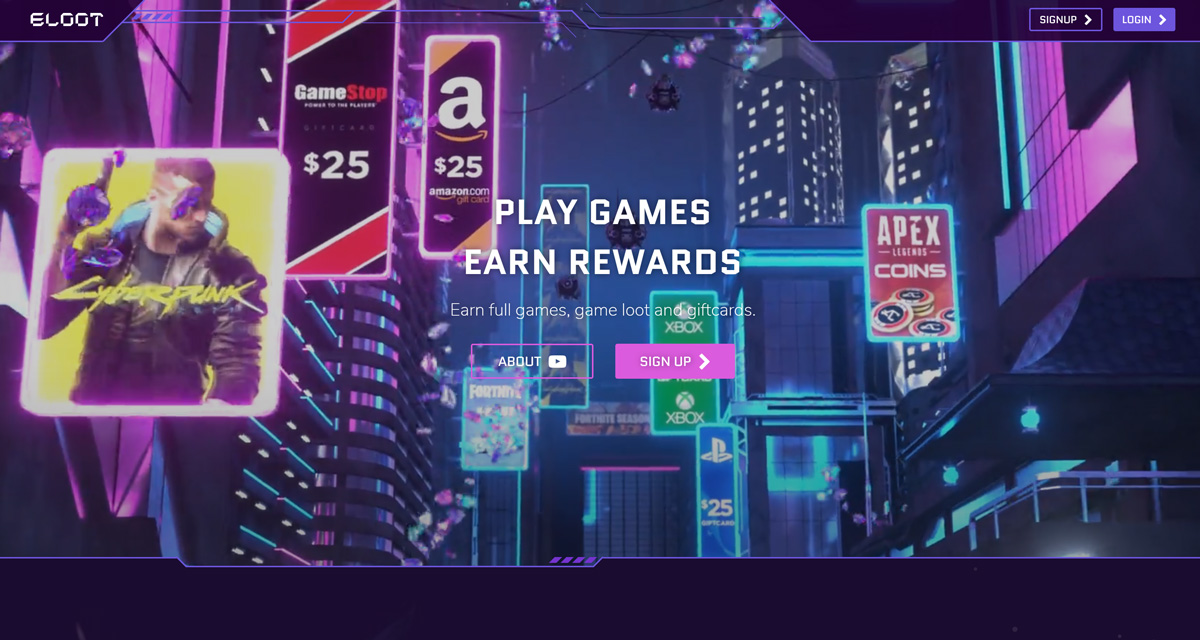 Let's face it – most reward sites on the web look similar to one another.
Need Easy Extra $350+/Month For Free?
They offer rewards, like cash or gift cards, for listening to music, watching videos, completing offers, taking surveys, and doing other easy tasks on the web.
But there's one reward site that claims to be a little different.
It's known as Eloot, but it was formerly Earn.GG, and it claims to be the "original gaming GPT".
That means that it could be an excellent place for gamers to go when they want to earn a little extra money online.
But is it really any different than the hundreds of other reward sites out there?
We dug into some research to find out and we're sharing everything we know in this review.
What is EarnGG (Now Eloot)?
What once was known as Earn.GG has now been revamped into Eloot.GG, although members will notice that they look and feel similar and offer many of the same earning opportunities.
However, Eloot is a little cleaner and more user-friendly than its old site.
It also looks like it could be related to Free GG, a site that helps gamers play for free.
We can't confirm it because neither site lists much information about themselves, but if you have any insight into this, we'd love to know down in the comments.
Either way, the site is till a Get-Paid-To (GPT) site that offers rewards for doing things online, like taking surveys, downloading apps, and watching videos.
It also claims to be the original gaming GPT site.
I'm not really sure what this means, though, because I personally think it offers similar stuff to other GPTs.
Sure, you can download gaming apps to try, but I've participated in other GPTs and reward apps that have also offered this.
It's possible that Earn.GG/Eloot was the first, but there's really no way to tell for sure.
Need Easy Extra Cash?
Pinecone Research, a leading name in online survey panel honesty, absolutely guarantees $3 cash for every survey you complete!
Take advantage of their time limited New Membership drive and register NOW. Join today: 100% free!


There are some gaming-focused features, like Steam rewards and a rewards system that's kind of like RPG games where you have gems, item satchels, equipable items, etc.
Other than that, I don't know much about how the site originated or when Earn.GG originally started because this information isn't offered on the website and isn't floating around the web.
Who Can Join the Site?
This company does operate out of Connecticut in the United States, but there's nothing I can find in the Terms of Service stating that you have to live in the USA to participate.
The terms do clearly state that members need to be at least 18 years old to use the site, though.
How to Join Eloot
Joining Eloot is extremely easy.
Just click the Log In button at the top of the webpage, which lets you sign in using a Google account.
You'll also need to verify your phone number with Eloot, which could be somewhat of a drawback if you don't like giving that away.
Supposedly, this is just to verify who you are by sending a code to your phone and having you enter that code on the site.
Once you do this, you'll need to read the privacy policy and accept its terms.
You'll then be prompted to fill out an initial profile with your basic information.
After completing these steps, you should be ready to roll.
How to Make Money with Eloot
Eloot offers a lot of ways to earn some extra cash on the web, and most of them are similar to what Earn.GG offered.
However, after researching, I found that a lot of members are upset that Eloot took away what they said were some of the best-earning methods, known as coin rolls and coin flips.
Still, there is plenty to choose from here and it seems like some of them can be good ways to earn.
Videos
You can watch videos – mainly advertisements – through Eloot's "TV" section.
Every video you watch pays a little cash, and like most reward sites, it'll take some time for your earnings to really start adding up.
Some members do say that you can watch these ads on up to three devices at one time, though, to help you boost your earnings a little faster.
Do be aware, though, that the platforms Eloot uses, known as Smores.tv and EngageMe.tv, aren't available to display in every country, so you might not be able to use this method to make money.
You also are not allowed to use an autorefresher or any kind of script meant to cheat the video system to help you earn faster.
Doing so can make you forfeit your earnings and can potentially get you banned.
Offers
The offer wall on Eloot has several free, trial, and paid offers to complete for cash.
This is also where you'll find other earning methods, like taking surveys and downloading apps.
There are a few offer walls Eloot partners with, so it seems like there is always some type of offer available.
Downloading Apps
If you love playing games and trying out new apps, you could earn some money this way too.
Just click the link from Eloot and follow the instructions.
Some apps only require you to download and try them out, while others require you to reach a specific level or do some specific task within the app.
Surveys
There are some surveys on Eloot, but most members seem to agree that they aren't the best way to earn money here.
A lot of them disqualify you after answering several questions, which can get frustrating because you won't make any money.
Those that you do qualify for and finish don't seem to pay much either.
Earn Everything… nearly!
Join Opinion Outpost, one of the few faithful and honest survey panels and earn cash and gift cards for your opinion. Stack your points and redeem them: Simple! No hidden fees and completely free!


Still, they're there if you get bored or have some spare time.
Lootboxes and Giveaways
This is a really unique part of the site you don't see on other GPT sites.
Since this is a "gaming" GPT, it only makes sense that it has lootboxes full of items you can win to power up, in a sense.
If you find a lootbox on the site (or you can participate in a giveaway to get items) you can click on it to see what you've won.
Lootboxes can contain special items that give you bonuses or special earning powers on Eloot, like a referral bonus that pays an extra 10% for your referral commission or a video bonus that gives you extra cash for every video you watch.
Basically, the stuff you'll win can help you earn more than you normally would for different tasks.
Referrals
When people you know sign up using your unique Eloot link, you'll automatically be eligible to earn 10% of everything they make.
You'll continue to make that bonus for life, as long as your friend keeps earning and stays active in the system.
How Does Eloot Pay?
Eloot pays in gems (points) for every activity on the site.
Unfortunately, the point system here isn't the easiest to follow like some that make every point equivalent to $1.
Here, 1,000 gems equals $0.01, so you'll need 100,000 gems to equal $1.
You can get paid with a variety of payment methods, though, including Bitcoin, PayPal, Steam rewards, and OPSkins.
You can withdraw your cash for as little as $0.50, or 50,000 gems, too.
What Do Eloot Members Say?
I researched to find out what real Eloot members had to say about the site.
From what I can tell, many people who were members of Earn.GG see the new Eloot site as a good upgrade over its previous one.
They say it's a cleaner, more organized website (I agree) with a lot of earning potential.
However, as I mentioned, others are upset that Eloot took away some of Earn.GG's earning methods.
Still, it's safe to say that there are a lot of ways to earn here, and it seems like there's something for everyone.
Some of the tasks here pay very little, like watching videos and ads and taking surveys.
That's true for a lot of reward sites, though.
These tasks usually don't take very long to do, so it makes sense that they won't pay as much as other tasks that are more complex.
Another complaint I've seen is that, although the minimum cash out amount is only $0.50, you'll need to pay another $0.25 in points (25,000 gems) to cover the processing fee.
So, for a tiny $0.50 payment to your PayPal account, you'll need to pay 75,000 gems!
Are There Credible Alternatives to Eloot
You can also try the following alternatives that are just like Eloot:
RewardXP
RewardXP is a GPT platform that allows users to earn points by completing various tasks such as taking surveys, downloading apps, watching videos, and more.
Users can accumulate points and redeem them for gift cards from popular retailers or choose to receive PayPal cash as their reward.
RewardXP provides a user-friendly interface and offers a range of tasks to earn rewards.
GrabPoints
GrabPoints is a GPT site that offers multiple opportunities to earn points.
Users can earn points by taking surveys, watching videos, completing offers, and participating in contests.
These points can be redeemed for a variety of rewards, including gift cards or PayPal cash.
GrabPoints stands out with its diverse range of tasks and reward options.
FeaturePoints
FeaturePoints is a GPT platform that allows users to earn points by trying out new apps, taking surveys, and completing other tasks.
Users can accumulate points and redeem them for various rewards, including gift cards, PayPal cash, or even Bitcoin.
FeaturePoints offers a unique focus on app exploration as a way to earn rewards.
Superpay.me
Superpay.me is a GPT site that provides users with opportunities to earn money by taking surveys, participating in free offers, referring friends, and more.
Users can withdraw their earnings via various methods, such as PayPal, Skrill, or Bitcoin.
Superpay.me differentiates itself with its wide range of payment options.
Get-Paid
Get-Paid is a GPT platform where users can earn money by completing surveys, offers, and tasks.
The platform offers various payout options, including PayPal, Bitcoin, and gift cards.
Get-Paid provides a straightforward approach to earning rewards through a variety of tasks.
Earn.GG Review: Is It Safe and Legit or a Scam?
I haven't seen a bunch of reports stating that Eloot doesn't pay its members or uses scammy tactics to get you to keep earning.
This does seem like a legitimate reward site on which to spend your time.
Would I use it?
Probably not, but I think it could be a good place for gamers to go because there are some features focused on gaming enthusiasts.
Overall, Eloot isn't the most active site and it could take you a while to earn here, but you can always try it out and take advantage of its low cash out threshold to test it out, get a payment, and decide if you want to continue with it.
Have you used Eloot? What are your thoughts? Drop a comment below!
Related Posts:
Earn Everything… nearly!
Join Ipsos iSay, one of the few Faithful and Honest survey panels and earn prizes, gift cards and donations. Stack your points and redeem them: Simple! No hidden fees and completely free!