Foap App Review: Make $5 Per Photo Selling Pictures on the App
Updated on: by anvitalis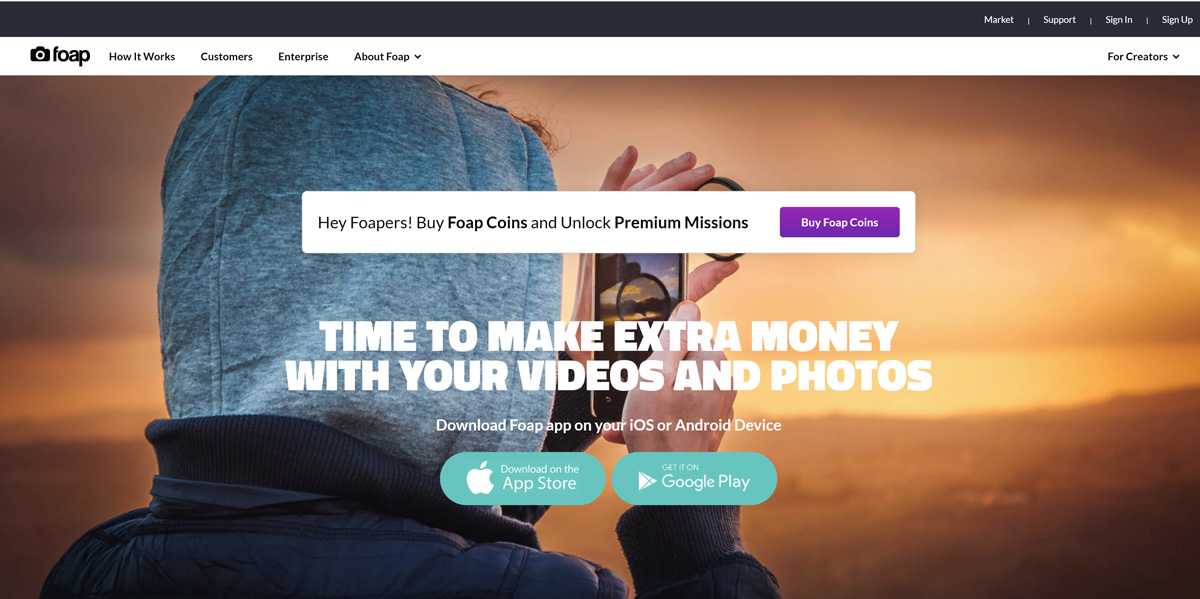 Smartphones have definitely come a long way, even just in the last few years.
Need Easy Extra $350+/Month For Free?
I remember my first few cell phones that didn't even have photo-taking capabilities.
Now, I can use my smartphone the same way I would a regular camera and often get pictures that look just as high-quality.
So, it's not surprising that a lot of photography enthusiasts use their cell phones to take gorgeous pictures of sunsets, people, beaches, and more.
A lot of people are even selling the photos they take right from their cell phones!
How?
It's all thanks to apps that allow you to start a little photo-selling shop right from your phone to let people who love your pictures purchase them.
One of those apps is known as Foap, and it's likely one of the most popular ones of its kind.
This review is all about Foap, how to use it to sell photos, how it pays, etc., so that you can determine if it's a safe way to make some extra cash from your photo-taking hobby.
What is Foap?
Foap is an app that helps brands crowdsource to find images and videos from photographers.
Brands hop on the platform, let the crowd of photographers know what they need (like a food photo for a recipe post or a video to share on social media), and wait to get submissions sent in by people who use the app.
You, of course, would be a user of the app that can respond to these requests with photos or videos.
You can also use the marketplace to sell your photos directly.
All of this can be done on the app, which is available for iOS and Android.
Foap has been around since 2012 and works out of its offices in the United States, Poland, and Sweden.
How Does Foap Work?
Foap is relatively easy to figure out once you download and install it, but you probably want to know what it's all about and the basics of using it before you download it.
Need Easy Extra Cash?
Pinecone Research, a leading name in online survey panel honesty, absolutely guarantees $3 cash for every survey you complete!
Take advantage of their time limited New Membership drive and register NOW. Join today: 100% free!


So, I dug into the FAQ section of Foap's website and did some research online to learn more about Foap and how to sell your photos using the app.
Signing Up
You can sign up for Foap on the app.
Once it's downloaded, just click the Start Using Foap button on the app's home screen.
You can create an account using your Facebook account or your email address.
Then you'll be prompted to pick a username (the default will be your first and last names) and upload your first photo to get started.
Your photo will need to have a description using keywords and adjectives that people might use to find it, plus some tags to help categorize it.
After uploading any photo, you'll be able to see it in your dashboard and can edit them by clicking on them.
Missions
Participating in Missions is one way you can earn money on Foap.
You'll find these in the Missions tab in the app.
Some Missions are Premium, which means you'll need Foap Coins to unlock them.
Others are free for everyone to join but also won't pay as much money in prizes if you happen to win.
When you click on a Mission, you can read its description.
These Missions come from brands who want creatives like you to come up with your best shots and videos for their mission.
So, read the description and then take or choose a photo or video that best represents that mission.
The free Missions usually pay out about $100 in prizes but can go up to $500, while Premium Missions range from $600 and up, on average.
Even if you don't win one of the top prizes for the Mission, you can still get a chance to make some money if the brand decides to purchase your photo.
When that happens, you can sell your photo for $10 to $60.
Selling on the Marketplace
If you don't want to participate in Missions, you can always just upload your favorite pictures to sell on the Marketplace.
This is where people or brands can buy your photos directly.
Foap allows you to search for photos based on tags or keywords, so other people can find your photos that match their needs.
You can sell just about anything as long as it meets Foap's guidelines.
If you do happen to have recognizable faces in your shots, you'll need to send in a model release form along with your photo.
You can see what people on Foap are buying by clicking the Explore tab and then browsing the Sold section. These are photos that have recently sold, so you can see what's popular and base your uploads on those photos.
When you upload your photos, make sure you have a descriptive caption and add as many tags as possible, because this is how people will search for and find your pictures.
Rating Photos
As you browse through photos on Foap, you should make it a point to rate them.
It doesn't really take any extra time if you're looking through recently sold photos anyway to see what's been popular lately.
The reason you'll want to do this is because Foap is somewhat of a social platform, too.
The more you interact, the more visible your profile is, which makes it easier for others to find you and your photos (which also means more chances for you to sell!).
When you interact with others and rate photos, they'll see your profile and may even give you a good rating back or follow your account.
Earn Everything… nearly!
Join Opinion Outpost, one of the few faithful and honest survey panels and earn cash and gift cards for your opinion. Stack your points and redeem them: Simple! No hidden fees and completely free!


Foap would like for each member to rate at least 200 photos a week to keep the platform active and engaged.
You can keep track of your ratings on your account in the app.
Foap Coins
I mentioned that you need Foap Coins to enter Premium Missions.
The only way to get Foap Coins for free is to watch videos in the app.
Most videos are between 15 and 30 seconds long and pay 5 coins, so you actually can get the 60 you need for most Premium Missions fast.
You can also buy Foap Coins if there's a Mission you really want to join and don't have time to watch videos, but you'll need to do that on the website because there's currently no in-app option to buy them.
100 Foap Coins is $4.99, but there are a couple of other packages you can buy, too, to have access to more Premium Missions.
Payments
Every time you sell a photo through the Foap Marketplace, the picture will sell for $10.
You get half of that price, so $5 per photo.
When you sell a photo through a Mission, it will sell anywhere from $10 to $60, and again, you'll get half of the cost, so between $5 and $30.
Mission prizes are a little different, though.
You could end up with more cash if you're an actual winner in the Mission.
The amount you get depends on the prizes available, but you can learn more by reading through the Mission descriptions.
Foap currently only pays with PayPal, so you'll need a valid account to get paid.
You can add your PayPal email to your account in the Settings tab on the app.
Once you get money from selling, you can click Withdraw in the app.
Foap may take up to one month to pay you, though, because it needs to check the validity of each sale.
Is Foap Legit or a Scam?
I've read plenty of reviews about Foap where users state that they've gotten paid and that the app works for them to support their photography hobby, so I'm confident saying that Foap is a legitimate place to earn some extra cash.
But, what are the common praises and complaints?
I browsed through several reviews to get a bit of clarity on what sellers think about the Foap selling process:
Pro: Fun Way to Share Photos and Earn
Foap is a lot different than sharing photos on Facebook or another social media platform because you can actually get paid for your work.
Not only do you get to share your creativity with other Foapers, but you also get to check out what the community's doing, too, so it can be a really great place to share your love for photography with other like-minded people (and get paid for it).
Con: Photo Quality Drops
I've seen a few reviewers say that the photo quality degrades once you upload them to Foap.
Foap confirmed this in one response, saying that the reasoning for it is so that not too much data gets used on Foap's end.
It makes sense for the company, sure.
But seeing as how this is an app that relies on quality photos to make it work, it's kind of disheartening that your stunning photos may not be as stunning once they get on the platform.
Con: Not Much Money to Be Made
You're not going to make a bunch of money on Foap unless you are lucky enough to win a Mission.
However, thousands of Foapers enter Missions, so the chances of that happening are few and far between.
You can sell your photos multiple times, so if you have a really popular one, you could earn some decent money with it.
Still, $5 per photo sold isn't much, especially when you compare it to the royalties you can get from some other photo selling sites.
Con: Only One Payment Method – and It's Sometimes Slow
Foap only offers PayPal as a payment method.
Although this is a payment system most people prefer, it's not convenient for those who don't have PayPal or don't want to get an account.
There's literally no other option.
Plus, Foap says in its FAQ that it could take up to a month to actually receive your pay once you withdraw, and that's a long time to wait for a PayPal payment that's usually released within a couple of days at the most.
Foap App Review: Final Thoughts
Foap offers photo hobbyists a chance to showcase their favorite photos and make some money while they do it.
Plus, the community helps you connect with other photographers and see what's popular in the photography world.
The app is definitely an interesting concept and some Foapers seem to have a lot of success on the platform.
It's free to sign up and try and you don't have to pay anything to upload photos or join Missions unless you want to pay for Foap Coins, so you're not losing anything by trying it out.
If you do, be sure you come back here in a few weeks and let us know if you've had success selling your photos!
Related Posts:
Earn Everything… nearly!
Join Ipsos iSay, one of the few Faithful and Honest survey panels and earn prizes, gift cards and donations. Stack your points and redeem them: Simple! No hidden fees and completely free!