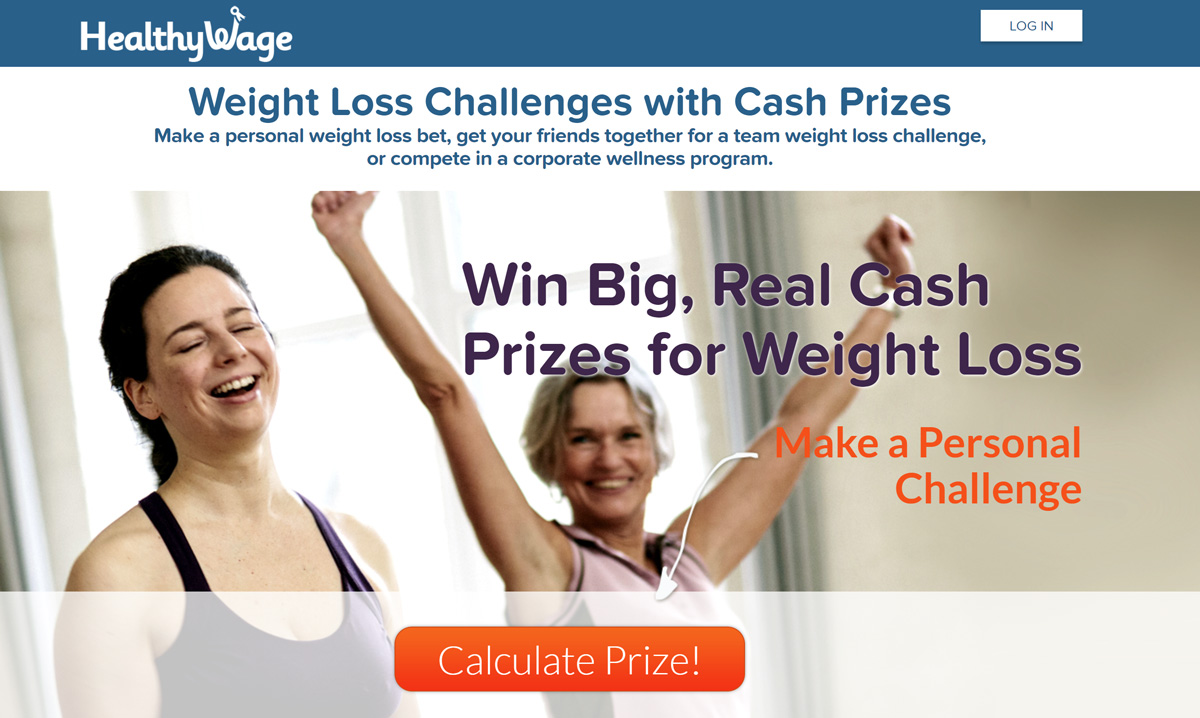 Let's face it: Losing weight isn't usually much fun for anyone.
Need Easy Extra $350+/Month For Free?
It takes hard work, dedication, and a whole lot of motivation to stick to your weight loss goals and reach them.
Weight loss usually involves exercising and eating nutritious foods, at least one of which is probably something most people don't love to do!
But what if you had the incentive of cash to help you lose weight and reach your health goals?
It's totally possible with HealthyWage, an app that says it'll pay you to reach your weight loss goals.
Is it real?
That's what we're going to talk about in this review, which covers the basics of the app, how it all works, and how you can potentially win money just to lose weight.
We're also going to look at some real HealthyWage reviews 2019 members have written to see what they have to say and help you decide if it's an app that might help you finally shed those stubborn pounds.
What is HealthyWage?
HealthyWage is an app for the web, Android, and iOS devices that claims to give you money when you reach your weight loss goals.
The company's been around since 2009 and is one of the first apps of its kind.
There are several other similar ones now that also promise to give money for reaching your weight loss goals, but HealthyWage continues to be one of the most popular and well-received weight-loss betting apps.
Something unique this app has over others is its ability to get groups of people losing weight together, like those in your family or your co-workers.
HealthyWage works with large corporations, schools, universities, health systems, and other organizations to help its members get healthy and stay fit.
The founders of the apps realized that a lot of people need more motivation to stick to their weight loss goals.
What's one of the biggest motivators in the world?
MONEY!
Need Easy Extra Cash?

Pinecone Research, a leading name in online survey panel honesty, absolutely guarantees $3 cash for every survey you complete!
Take advantage of their time limited New Membership drive and register NOW. Join today: 100% free!


It only makes sense, then that money could be an awesome motivation to keep people losing weight and staying healthy.
Who Can Join HealthyWage?
This app is currently available to people all over the world, with some exceptions in Europe and Asia.
If you choose to participate as part of your organization, you may be able to use the app even if you live in a location that's typically not accepted if your organization is an accepted partner.
How Does HealthyWage Work?
HealthyWage is very basic at its core: Lose weight, win cash.
But how, exactly, will you get paid just to lose weight and get healthier?
It all boils down to how much you bet on yourself to stick to your goals and shed pounds.
Basically, HealthyWage uses the money everyone bets in challenges to issue prizes to the winner or winners of the challenge.
Each challenge is different, and you can join whatever ones you want that you think will fit your goals best.
Here's how it all works:
Calculating Your Prize
HealthyWage offers a prize calculator on its site that helps you figure out how much you should bet based on your goals and what you want to win.
To use the calculator, you need to state how many pounds you plan to use.
Then, choose how long you'll need to meet those goals and how much you want to bet each month.
You'll see the prize money change as you change the variables.
For example, the more you bet each month, the more you can win at the end if you reach your goals.
However, the fewer months you bet you'll reach your goals, the lower your prize money goes (because you won't keep betting money after those months are done).
Play around with the variables until you figure out a good goal, timeframe, and prize for you.
Then, complete the basic questions that follow so HealthyWage can figure out a more specific prize goal for you.
You'll need to sign up with an email address and password at the end of the quick questionnaire to learn your goal and get started.
Placing Bets
Once you get signed up for HealthyWage, you can place your bet on what you think you'll lose in a specific number of months.
This is called your HealthyWager.
You can choose to pay your bet monthly or pay it all at once before you get started.
If you don't meet your weight loss goal at the end of the term you set, you won't get your prize cash.
If you do meet your goals, you'll get paid your prize money.
It's really that simple.
The good news is that the prize HealthyWage calculates for you is guaranteed and will not change during the duration of your betting period (unless your starting weight is incorrect – I'll get to that in a moment).
Verifying Your Weight
You're going to need to verify your weight with HealthyWage before you start your challenge and at the end of your challenge.
This helps HealthyWage know that you're being honest about your starting weight and finishing weight (because, obviously, it doesn't want to reward cheaters!).
If your starting weight is significantly different than what you entered in the calculator to get your prize amount, then HealthyWage will probably contact you to discuss a potential difference in your calculated prize amount.
Earn Everything… nearly!

Join Opinion Outpost, one of the few faithful and honest survey panels and earn cash and gift cards for your opinion. Stack your points and redeem them: Simple! No hidden fees and completely free!


To verify your weight, you'll need to download the HealthyWage mobile app and follow its instructions or send in a video of yourself weighing in.
This proves that it's really you and that you're really weighing yourself at that moment to help expedite your prize money.
You just need a regular scale, nothing fancy, to weigh in.
You also don't need to weigh in any more than twice during your betting period, so there's no need to hit specific weight loss goals every month during your program.
Lose nothing one month and 25 pounds the next – it doesn't matter, as long as you hit your weight loss goal by the last date of your challenge.
Design Your Own Challenge
Do you think you'll do better when you have other people vying to lose weight too?
Then maybe creating a challenge will help you meet your goals.
This is an especially great option for competitive people who stay motivated when they have other people around to beat.
Or, maybe you just want to get a group of friends and family together to have fun losing weight with those closest to you!
To create a challenge, you need to think of a name and some details, like how long it'll last and how much it costs to join, which will affect the prize money at the end.
With these challenges, anyone who meets the weight loss goal of at least 6% weight loss gets to share the prize money.
It's important to note, though, that HealthyWage will take 25% of the prize pot to keep for itself as an "administration fee".
Team Challenges
Alternatively, you can join a team challenge with groups of people you know.
These challenges run for a specific time period and require you to join in teams of five.
Whatever team loses the highest percentage of weight during the duration of the challenge will win the top prize of $10,000 to split with their team members.
HealthyWage will even waive your entry fee if you choose to weigh in again six months after the end of the challenge to prove that you've maintained your weight loss.
Ending Early or Adding Time
Do you need a couple of extra weeks to lose those last stubborn few pounds?
Or, maybe you reached your goal early and want to quit while you're ahead?
HealthyWage lets you do either option.
If you want to end early after reaching your weight, you can do so within two weeks of your original end date.
If you need more time, you can buy it the same way that you pay your bets in monthly installments.
Unfortunately, you can only add more time in 6-month increments, so you'll be stuck paying for another six months if you choose this method.
Getting Paid
You can boost your prize money in your HealthyWager prize pot by referring friends and family!
Each referral gives you $40.
Your referrals do have to sign up for their own HealthyWager, though, so make sure you send them friendly reminders about signing up if they haven't yet.
So, how do you get paid if you do meet your weight loss goals?
First, you'll need to verify your weight loss, like I mentioned earlier.
Then, you'll be able to request a payout after HealthyWage verifies everything.
You can choose to do so with a check or PayPal, both of which are subject to fees.
PayPal payments typically come within 2 to 5 days after requesting and checks usually come within 3 weeks from your request.
I do want to mention that your HealthyWage earnings actually come in points instead of cash, with each point equaling $1.
They have cash value, so you can just trade them in to get your check or PayPal money.
However, you can also use them to place another bet or start another challenge.
HealthyWage Praise and Complaints: Is HealthyWage Legit or a Scam?
Is HealthyWage the real deal?
Can you actually make money with it?
I checked the Better Business Bureau (BBB), Reddit threads, and other online reviews about HealthyWage to learn more about the app and what people who have actually tried it thing of it.
HealthyWage isn't accredited with the BBB, but it does have an A+ rating at the time of this writing.
Looking through the reviews there, I was pleasantly surprised to see several positive reviews!
Often, you see mostly negative reviews on BBB because people head there to complain about a negative experience and get it corrected.
However, there are a lot of people there who are happy with what they've earned and the process to do it.
There are a few complaints about messed up accounts, problems with the app, and issues with team challenges, but it seems that HealthyWage is quick to make things right for most customers who have any concerns.
The same holds true with other reviews I've seen on the web.
Most of the complaints have to do with people getting upset because they didn't reach their goals and, therefore, didn't win anything, or that their team didn't win a team challenge.
HealthyWage obviously can't control these things, so they aren't really complaints toward the company itself.
Others have praised the company for providing such a fun and motivating way to earn money for losing weight and for offering such helpful support when they do encounter any problems.
Overall, I'm confident saying that HealthyWage is legit.
It's been around since 2009 and has only gained popularity over the years, so it's obviously working for people.
And if all it takes is some money motivation to keep people losing weight and staying healthy, then it's worth it, right?
Conclusion: HealthyWage Review
HealthyWage really pays you to lose weight and meet your fitness goals!
You do have to pay in order to stay in the game, but you can choose to do that all at once before you start or every month during your weight loss period you set in the calculator, so HealthyWage makes it possible to stay in your budget.
The more you bet and the longer you bet for, the more you can earn – so it's true what they say, slow and steady wins the race.
If you've used HealthyWage, we'd love to hear about your experience in the comments below. Or, let us know any questions or concerns you have and we (or another reader) will try to help you out.
Good luck in your weight loss journey!
Related Posts:
Earn Everything… nearly!

Join Ipsos iSay, one of the few Faithful and Honest survey panels and earn prizes, gift cards and donations. Stack your points and redeem them: Simple! No hidden fees and completely free!