HempWorx Review: Earn Weekly Income Selling CBD Products
Updated on: by Amy Kennedy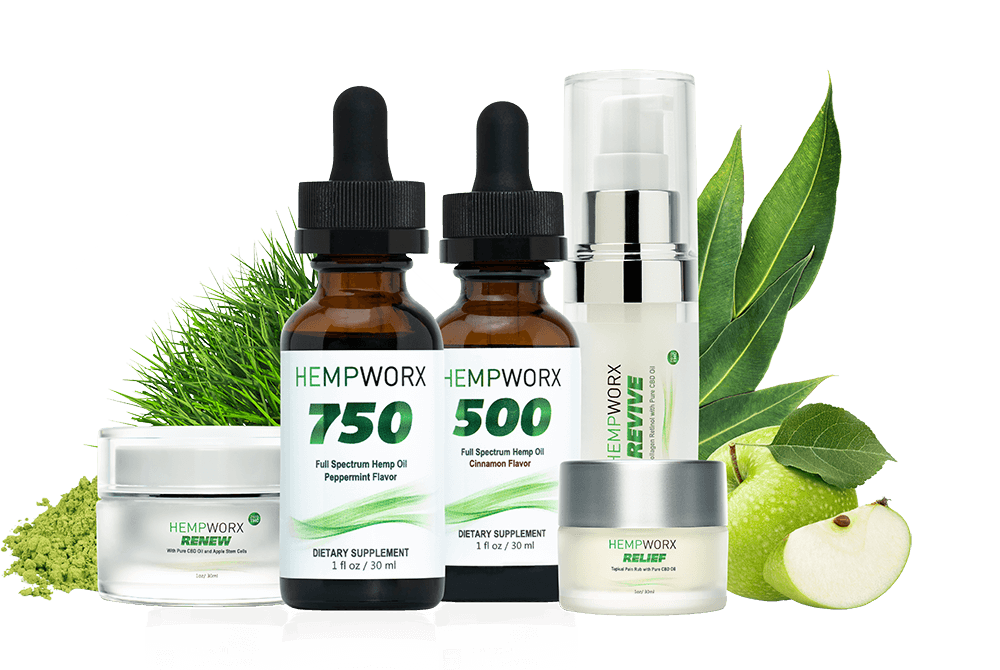 There's no doubt that CBD oil has become an incredibly popular product in recent years.
Need Easy Extra $350+/Month For Free?
There are studies showing that it may help to reduce symptoms in a number of chronic illnesses, including pain, inflammation, headache, and anxiety.
It's also being used as a mood relaxer for people with a lot of stress or symptoms of anxiety or depression.
Some people even swear by it to help ailments their dogs and cats suffer from (although, this should always be cleared with your vet!).
Whatever your reason for using CBD oil or hemp-based products, there's probably a HempWorx product that could fit your needs.
HempWorx is a multi-level marketing (MLM) company that not only sells hemp-based products containing CBD oil, but it also gives its supporters the chance to cash in on its action with a paid opportunity.
As a seller for the company, you can earn commissions selling its products, getting people to sign up underneath you, and moving up within the company.
Sound like the right opportunity for you?
Read on to learn more about HempWorx, what kind of products it sells, and how its paid opp works so that you can decide if it's right for you.
What is HempWorx.com?
HempWorx is a company that's only been around a few years so far, since 2014.
The company is basically a direct sales, or multi-level marketing, company that has its own products and looks for people who are interested in those products to sell them to other people.
The sellers get a commission based on how much they sell and the retail value of the products they sell.
As the name suggests, HempWorx is all about hemp-focused products.
Hemp is a type of plant that contains cannabidiol (CBD), a very popular compound in recent years that's been linked to everything from controlling anxiety to reducing cancer symptoms.
Types of Products
HempWorx has a variety of products in a range of prices to fit most budgets that focus on CBD oil and its supposed benefits.
The company's main focus is its HempWorx 500 mg and 750 mg oil, which is made from pure CBD oil and comes in three different natural flavors.
Need Easy Extra Cash?
Pinecone Research, a leading name in online survey panel honesty, absolutely guarantees $3 cash for every survey you complete!
Take advantage of their time limited New Membership drive and register NOW. Join today: 100% free!


This product is also organic and non-GMO.
There's also hemp-infused coffee, Keto coffee creamers, anti-aging, and skin-reviving creams, muscle relaxers, and even pet-focused hemp products.
Basically, there's a HempWorx product for just about everyone you know who's into these kind of products.
The HempWorx Opportunity
HempWorx somewhat treats its paid opportunity like an affiliate program and even calls its sellers "Affiliates," which you kind of will be, I suppose.
An affiliate is basically anyone who earns commission from selling a product or service to someone else, and that's essentially what you'll be doing when you work with HempWorx.
Here's everything you need to know about the program so that you can decide if it's something you want to try:
How It Works
HempWorx is unique in that everything you'll need for your business to start can come to you in a box.
When you sign up, you'll get a starter kit that includes information about running your business and how to set up your website, landing pages, and business app.
You can choose to sell the products you have on hand in person or sell them online through your business website.
Either way, you'll earn commissions based on whatever it is you sell.
Who Can Join?
There are no formal requirements for joining HempWorx, so it's pretty much open to anyone.
However, you should have at least some ability to sell because that's what your commission will be based on.
If you never sell anything, then you won't make any money.
It also will help to have some experience building a business, like bringing in traffic to a website, managing inventory, marketing yourself, and tracking finances and expenses.
You should also check with your state and local laws about operating a business, just to make sure you have yourself covered in all areas.
What's the Cost?
This gets a bit tricky because there are different ways you can choose to join the HempWorx team, each of which have different startup costs.
You have the option to join a program called MyDailyChoice, which gives you the choice between several starting packages to get your business going, all at different price points.
You can also choose between becoming an affiliate or a Preferred Customer.
As an affiliate, you pay a $20 fee to get your business started, which includes the starter kit, website, and back office system.
As a Preferred Customer, you only pay for products, on which you'll receive discounts for what you buy and commissions on what you sell.
So, in both cases, you'll make money on what you sell, but the Preferred Customer title won't get you your website to sell stuff online to people.
For only $20 – which is a one-time fee, by the way – you can become an affiliate, get paid commissions, and have your starter kit and website all set up.
The starting packages range from choosing one product for $39 to choosing 12 products for $599.
There are also other product packages that offer more products for less money; it just depends on the type of product you want to start with.
If you're a Preferred Customer, you can get one product for free when you refer three more people to the company.
Compensation
I won't lie – the compensation plan here gets confusing because there are several different ways you can earn as an affiliate for HempWorx.
I'll try my best to explain it here, but you can also browse the compensation plan on the website to see for yourself how you can earn at each level.
First of all, what you make will depend on how you joined.
Your commissions as a Preferred Customer or affiliate will come to you every Thursday, and you'll get paid for everything you made the previous week.
Earn Everything… nearly!
Join Opinion Outpost, one of the few faithful and honest survey panels and earn cash and gift cards for your opinion. Stack your points and redeem them: Simple! No hidden fees and completely free!


You'll earn up to 25% of everything you sell.
You can work your way up the levels (there are 10 of them) based on your business volume, or BV, and how many recruits you have working underneath you, hence why this is known as an MLM company.
The highest commissions you can receive are 85% of your BV.
What sets HempWorks apart, though, is in all of its incentives and bonuses it offers its sellers.
For example, there are weekly Jump Start bonuses that you can get if meet specific sales goals for the week, noted by your BV.
There's also Binary Commissions paid monthly when you have at least 40 BV in personal sales and at least 300 BV in your downline (all the people underneath you who buy products or sell products).
There's also a Leadership Check Matching bonus and a Global Bonus Pool incentive, both of which have their own separate qualifications.
Finally, if you happen to reach 90 BV in personal sales and maintain that BV for at least 90 days, you can qualify for extra rewards paid in cash.
This bonus can be anywhere from $500 to $100,000.
Is This CBD Distributor and Its Opportunity Legit or a Scam?
Okay – so the compensation plan is interesting.
In fact, it's incredibly confusing and even the compensation plan PDF doesn't do a great job with explaining everything.
Does that mean that HempWorx is a complete waste of time?
No.
I've seen some decent reviews about this company and, to be fair, it does seem to offer a ton of bonuses and incentives for its sellers.
The problem is just that it's so confusing to try to figure out what you can possibly earn with this company that you might not ever get to a point where you can make a reliable income.
I would say that HempWorx is legit, but it's definitely not going to be for everyone.
Personally, I'd stay far away from a company that has such a confusing plan.
I'd rather just have everything super transparent, explained on just one or two pages, instead of trying to figure out what I might make if I buy this, or how much of a bonus I could make if I sold this much stuff each month.
It's too confusing and it's not worth my time to figure out.
But for those who are really into the products and would likely buy them anyway, it might be worth it to become a Preferred Customer or affiliate and try your hand at selling the products for extra cash.
What Do Others Say?
I always check out reviews from real members of the sites and companies we review here, just to see what they have to say.
People can have such different experiences based on their talents, interests, and even where they live, so it's important to take some time to research a company to get a full picture of what it could be like.
With HempWorx, there's a lot of positive stuff from people who sell it.
There are also some negatives, so I want to lay out some of the more common pros and cons I've seen to help you have an easier time deciding if it's an opp you should try:
Pros
The biggest pro I can see with HempWorx is that loyal customers of the company are really loyal and people who are into CBD products may be easy sells on switching over to the company.
That means that, if you find the right people to sell to, you might not have much of a struggle selling products routinely and making money off a solid set of customers.
The company also has some excellent bonuses and incentives as you stay active and move up within the HempWorx tiers.
The startup costs also aren't bad, considering it's only $20 to get your website set up and receive a welcome kit.
Then, you just need to pick out a starting package of products as low as $39 to start building your BV.
You won't have to shell out hundreds upfront if you don't want to just to get your business moving.
Cons
A lot of people mention that HempWorx products aren't cheap, and I can see exactly what they're talking about after finding pricing information online.
HempWorx 750 – a bottle of CBD oil – will cost you about $89 plus shipping and tax.
The smaller, 500 mg, bottle is still $69.
The pet products are around $69 and so are the skin creams.
That stuff is pricey considering you can get high-quality skin creams at a pharmacy or even a department store for less than $30 or $40.
And dog treats for $69 seems like they would be way out of budget for most people.
The good thing about these prices is that you make more when you sell them.
The bad news is that it'll cost you more money to keep buying them to show to people and many of your customers may not be able to afford such pricey products.
Another downside of this business is that it's MLM.
You're likely only going to make top-tier cash here if you are lucky enough to get people to sign up as customers or affiliates under you.
Even then, your income relies on how much they're bringing in too.
A lot of people try to stay far away from MLMs nowadays because they've gotten a bad reputation, so it could be really tough to find people to jump on your team – especially in an industry as controversial as the CBD oil industry.
Conclusion: HempWorx Review
HempWorx is a legitimate site and those who choose to sell as part of the MLM company seem to enjoy it for the most part.
But I definitely wouldn't suggest joining this company just because YOU love its products.
You'll also want to make sure you know enough people who would love its products, too, or you're simply not going to find enough people to sell to make it worth your while.
Have you tried HempWorx products or become an affiliate or Preferred Customer?
We'd love to hear your thoughts – leave us a comment down below!
Related Posts:
Earn Everything… nearly!
Join Ipsos iSay, one of the few Faithful and Honest survey panels and earn prizes, gift cards and donations. Stack your points and redeem them: Simple! No hidden fees and completely free!