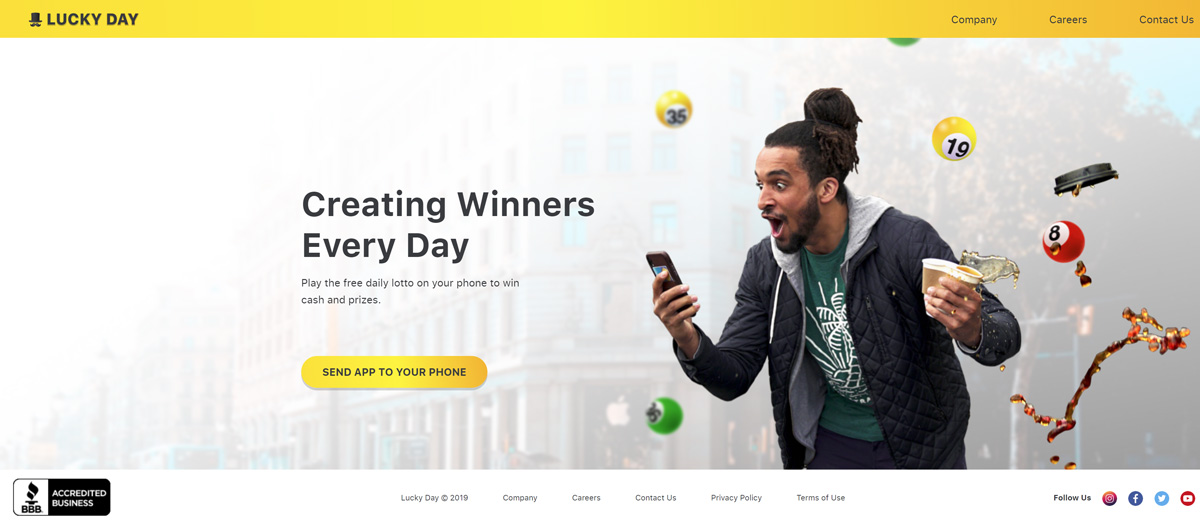 Have you ever hoped for an "easy" way to make or win money – especially if you could do it using your mobile device wherever you go?
Need Easy Extra $350+/Month For Free?
An app called Lucky Day might be the answer for you.
This app is like a mobile lotto that you can download for your phone or tablet and play whenever you feel like it.
It has some good reviews and some not-so-good reviews, like most apps, so I wanted to research it more and try it out for myself to see firsthand if it's something that really can give you some money or if it's just another scam.
This review will give you all of that information plus helpful tips to guide you through the app yourself.
What is Lucky Day?
Lucky Day is an app that could potentially make any day your lucky day.
This is a lotto app that lets you play lottery-like games right from your mobile device (it works with Android currently and is said to be returning to Apple at some point).
The app has scratch-offs and other games of luck you can play to win money.
It's been around for a few years and accredited with the BBB since 2018 – and currently has an A+ rating and seems very responsive with its reviewers there, which is always a good sign.
Lucky Day makes its money through advertisements, so expect to see a lot of them when you're roaming around the app.
However, the app itself is free and it's always free to play the lotto, scratch-offs, and other games.
How to Download and Sign Up for Lucky Day
To get the app, you can go to the website and click the button to send the app to your phone.
Plug in your phone number and Lucky Day will text you a link to download and install the app.
You can then sign up right in the app.
Alternatively, you can search for Lucky Day in your app store and download it directly from there.
You'll need a valid email address to sign up or you can sign up with Facebook (the app will then use your Facebook email address).
Need Easy Extra Cash?

Pinecone Research, a leading name in online survey panel honesty, absolutely guarantees $3 cash for every survey you complete!
Take advantage of their time limited New Membership drive and register NOW. Join today: 100% free!


Lucky Day walks you through your first couple of entries so you can get an idea of how it all works.
Is the Lucky Day Scam Legit?
If you've done your own research on Lucky Day, you might have noticed something about a scam trying to get members to pay money.
There is a known scam floating around that involves Lucky Day, but unfortunately, the company got caught in something that didn't originate with it.
The scam focuses on Instagrammers.
Someone claiming to be from Lucky Day contacts people on Instagram to tell them that they've won a lottery with a lot of money involved.
The fraudsters try to get you to pay to get that money – which we all should know by now is not something you should ever have to do!
This is a scam and these people aren't associated with the Lucky Day app.
Lucky Day will only contact you by email using emails that end in @luckydayapp.com.
I've also seen other reports of people trying to claim there's some hack to help you win more on the app.
If you see anything like this, or if anyone tries to contact you regarding a Lucky Day hack, know that it's also false information.
They'll likely try to get you to pay for something that will never work.
Lucky Day is all about luck, just like its name suggests, so no hack is going to help you win more.
How to Make Money with Lucky Day
Lucky Day is mostly about scratch offs but there are some other ways you can make money here too.
Virtual Scratch Off Tickets
This is the primary way you'll earn with Lucky Day because it's kind of what the app is based on.
The virtual scratch off tickets are just like those you can pick up at your local convenience store, only you don't need a coin to scratch them off.
Just swipe your finger over the scratcher to match three symbols and get rewards.
As soon as you get signed up, you'll complete your first scratcher.
Most people say they win on this one, maybe to give members a little motivation to get going.
It was true for me; I won 25,000 tokens on my first scratch card.
Some scratch off tickets have tiny prizes while others have large prizes of $1,000 or more, but of course, they'll be more difficult to win.
Lotteries
There are daily lotteries to enter that'll show up on your home screen when you start the app.
If it's time to enter when you sign in, the app will also prompt you to pick your numbers.
You'll pick five numbers and a lucky number, and then Lucky Day will let you know how long is left until the lotto gets drawn and you find out who wins.
Raffles
You can "purchase" tickets for raffles that pay anywhere from $500 to $5,000.
To purchase a ticket, you'll need 10,000 tokens (which means I can get only two tickets with my winnings from my first scratch off card.
The $500 raffle is daily, the $1,000 raffle is weekly, and the $5,000 is monthly, which makes the big prizes even more difficult for people to win because more people can enter.
This isn't unlike real-life lottos and raffles, though.
Slots and Other Casino Games
Lucky Day also has some other games, like Blackjack and Slots, that you can play.
Find them by scrolling all the way down on the home screen.
Earn Everything… nearly!

Join Opinion Outpost, one of the few faithful and honest survey panels and earn cash and gift cards for your opinion. Stack your points and redeem them: Simple! No hidden fees and completely free!


You'll use your tokens to play these games, too, and you'll have the potential to win more tokens to exchange for rewards and raffle tickets.
Earn Tokens
There are several ways you can earn more tokens using Lucky Day.
Remember that tokens are what you need to get raffle tickets and rewards with the app, so it's like the Lucky Day currency.
To get more, you can watch videos, which will give you 1,000 for each video you watch.
Lucky Day also has a Surveys section where you can earn tokens instead of cash for online surveys.
They work just like they would on a survey site, only you can take them using your mobile device.
There's also an offer wall within the app that gives you tokens for each completed task.
These tasks are ones like downloading a new app and leveling to a specific level, signing up for a free trial to an online service, or making an online purchase.
Some of the rewards are low, around 7k tokens, while others can be more than 1 million tokens, depending on the task.
Make sure when you do these, you follow the instructions carefully to get rewarded.
Lucky Day sometimes has double tokens for a limited time on its offer wall, which can give you even better opportunities to get rewarded for your tasks.
Social Media Follows
Lucky Day gives you more opportunities to earn cash or tokens by following the company on its social media channels, like Twitter, Instagram, and YouTube.
Each one has different prizes.
I followed on Twitter and won 1,000 tokens, but you can win up to $10,000 just by following the company on YouTube, for example.
Referrals
Finally, there are referrals, which give you 100,000 tokens every time a new friend or family member joins using your link.
Like other referral programs, you just need to send people your unique link to join Lucky Day.
Once they sign up, you'll get credited your tokens.
It might take a few days to see your earnings because Lucky Day needs to verify that all sign-ups are legit before paying you.
However, there are no rules about your referrals needing to be active.
It seems like they just need to sign up under you to give you your rewards.
You can share your link directly through the app using Facebook, Twitter, and other sharing platforms.
What Can You Win?
Lucky Day gives out tokens and real cash, but tokens are definitely the more common thing to get.
You can get money from scratch-offs, with the $1 reward ones being the easiest to win – but still not very common.
You'll need $10 to cash out to your PayPal account, which honestly could take a while since it's so difficult to get real money here.
However, if you win a lotto or a cash-giving scratch off, then you'll get real money, not tokens.
Tokens are still okay, though, because you can turn them into prizes when you redeem them.
Lucky Day has several gift cards and gifts to choose from that can vary with your location (you'll need to turn your location settings on for the app to see what prizes are available near you).
For me, I have gifts like bracelets, nail polish, wallets, makeup, and toys.
Some of the gift cards that are available to me are Bath & Body Works, CVS, Applebee's, Dunkin Donuts, AMC, Sephora, Starbucks, Old Navy, and Walmart.
There are different denominations, too, with different token amounts to purchase them.
One thing to note is that tokens do not go very far here.
You'll need 4 million tokens, for example, just to get a $3 Dunkin Donuts gift card!
But, if you happen to get really lucky or find some good free offers to complete to earn tokens in the app, then you could rack up enough for several gift cards.
What Do Other Real Members Say?
In addition to using the app myself just to see how it all works and whether it looks legit, I researched what other members had to say.
I personally haven't earned enough to cash out my tokens or cash for anything yet (I've only won $1 in my account and currently have only 30,000 tokens), so I wanted to know, specifically, if people really get paid using Lucky Day.
What I found were a lot of mixed reviews.
It seems like people do get paid, but only in very small amounts.
I haven't seen any legitimate reports about people winning the big lotto amounts of $500 or more, so I can't say for sure that it's possible.
You'll see on the app that it has a list of winners, but there's no way to tell if these names are real or just ones Lucky Day makes up to keep you motivated.
I browsed Reddit, which is so helpful with learning about these types of sites and what people really think about them.
I saw quite a few complaints about people saying it takes forever to get up to the minimum $10 amount to cash out.
Some people climb up to $7 or $8 quickly, only to notice that their earnings slow way down before that hit that cash out mark.
Others mention that they have issues getting their $10 once they reach it.
In fact, one person even said that a friend who "won" $2,000 was told it was just a glitch and that they wouldn't be paid.
I don't really see the same issues happening with the gifts and gift cards, though, so it might be better just to stick with earning tokens and using them to redeem these gifts.
Another complaint about Lucky App is its ads, although I didn't find them to be super intrusive when I used it.
Some state that they pop up way too much and make using the app an awful experience.
I only see ads here and there, no more than I do with other apps, so this isn't something that bothers me enough to get irritated by it and not want to use the app.
Remember, too, that ads are there for the app to make money, which is the main reason it exists, so it's something you'll need to deal with in order to use the free app.
Lucky Day App Review: Our Thoughts
Is Lucky Day the best way to earn money or rewards online?
Absolutely not.
But is it the worst?
No.
It can be a fun way to pass the time and earn a little extra, although I can't personally vouch for the fact that it pays real money.
I'd stick to earning tokens and using them to redeem rewards rather than going the money route, aside from playing scratch-offs.
These are super quick so you're not really wasting time to play them, and they can always give you a chance to earn decent money – you never know unless you try!
Have you used Lucky Day to earn cash or tokens or maybe even win the "lotto"? We'd love to hear your thoughts – drop them down in the comments below!
Related Posts:
Earn Everything… nearly!

Join Ipsos iSay, one of the few Faithful and Honest survey panels and earn prizes, gift cards and donations. Stack your points and redeem them: Simple! No hidden fees and completely free!