Mercari App Review: How Does It Work for Buyers and Sellers?
Updated on: by anvitalis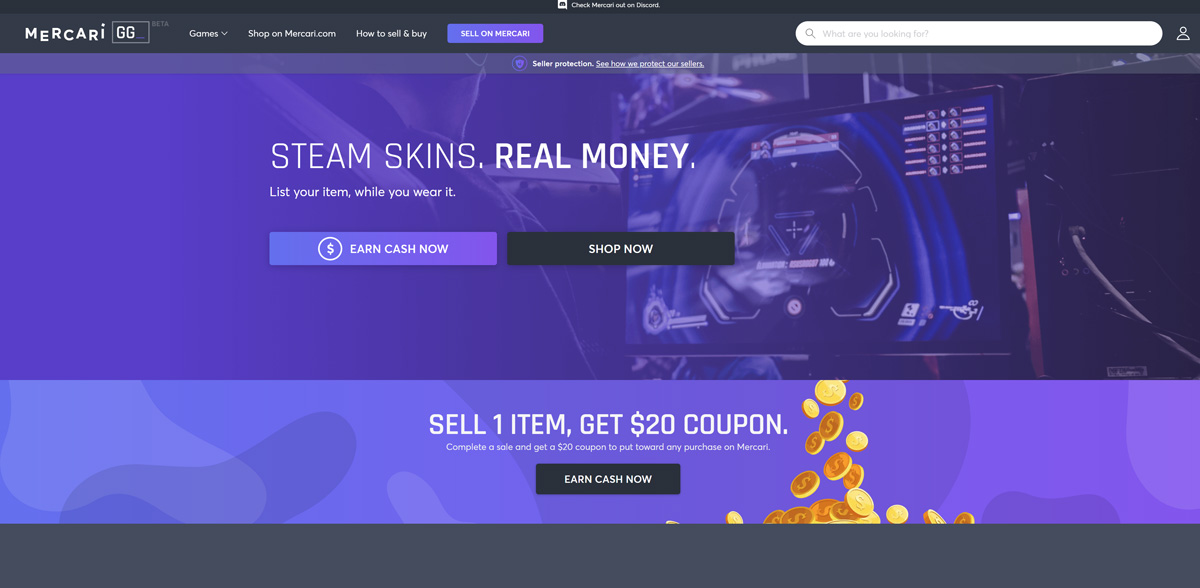 If you're thinking of selling extra stuff you don't need as a bit of a side hustle, you're likely faced with all kinds of options.
Need Easy Extra $350+/Month For Free?
There's Amazon, eBay, Poshmark, Letgo, and all kinds of other websites and apps that allow anyone to sell almost anything they have tucked away in their closets.
But few are as easy to use as Mercari, an app that's been around since 2013 for the purpose of helping its users sell stuff quickly and easily and buy other things they want just as quickly and easily.
Whether you have loads of stuff to get rid off, you want to score discounted prices on stuff you want, or you just have a few things to sell, Mercari might be able to help you do it all.
I spent some time using the app myself to get a feel for it in addition to scouring online reviews from others who have used it, just so I could share what I learned with you!
What Is Mercari.com?
Mercari is an app that allows you to buy stuff that other people list or sell your own goods.
You can think of it like an app version of a yard sale, because you can sell used items that don't have to be in incredible condition.
And, you get to name your price on everything you sell, so you're never stuck selling something for a price you don't think is fair.
For buyers, Mercari helps you get great deals on stuff you don't mind buying used, but you can also find excellent deals on new items.
Although many people think of this app as focused on fashion buys, it's not all about clothing, shoes, and accessories.
You can also buy and sell things like electronics, sporting equipment, hair care products, toys, collectibles, and more.
You can browse the website for stuff that's available on Mercari, but the company mostly functions through the app.
That means that you'll need to download the app to be able to follow through with a purchase or list an item to sell yourself.
The app is available on multiple devices via the App Store or Google Play.
Buying on Mercari
To purchase something, you can use a debit card, credit card, or your PayPal account, much like you can do with eBay, so there are plenty of options available to you as a buyer.
Some products on Mercari are listed as a fixed price, but others also have an offer button that allows you to place an offer for something you want.
Need Easy Extra Cash?
Pinecone Research, a leading name in online survey panel honesty, absolutely guarantees $3 cash for every survey you complete!
Take advantage of their time limited New Membership drive and register NOW. Join today: 100% free!


Basically, it helps you negotiate how much you pay.
A seller can accept or deny your offer.
Mercari is very focused on buyer protection.
In fact, unlike other selling apps and sites, Mercari will not release the payment that it holds for your purchase to the seller until you've confirmed that you've received the item and it's in the condition it's supposed to be in.
All you need to do is rate the transaction within three days of receiving it. If you don't, the company automatically rules in the favor of the seller and releases the payment to them.
You can also request a return if an item isn't the right size or as described within those three days after delivery.
To do so, you'll need to start the process on the app and take four clear pictures of all sides of the item to prove your claim.
Selling on Mercari
Mercari also tries to protect sellers from fraudulent buyers as much as it possibly can.
As long as you use the app appropriately and follow the app's rules and terms, you should be able to get your money without hiccups once the waiting period is over.
That means that you should always be diligent in listing items according to Mercari's terms and making sure you have very clear photos and descriptions on each of them.
As long as the buyer is happy (and they always should be if you were truthful about an item), you should have no problem getting paid.
To list an item is super simple.
Just click the button on the app, fill in the fields, add some pictures, and set your description, and you're good to go.
You need to ship your items within three business days of the payment being made, without exceptions, so make sure that you plan your listings around any time that you'll be away from home.
When you request your payments, you can do so via direct deposit to your bank account or through Instant Pay, which you can use for up to $500 per month.
To set up Instant Pay, you'll need to verify your identity with a photo identification card and add your debit card to your account.
How Does Mercari Compare to Poshmark?
Mercari gets compared to several other selling websites and apps.
The one I probably hear it getting compared to the most is Poshmark, an app that's focused on buying and selling used and new clothing, shoes, and accessories in excellent condition.
But just like any other app, Mercari has some features that help it stand out from the pack.
Here's how it stands apart from Poshmark, potentially its biggest rival, in particular:
Product Categories
While Poshmark is all about fashion, Mercari offers a little more for buyers and sellers.
This app has product categories that include not just fashion, but also video gaming consoles and games, vintage items, toys, handmade items, sporting and outdoor gear, computers, and more.
So while Mercari does place a focus on fashion, that's far from all that's there.
You can think of Mercari kind of like a cross between Poshmark and eBay.
There's a lot of fashion items on the app, but there's also a place for handmade stuff, vintage items, collectibles, and other things you'd normally find on eBay, Etsy, or even Amazon.
Digital Items
Mercari also offers something else that many other apps, including Poshmark, don't: the ability to sell and buy digital items.
It's technically a whole separate section of Mercari that you can find here on the web but also access through the app.
This section is for gamers to purchase digital stuff for their games, including DOTA 2, Team Fortress 2, and Rust.
There are skins, in-game items, and other goodies for you to explore, which gives it a little bit of an edge over the selection of items that Poshmark offers.
Earn Everything… nearly!
Join Opinion Outpost, one of the few faithful and honest survey panels and earn cash and gift cards for your opinion. Stack your points and redeem them: Simple! No hidden fees and completely free!


Item Listings
Both Poshmark and Mercari make it ridiculously easy for you to list items you want to sell.
There's really no comparison between these apps and other selling spots, like eBay or Amazon, that have several fields you need to fill out before you can get your listings up and into the buying world.
Through the Poshmark and Mercari apps, you can simply hit a few buttons, take a few pictures, add descriptions, and start selling.
With that said, I still think Mercari has a slightly easier feel to it when it comes to listings.
There are only a few pieces of information you need to fill out, which should take you about five minutes, tops.
It's super simple, and the way it's set up makes it easy to make sure you're not forgetting anything.
Fees and Shipping Costs
Every listing site that I know of has fees and costs associated with either listing, selling, or shipping (sometimes, all three!). There are a few apps that are free to use, but they usually don't give you as much control over how you list and sell your items.
Both Poshmark and Mercari don't have outrageous listing or shipping fees involved, but they do differ in their pricing structures, so it's important to understand how that all works before you decide on an app to use.
Here's what the fees look like for Poshmark:
Sales under $15 have a $2.95 flat fee; sales over $15 give you 80% commission while Poshmark gets 20%.
Shipping costs a flat rate of $7.11 for packages 5 lbs. and under, which the buyer pays for. If a weight exceeds 5 lbs., the seller pays for the extra shipping costs.
There are no listing fees.
And here are Mercari's fees:
Sales fees are always 10% of the listing price.
Shipping costs are as follows: 1 lb and under for $4.99, 5 lbs. and under for $9.99, and up to 40 lbs for $30. You can choose to ship with Fed Ex or USPS.
There are no listing fees.
As you can see, both offer reasonable prices and don't charge you an arm and a leg to work with them.
I do like Poshmark's simple shipping cost structure. Most items you sell will be less than 5 lbs., so the $7.11 shipping fee will usually apply.
However, the 10% flat commission that Mercari makes from your listings is a simple formula for figuring out how much you'll pay the company when you sell.
Popularity
Mercari is definitely gaining in popularity, but it's about two years behind Poshmark in its release.
That gave Poshmark a bit of a jump in picking up users for its app.
So, Poshmark may be a little ahead of the game in terms of popularity.
But it's important to remember that the two apps target different people.
People use Poshmark when they strictly want to look for fashion items.
People can use Mercari for other stuff in addition to fashion, which gives it a lot of potential for growth that could help it catch up to Poshmark.
Is Mercari Legit? Is It Safe to Use?
Something I always do when reviewing an app, website, or business is check out other reviews about it and see what its social presence looks like.
Naturally, I did the same with Mercari.
I had heard only positive opinions about the app, so when I searched reviews, I was surprised to see so many negative reviews about the company on the Better Business Bureau (BBB).
Mercari, Inc. has an A+ rating on the site, but only a 1 out of 5 stars for reviews.
After looking into several of them, I noticed that many of them had to do with the buying experience and falling into seller scams.
Some noted that they never received the item they paid for while others explained that they had heavily damaged items.
It seems that customer service may be somewhat lacking on Mercari's end, as most of these customers mention contacting customer service and not receiving a response.
There are also some complaints from sellers that buyers can be a bit fishy on the platform as well.
One customer, for example, mentioned that buyers can falsely accuse you of sending a damaged item, which makes it impossible for you to get paid even though the buyer received an item in working condition.
However, I don't like to place all the weight on reviews from the BBB because many people do go there to complain rather than review their positive experiences.
So I also looked at Trustpilot, which shows the majority of users rating the app with 5 stars as both sellers and buyers.
With that said, there are also many reviews on this site that are negative. Still, it appears that the positive outweigh the negative here.
I did make a purchase myself just to see firsthand how everything worked on Mercari and I had no issues with the buying process or receiving my item.
I haven't yet sold anything on the platform, though, so I'm interested to see how that process works when I do.
How to Join Mercari
To join Mercari, you can head to the App Store or Google Play, depending on your device.
You can also head to the Mercari website to get the direct link to the right app for your device.
The app will walk you through the process to join, which you can do with your email address or by logging in with Facebook.
Once you sign up, you're ready to start browsing or selling.
Mercari App Review: Is It Worth a Try?
From my experience, Mercari is definitely worth a try as a buyer.
I haven't yet sold on the platform yet to give my opinion, but from what I see from other sellers, I think Mercari is a legitimate place to try.
Every selling platform comes with its hiccups, and Mercari is no exception.
It does seem like the company is putting practices in place to help protect both buyers and sellers, but these processes take time to refine in ways that work for everyone effectively.
So, try it with one or two items and see how it works for you as a seller.
Be sure to report back here with your experience if you do!
Related Posts:
Earn Everything… nearly!
Join Ipsos iSay, one of the few Faithful and Honest survey panels and earn prizes, gift cards and donations. Stack your points and redeem them: Simple! No hidden fees and completely free!