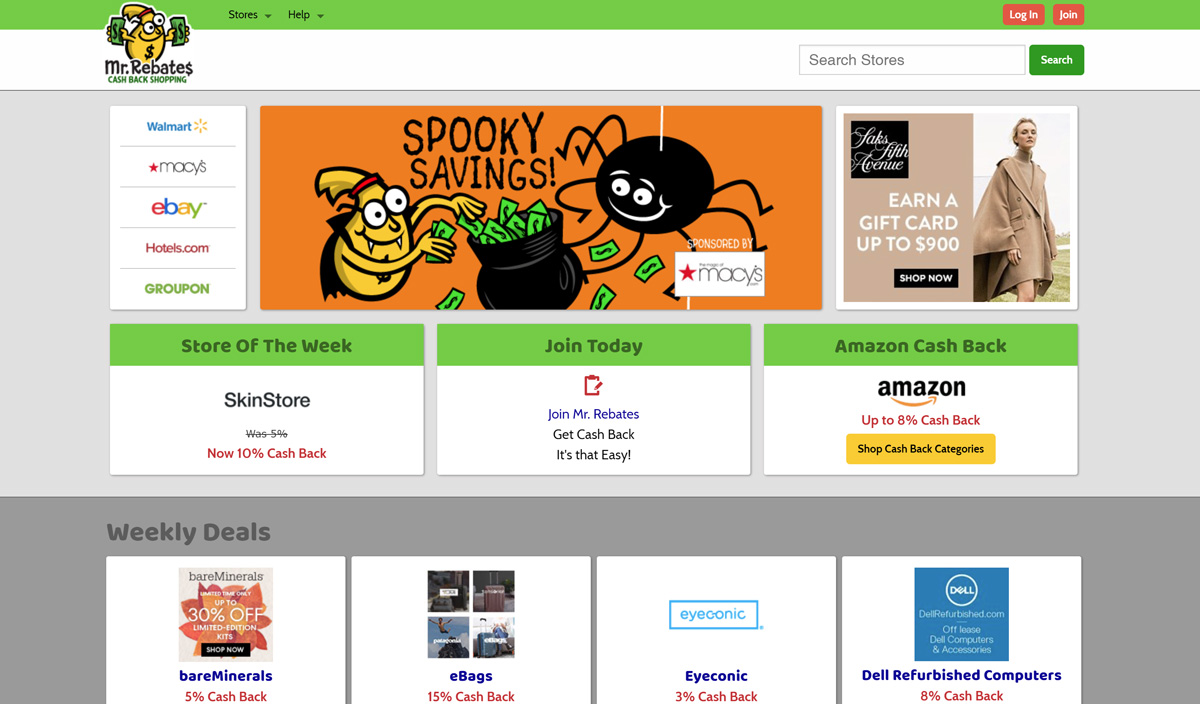 Shopping online is the trendy way to shop nowadays.
Need Easy Extra $350+/Month For Free?
Often, it can even save you more money than shopping in stores because you can get special email codes or exclusive online deals from retailers.
Did you know that you can even earn cash from your purchases?
It's true!
Online cashback shopping sites, like Ebates and BeFrugal, are all the rage right now and it's not surprising why.
They literally give you money every time you shop.
One such site is Mr. Rebates, one that's not talked about as much as some others but can be just as lucrative as others for you if you shop online a lot.
This review gives you all the information you need to know to determine whether Mr. Rebates is a legitimate paying site and if it's one you should invest your time in.
What is Mr. Rebates?
Mr. Rebates was founded in 2002 to save online shoppers money when they purchase items from popular retailers.
Some of the retailers you can shop with and save money through the site include:
Ace Hardware
eBay
Amazon
Redbubble
Walmart
Sears
AliExpress
Crayola
Fingerhut
The site partners with thousands of online retailers to give you cashback on your purchases of things you'd buy anyway.
It's a similar concept to other popular sites of its kind, like Ebates and TopCashback.
So, how do rebates work on Mr. Rebates?
If you're familiar with this kind of site, then you won't have much of a learning curve using Mr. Rebates.
Once you get signed up for an account, you can search for a retailer you want to use, click its link to go to the site, make your purchase, and then you'll find your cashback credited to your account once it gets approved.
Basically, you're getting some money for your purchases as a thank you from Mr. Rebates for using its site and its link.
Need Easy Extra Cash?

Pinecone Research, a leading name in online survey panel honesty, absolutely guarantees $3 cash for every survey you complete!
Take advantage of their time limited New Membership drive and register NOW. Join today: 100% free!


Mr. Rebates makes its money through your purchases, after all, so you benefit from getting some money back from doing so!
How to Make Money with Mr. Rebates
There are actually some other ways you can use Mr. Rebates to make money shopping besides just hopping onto the site and following a link to your favorite retailer before you make a purchase.
Here's how you do that:
Using the Quick Cash Button
Mr. Rebates offers a Quick Cash Button that you can install in your browser to help you remember to use deals offered on Mr. Rebates.
The button is currently only available on Google Chrome.
After you install it, the button will activate whenever you land on a partnered retailer's website to shop.
Then, it will let you know when it finds a deal for that retailer based on what you are shopping for and add to your cart.
Just click the button when you're ready to make your purchase and Mr. Rebates will automatically apply your cashback coupon.
It's a great way to make sure you never forget to utilize your Mr. Rebates savings while you shop!
Shopping with the Mobile App
Mr. Rebates also offers a mobile app through which you can shop through your mobile device instead of with your computer and browser.
The mobile app works much like the website does.
Just log into the app when you're ready to shop, find the retailer you want to shop with, and visit the retailer through the app.
You'll get credit for your purchase just like you would when you use the website.
Be sure to have your Mr. Rebates account all set up first before using the app.
You can also check your account information, request payments, search for stores, and do everything else you can do on the site through the mobile app.
Referring Friends
The Mr. Rebates Refer-A-Friend program is its referral program that pays you to bring new members to the site.
After all, the more members it has that are active shoppers, the more money Mr. Rebates makes!
Therefore, you can get the chance to get some of that extra money into your account when you recruit new shoppers to the platform.
You can refer members with your referral link or with your email address.
Once they get signed up and start shopping on the site, you can earn 20% of everything they get for cashback.
So, say you have 5 members under you who each earn an average of $5 in cashback each week.
That's $25 they earn in cashback.
20% of that is $5, which is your earnings for your referrals.
If your referrals stay consistent in their earnings, you can earn between $20 and $25 every month just in referral earnings.
Get more members to join and the possibilities are endless!
When you sign up, it's a good idea to share your link on your social media pages and blog to get the message out to people you know.
Shopping Coupons
Mr. Rebates includes coupons that don't necessarily make you money, but definitely can help you save money when you use them to shop.
Just like paper coupons you'd use in the store, you can use the Mr. Rebates digital coupons to get money off your purchases for the retail stores for which they're offered.
The best part is that you can combine your coupon savings with Mr. Rebates cashback to maximize your savings using the site.
Earn Everything… nearly!

Join Opinion Outpost, one of the few faithful and honest survey panels and earn cash and gift cards for your opinion. Stack your points and redeem them: Simple! No hidden fees and completely free!


How Does Mr. Rebates Pay?
Mr. Rebates offers two ways for members to get their cash: PayPal and mailed check.
Mr. Rebates will not send checks to anyone outside the United States or Canada, though.
Only people who live internationally and are eligible to use PayPal can, therefore, get paid from the site.
You only need $10 minimum to request your earnings, which you can do through your member account area.
If you do choose to receive your money with PayPal, you won't have to pay PayPal fees. Mr. Rebates covers all of them for you.
You can typically expect to receive your payment from Mr. Rebates within a month from requesting it, but PayPal payments usually come within 5 business days.
How to Maximize Your Mr. Rebates Earnings
There's no guaranteed amount of money you can make using Mr. Rebates.
It really depends on how often you shop online and what kind of cashback deals it has for your retailers.
However, there are a few important things to remember that could boost your earnings with the site.
Keep Things Simple
The most important thing to remind yourself of is how Mr. Rebates and other cashback shopping sites work.
They use cookies in your browser to track where you go online so they know if you should get credited for your purchase.
The problem is that if you use several of these kinds of sites, your browser might already be storing cookies for one retailer from a different cashback site.
When you go to purchase from Mr. Rebates instead, you might not get credited because the cookies could still be storing the other site's information.
Before you visit Mr. Rebates, make sure you close any tabs or browser windows from other sites.
Then, clear your cache and cookies from your browser (you can check with your browser's website for information on how to do this).
You should now be able to follow a retailer's link from Mr. Rebates and get credited for your purchase correctly.
Always Check Mr. Rebates First
Before you go on any online shopping spree, always remember to check the Mr. Rebates website first before you go to the retailer website.
That way, you can make sure you get your cashback bonus by following the link and you get yourself into the habit of checking the site before shopping.
Install the Browser Button and App
It's in your best interest to install both the browser button and the mobile app.
Mr. Rebates has both of these available for members for free and solely for the purpose of helping you earn cashback as conveniently as possible.
The more stuff you have installed to help you remember to use it, the better!
Don't Forget About Claims When Necessary
Mr. Rebates does allow you to send in claims if you have any issues with cashback on your purchases, so it's a good idea to take advantage of them if you need to.
All you need to do when you realize you didn't get properly credited for making a purchase is visit the Claims page.
You'll enter some details about your purchase for the team to review.
Within a few days or weeks, you should have a response to your claim.
This can sometimes take up to 4 weeks because Mr. Rebates needs to check with the merchant to validate your purchase, make sure no refunds took place, etc.
Once the site and merchant find the claim in your favor, you'll receive the cashback you earned.
I suggest double-checking every purchase you make to make sure it credits properly with Mr. Rebates.
I know it can be easy to forget about them (I've forgotten to check some myself through these kinds of sites!), but if you get into the habit of checking that your purchase processed correctly, you should have no problem getting credit for your purchases.
How Can I Join Mr. Rebates?
To sign up for Mr. Rebates, you simply have to go the website and click the Join button at the top of the page.
Answer a few simple questions and confirm your email address to get started.
Make sure you enter who referred you, if applicable, to be sure that they get credited for your referral!
After that, you should be set to go shop and get cash back!
Important Points to Remember About Mr. Rebates
Mr. Rebates does include some important information about its service in its FAQ section that can help you understand more about the site and how to use it properly:
Denied Claims
Once a claim has been denied by a merchant, you can not appeal it.
That means that each merchant decision is final, which can be a bummer if you're sure you followed a link and made the proper purchase to get cash back.
Gift Cards
You are free to use gift cards to shop online with your favorite retailers, but just note that purchases made with gift cards won't be eligible for Mr. Rebates cash back.
You also can't buy gift cards from a partnered retailer to receive cash back in your Mr. Rebates account.
All Policies Aren't the Same
Every retailer on Mr. Rebates might have its own policies and restrictions involving cashback.
Amazon, for example, has different product categories in which you can get cash back, but some are restricted from earning cashback.
It's your responsibility to check all requirements and policies thoroughly before making a purchase to make sure your purchase is eligible for the cashback you're trying to get.
Is Mr Rebates Legit or a Scam?
As someone who has used Mr. Rebates, I can say for sure that it's a legitimate place to earn money.
I've had my account now for a couple of years.
Mr. Rebates isn't necessarily my favorite cash back shopping site (I love Swagbucks!) but it's one that works, is reliable, and has some good deals.
I often find better cashback offers on similar sites, but Mr. Rebates does sometimes have better deals than others.
I think it's easy to use and I've never had a problem getting paid.
I've also read plenty of positive reviews about the site from other members, so there's no reason for me to think it's a scam.
MrRebates Review: Does This Shopping Site Really Work to Save You Money?
Will Mr. Rebates make you hundreds of dollars a month?
Nope, but that's not what it's for!
Remember that you'll need to spend money to make money here, just like you'd have to on any other cash back shopping site.
But if you shop online frequently, then using a cash back site like Mr. Rebates can help you get some money back from your purchases, which is a savvy way to shop.
When you combine Mr. Rebates cashback with sales a retailer might already be offering or special discount codes you get from retailers, you can really start maximizing your savings.
You can always try Mr. Rebates out for free until you make your first $10 to see if it's the right place for you.
Then, come back here and let us know what you thought in the comments!
Related Posts:
Earn Everything… nearly!

Join Ipsos iSay, one of the few Faithful and Honest survey panels and earn prizes, gift cards and donations. Stack your points and redeem them: Simple! No hidden fees and completely free!