Nerium International (Neora) Review: Earn Cash Selling Skincare Products
Updated on: by Amy Kennedy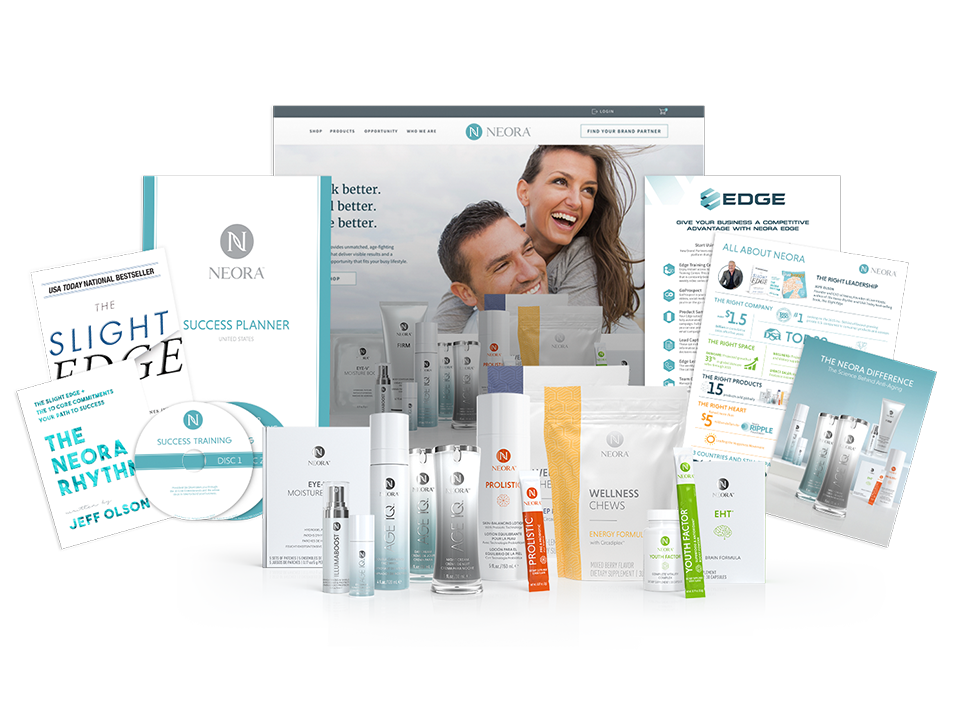 In our quest to learn more about some of the top multi-level marketing (MLM) companies out there, we're always on the lookout for more companies to review.
Need Easy Extra $350+/Month For Free?
The one we've decided to focus on for this review is Nerium International, also known as Neora.
Neora is its new name after going through a global rebrand early in 2019.
This particular company focuses on skincare and wellness products – like many other MLMs do – so you're probably wondering what sets it apart from the masses?
This review has everything you need to know about the Neora business opportunity, how much money you can realistically make, and the pros and cons of the business, so you can decide if it's something you might want to try for extra income.
What is Nerium International (AKA Neora)?
What once was Nerium International is now known as Neora since February 1st, 2019.
The company first launched as Nerium International in 2011, basing its name on a primary ingredient in one of its first products, nerium oleandrin extract.
Since adding onto its product line with a larger range of products, the company rebranded to Neora to symbolize its new life and evolvement.
The company still sticks to its roots with mostly skincare products, like acne treatments and age renewing creams, but it also has wellness products, like supplements and chews designed to help you sleep, have energy, and keep your brain functioning at its best.
Neora offers a business opportunity for people who love their products to earn some extra cash (or a full-time income) by selling them to others.
Everything You Need to Know About Selling Nerium (Neora) and Becoming a Nerium Brand Partner
The Neora opportunity offers a flexible way for you to make money in your spare time.
Or, you can choose to level up your business to become a full-time seller.
Of course, like all MLMs, that will require you to have a solid network of people who sell on your team and customers to sell to.
If you're interested in learning more about the business opportunity Neora offers, then read on to find out everything it entails.
What You'll Do
The Neora business opportunity involves selling Neora products to people you know or meet.
A Neora representative is known as a Brand Partner.
Need Easy Extra Cash?
Pinecone Research, a leading name in online survey panel honesty, absolutely guarantees $3 cash for every survey you complete!
Take advantage of their time limited New Membership drive and register NOW. Join today: 100% free!


Reps help Neora survive by helping to sell its products.
What Neora claims to offer, though, is a business opportunity, much like other direct sales companies and MLMs.
You can supposedly build a business rather than just sell products, meaning that if you make it up high enough in its tiers, you can earn, or even exceed, a full-time living.
As a Brand Partner, you're not obligated to work any specific shifts or number of hours.
What you work is totally up to you – work two hours a week or work 40.
Just remember that what you put into your business is what you'll get out of it unless you end up getting a lot of residual income from your downline's sales (that typically takes a lot of time to start, though).
The unique part of Neora is that it's mostly focused on e-commerce rather than in-person selling.
That means that you can sell mostly online instead of hosting parties, going door-to-door, or showing off your new lotion to the neighbors.
E-commerce seems to be rapidly growing, so it's exciting to know that MLMs are starting to make the shift to this type of business model too.
Joining and Startup Costs
Anyone who's serious about the business and loves Neora products can join the program to become a Brand Partner.
However, you need to first locate a Brand Partner closest to you because Neora will then sign you up as part of their downline.
That means that your Brand Partner will earn extra commissions off stuff you sell.
That also means that anyone else who isn't signed up with someone and wants to join can potentially have you as their Brand Partner, which is great.
You can search Brand Partners by name, email, or phone number.
You can always contact the company if you're interested in joining but don't have the contact information of any Brand Partner.
Then you'll need to fill out your information and choose a kit to start with.
A Basic Kit is the most affordable at just $49.95, and it includes informational materials about starting your business along with some helpful marketing materials.
The Starter Pack is $500 and includes everything in the Basic Kit plus 13 products.
Choose the Builder Pack for $750 with 25 Neora products, or the top-tier Premier Builder Pack for $1,000 with 32 Neora products.
The higher-cost kits are a lot of money, but they also do save you quite a bit off the retail price of Neora products, which can be pricey.
And remember, most businesses do have some sort of start-up cost.
You just need to think of it as an investment to get your business going.
Compensation Plan
Now, onto the money!
How much can you really make with Neora?
That depends on how much you want to work and how much effort you invest in your business.
Unfortunately, I couldn't find an actual compensation plan on the website like many MLMs offer so that you can at least get an idea of what you can make.
However, after browsing around online, it appears that Brand Partners earn between 10% and 25% commission on the products they sell.
Then, as you build a team of customers and Brand Partners, you can potentially earn extra residual income in addition to your direct commissions.
There are also bonuses you can get if you qualify.
Earn Everything… nearly!
Join Opinion Outpost, one of the few faithful and honest survey panels and earn cash and gift cards for your opinion. Stack your points and redeem them: Simple! No hidden fees and completely free!


For example, there's a Fast Start Qualify Bonus that pays you up to $150 if you meet 500 Personal Qualifying Volume (PQV) in purchases and sales, refer at least 3 new team members, and generate at least 2,000 Qualifying Volume (QV) from your team within your first 30 days.
I won't lie – this almost seems like an impossible task unless you already have people lined up and ready to work with you before starting.
You can also get Customer Acquisition Bonuses for signing up new preferred customers with auto-delivery orders.
There are also ways to get free products and qualify for extra rewards, like cash bonuses, a new tablet, or even a car.
Honestly, the compensation plan seems clunky to navigate and a lot to digest, but the most important thing to concern yourself with is the up to 25% commission you can make on what you sell.
That's where you'll see the biggest chunk of your income coming from, most likely, unless you're able to get a big team together that's ready to work and sell.
That 25% commission isn't great for an MLM, really, especially when you consider the lower end of what you can earn falls to 10% and the majority of people who work as Brand Partners will likely never see any of the company bonuses because they won't qualify for their lengthy requirements.
Nerium International (Neora) Praise and Complaints: Is It Legit or a Scam?
Now that you know all about Neora and its business opportunity, you're probably wondering, "Does it work?"
Honestly, that'll depend on how much you want it to work, mostly, but it also depends on the business opp and compensation plan.
Since I've never tried Neora for myself, I dug through several reviews to learn more about the company and whether its opportunity has worked for other people who have tried it.
Here are some of the most common pros and cons I found while researching:
Pro: Excellent Products
According to several reviews, Neora's products are worthy of their costs.
People rave about how great the skincare line, especially, is.
When you have great products, they almost can sell themselves if you're willing to give out some small samples or host a party to let people try some things.
When you're in the business of selling, that's always a huge help!
Pro: Several Bonus Opportunities
There seems to be a lot of bonuses and incentives that you can get when you sell Neora, which can be great for people who plan to really move ahead and grow with the business.
The problem I see with these incentives is that many of them seem almost impossible to achieve.
You have to have a lot of people in your downline and sell stuff like crazy to qualify for several of these bonuses.
Pro: Low Startup Cost (with the Basic Kit)
Neora does have a fairly low startup cost of less than $50 if you order just the Basic Kit, which gets you started with your business and gives you helpful marketing materials to begin.
Unfortunately, this won't get you any product at all, so you'll still need to worry about those costs at a later time if you choose to sell to people in person or try stuff out for yourself.
Con: Very Pricey Products
As great as Neora's products seem to be, they're also equally as pricey.
Not everyone will care about the cost of the products, but many others will if they're sticking to a strict budget.
You can push all you want to sell stuff, but if someone can't afford the products, they simply can't afford the products, no matter how much you try to convince them they should.
Con: Monthly Purchase Requirements
If there's one thing I can't stand about an MLM company (and apparently something a lot of other people can't stand either) it's when the company makes you order a minimum amount of product each month to stay active.
Basically, it keeps the company in business because you have to keep ordering something every month just to maintain your status as a seller.
However, these requirements can get ridiculous for someone who just wants to sell casually.
For Neora, you need to have at least 200 PQV worth of sales to stay in business or have at least 80 PQV come to you in an auto-delivery each month.
So that means you'll need to order at least 80 PQV worth of stuff every single month just to keep your business afloat.
You can, of course, use that product yourself, but then you're not making any money either.
To earn money, you'll need to sell the products, which is never guaranteed.
Con: Sketchy Business Practices
One of the things I found most concerning about Neora is not with its business opportunity itself but with its business practices, specifically with shipping and billing for orders and advertising.
If you read through its BBB complaints, you'll see quite a few complaints about not being able to unsubscribe from its emails people say they never signed up for.
There are also complaints about people getting auto-charged for stuff they never agreed to have set as auto-delivery and not being able to get their money back.
A lot of customers have also said that they've gotten hit with fraudulent charges on their cards from Neora.
Although no company can 100% prevent fraud, it does seem strange that there are so many customers saying the same thing about Neora.
The thing is, if you're selling products for a company, you want to be totally confident that the company is legitimate and will do right by its customers.
Based on the BBB complaints and others I've seen on different review sites, I'm not completely confident that Neora is doing everything it can to make sure its customers are happy, even when something might be out of its control.
Conclusion: Nerium International Review (Neora)
Plenty of sellers say that the old company, Nerium International, and its newest rebrand are legitimate.
I think that's fair to say because there certainly are a lot of customers who are happy with the company's products.
However, I'm sure this isn't the right opportunity for you if you aren't comfortable going out of your way to sell and don't have a wide network of people available to sell these products to.
If you are considering selling Neora products, you might want to spend some time as a customer first, just to make sure your orders all get fulfilled correctly and you get billed correctly for what you order.
That way, you'll feel completely confident in your decision to move forward with its paying opportunity.
Have you worked with Neora as a Brand Partner? How did it work for you?
Let us know in the comments, please!
Related Posts:
Earn Everything… nearly!
Join Ipsos iSay, one of the few Faithful and Honest survey panels and earn prizes, gift cards and donations. Stack your points and redeem them: Simple! No hidden fees and completely free!