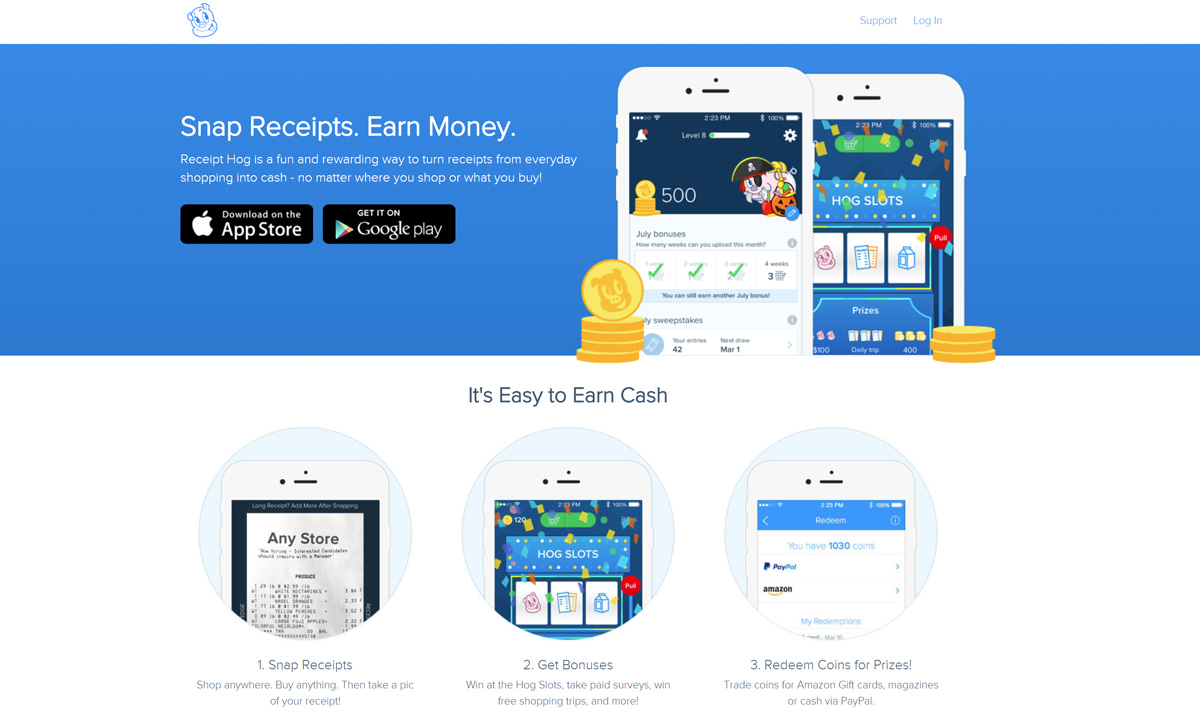 Getting paid to go grocery shopping sounds amazing doesn't it?
Need Easy Extra $350+/Month For Free?
InboxDollars: Has so far paid its members over $40 Million. Watch videos, take surveys, shop and more. Join InboxDollars Now and Get Free $5
SwagBucks: Watch videos, take surveys, shop and more to earn real money. Earn up to $35 per survey! No hidden fees and completely free. Join Swagbucks Now to Get $5 Free
Toluna Opinions: Earn $1-$5 each time you qualify and take surveys. Test products for free and share your opinions! Join Toluna Opinions Now
Lifepoints: Famed MySurvey just rebranded to LifePoints. Take paid surveys anytime and anywhere via PC or Mobile App. Paid its members over $32 Million so far! Join LifePoints Now
YouGov: A leading name in online panels: Join now and earn $50 cash or vouchers for completing surveys! No hidden fees and completely free! Join YouGov Now
SurveyJunkie: Make $5-$25 in your spare time from home to take online surveys, participating in a Focus Groups and trying new products. Join SurveyJunkie Now
Especially if you don't love spending all that money at the grocery store (honestly, I don't know anyone who does!).
Making some money from your shopping trips makes the process just a little bit more appealing.
In addition to shopping apps that give you rebates or coupons to use to save money, and possibly even make a little money based on the stuff you buy, there are also apps that will pay you to do something as simple as uploading receipt.
That's what ReceiptHog is for, in fact.
This handy app will actually pay you just to feed it your receipts from your grocery shopping trips.
Is it legit?
Will it really pay you rewards for shopping?
How does it all work?
We have all the details right here in this review so that you can decide if you want to give Receipt Hog a try.
What is the ReceiptHog App?
ReceiptHog is a free app that's available in Google Play and the App Store.
It comes from a company called Infoscout, which is a market research company based in San Francisco and founded in 2011.
It seems like it's recently rebranded to Numerator, which has the same intentions.
The company works to learn more about the habits of everyday consumers like you to help shape businesses, products, and services.
How does Receipt Hog help that process?
When you upload your receipts, you'll show Receipt Hog what you buy, which gives the company valuable insights into what you're actually buying and using in your home for yourself and your family.
Need Easy Extra Cash?

Pinecone Research, a leading name in online survey panel honesty, absolutely guarantees $3 cash for every survey you complete!
Take advantage of their time limited New Membership drive and register NOW. Join today: 100% free!


Receipt Hog will, therefore, pay you for doing your part to help its parent company's efforts.
Receipt Hog itself hasn't been around as long as Infoscout, but it still has a few solid years on the mobile web and continues to hold on strong, even with some other copycat apps around.
How Does ReceiptHog Work?
Once you download the app, you'll be able to sign up quickly on it.
You'll just need to sign up using your email address and home address.
ReceiptHog says that these details are just for market research purposes and that your identity and personal information will never be given away or used otherwise.
Once you're in, you can start snapping photos of your receipts.
ReceiptHog allows receipts from up to 14 days ago, so make sure you're grabbing all those ones that are still in your purse or car!
You are also allowed to upload receipts from any store – yep, ReceiptHog wants to know about every place you shop and everything you shop for.
You can send in up to 3 receipts from the same store with the same transaction date.
You'll also be allowed to send in up to 20 receipts during each week the app defines (for example, the weeks for coin receipts are the 1st through 7th, 8th through 14th, 15th through 21st, and 22nd through the end of the month).
Once you reach 1,000 coins (we'll get more into how to do that later in this review), you can cash them out for a $5 reward.
Spin Versus Coin Receipts
There are two different kind of receipts you can have according to ReceiptHog.
Some pay you in coins while others pay you in spins.
The receipts that earn coins will actually translate into definite cash for you once you reach the 1,000 minimum coin cashout.
If you have receipts that earn spins, you'll get spins for Hog Slots, a game the app offers that can help you win more money.
The receipts that give you coins come from places like:
Grocery stores
Supercenters
Club discount stores
Beauty supply stores
Pet stores
Drug and pharmacies
Toy stores
Health stores
Dollar stores
Mom & Pop shops
On the other hand, the stores that'll give you spin receipts are those like:
Sporting goods stores
Office supply stores
Department stores
Clothing and accessories stores
Home furnishings stores
Hobby and crafting stores
Many of the stores where you might get your essentials, like food and health supplies, will pay in coins, while all the "extras" pay in spins.
What does this mean for you?
Not every store you shop at means actual cash.
Spins only give you a chance at earning money rather than allowing you to definitely earn it, so it's not quite as straightforward of a way to get paid.
Other Ways to Earn with ReceiptHog
ReceiptHog does offer some more ways to get paid in addition to scanning your receipts.
Here are some other methods that could give you coins and spins.
Sign Up and Fill Out Your Profile
Simply signing up for ReceiptHog gives you 50 coins, while filling out a profile questionnaire that tells ReceiptHog more about you can give you an additional 30 coins.
It's really that simple.
Just sign up and fill out the quick survey and you'll get your first 80 coins.
Connect Accounts
You can also earn some extra coins by connecting your Amazon account or your email address to the app.
What this does is allows ReceiptHog to comb through your Amazon purchases or any emailed (digital) receipts you might get to record your purchases and pay you.
This is good for people who tend to shop a lot with Amazon or online and may not have paper receipts to scan into the app.
Earn Everything… nearly!

Join Opinion Outpost, one of the few faithful and honest survey panels and earn cash and gift cards for your opinion. Stack your points and redeem them: Simple! No hidden fees and completely free!


However, you'll also need to weigh whether you actually want ReceiptHog to have access to these accounts.
I haven't seen anything sketchy as far as members having any privacy issues after doing this, but if you're even slightly on the cautious side when it comes to connecting apps to your online accounts, then I'd advise against doing this.
But you will lose out on some easy free coins if you choose not to connect them.
Hog Slots
Hog Slots are a newer feature on the app and this is where you'll put your spins to use from receipts that give them.
You can also get free spins from winning monthly challenges or leveling up.
There are also random promotions that come around on the app from time to time that can give you extra spins.
You'll play Hog Slots just like a regular slot machine.
Use your spins to spin the slots and see if you can be a lucky winner.
The prizes are usually in the form of coins, but you can sometimes win extra free spins too.
Weekly Bonuses
You'll get bonuses for every one of ReceiptHog's weeks that you upload a receipt.
All you need to do is upload at least one receipt during the week to get a bonus.
So, since ReceiptHog lets you upload receipts up to two weeks old, you could hold onto one receipt from this week to scan the following week if you don't think you'll be shopping anywhere.
That way, you'll still get credited for turning in a receipt the second week even though you technically made the purchase the week before.
Every time you complete a weekly bonus, you'll get another spin for the Hog Slots for a chance to win more coins.
Levels
The more you scan receipts with the app, the higher you can move up in its 40 levels.
Everyone begins at level 1.
You can gain XP every week that you submit a receipt.
You gain only 1 XP per week and each level requires more XP than the prior level, just like most games, so higher levels will take longer to reach.
Each level gives you either bonus spins to use in Hog Slots or extra coins, depending on how high of a level you've reached.
Either way, it's another way to get free stuff from ReceiptHog.
Monthly Sweeps
ReceiptHog also offers a monthly sweepstakes where you can earn 20, 200, or 5,000 coins (the top prize is given to 5 members only).
Every time you upload a qualifying receipt, you'll get one entry into this sweepstakes automatically.
There are also a few types of receipts that only earn sweepstakes entries rather than spins or coins.
These are:
Bar receipts
Gas receipts
Bakery receipts
Café receipts
Restaurant receipts
These sweepstakes drawings always happen during the first week of the month, so be sure to check the app to see if you've won.
Redeeming Rewards with ReceiptHog
I've explained that ReceiptHog won't actually pay you for all of your receipts because some give you spins instead of coins.
Only those that pay coins will give you what you need to turn in your earnings for cash.
You need 1,000 coins minimum to get your $5 reward (so 200 coins for every $1).
Larger cashout quantities are a little cheaper though.
For example, if you want to cash out $15, you only need 2,900 coins.
A $40 payment is only 6,500 coins.
So, saving your coins does have its advantages here.
Now, what do you actually make every time you upload a receipt?
It really depends on the type of store you shopped at and how much you spend.
If you spend less than $10, you get 5 coins.
However, a $100+ purchase nets 20 coins.
The more you spend, the more you make from your receipts.
But remember that this only counts if you're making purchases that are eligible for coin receipts.
ReceiptHog gives you three options for your payments: PayPal cash, Amazon gift card, or a MasterCard or Visa electronic gift code.
Is There Any Way to Cheat the App?
If you've looked into how ReceiptHog works, you might find some mentions of cheats on the web.
People claim that you can cheat the system with hacks that help you earn more by turning in your receipts or playing slots, but no, these don't work.
You're not going to cheat the app, and if you try, you'll likely get booted and won't be able to use it anymore.
There are a few tips, though, that could help you make more from ReceiptHog, and they're completely valid and non-scammy:
Make sure your receipt is completely visible and you take a clear picture of it.
If your receipt is faded, see if you can get a different one from the store.
Try to turn in receipts as soon as you get them so you don't forget about them, or keep them in an easy-to-remember spot to turn in later.
Check your notifications in the app to make sure your receipts scanned properly and find out how much you got paid for them. It's a good way to keep track of everything!
Is Receipt Hog Safe to Use or a Scam?
ReceiptHog is safe to use and is a legitimate way to make money.
I've seen some people express concerns over the app gaining access to your credit card information from receipts, but as long as your merchant covers your card numbers (which, in most cases, must be done according to law) then you shouldn't have a problem with this.
Otherwise, the app receives only the information about your purchase, such as where and when you shopped and what you bought.
With that being said, ReceiptHog is, in no way, going to make you tons of money.
Although I haven't used it myself, I've seen several reports from actual members who have turned in receipts.
Some people make purchases of over $100, but can't get coins for those big purchases because they don't qualify as a coin receipt.
Other people do have qualifying coin receipts for $50, for example, and make only 10 coins, which is basically good for $0.05.
You'd have to turn in 100 receipts like that just to get your first $5, which could take a while, unless you're lucky and win on the slots or in sweepstakes.
ReceiptHog is best for people who like earning a little extra from the regular shopping they do and aren't focused on making a significant income from it.
Conclusion: Receipt Hog Review
One more note on ReceiptHog: It isn't always open for more people to sign up.
The app closes applications from time to time when it has enough people turning in receipts and staying active.
You'll always be able to download the app, but you might get a message saying that you can't sign up yet.
Check back in a couple weeks and you might be able to!
Have you used ReceiptHog to make a little extra money from your shopping trips?
We'd love to hear your thoughts!
Leave us a comment down below!
Related Posts:
Earn Everything… nearly!

Join Ipsos iSay, one of the few Faithful and Honest survey panels and earn prizes, gift cards and donations. Stack your points and redeem them: Simple! No hidden fees and completely free!