Scarlet Clicks Review: Is This PTC Site Worth Your Time?
Updated on: by Amy Kennedy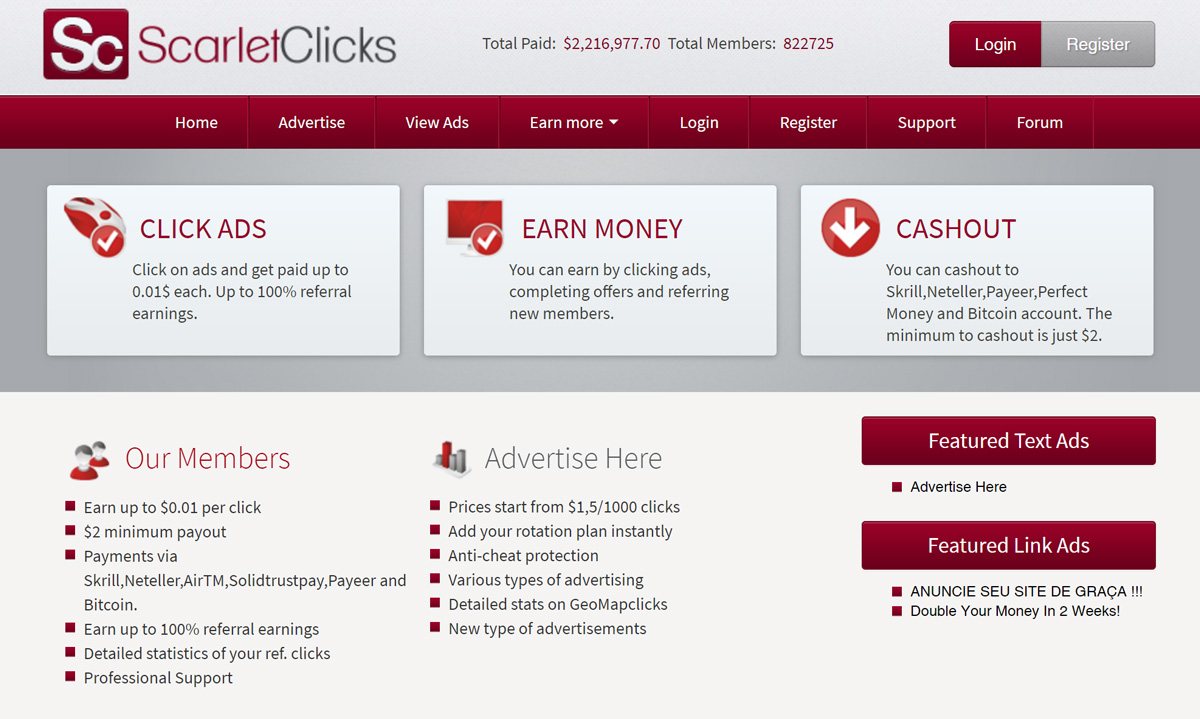 If you're at all interested in making money online and you've done even the slightest bit of research for opportunities, then you've probably heard of a thing called paid-to-click (PTC).
PTC sites are just like they sound: They pay you to click on ads because they get paid when you click on those ads.
By helping the site earn money, you can earn a little too.
Although these sites aren't necessarily known for making you a bunch of money each week or month, they can be good to keep in your back pocket to use when you have spare time to earn a little extra cash.
One of these sites is Scarlet Clicks, and it's probably one of the most well-known PTC sites on the web right now.
But that doesn't always mean that a site does what it says it's going to do for you.
So, we signed up for Scarlet Clicks to learn more about how it works, what it offers, and if it's claims are all they're cracked up to be.
What is Scarlet Clicks?
Scarlet Clicks is a PTC site that offers ad clicking as its main form of pay.
You can also earn cash through referrals, contests, and a few other methods I'll discuss in a bit.
You're not going to find out much more about the site because it doesn't offer any other information on its website about who started it or where its idea came from.
It's just there.
The site does say that it started in 2009, though, so at least we know it's stuck around for a while.
Who Can Join Scarlet Clicks?
The website states that people from any country can join Scarlet Clicks.
However, no age is mentioned on the site, so it's important to make sure that you're joining only if you're at least legal age in your country to be on the safe side.
How to Join Scarlet Clicks
You can sign up for Scarlet Clicks by heading to its website and clicking the Register button at the top of the page.
There's a quick form you need to fill out.
Then, confirm your email address and you should be all set to login and get started.
How to Earn Money with Scarlet Clicks
As I mentioned earlier, Scarlet Clicks is more than just PTC tasks, although that's the primary thing it focuses on.
Here are all the ways you can earn money on the site:
Clicking Ads
Let's start with clicking on ads.
This is super simple, but let me warn you – it's not going to pay a lot (although no PTC site really pays a lot for this task because it's literally just pointing, clicking, and watching).
You can find all the paid ads by logging into your account and clicking on View Ads.
You'll see the payout amount for the ad underneath the thumbnail for the ad.
Most of them are $0.001, but some range a bit lower or higher.
To get credited for each ad, you'll need to click on it and watch it for a few seconds until it's over.
You'll notice that there are a few different ad categories, too, like Micro Ads and Extended Ads.
Depending on the type you pick, you may earn a little more or a little less for each ad.
That's all there is to it when earning with this method.
Once you've viewed an ad, you should see your cash credited immediately if you did it correctly.
Completing Offers
This task can potentially give you the most earnings.
Scarlet Clicks partners with several offer wall companies to give you more opportunities to earn.
An offer wall is basically just a bunch of offers you can sign up for (some may be free while others will be trials or something you need to buy) and earn money for each one you complete.
These offers can pay anywhere from a few cents to $100, depending on what you're required to do.
Usually, those that require you to pay something to get money back pay out more than free trials or free offers.
But they could be worth the purchase if it's something you were going to purchase or try anyway.
Contests
Sometimes, Scarlet Clicks will advertise new contests on its site that can give members more chances to win cash.
You can also head to the Earn More / ScarletGrid area to use its click grid.
You'll click on a box and see if you win any money.
Most boxes contain at least a few cents, but others can be a few dollars or more.
Your available clicks are reset every day at midnight, so you can play daily.
Referring Friends
Like most sites of its kind, Scarlet Clicks has a referral program in place that gives you the chance to earn extra money when people sign up using your unique link.
You can earn up to 100% of everything your referrals make, but there are some stipulations.
As I'll get into in a bit, Scarlet Clicks has different membership levels that will affect your referral earnings.
Also, you need to make sure you're clicking ads on the site at least four times per day to be eligible to receive your referral rewards the following day.
So, it's not quite as cut-and-dry as some other referral programs.
Scarlet Clicks also has an odd way of gaining referrals if you're having an issue getting them organically – by "renting" them.
When you rent referrals, you're basically having members who have signed up directly on the site rather than through another member get credited to you.
But you have to pay for these referrals.
Five referrals for the month will cost you $0.75, but the more you rent, the lower the cost.
You can also choose to buy them instead, which means that you'll get those referrals for as long as they and you remain members.
That's more expensive, obviously, but it could be worth it – you can get 5 of them for $5.
Of course, it's always a gamble because you never know how many of your referrals will remain active and, therefore, keep sending money your way, but you can always experiment with renting some for a few dollars and seeing where it gets you.
How Does Scarlet Clicks Pay?
Okay, so this is the super confusing part of Scarlet Clicks because how much you make kind of depends on your membership level, which I'll get to in a moment.
And, each ad, offer, and other tasks on the site all pay differently, so there's no clear-cut answer as to how much you can make.
Fortunately, Scarlet Clicks does provide several payment options to at least make that aspect of the payment process easier.
As a member, you can get paid through Bitcoin, Payza, Payeer, Neteller, AirTM, and SolidTrustPay.
All you need is $2 in your account, too, so it's possible for you to get paid every day if you're really active on the platform.
How Membership Levels Work
To make the most money on Scarlet Clicks, you're going to need to opt for one of its paid memberships.
You can, of course, sign up for free and remain a basic member, but then you'll only be eligible for 40% of your referrals' earnings.
The higher you go with your membership, the more benefits you'll get, like 100% referral earnings, the ability to rent more referrals, and other perks.
However, these memberships can cost a lot of money – like up to $700 for a year!
That means that you'd have to really put a lot of effort into earning on the site, not just to make that money back, but to also earn a profit beyond that.
Other Benefits of Scarlet Clicks
Although you won't directly get paid from these other tasks you can complete on Scarlet Clicks, you can definitely get paid indirectly.
It sounds confusing but hear me out.
Scarlet Clicks offers a couple of ways you can advertise your own business, which could help you gain some traffic and potential new customers, resulting in more cashflow to your pocket!
Here's how to do it:
Advertising Your Business or Website
Scarlet Clicks actually lets its members join in on the fun of advertising.
So, your ads could be the ones that members click on to earn money.
If you're lucky, they'll also help to drive some traffic to your website, which could in turn make your business more money, whether you own an online shop, use affiliate marketing, or have some other avenue of earning income.
When it comes to an online business, more traffic usually equals more sales in some form.
Depending on the type of ads you choose to run, the price will vary.
A 1-month feature link ad, for example, is $3.
But a 20-second PTC video advertisement is $17.
You can also choose from advertising packages that give you some referrals, banner ad credits, and PTC advertisement credits.
By investing in Scarlet Clicks advertisements, you're not only investing in the platform and helping it stay in business, but you're also investing in your business.
It's a win-win.
Traffic Exchanges
There's also something called traffic exchanges on Scarlet Clicks.
This is where you can visit other websites that use the traffic exchange to earn credits to request that other people visit your site, too.
Using this method, you won't have to pay a dime to get more traffic to your site.
When you visit a site and get credits, you can use those credits to fill out a quick form with your website's information that tells other people where you need them to go.
On the form, you can also indicate if you only want people from certain countries visiting and whether only Premium paying members should send you traffic.
Drawbacks of Scarlet Clicks
There are some obvious benefits of using Scarlet Clicks, but my time on the site has also shown me some pretty serious drawbacks.
Here's what I don't like about this site:
It's Messy
Visit Scarlet Clicks and what's the first thing you notice?
If you're like me, it looks like this site's design hasn't been updated at all since it was put on the web in 2009.
In fact, it kind of looks even older than that.
Personally, I think it looks messy and doesn't really have a good overall concept that's helpful to members.
It's clunky, full of ads, and its web copy isn't very clear or helpful.
The FAQ section also isn't very in-depth, so it's difficult for newcomers like myself to really understand everything you can do there and how to maximize your earnings.
One thing I really dislike is that the site's ads get in the way of me moving around the site!
Some of the links on the bottom are unclickable for me because advertisements remain there and I can't click out of them.
Although I understand this site's primary method of making money is through advertising, it seems to me that there has to be better ways of doing it rather than getting in the way of browsing.
Really Low Payments from Clicks
PTC sites aren't known for huge payouts from clicking on ads, but this one seems awfully low.
Some of the ads require you to watch video ads for about 20 seconds, yet only pay $0.005 cents – and some are even lower than that!
That means you'd have to watch 100 of those just to make $0.50, and it would take you more than a half an hour if you did that consistently to make that money.
I'm not sure if that's something others are interested in, but $1 an hour hardly seems worth it to me.
Sure, Scarlet Clicks has some other methods for making money, but the bulk of it seems to come from referrals.
And to get a decent number of referrals, you'll probably need to pay for them (unless you just happen to have a bunch of friends and family members who are dying to join a PTC site?).
I'm not saying you can't make a good amount of extra cash here, but just know that it's probably not going to come from clicking on ads.
Not the Best Traffic Quality from Advertising
Say you pay to have your website's ads placed on Scarlet Clicks and you get 1000 new visitors from those ads.
How many do you think will actually convert to customers?
Honestly, it probably won't be many – if any at all.
Think of the reason people join the site.
They're there to click on ads and make a little extra income doing so.
They aren't really there to discover new websites to shop at.
This can happen, of course, but the chances of people really paying attention to your ads enough to spark their interest is slim to none.
Usually, they click and watch long enough to grab their money and then they're off to the next ad.
If you're going to pay for ads here, I'd start with a small amount or an affordable package just to see what happens before investing a bunch of cash in something that may never work for you and your business.
Is ScarletClicks Legit or a Scam?
I definitely don't think Scarlet Clicks is a scam.
It doesn't promise anything extraordinary, like making hundreds or thousands of dollars a month.
Instead, it lets you know exactly what you can do with the site and what it's there for: Making money through advertisements.
I've seen a lot of payment proofs from Scarlet Clicks members, so getting paid doesn't seem to be a problem for most.
But fact is – if you don't have a lot of referrals and don't want to spend money to make money, you're probably not going to progress much on this site.
Other Sites Like Scarlet Clicks
If you like Scarlet Clicks, you can also try these similar sites:
ClixSense, which rebranded to ySense, is one of the most well-known PTC sites.
In addition to earning money by viewing ads, ySense also offers paid surveys, cash offers, and a variety of tasks through their partnership with other crowdsource services.
Neobux is another major player in the PTC world.
Users can earn money by viewing ads, playing games, and completing mini jobs or offers.
They also have a rental referral program where you can earn money by referring others to use the platform.
Paidverts is a PTC site that offers ads to click on, but with a twist. Users have to accumulate Bonus Ad Points (BAP) which dictate the value of the ads they receive. The more BAP you have, the higher value ads you'll receive.
InboxDollars offers users a variety of ways to earn money online.
You can earn by reading emails, completing surveys, playing games, or shopping online.
While it's not strictly a PTC site, it does offer paid emails, which is similar to getting paid to click on ads.
GPTPlanet is similar to Scarlet Clicks in its operation.
Users can earn by viewing ads, completing simple tasks, and participating in surveys.
They also offer a referral program where you can earn a commission from your referrals' earnings.
Scarlet Clicks Review: Will You Earn Cash or Waste Your Time?
Although I'm sure some people who are willing to put some money and time into their Scarlet Clicks accounts will likely see some profit from the site, I don't think Scarlet Clicks is the site for everyone.
It will definitely take some dedication on your part to stay active on the site, complete new offers, and upgrade your membership to take full advantage of it.
I personally feel like there are too many pay-to-play elements to this site that I don't love, like upgrading to paid memberships to get full benefits and buying referrals to earn more cash.
I prefer sites that I can use completely for free and make a little extra money with some fun tasks.
Scarlet Clicks isn't that type of site for me.
You could spend hours earning pennies or a few dollars through ads here.
While you may actually get paid, it's up to you to ask yourself if that's how you want to do it.
Have you used Scarlet Clicks? Drop a comment below and let us know how it worked for you!
Related Posts: