Shadow Shopper Review: Find Curated Mystery Shopping Listings Online
Updated on: by Amy Kennedy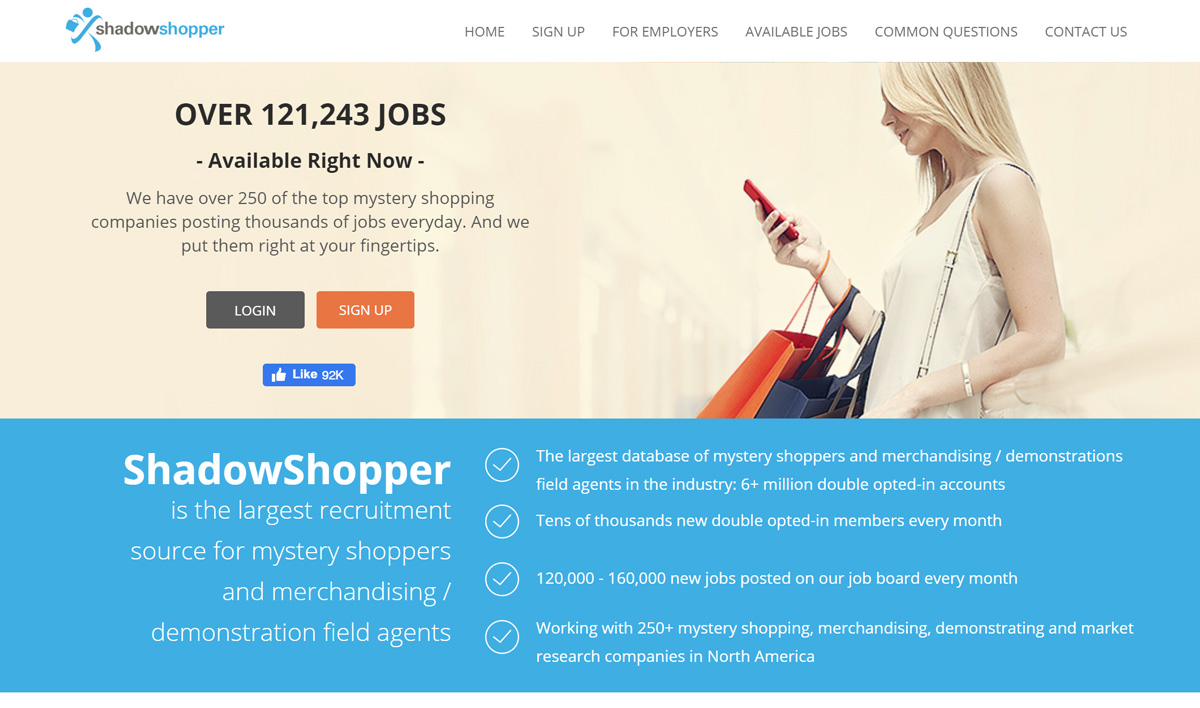 Mystery shopping is popular among people who want to work from home.
Need Easy Extra $350+/Month For Free?
It's relatively flexible in that you can usually pick when you want to complete a shop, so long as you can finish it before the deadline (in most cases, you have one or two days).
And, it can be really fun if you like visiting new places, having your voice heard, and, of course, shopping!
Unfortunately, there are a lot of mystery shopping scams that we hear about all the time.
It's one of those jobs that's a really easy target for scammers because there are so many people looking for these jobs – and many of them are desperate for some work.
So, it's important to us to check out different companies and report back to you which ones are legitimate and which ones aren't so much.
The one we're reviewing today is known as ShadowShopper, which claims to have mystery shopping jobs available for independent contractors.
What is ShadowShopper?
ShadowShopper is a mystery shopping company that was founded in 2002.
From some reviews I read, it seems like ShadowShopper used to be shopper.com and was started using a Jigsy website builder.
It may not seem like the most professional way to start a business online, but plenty of people do it, so I don't personally see an issue with it.
If you look at what the site is now, you'll see that it's fairly professional looking and easy to navigate.
ShadowShopper works as a middleman company to give you mystery shopping jobs.
In other words, it'll connect businesses or other mystery shopping companies with mystery shoppers, like you, to make it easy for everyone to find what they're looking for.
The difference between ShadowShopper and other mystery shopping companies is that it doesn't directly give you jobs from its clients.
Instead, it offers listings for other mystery shopping companies through which you can find work.
Who Can Sign Up for ShadowShopper?
Really, anyone who feels like filling out the form and registering for ShadowShopper to find mystery shopping gigs is allowed to join.
Need Easy Extra Cash?
Pinecone Research, a leading name in online survey panel honesty, absolutely guarantees $3 cash for every survey you complete!
Take advantage of their time limited New Membership drive and register NOW. Join today: 100% free!


You can first see if any jobs are available in your area by entering your zip code and browsing the listings.
This will give you an idea of whether it's worth the sign-up or not.
If no, or very few, jobs are available within a reasonable driving distance, then there won't be much of a point in you signing up.
However, it seems that even smaller areas have a decent number of jobs available here.
To sign up, hit the Sign Up link at the top of the page and fill out the registration form.
This will sign you up as a free member, which gives you access to some select jobs and educational resources.
How Mystery Shopping with ShadowShopper Works
Since ShadowShopper is a little different than other mystery shopping companies, I'll use this section to explain how it works.
Membership Levels
At ShadowShopper, there are membership levels.
When you sign up, you automatically enter the Basic level, which is a free membership.
This gives you access to some lower-paying jobs (and ones that were posted over a week ago) and free educational resources on the site.
Basically, it's a good way to test out everything and see if you might be interested in paying for a higher membership level.
If you want to have access to premium jobs, a better profile, and be bumped to the top of searches when mystery companies come looking for shoppers, then you'll need the Gold membership.
This is $6.95 per month, and gives you access to apply to recently posted jobs and higher-paying gigs.
This is the only membership where companies can contact you directly, too, to offer you shopping jobs.
There are some definite benefits to having a membership here, but you'll need to decide whether the few dollars each month is worth it to you.
What Do I Need to Get Started?
What you'll need for each shop depends on the company with which you'll be working.
ShadowShopper has no control over a job's requirements, pay, or anything else.
It's simply the company hosting the listing.
To learn what you'll need for a shop, you'll need to contact the company that's providing the shop to you.
Here are a few general requirements mystery shoppers need:
A working landline or cell phone
A working, reliable computer with a high-speed internet connection
Notepad and pen to jot down notes during your shop
A camera or smartphone camera to take pictures, when required, during a shop
A friendly, outgoing personality and excellent communication skills
If there's anything else you'll need to get started, the company should let you know the details before you begin.
What's the Pay Like?
Again, the pay for each shop has nothing to do with ShadowShopper, but instead will all be handled by the company who's giving you the gig.
Mystery shopping pay usually depends on the type of task, how long it's expected to take, and how much work is involved.
Some gigs only require quick phone calls with you asking a few questions of a manager.
These usually pay somewhere between $3 and $10.
Other mystery shops require you to physically visit a location, complete some tasks there or shop as you normally would, and then fill out a report on your experience.
These can pay much higher, like $20 to $100.
Here are a few examples of gigs that are available in and near my city, just so you can get an idea of some of the pay for gigs you might find on ShadowShopper:
Open a bank account for $100
Have a full meal at a restaurant for $25
Hardware store mystery shop for $13
Check for alcohol compliance for $20
Store phone shop for $4
Checking for in-stock items at convenience store for $17
You'll notice that the on-site shops pay more than phone shops because they often require more work and more detailed reporting.
Earn Everything… nearly!
Join Opinion Outpost, one of the few faithful and honest survey panels and earn cash and gift cards for your opinion. Stack your points and redeem them: Simple! No hidden fees and completely free!


Mystery shopping isn't necessarily meant to be a full-time gig and income source, but some people are able to make it work for them full-time.
However, these people are usually signed up with several mystery shopping companies and remain available for work whenever there's work available.
ShadowShopper provides shopping listings, but in most cases, I don't think you'd be able to find enough gigs here to make it a full-time income opportunity.
Still, it could be a good tool to have in your secret shopper toolkit for some extra cash each month.
Pros of Shadow Shopper
I scoured through online reviews from real people who have used Shadow Shopper to learn more about it since I haven't used it for myself.
Here are some of the more common praises they had for the company:
Curated Listings
Although Shadow Shopper doesn't provide its own shops, what it does offer is a curated list of open shops from people and companies who post them on the site.
Each listing is checked by ShadowShopper to prevent any scams from coming your way.
The curated listings can really come in handy for people who don't know how to check for scams or simply want to avoid spending time looking for listings when they can have a curated list at their disposal.
It certainly is handy to have a site like this if you want the fastest way to find mystery shops near you.
The Fee is Low…and Tax Deductible for Businesses
From reviews I've read, it seems that the monthly fee for Shadow Shopper used to be closer to $30 a month, which is a pretty hefty cost for people who are looking to earn extra income, not spend more money.
Honestly, that's the price, on average, of two or three mystery shops, so it could really cut into your profits.
But the site now is only advertising the Gold membership at $6.95, so it looks like it might have listened to those complaints and significantly dropped the price to something more reasonable.
I don't think this is a steep cost for everything you're getting with a membership (premium listings, the ability to get directly contacted by people looking for shoppers), and several other reviewers agree that this price is doable.
Cons of Shadow Shopper
Where there's praise, there's also usually some complaints.
This holds true with Shadow Shopper, which I've been seeing more complaints about than praise.
Here's what others are saying:
You Have to Pay to Get All Benefits
We don't like to condone ever paying anything to get a job.
Other people don't like it either, obviously, because it's one of the biggest complaints about ShadowShopper.
This one's a little tricky, though, because you're not necessarily paying to get mystery shopping gigs.
Instead, you're paying for a service by Shadow Shopper, which lets you set up a profile, get gigs offered directly from clients, find premium jobs, and get a convenient, curated list of jobs that have already been checked for scams.
But, yes, there is a cost for all this.
Only you can decide if that cost is worth it for everything you're getting.
Most of the Stuff You Pay for is Free Elsewhere
This is one I agree with, but only if you really do your research and know what you're looking for.
There are plenty of legit mystery shopping companies out there on the web.
You can find them for free by using search engines, discussing jobs with others on work at home forums, or following Reddit threads.
Yes, it takes some time to find them, but they are out there.
You'll also need to understand how to avoid mystery shopping scams if you're going to be looking for gigs on your own.
If you know how to do all this, though, then I'd see no reason for you to spend money every month for a Shadow Shopper membership when you can just take some time to look for jobs on your own and save your cash.
Shady Business Practices
I checked out the Better Business Bureau (BBB) to see what the rating looked like for Shadow Shopper.
From what I saw on other reviews, its rating was, at one time, a D.
Currently, it's an A+, but it has only a 1 out of 5 star rating from customers.
That's a little confusing, so I read through the complaints to see what was going on.
It seems like people are having a lot of problems getting ShadowShopper to stop sending them emails and canceling their accounts after they've requested one or the other.
Customers note that they still get emails or are still getting charged a fee each month for a service they don't want.
The BBB responds to each complaint, which is respectable, but the customers still haven't closed them, so I'm not sure if the issue has really been resolved or not.
I've read on other review sites, too, that customers struggled to get their accounts closed and no longer charged, which doesn't sit well with me.
Shadow Shopper Review: Is ShadowShopper Legit or a Scam?
I'm not willing to call ShadowShopper a scam because it has been in business a long time and does have a decent amount of praise.
But I'm not sure I'd personally ever use it if I was into mystery shopping.
Its service could certainly be convenient for people who just don't want to deal with researching mystery shopping companies and gigs.
But, with some work, you can find jobs on your own that are 100% legit without spending any money for a curation service.
It boils down to personal preference, really.
Would you use Shadow Shopper to find secret shopping gigs? Have you tried the service before?
We'd love to hear what you think, so drop us a comment down below!
Related Posts:
Earn Everything… nearly!
Join Ipsos iSay, one of the few Faithful and Honest survey panels and earn prizes, gift cards and donations. Stack your points and redeem them: Simple! No hidden fees and completely free!