SuperPayMe Review: What's Unique About This Online Rewards Company?
Updated on: by Amy Kennedy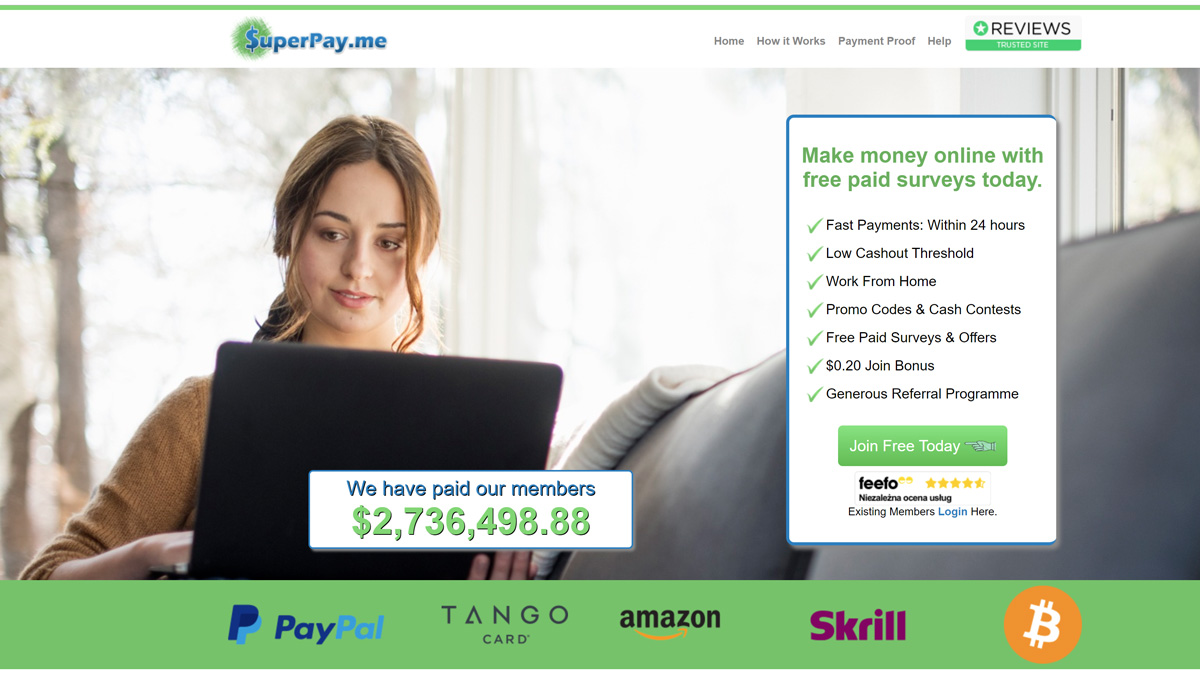 One of the things I love most about the internet is that it provides virtually never-ending opportunities for you to make money, whether it's through online jobs and gigs or quick tasks like surveys and watching advertisements.
Need Easy Extra $350+/Month For Free?
Quick tasks are easier than ever to find online, too, with so many reward sites on the web that pay you to do everything from listen to the radio to refer your friends.
How do you know which sites are worth your time, though, when a lot of them offer similar stuff and even look similar to one another?
You come here, of course, where we review popular and not-so-well-known reward and survey sites so that you can save time.
Today's review is all about SuperPay.Me, a site that's been around for a few years but isn't one of the most talked-about reward sites.
I tried it out for myself to spill all the details and help you decide if it's worth a sign up.
What is SuperPay.Me?
SuperPay.Me is one of the many Get Paid To (GPT) sites on the web, except that it's been around since 2012, which is longer than several of its competitors.
The company claims to have paid more than $2 million to its members since opening in 2012!
SuperPay.Me is headquartered in England and is part of 99 Ventures, Ltd., which is also the parent company of similar sites like OfferNation and RewardingWays.
Who Can Join?
Anyone who is 18 or older can join the site.
SuperPay.Me is open to countries all over the world, so you don't need to just live in the USA, UK, or Canada to join.
However, everything is subject to your country's laws, so make sure sites like this are legal in your country before signing up.
How to Join SuperPay.Me
To join SuperPay.Me as a member, you can head to the website and click the Join for Free link at the top of the page.
You'll get directed to an online form where you can fill out your personal information and payment information, like a PayPal email address.
Make sure you also pick out a login name and password you can remember, but that's different from other sites to keep your account secure.
You'll then need to consent to receiving emails (if desired), read the privacy policy and terms, and consent that you're eligible to become a member of the site based on its requirements.
Need Easy Extra Cash?
Pinecone Research, a leading name in online survey panel honesty, absolutely guarantees $3 cash for every survey you complete!
Take advantage of their time limited New Membership drive and register NOW. Join today: 100% free!


Hit the Create Account button, verify your email address, and you're good to go!
How to Earn Money with SuperPay.Me
SuperPay.Me offers the usual methods that GPT sites offer for earning money, such as:
Sigh Up Bonus
You can get $0.20 just for signing up with a new account.
It doesn't seem like much, but seeing as how SuperPay.Me only requires $1 in your account to cash out, it's a good way to boost your earnings quickly and get you to your first payout.
To get your bonus, just fill out the registration form, including checking all required boxes, and hit the registration button.
You should see the bonus credited in your account immediately.
Paid Surveys
Surveys are one of the main ways for you to make money here.
Click on the Surveys button at the top of the site and you'll see a ton of survey panel names pop up.
That's because SuperPay.Me partners with a bunch of other survey panels to bring you several surveys to choose from.
It doesn't look like you'll run out of surveys any time soon with SuperPay.Me!
The problem is, though, that you won't make all your money with surveys at SuperPay.Me.
If you click on other survey panels, you'll usually need to register with them, too, and you'll get the points or cash for those surveys through those survey panels, which are separate from SuperPay.Me.
Some of them will also pay you a few cents to your SuperPay.Me account, since that site is responsible for referring you and making the survey panel some more money.
To get paid directly by SuperPay.Me, you'll need to click on Daily Paid Surveys and focus only on those surveys on the site.
You can see how much you'll make before you take the survey and some of them have an estimated completion time, too.
Offer Walls
Another awesome way to make money with SuperPay.Me is through the Offer Walls.
Again, a lot of these offers come from other offer sites that SuperPay.Me partners with, like AdGate and Peanut Labs.
These work similarly to the paid survey sites.
You'll need to register for separate accounts and you'll earn your points or cash through the partnered sites, not SuperPay.Me.
I don't see any offers that come from SuperPay.Me itself, so as far as I can tell, you can't earn money directly from SuperPay.Me with offers.
However, there are a lot of great offer walls here and SuperPay.Me helps you keep them all in one place so you can quickly find what you need.
You can also earn some cash for completing offers SuperPay.Me refers you to into your SuperPay.Me account.
Each offer wall panel has free, trial, and paid offers, so you can always just sign up for stuff for free or for a free trial instead of paying for anything.
With that being said, the paid offers usually pay the highest, so be sure to check them if there's ever a product or service you want to buy online so you can at least get some money back for it through completing these offers.
Paid Videos and Ads
SuperPay.Me mentions that paid videos are one of the ways it offers to earn cash.
It took me a bit to figure out how to do it through!
Apparently, these paid videos and ads are also found in the offer wall section with specific partners like Videolab and More TV time.
Just click on any of the video and ad-related partners to see their current offers.
Most of these offers will award you a few cents or points to watch movie or TV trailers, product or service advertisements, and other marketing videos.
Earn Everything… nearly!
Join Opinion Outpost, one of the few faithful and honest survey panels and earn cash and gift cards for your opinion. Stack your points and redeem them: Simple! No hidden fees and completely free!


Referrals
When you share your unique SuperPay.Me referral link with friends and family and they sign up using your link, you can earn more money with the site.
Click the Referrals link at the top to go to your referrals page.
Every referral you bring to the site gets a $0.20 bonus just like you did.
Then, you'll get 25% of everything they make!
The site even offers several free banners you can use with HTML codes to place on your website or in the signature section of forums you post on.
Bonus Promo Codes
Promo codes are another way you can get some cash with SuperPay.Me.
The site mentions that it posts promo codes on its social media channels (although its Facebook page appears to no longer be working) occasionally for active members to grab.
When you use these promo codes on the site, you can get bonus points.
To use them, hover over the Home link at the top of the page and click on Promo Codes.
You'll see a box where you can type in your code and submit it to get your cash instantly.
Be sure to go to SuperPay.Me and click on the links for its Twitter and Instagram pages.
Follow those accounts and make sure you're receiving notifications so you'll know when it has new promo codes available!
Contests
Last but not least are the contests at SuperPay.Me.
SuperPay.Me offers a $1,000 cash contest periodically for all members of the site who are active.
You're automatically entered in the contest and can win by earning the most cash on the site by the time that period ends.
There are 20 cash prizes available each period, so you have 20 chances to become one of the top members!
Posting Payment Proofs
One of the ways SuperPay.Me pays you that's unique to these kinds of sites is by rewarding you with cash when you post payment proofs.
This is a really great way to get rewarded for helping out the company in its effort to prove that it does pay its members.
To qualify for the payment, you need to post a legitimate payment proof on other message boards by starting a new topic about SuperPay.Me and adding your screenshot.
You can notify SuperPay.Me about the threat and your post and the team will review it.
If it meets all requirements, you should receive your bonus payment into your account soon.
How Does SuperPay.Me Pay?
This site pays mostly in points, which convert to cash.
Every point is worth 1 cent, so 100 points equal $1. It's a pretty easy formula to figure out.
Some tasks pay in cash, too.
You'll see both your points and your cash by hovering over Rewards and clicking on the appropriate link.
To convert your points to cash, just use the SuperPay.Me converter on the site.
You only need a minimum of $1 in your account (be sure to convert your points to cash before trying to cash out your money) to cash out.
SuperPay.Me offers PayPal payments, Amazon gift cards, Bitcoin payments, Payza payments, and Skrill payments, so you can usually find a payment option you prefer.
SuperPay.Me also pays at least 3 times per day, so it's possible that you can get paid daily if you time you cashouts correctly.
In most cases, you'll receive your payment within just a few hours, but some may take up to 24 hours (especially if you're cashing out outside of regular business hours).
Important note: Your payments will have fees taken from them for PayPal (2%), Payza (3%), and Bitcoin (10%).
These are fees from the payment processors, not SuperPay.Me. SuperPay.Me does not charge you fees for cashing out.
What Do Others Think of SuperPay.Me?
I use and enjoy SuperPay.Me, but I'm only one person!
I like to see what others think about the site, too, because everyone has different experiences with these reward sites.
Here are some of the pros and cons of SuperPay.Me:
Pro: Reliable, Quick Payments
With several quick-paying payment methods available and SuperPay.Me's three-times-a-day payments, you can get paid in just a few hours, which is better than a lot of the sites that could take weeks to pay.
I've seen a lot of payment proofs, too, on discussion forums and Reddit, so it definitely seems that, in most cases, payments aren't an issue here.
I've even received two $2 payments of my own, so I can personally say it's worked for me.
Pro: User-Friendly
When I first signed up for SuperPay.Me, I found it a little confusing, but that didn't last long.
The site has a good FAQ section that answered most of my questions and I soon figured out how to move around the site and where everything was.
I do wish tasks were categorized a little better and the site was a bit cleaner, but overall, I find it to be pretty user-friendly, and a lot of other members agree with me in their reviews.
Pro: Excellent Support
I haven't had to contact SuperPay.Me's support center for anything yet, but I'm pleased to see that members who have usually receive timely responses and get their issues handled quickly.
In addition to the Quick Help Guide and FAQ section, there a Submit a Ticket section where you can send a ticket to the support team for extra help.
The site says most tickets get a response within 24 hours, and according to reviewers, this looks to be true.
Pro: Lots of Ways to Earn
SuperPay.Me partners with a lot of other reward sites, which makes it easier for you to find paying opportunities, no matter where you live.
Members like that there's a lot to choose from here, which means there are plenty of ways to get paid while doing tasks you think are fun.
Con: Difficult to Qualify for Surveys
This is a complaint that's pretty common with survey and reward sites, so I'm not surprised to find it mentioned a lot with SuperPay.Me too.
Several members mention that they have trouble qualifying for surveys and will sometimes spend several minutes just completing qualifying questions before getting kicked from the survey with no reward.
Unfortunately, this is always a risk with paid surveys, and not unique to SuperPay.Me.
Con: Some Members Have to Undergo Verification Checks
Perhaps the biggest complaint I've seen about SuperPay.Me is that some members need to go through what SuperPay.Me calls a "verification check" before they get paid.
This is basically a process that verifies you are who you say you are and live where you say you live, and the company uses it to prevent fraudulent payments and to protect your account from others hacking into it and stealing your cash.
In other words, it's a good thing!
But it can be a hassle, according to the members who go through it.
In addition to the process taking up to 60 days, you may be asked to provide a copy of your driver's license, which understandably can be worrisome for people.
However, there are some online services and even jobs that'll ask you for the same information to verify your identity, but a lot of people don't know that.
If you get a message requiring further identification, you just need to follow the steps as soon as possible.
Always make sure the message you get comes directly from SuperPay.Me (look for a SuperPay.Me email address!) before sending any information online.
Con: Fees for Payments
First, let me reiterate what I said above: The fees you pay for your cash outs are not from SuperPay.Me; they're from the payment processors.
The reason you might not have these fees with other GPT sites is because some of them choose to cover the fees for their members.
SuperPay.Me doesn't, unfortunately, so this is just a cost you're going to need to factor into your earnings when you cash out for payments.
This is a complaint I've seen frequently, but SuperPay.Me definitely isn't the only site of its kind that doesn't cover these processing fees.
Remember that the minimum cash out amount is so low that SuperPay.Me would be eating a lot of profits if it paid the fees for everyone too.
I'd rather have the low cash out fee and pay some fees than a super high, almost unattainable, cash out amount with no fees.
How to Maximize Your Earning on SuperPayMe
Complete High Paying Offers and Surveys
One of the best ways to increase your earnings on SuperPayMe is to complete high paying offers and surveys.
These are typically more time-consuming than other tasks, but they offer greater rewards.
Look for these offers on the main page or the 'Offer Walls' and 'Daily Paid Surveys' sections of the website.
Take Advantage of the Cash Contests
SuperPayMe regularly runs cash contests where the top earners during a specific period are given bonus earnings.
Try to participate in these contests as much as possible. Increasing your activity during these times can boost your overall earnings.
Refer Friends and Others
SuperPayMe has a referral program where you can earn a percentage of what your referrals earn on the site.
The more active referrals you have, the more you can earn.
Share your referral link on social media, your personal blog, or with friends and family to attract referrals.
Regularly Check the Website
Offers and surveys change regularly, and some of the best opportunities are claimed quickly.
By regularly checking the website, you increase your chances of finding and completing these high-reward tasks.
Some users find it helpful to set specific times each day to check and complete tasks on SuperPayMe.
Cash Out Frequently
SuperPayMe allows you to cash out once you've earned $1.
To minimize the chance of losing your earnings due to unforeseen circumstances (like account issues or website problems), it's a good idea to cash out as soon as you meet the threshold.
While this doesn't directly increase your earnings, it ensures that you get paid for the tasks you've completed.
SuperPayMe Review: Is This Site a Legit or a Scam?
SuperPay.Me is a legitimate reward site that's worked for me and many others.
I do think that it could take some people a long time to earn money here, depending on whether they qualify for surveys and what offers are available in their country.
Personally, I've racked up my first two payments very easily ($4 total), mostly by completing free and trial offers and a few surveys.
With plenty of on-site information to help members, an excellent support team, and lots of payment proofs, I think it's clear that SuperPay.Me values its members and tries to provide a reliable GPT site for everyone.
If you've had experience with SuperPay.Me, we'd love to hear your thoughts! Leave a comment below and tell us what you love or hate about the site and whether you've gotten paid.
Related Posts:
Earn Everything… nearly!
Join Ipsos iSay, one of the few Faithful and Honest survey panels and earn prizes, gift cards and donations. Stack your points and redeem them: Simple! No hidden fees and completely free!