Survey Police Review: Is This Review Site as Helpful as It Seems?
Updated on: by Amy Kennedy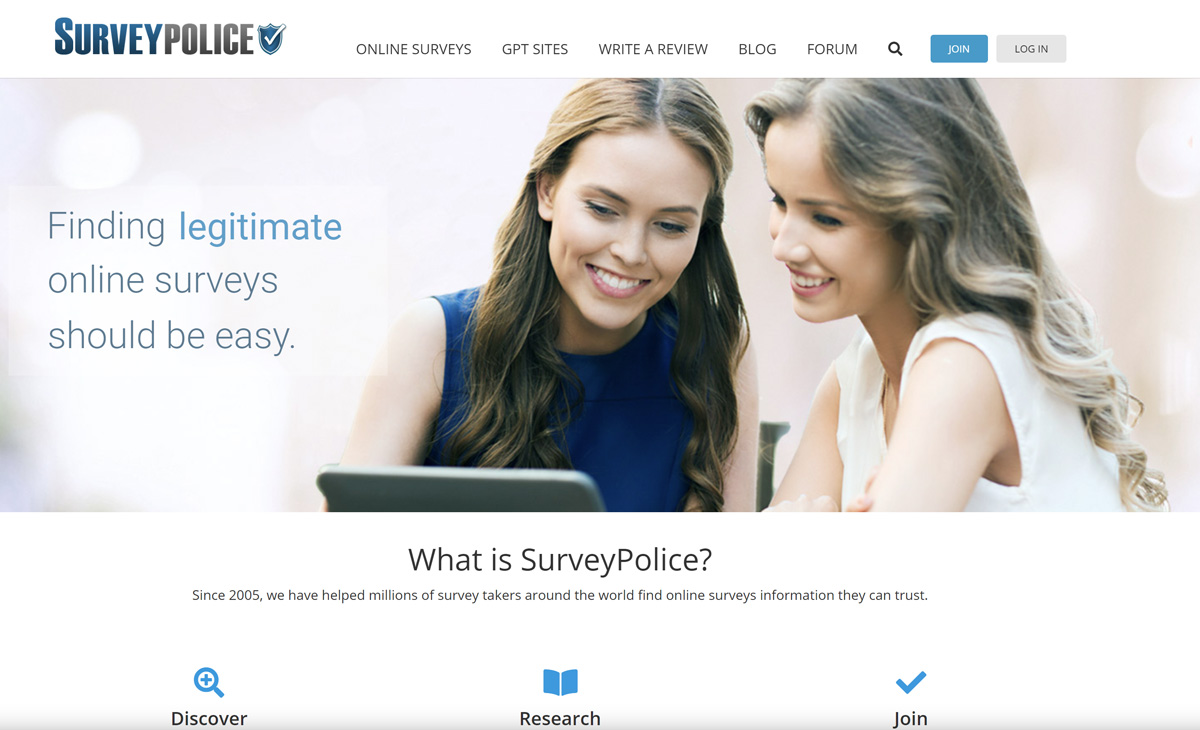 There's no doubt that when it comes to online surveys, you have a pool of options to choose from.
Need Easy Extra $350+/Month For Free?
There are plenty of survey sites that have been around for years – even decades – and new ones seem to pop up on the web all the time.
But if you're a smart survey taker who likes to maximize your income by using only the best survey sites and avoiding potential scams, then you probably research survey panels before you join them.
(At least, we hope you do!)
One site you've likely come across in your research is SurveyPolice, a site that reviews most of the survey panels that exist on the internet.
It can also help you find new panels to try out by searching through its survey categories to find one with features you want, like PayPal payments.
Today's review is going to flip the table on SurveyPolice, reviewing the review site that so many people turn to for learning more about popular survey sites!
Is it as trustworthy as it seems?
What is SurveyPolice.com?
SurveyPolice is a site that's been on the web since 2005, which is a decent run.
In fact, it's one of the first and largest sites of its kind and continues to be one that pops up on the front page of Google when you search for survey panels, which shows that it gets a lot of clicks and traffic.
The site claims to help people from all over the world find new survey panels and learn more about the ones that exist.
Basically, SurveyPolice wants to help you learn if the panels on the web are trustworthy places.
You're probably wondering: What's in it for SurveyPolice?
Like many helpful sites on the web, SurveyPolice makes money when you sign up for websites that have a referral system.
The links the site uses to take you to survey panels and reward sites are affiliate links for those referral programs that could pay commissions or bonuses every time someone joins.
So, say you wanted to learn more about One Opinion or My Survey.
Need Easy Extra Cash?
Pinecone Research, a leading name in online survey panel honesty, absolutely guarantees $3 cash for every survey you complete!
Take advantage of their time limited New Membership drive and register NOW. Join today: 100% free!


You'd head to SurveyPolice, read its review, and then click the button in the review to join the panel.
When you sign up, you'll get referred under SurveyPolice's account and they'll get the bonus or commissions on whatever you make from that site.
Does that make SurveyPolice biased with its information?
Not in my opinion.
If you look through the site's survey panel overviews, you'll notice that they're very factual and give basic information about the site rather than sway one way or another.
To get more personal information, you can read member reviews, which have nothing to do with the referral system from which SurveyPolice makes its money.
These are separate reviews from people who have actually tried these websites, so you can usually get more detailed opinions.
But you'll see that SurveyPolice itself doesn't try to steer you in any direction with its overviews.
What Does SurveyPolice Offer?
SurveyPolice has quite a few helpful resources on its website to assist anyone who's interested in earning money online through reward/GPT sites and survey panels.
Site and Panel Overviews
The primary thing people use SurveyPolice for is its survey site and panel overviews.
This is likely what you come across when you Google a survey panel and click on a SurveyPolice result.
You'll see these listed as something like [Survey Panel Name] Rankings and Reviews.
These pages typically give very basic information about a survey site that you can usually find on its website, sometimes with a little digging, like the ages and countries it accepts, its reward options, and the types of surveys and tasks it offers.
You can also find out information like:
Minimum cashout balance
Member referral programs
Mobile app availability
Point value, if applicable
Survey payment amounts
Contact information
User ratings
Similar panel links
These pages should be your first stop to learn the basics of any survey panel when you visit SurveyPolice.
You can usually find out what you need to from the overviews just by skimming through each block of information.
If you want to keep reading more about the survey panel, though, you can also scroll down further to access the reviews from real members of those panels.
Real Member Reviews
The member reviews, known on SurveyPolice as "User Reviews" come from people who have to register with the site to join and leave a review.
These are typically people who have actually used a survey panel or GPT site and can, from personal experience, give a little more information than what SurveyPolice gives in its overviews.
User Reviews also come with a star rating – from 1 to 5 stars – which is where SurveyPolice gets its star ratings for each overview page.
This rating is the average of all user ratings, which gives you a quick glimpse of what people think of the site.
You can sort through User Reviews by rating or the date posted.
If you look through the reviews, you'll see that most panels have a good degree of varying opinions.
That's because people from different locations with different demographics typically have different experiences on the same site.
But it's interesting to see what they have to say.
It's usually in the User Reviews section that you can learn more about how a site pays (if at all), how the support team responds to member issues, and tips and tricks that might help you earn faster on a site.
Forums
Registered and non-registered members alike can post in the site's forums, which is a section with several helpful categories that cover things like technical issues with panels, information about survey apps, and even tips for making money in other ways online.
You can post new questions or topics yourself, read through the forums, and respond to other comments and questions in the forums.
The forum moderators archive old posts (over a year old) into their own section to keep everything clean and updated while still giving you access to older information that might still help you.
Earn Everything… nearly!
Join Opinion Outpost, one of the few faithful and honest survey panels and earn cash and gift cards for your opinion. Stack your points and redeem them: Simple! No hidden fees and completely free!


Blog
The SurveyPolice blog is where you'll go for all news relating to online survey panels and reward sites.
The blog boasts list-type posts that give suggestions for survey panels in specific categories (like out-of-the-box survey panels and sites that have a low minimum payment), news about changes to existing survey panels, and more in-depth information about sites than you'll find in the site overview pages.
This blog is updated a few times per month, on average, and the writers do a pretty good job of updating old posts, too, when information has changed.
There's also a Topics section over on the sidebar that you can use to narrow down the blog topics to find what you need, or use the search feature to find something more specific.
Helpful Guides
When you're looking to join new survey panels but don't really know where to start, the SurveyPolice Top-Rated guides might help.
You can access these by hovering over Online Surveys or GPT sites at the top of the page and then clicking on Top Rated GPT Sites or Top Rated Online Surveys.
These pages will bring you to lists of the best survey and GPT sites as rated by members of the site.
You can also browse country-specific lists by going to the main website and scrolling down to the button that says Find Survey Sites in Your Country.
Click there and SurveyPolice will automatically detect your country (you can also change it if it's incorrect) and list the panels that allow people from your country to register.
Scrolling through the blog will also bring you to a lot of helpful guides for finding survey sites in a variety of categories, like those that pay with PayPal or Amazon gift cards, those that offer mailed surveys, and those that offer product testing opportunities.
When you register for SurveyPolice, you can also find a Panel Finder button in your account that'll guide you to the best survey panels for you.
The Pros and Cons of SurveyPolice
SurveyPolice has some excellent resources and a lot of helpful information for people interested in taking surveys online, but it also has some downfalls, as does almost any site on the web!
To be fair, we're noting a few of its pros and cons down below:
Pro: Helpful User Reviews and Ratings
The User Reviews and ratings on each survey panel's page is one of the best features of SurveyPolice, in my opinion.
This is where you'll get a lot of real information about other's experiences on each site, from how fast a site pays to how well it pays members for surveys and other tasks.
On these reviews, you can also see what country a member lives in, so you can more accurately decide whether a panel might be a good fit for people in your country.
Some reviewers only leave a few words in their review, while others go into a lot of detail about their experience, even providing tips to help YOU do better on that site.
The star ratings also provide a really quick overview of how people feel about a site, which can help you decide whether you should try it or not.
I also like that you can sort the reviews by date to see the most recent reviews first because a star rating may not always tell the full picture.
You might see some panels with very negative older reviews but very positive recent reviews, which shows that a site may be working out its kinks and correcting previous issues.
On the other hand, a site that once had raving reviews and now has several negative recent reviews is probably taking a turn for the worse.
Be sure to take the full picture into account when forming your decision.
I like to read through the first couple of pages of reviews, at least, to learn more about a site before making up my mind.
Pro: Has Information About Not-So-Well-Known Panels
One of the perks of SurveyPolice you might notice over some other similar reviews sites is that, since it's existed for so long, it has reviews of almost every survey panel in existence – even those that most people don't know much about or have never heard of.
This is a good place to go when you're just hearing about a new site or want to find a panel that isn't overrun with tons of members all clamoring for a few surveys.
Pro: Active Forums
The forums on SurveyPolice are extremely active with lots of new questions and responses each day.
It's likely that you can get your questions answered quickly here and you can easily find other like-minded people who love surveys to chat with.
The forums form a sense of community on SurveyPolice and you can find a lot of unbiased information here that can help you maximize your earnings on your favorite panels.
Con: Not Updated Frequently Enough
A common complaint with SurveyPolice is that a lot of its information is outdated.
This isn't quite as true for its blog as it is its panel overviews, where you'll sometimes see incorrect information about the countries a panel accepts, its reward options, and its payment amounts.
It seems like the site does a great job with keeping up with its blog and continuing to update old information about panels there, but its overview pages aren't quite as lucky.
It's a good idea to double-check this information with official information from a panel's site, just to be sure before joining.
You can usually find a lot of this information in the Terms & Conditions and FAQ sections.
Con: Lacking in In-Depth Information
Although SurveyPolice gives you a great glimpse of each site, it doesn't necessarily give you the detailed information you might be looking for beyond what you can usually find on an official website for that survey panel or reward site.
Each overview page gives you the basics, like who can join and what kind of surveys you'll find there, but you won't necessarily learn about the experience a site provides unless you read further into user reviews.
The blog does have some more details on some panels, but you won't find information about all of them there.
It would be great if SurveyPolice dug a little deeper to offer information about maximizing your earnings and other tips for using each site.
Con: The User Reviews Aren't Strictly Moderated
Although user reviews are an awesome addition to this site, you still have to be careful believing what you read.
That's because the reviews might be moderated to an extent, but there are some on there that are very obviously fake reviews (likely by people who were paid by a survey site to leave a positive review).
There are also some complaints I've seen that seem way off-base compared to other sites, maybe from people who had a bad experience and are angry enough to only mention the negatives rather than the positives of the site.
Unfortunately, a lot of people will only leave reviews when they're mad about something, which could discredit all the good things about a site.
Therefore, it's important to take the reviews with a grain of salt and really read through them to know whether they're legit.
Read through a few pages of reviews, too, to get a better picture of what the average reviewer thinks.
Joining SurveyPolice
Although you're free to browse SurveyPolice without registering, there are a few advantages to joining the site.
First, you can leave reviews on sites you've used to help improve the ranking accuracy and assist others by detailing your thoughts.
Second, you can log into your account to post on the forums as a registered member rather than just a guest.
This means that others can get to know you and you won't have to keep filling out your information every time you post.
If you think the forum is a feature you'll want to use frequently, then registering is in your best interest.
It only takes a minute to sign up, and you can do so here.
Becoming a registered member also gives you access to benefits like the Panel Finder and the Survey Taker to help you keep track of surveys you take online to make sure you get paid!
Is SurveyPolice Legit or a Scam?
SurveyPolice is a completely legit place to find out more about survey sites and what they offer you.
The fact that it's been around since 2005 and is stronger than ever is a testament to the fact that it's legit.
People visit the site continuously to learn more about survey panels they're considering joining and trust that the information is true.
Although you'll find some iffy user reviews here, you'll find that on other sites, too, like TrustPilot and the BBB.
Unfortunately, it happens, and it's definitely not the fault of SurveyPolice itself.
This is a trustworthy site, but you'll need to do your due diligence to make sure the reviews you read are trustworthy too.
How to Maximize Your Earning on Survey Police
Here are some tips you can use to earn maximumly from this platform:
Use SurveyPolice to Find the Best Survey Sites
SurveyPolice provides detailed reviews and rankings of online survey sites, helping you find the best ones to join.
Maximize your earnings by joining top-rated panels that have a good history of paying their members reliably.
Utilize SurveyPolice's Search Filters
SurveyPolice allows you to filter survey sites based on numerous criteria such as payment method (PayPal, gift cards, check, etc.), whether the site operates in your country, and more.
Use these filters to find survey panels that match your specific needs and preferences, which will help you earn more effectively.
Participate in Multiple Survey Panels
By using SurveyPolice, you can find a range of survey sites to join. Don't limit yourself to just one or two.
Each survey panel will have a limited number of surveys available at any given time, so joining multiple panels will give you access to more surveys and thus more earning opportunities.
Read User Reviews on SurveyPolice
SurveyPolice includes user reviews for each survey panel, which can provide useful insights into each panel's pros and cons.
These reviews can help you avoid less reliable panels and focus on those that are well-liked by other users, which should ultimately help you earn more.
Report Your Experiences
While this doesn't directly increase your earnings, reporting your experiences on the survey sites to SurveyPolice helps maintain the accuracy and usefulness of their rankings.
This contributes to a better community where everyone can find the best survey sites and maximize their earnings.
SurveyPolice Alternative
We enjoy SurveyPolice and think it's a great place to find information about survey panels and reward sites on the web.
But if you're looking for the most current and detailed information about these sites, we think you should try SurveyClarity, a similar review site that gives you every ounce of information you need to know about a site before you join.
Many of our reviews are based on personal experience, so there's a lot of in-depth information you won't find in a basic overview.
We also have tons of guides to point you in the direction of the surveys you want to take, plus we list various other ways to make money online, like getting paid for book reviews and how to start a freelance writing career!
Think of it like a full-service site that teaches you how to earn cash from home through more than just surveys (although we definitely have plenty of that information too!).
And, there's no reason to register. Our information is available to everyone!
Survey Police Review: Is It Worth It?
SurveyPolice could absolutely be worth your time to check out when you're looking for basic information about survey panels and reward sites, plus opinions from real members.
There's a lot of good information on the site and the forums are the icing on the cake, giving you a place to ask questions, help others, and meet people who love taking online surveys as much as you do.
We'd love to hear your opinions of SurveyPolice, so feel free to leave us a comment below and let us know!
Related Posts:
Earn Everything… nearly!
Join Ipsos iSay, one of the few Faithful and Honest survey panels and earn prizes, gift cards and donations. Stack your points and redeem them: Simple! No hidden fees and completely free!