Survey Rewardz Review: Get Paid to Take Surveys or Get Scammed?
Updated on: by anvitalis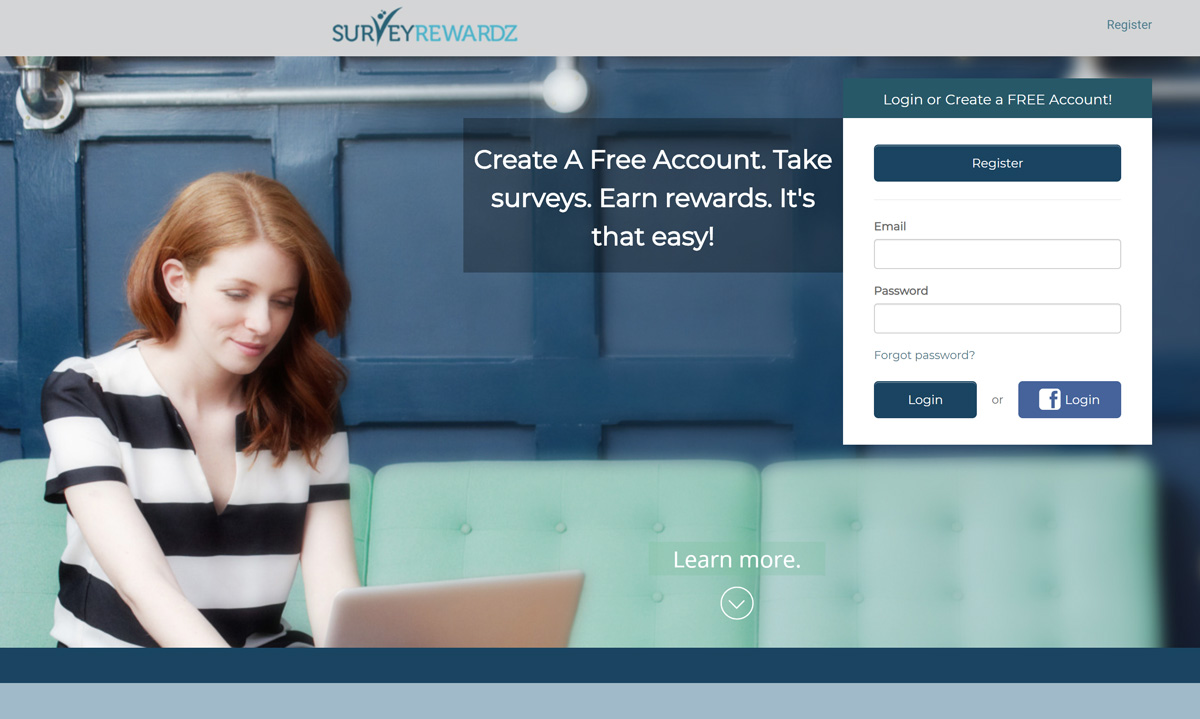 It seems like there's a nonstop flow of survey sites popping up online nowadays, so it can be challenging to keep up with them all.
Need Easy Extra $350+/Month For Free?
And, with so many scams on the web, it's more important than ever to make sure you're doing your research to avoid them.
Survey sites are a good way to earn a little extra cash while sharing your opinions.
If you like lending your opinions to help shape brands and their products, then these sites can definitely let you do that while earning some money and rewards.
One of the many sites that lets you do this is Survey Rewardz, one that people don't talk about much.
So we took it upon ourselves to dig into the site, find out what it offers, and let you know the details so that you can decide if it's for you.
What is SurveyRewardz?
Survey Rewardz is a market research company that's owned by Points2Shop, which is another survey site that you may have heard of already.
A lot of survey sites tend to split off into other companies, so it's not an uncommon thing in this industry.
Survey Rewardz has only been around since 2014 from what I can find, which means it's not very old and could be the reason why you may not have heard about it as much as some of the longer-running sites.
Like most survey sites, you'll use the Survey Rewardz panel to answer surveys and earn some cash after sharing your opinions.
Earning with Survey Rewardz
What makes Survey Rewardz different than the potentially hundreds to thousands of other survey sites on the web?
Honestly, not much.
There's not a ton going on here that will make you feel like you're signed up for something fresh and new, but regardless, you can still earn some cash for your opinions.
Here's how it all works:
Who Can Join?
Survey Rewardz appears to be open to survey takers around the world who are at least 18 years old.
However, there is a stipulation in the Terms of Service that your country must work with PayPal even though there are other payment methods available.
Need Easy Extra Cash?
Pinecone Research, a leading name in online survey panel honesty, absolutely guarantees $3 cash for every survey you complete!
Take advantage of their time limited New Membership drive and register NOW. Join today: 100% free!


But if you can't use PayPal, you won't be eligible to cash out.
Of course, as with most worldwide survey panels, members in specific countries may end up having more opportunities available than those in other countries.
Usually, those in the United States, Canada, Australia, and the United Kingdom tend to have more survey opportunities than other panelists, so their chances to make money are usually a little higher.
This is because the majority of brands target their surveys to countries in which most of their consumers come from so that those answering the questions are more relevant to their businesses.
Still, you're allowed to join from almost any country, so you can always try it out and see what's available to you.
To sign up, just head to the home page and click the Register button to fill out the form with your information.
You'll need to fill out your email address and confirm it, as this will give the site your address to send invitations to for surveys.
You'll also need to fill out a few questions about yourself which help build your demographics that the site will use to match you with surveys.
How to Earn
Survey Rewardz works the same as most other survey sites.
There's no other way to make money here besides surveys and referrals.
When you refer people to the site, you can $3 for each referral, plus another 15% of their earnings once they reach their first $3.
So, it's important to make sure your referrals are staying active on the site to keep earning rewards from them.
Other than that, you'll just take paid surveys to earn your cash.
Like other sites, you'll get invites to your email inbox or on your dashboard alerting you when there's a new survey available to you.
You can pick whatever surveys you want to take and skip the ones you don't.
To begin a survey, you'll need to first qualify by answering several screener questions.
These questions ensure that you're a good fit for the survey you're going to take by asking you questions related to the survey material.
Completing this part makes sure that the companies asking the questions get the best fits for their surveys bases on your interests, location, and any other information that's relevant to the survey.
If you complete the qualifying questions and aren't a match, you won't be able to continue to the paid survey.
Unfortunately, that means you won't end up making any money for that survey and your time answering qualifying questions won't be paid aside for a few cents.
From what I can find out about the qualifying process, some members say that you can sometimes earn a few cents for disqualifying.
However, not all surveys pay you even if you disqualify, so I'm not really sure what makes the difference.
If you do fit the survey, you'll automatically move onto the full thing.
Complete it and you'll soon see your reward show up in your dashboard.
Payments
Most surveys on this site pay somewhere around $0.50 to $1 but could go up to $10 or more depending on how long they are.
Survey Rewardz doesn't offer focus groups or very lengthy surveys like some similar panels do, so you likely won't see any surveys for more than $20 or so.
The longer the survey, usually the more it'll pay.
Surveys that are only a few minutes long won't pay much, and to find one that pays $10, you'll probably need to spend 30 minutes or more answering questions.
Survey Rewardz isn't a surveys no minimum payout panel, but it also doesn't make you wait to achieve some ridiculous amount before you can cash out.
Earn Everything… nearly!
Join Opinion Outpost, one of the few faithful and honest survey panels and earn cash and gift cards for your opinion. Stack your points and redeem them: Simple! No hidden fees and completely free!


Instead, you'll need a minimum of $1 to cash out with PayPal, which really isn't a lot to strive for.
There are some other payment methods available, too, like check, Amazon gift card, and a Visa Rewards gift card, all of which require you to earn a minimum of $5 before cashing out.
According to reports, you can usually expect your PayPal cash and Amazon gift card to arrive within about five business days, while a check can take a few weeks and a Visa Rewards card might take a week or two.
Survey Rewardz Review: Is It Legit or a Scam?
Survey Rewardz may not be the best of the best when it comes to survey sites, but it's also not a scam.
The site does seem to pay – I've seen enough proof of this in online reviews – but it isn't very active as far as survey panels go, so there's not a lot of money here to earn.
Let's take a look at some of the most common praises and complaints from real members of Survey Rewardz so that you can better decide if it's a good opportunity for you:
Pros of Survey Rewardz
The cons of Survey Rewardz seem to outweigh the praise, but there are still a few good things members can agree on about the company.
First, Survey Rewardz offers a few payment methods and each of them has a very low cash out minimum unlike other survey sites that make you wait to earn $20 or more just to get a payment.
No, there aren't a lot of earning opportunities here, but at least Survey Rewardz makes up for it by offering a low minimum so you can get rewarded faster.
Another thing I like is that, reportedly, you can sometimes make a few cents even when you disqualify for a full survey opportunity.
It's not much, but it's better than nothing so you won't have to feel like you wasted all that time without anything to show for it.
Cons of Survey Rewardz
There are, unfortunately, a lot of negative reviews about this company.
A common one I've seen is that the customer support team isn't very helpful.
Some members try to contact a support rep to answer their questions about technical errors or payments they haven't yet received, only to be met with rude or unhelpful responses.
Other complaints focus on the rating system.
Apparently, Survey Rewardz rates you with each survey you take based on the quality of your responses.
Low scores, it seems, can block you from taking any more surveys.
The problem is that a lot of members are saying they have no idea why their ratings drop because nothing really explains the process.
The final issue is one I personally think is a problem: The site has literally no information about the company.
That's kind of a red flag.
If you're a legit company that wants people to sign up, shouldn't you be transparent and add some information to your site that can help people?
There's no FAQ section or About section – nothing that would help people make up their minds about joining.
You can only get more information once you register when that information should be available to everyone.
Final Thoughts
Do I think Survey Rewardz is the best survey site on the web?
No, definitely not.
Is it the worst?
No, probably not, either.
It's kind of stuck in the middle; not great, not terrible, but also not something I'd personally want to invest my time in.
It's free to join, though, so you can always try it out and see what happens.
Be sure to come back here and tell us in the comments how it worked for you!
Related Posts:
Earn Everything… nearly!
Join Ipsos iSay, one of the few Faithful and Honest survey panels and earn prizes, gift cards and donations. Stack your points and redeem them: Simple! No hidden fees and completely free!