Survey Savvy Review – Is It Good Enough to Use?
Updated on: by Amy Kennedy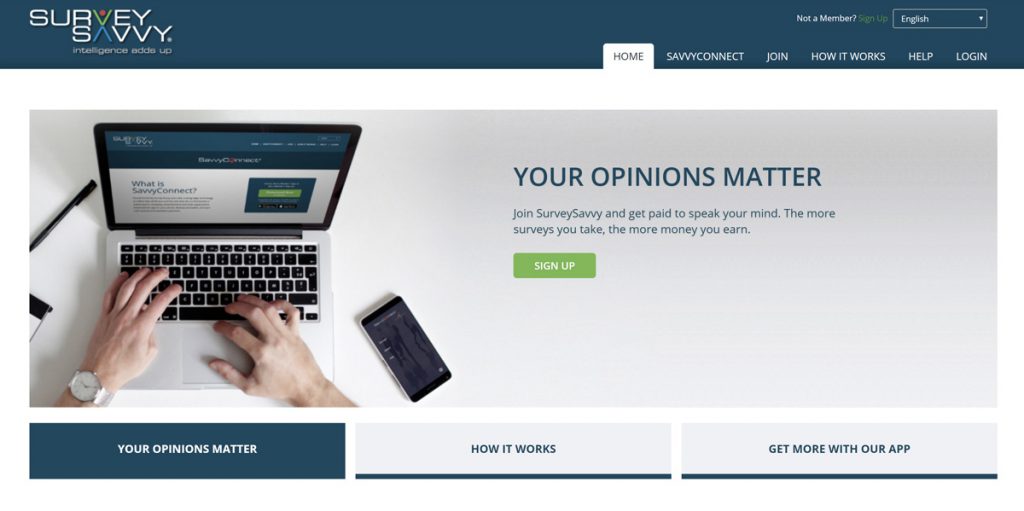 When do you know a company is set to not only BE a success, but also STAY a success? When they keep up with the times and all the technology it gives you to use.
Need Easy Extra $350+/Month For Free?
There's no question that Survey Savvy aims to be this kind of company, as they've kept evolving over the past two decades.
Today the online survey portal has some convenient features for the modern consumer, enabling you to make some money.
But is this one of the survey platforms you should spend your time on? My Survey Savvy review will tell all.
The Concept
The platform is similar to many other survey tools. You're sent invitations to complete surveys, and you're paid a fee for each one you complete.
You earn around $2 for each survey, which is paid out in cash whenever you request it. This is much different than some other survey platforms that have restrictions in terms of:
Minimal payouts: While many other service providers expect you to earn a certain amount before you can cash out, Survey Savvy will pay even if you have as little as $1 in your profile's wallet.
Payment options: The platform only pays in cash, not in vouchers, products or credits for other platforms such as Amazon. This means this is an easy option for people who do complete surveys to supplement their income. For most people cash is best, right?
The only major disadvantage is that you can only be paid by check, not by using your credit card details or even PayPal.  On the other hand, this can be seen as a positive.  No gift cards and only real cash payment.  You have to wait for a posted check, made out in your name.
What is Survey Savvy?
This survey platform has been around since 1999 so you can be sure the company knows the market.
The scale of the project also gives me piece of mind: It's unlikely it will stop its operations anytime soon, so it's worthwhile invest time and energy into it.
Survey Savvy's questionnaires are usually conveniently short, and you get paid $1 – $3 for each one.
You're bound to find platforms with more available surveys than this one, but at least this brand only offers quality options that pay adequately, so you don't feel you waste your time.
The people behind Survey Savvy added more ways to earn cash, such as through their referral program.
You can earn money based on your referrals' actions, but just note that this only starts paying out a few months after they join.
Therefore, it's vital you refer people who will stick to the program.
Convenient Feature—Savvy Connect
The brand stepped up their service provision by recently adding a new option. With apps being all the rage, most consumers don't mind adding another one.
This app will track all your online activities, and you get paid a flat rate per month ($5) for each device you download it to. Survey Savvy uses this as a source of market research.
Need Easy Extra Cash?
Pinecone Research, a leading name in online survey panel honesty, absolutely guarantees $3 cash for every survey you complete!
Take advantage of their time limited New Membership drive and register NOW. Join today: 100% free!


Unfortunately, this app still needs to be perfected. Some users do complain it affects their internet connection quality. There are also some security concerns, so perhaps you should wait until it's improved before engaging with this aspect.
Getting Started
Becoming part of their team of surveyors is easy for anyone 14 years and older. You simply create a profile, produce your details and verify your information via an emailed link.
This brand will send you relevant surveys based on the details you provided. This will increase your chances of being eligible for them.
It is also available in over 200 countries!  Which is quite a lot, most likely if you're reading this you are eligible.
Remember: Based on certain details, the site will determine your eligibility or each survey. This may become clear halfway through the survey, but luckily, with this platform, it's never time wasted.
For each time you don't fit the exact criteria, Survey Savvy will compensate by entering your name into a monthly draw. This could win you another bulk sum to be added to your account.
Pros and Cons
There are many reasons to give this platform a try as it pays reasonably well, you're guaranteed cash, instead of wasting time on other commodities and the interface is mostly user-friendly.
Of course, being paid just for referring the right people is an added bonus.
While making cash is great, it's disappointing how long you have to wait for your payment to arrive.
The payment method is a huge reason I still prefer other platforms to this one, especially when I'm pressed for time or need money fast. This is not a quick cash making solution at all.
Users do sometimes complain that the brand takes exceptionally long in producing payouts, so hopefully, they can improve general administration in due course.
If the brand can improve its security features, I will invite more of my friends to use the SavvyConnect feature too.
I do appreciate the fact that they try and compensate whenever you don't qualify for a certain survey. The monthly draws also help to keep users in a positive mindset which I think is a smart move.
Really the Best?
This isn't my favorite survey platform on the market at the moment.
However, I do recommend you try it if you're looking for more ways to supplement your income and you're already registered on the best survey tools available.
I appreciate that they've kept up to date with technological advances and added an app feature that benefits your income.
Hopefully, they'll work on this, improve it and put our minds at rest that it won't be a security concern any longer.
I do not think this is the best option for beginners, as it doesn't show the extent of what these platforms have to offer.
Other tools have more fun features, so you may get bored here and be of the impressions surveys aren't for you.
Is Survey Savvy Legit or Scam
Apart from its long standing in the industry and high number of users, there's another reason I felt confident trying out this brand.
It has a very impressive score with the BBB (Better Business Bureau), as its parent company Luth LLC carries an A+ rating. Many other decent survey platforms have B ratings, so this is a definite drawcard for many users.
Accreditation with the BBB means it adheres to certain important business expectations, so consumers can feel at ease using these services.
I had no problem cashing out, so this company isn't out to steal your money. The only thing you must be prepared for is waiting a while before you get your money.
Sometimes there is some lag in the process itself and waiting for a check in the post is bothersome.
Getting the Most Out of Survey Savvy
One of the things that's attractive when you compare this platform to some others is how versatile the earning options are.
Firstly, you can earn by filling in surveys, but you can even earn money while not doing this primary task.
Invest some time in sourcing quality referrals (the friends you know will also do many surveys), and after a few months, you'll be earning money based on your direct referrals' activities.
The Savvy Connect app also gives you a chance to earn money simply by surfing the web as you usually do. Because Survey Savvy is connected to a market research company, everything you do online is valuable to them. Just note that they will share information with third party vendors also.
If you don't feel it's an invasion of privacy (some people are more skeptical than others about these features), this is a worthwhile feature to look into.
Earn Everything… nearly!
Join Opinion Outpost, one of the few faithful and honest survey panels and earn cash and gift cards for your opinion. Stack your points and redeem them: Simple! No hidden fees and completely free!


Personally, I feel comfortable sharing information with Survey Savvy, as their privacy policy is up to date (They'll only share what I give consent to) and they have an impressive rating with the BBB. I just hope they update security features of the app soon.
Final Words After a Survey Savvy Review
The answer to the question is 'yes.' You can pursue Survey Savvy with peace of mind, and you're likely to enjoy many of its interesting features. And who doesn't want to get paid for simply surfing the internet, right?
However, if this is an important income source, but you only have limited time available, there are other tools you should consider first. Survey Savvy—even with its Savvy Connect add-on—isn't in my top 5 list yet.
But it IS one I keep a close eye on to see if it improves in terms of security features on SavvyConnect, and hopefully, they implement more payout options soon.
While the brand kept up with many other tech features such as adding an app, the financial aspect of Survey Savvy urgently needs some revision.
This isn't only a matter of convenience—technology provides much more secure payment options which all businesses should invest in if they want to stay relevant to consumers.
Final word: You may want to draw up your list of people to refer so long. You could earn money for doing nothing. Yes, miracles do happen sometimes.
Alternatives to Survey Savvy
Survey Savvy is a good survey platform, but you can also try other platforms such as the following:
Respondent
Respondent is a platform that connects businesses and researchers with qualified participants for market research studies.
Users can create a profile and participate in various research projects such as surveys, interviews, and focus groups.
Compensation for each study varies but can be quite lucrative.
Vindale Research
Vindale Research is a reputable survey panel that offers opportunities for individuals to participate in online surveys and earn money.
Users can share their opinions on a wide range of topics and receive cash payments for completing surveys.
Vindale Research also provides additional earning opportunities through product evaluations and referral bonuses.
YouGov
YouGov is a global online community that conducts market research through surveys and opinion polls.
Users can join the community, share their opinions on various topics, and earn points for completing surveys.
Points can be redeemed for cash, gift cards, or charitable donations.
Toluna
Toluna is a popular survey platform that offers opportunities for individuals to earn rewards by participating in surveys and providing feedback.
Users can accumulate points for completed surveys and redeem them for cash, gift cards, or other rewards.
Toluna also provides a platform for users to engage in polls, discussions, and product testing.
Pinecone Research
Pinecone Research is a highly regarded survey panel that focuses on consumer opinions and product testing.
Members receive survey invitations based on their demographic profile and can earn cash rewards for each completed survey.
Pinecone Research also offers a relatively higher payout compared to some other survey platforms.
Related Posts:
Earn Everything… nearly!
Join Ipsos iSay, one of the few Faithful and Honest survey panels and earn prizes, gift cards and donations. Stack your points and redeem them: Simple! No hidden fees and completely free!