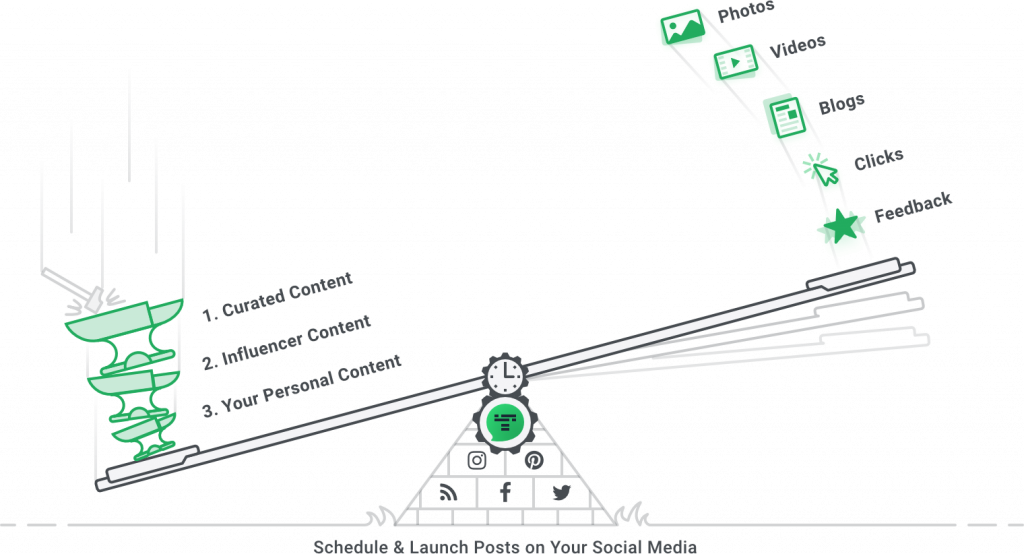 Do you consider yourself an influencer, either with your blog or your social media channels?
Need Easy Extra $350+/Month For Free?
Maybe you're a YouTube content creator or you're killing it in the Instagram world.
Whatever kind of influencer you are, there's probably a way for you to make money.
You might already have some money-making opportunities lines up, like creating sponsored videos or posts or selling ad spaces on your blog for brands you love.
But there's also this thing called the influencer network.
You might have heard of some, or maybe you're already participating in influencer networks.
A long-standing one known as Tomoson is still holding on strong as an active platform where you can find ways to review products or partner with brands to help spread the word about their products on whatever channels you're most active on.
As a long-term member of Tomoson, I know a lot about this platform and I'm sharing everything I know with you so you can decide if it's something you want to invest your time into.
What is Tomoson?
Tomoson is a free platform, or influencer network, that connects influencers to brands who participate in influencer marketing.
If you're not sure what that is, let me explain.
Influencer marketing is basically using influencers – like people with huge blog or social media followings – to advertise a company's products or services.
Influencers sign up for Tomoson and can immediately get started applying to campaigns from companies who need their help getting the word out about their products through blogs or social media.
When you complete the requirements of a campaign, you get paid (as long as a payment is part of the reward; some campaigns are for product only).
Tomoson is one of the first platforms of its kind (in fact, it's the very first one I started with close to 20 years ago!) and it's undergone some changes since its start.
But it's still kind of on the outdated side compared to newer influencer networks popping up on the web.
Tomoson focuses a lot on product reviews with low to mid-value products rather than some of the pricier, fancier influencer campaigns out there today.
Need Easy Extra Cash?

Pinecone Research, a leading name in online survey panel honesty, absolutely guarantees $3 cash for every survey you complete!
Take advantage of their time limited New Membership drive and register NOW. Join today: 100% free!


In fact, it features a lot of products you'd find on Amazon that you'd use every day.
There aren't many sites like Tomoson on the web right now, and the truth is that this site won't be for everyone – hopefully, this review helps you decide if it's for you!
Who Can Join and How to Do It
Pretty much anyone with a blog or social media channels can join Tomoson.
Once you fill out the form to register, you can log in using your email address and password or one of the social media networks that you can connect to Tomoson.
The thing is, if you're not active on your blog or social media channels, or your channels aren't very engaging, then you probably won't get many opportunities.
You can apply for any campaigns that require you to use channels you have (for example, some campaigns will be solely for YouTube creators with 1,000 subscribers, so you can apply for it if you have a YouTube channel with at least that many subscribers).
But you won't automatically get accepted.
The best way to get accepted for campaigns is to make sure your social media accounts are up to date and that your blog has current content and gets updated frequently.
You don't have to have both, by the way.
You can join with just one social media channel, like Facebook, if you choose, but remember that this will reduce the opportunities that are available to you.
How to Get Paid to Review Products with Tomoson
Now, let's get into actually getting paid by Tomoson's clients by completing campaigns!
It might take a bit for you to understand the platform, but once you complete your first couple of campaigns, it'll become easier to navigate.
I suggest spending some time looking at current campaigns before applying to any, just so you can get an idea of what most of them entail.
What You Need to Start
As I mentioned, you need either a blog or some type of social media channel, like Twitter, Instagram, or YouTube, to join Tomoson.
Once you sign up, you should fill out your full profile where you can add details for any blogs or social media accounts you own.
The more you add, the better.
Most Tomoson campaigns require you to share a post or review on more than one channel, so it definitely helps to be active on as many platforms as possible.
As you add your channels, Tomoson's platform will automatically pull in your stats, like how many followers you have, to display on your profile.
Completing Campaigns
To browse through campaigns, hit the Campaigns link on the side of your dashboard.
You'll see all current campaigns to apply for.
You can also check the box at the top to show you only the campaigns that you qualify for based on your connected accounts and their stats.
Look through the Easy Approvals section to find campaigns that don't have many requirements for influencers and, therefore, are easier to get approved for by a client.
These are usually campaigns that require just a short product review on your blog or an Amazon review.
In the Freebies section, you'll find products you might need to pay for up front to receive, but the client will reimburse you for its cost.
The Deals section offers products you can get for deep discounts in exchange for a quick review or social media mention.
Finally, the Paid campaigns section is where you'll look to actually make money on the work you're doing rather than just getting free or discounted products.
These campaigns typically give you a free product to review or mention plus payment for your time.
They'll also require more in-depth stuff, like unboxing the product on YouTube or creating a full review post on your blog, which makes them worth the cash the client pays you.
When you click on a campaign, you'll see some prerequisites you need to meet, like an age range and location.
Earn Everything… nearly!

Join Opinion Outpost, one of the few faithful and honest survey panels and earn cash and gift cards for your opinion. Stack your points and redeem them: Simple! No hidden fees and completely free!


You can also read a description of the product and see what requirements the client has for you to get paid, such as posting a review on your blog and creating a video about the product.
When you apply, you'll be able to request a payment amount within the client's specified budget.
Wait for approval before beginning any work.
The client will review all applications and choose the influencers it feels are the best fit for the job.
Once you get the okay (and receive any products you're supposed to get, if applicable), you can begin working on the project.
Each campaign will have a deadline, so make sure you turn all your post links into the client by that deadline or you'll risk not getting paid and getting a negative review.
After turning in everything for the campaign, wait for the client's approval and get paid!
The Review Process
Tomoson has a review process it goes through whenever you submit a completed link for your campaign, like a link to a Twitter post.
This review process is the first wave of reviews your submissions go through, and basically just helps out the client a little.
It'll check to see if your posts are on the right platform and contain keywords or hashtags the client wants you to use.
If anything is wrong, Tomoson will let you know what you need to do to fix it.
The client will also check over everything and approve your campaigns.
The whole process may take a couple of days and you'll need to wait for it to finish before you can receive any payments.
During the review phase, you can also leave a review for your client and vice versa.
Reviews are helpful for both clients and influencers to know whether the other person is someone they want to work with or not.
Be sure to follow all instructions for each campaign and, if you don't love a product, be honest but also constructive.
Bashing a product completely will likely not lead to a good review, but if you offer some constructive criticism, the client is likely to respond better and leave a positive review.
Getting Paid
When clients pay for a campaign, the money gets put into Tomoson's escrow system until you finish that campaign.
This ensures that you get paid and that the client gets what they're waiting for from the campaign.
Tomoson pays your funds via PayPal.
This includes reimbursements for products you pay for and anything you've earned from paid campaigns.
You can find how much you made in the Bank Account section of your profile.
Funds usually won't take more than a couple of days to hit your PayPal account after everything's approved and your money gets released.
Make sure when you fill out your profile that you add your PayPal account email.
Pros and Cons of Tomoson
As with any influencer network, Tomoson has its perks and its downfalls.
Here are some of the more common praises and complaints I see about Tomoson, right from the influencers who use the platform:
Pro: Campaigns are Relatively Easy to Get Approved For
As long as you have the social media networks necessary for a campaign and a positive rating on Tomoson, you shouldn't have much of an issue getting approved unless your bid is outrageous.
However, some clients will be willing to meet your bid if you have a proven history of excelling on campaigns and a really strong social network.
Tomoson campaigns typically surround products and reviews for them, unlike other influencer networks that require creative storytelling and other requirements for more seasoned influencers, so you don't usually need to go through leaps and bounds to get approved.
When you apply, just make sure you're filling out the required information and giving the client a good reason to choose you.
Pro: Easy PayPal Payments
For those who use PayPal, they know how easy it is to get paid with the platform.
And, it's usually quick.
Tomoson only pays your funds with PayPal, so as long as you have an account set up, you're ready to start making money on the platform.
Con: Only PayPal Payments
The downside of PayPal payments is that there are no other options for people who don't have a PayPal account because they don't want one, prefer to use something else, or PayPal isn't available in their country.
If any of these apply to you, then Tomoson won't be the best platform for you to try.
Con: Crappy Products
I won't lie – I sometimes agree with this one!
Although I've found a decent share of good products I'm actually excited to use on Tomoson, there seems to be way more crappy stuff that isn't really worth your time to review, unless it's just for a quick Amazon post or social media mention.
Some of the stuff I'm talking about that are on Tomoson right now:
Makeup sponges
A bird net
A wired mouse
A coffee mug
Personally, if I see anything under $25, I don't bother applying because it's not worth my time to write anything for that cost value.
But, to each their own!
Tomoson Review: Is It Legit or a Scam?
As a long-time user of Tomoson, I can say that it's 100% legitimate.
I've had a few clients who were unresponsive or never shipped a product I was promised to start the campaign.
But, in those cases, I just didn't do the campaign.
Always, always wait for your products to ship before starting so you don't waste your time for an unresponsive client.
You can always let Tomoson know what happened to resolve the issue.
Other than that, my time here has been easygoing, and I've had several well-paying campaigns.
From what I read about Tomoson in reviews from influencers, they seem to have similar experiences.
Tomoson definitely won't be for you if you're only interested in doing cream-of-the-crop influencer marketing campaigns.
But if you don't mind having some quick, easy campaigns thrown in for some side cash once in a while, it could be a good option for you to check out.
Are you a Tomoson member? Any questions you have about the platform? Leave a comment down below!
Related Posts:
Earn Everything… nearly!

Join Ipsos iSay, one of the few Faithful and Honest survey panels and earn prizes, gift cards and donations. Stack your points and redeem them: Simple! No hidden fees and completely free!