Touchstone Crystal Review: Sell Jewelry for Up to 40% Commission
Updated on: by Amy Kennedy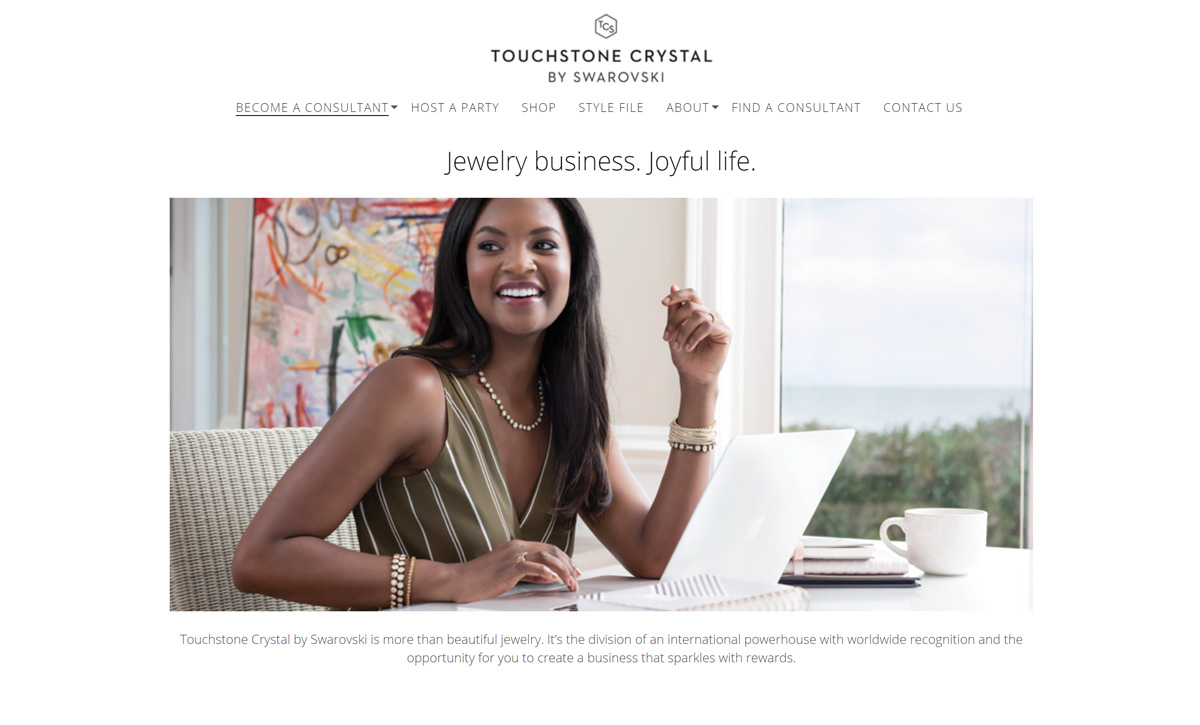 In the world of direct sales businesses, also known as MLMs (multi-level marketing), jewelry is a top contender for products to sell.
Need Easy Extra $350+/Month For Free?
Jewelry is popular, especially with women.
They wear it when they dress up, they wear it when they dress down – there's almost always an occasion to wear a necklace, bracelet, or some rings, and many women wear earrings every day.
So, it makes sense that jewelry is a popular product to sell, especially because there's probably some good profit to be made on most pieces.
One of the more popular jewelry companies is Paparazzi Accessories, which specializes in $5 jewelry.
It's a unique business model – and a really smart one – that targets people who love jewelry but may not have the budget for higher-priced pieces.
The problem for consultants, though, is that there's not a big profit margin on those pieces because they sell for so little.
The one we're going to talk about today, though, is Touchstone Crystal, a jewelry company that specializes in beautiful jewelry that sits at a higher price point.
That means more money for you when you sell them (but, depending on the budget of your customers, they could be a tough sell!).
If you're thinking about starting your own business selling jewelry, then I invite you to read our Touchstone Crystal review to see if it could be the right opportunity for you.
What is Touchstone Crystal?
Touchstone Crystal is a company by Swarovski – yes, the same company that's known for its crystals and jewelry.
Swarovski has been in business for more than 100 years and it's still going strong despite the hefty price tags it has on many of its products.
Touchstone Crystal gives people a way to become a part of the business by helping sell its products, like earrings, rings, and bracelets, by becoming a consultant.
Consultants get to host parties to sell products, get discounts on Touchstone Crystal products for themselves, and earn money on everything they sell, similar to just about any direct sales business.
Kinds of Touchstone Jewelry
Touchstone Crystal has an online catalog you can browse to see just what kind of jewelry it offers.
Currently, Touchstone Crystal has:
Need Easy Extra Cash?
Pinecone Research, a leading name in online survey panel honesty, absolutely guarantees $3 cash for every survey you complete!
Take advantage of their time limited New Membership drive and register NOW. Join today: 100% free!


Earrings
Bracelets
Rings
Necklaces
Budget items (under $50)
Zirconia jewelry
Accessories for jewelry, like necklace extension chains, necklace converters, and bracelet extenders
The online catalog is also organized into jewelry style, like bridal, colors, and office-friendly, to help you find exactly what you need (or help your customers go in the right direction to find what they're looking for).
Touchstone Crystal's Charitable Work
Something that sets Touchstone Crystal apart from a lot of other similar sales companies is its charitable work for people, the environment, and more.
First, Touchstone Crystal helps support the American Cancer Society's Making Strides Against Breast Cancer effort with a few pieces it designed especially for the initiative.
Purchasing those pieces helps bring awareness to the cause, and you can even choose to add a donation amount to your purchase between $1 and $5 to go directly to the American Cancer Society.
As a consultant hosting a party, you could put the focus solely on those pieces to help raise money for this important cause.
Swarovski itself has also been involved with several other do-good projects, like creating ethical business practices, hiring enough women to make up more than 70% of the company, and reducing its carbon footprint through responsible manufacturing and creating sustainable stores.
The Touchstone Crystal Consultant Career
You can join the company online if you're interested in becoming a consultant.
Just head to the Become a Consultant area and click Enroll Now.
You can fill out a form, get your login information, and choose a starter kit to get your business up and running.
If you don't have a consultant already, then you can contact Touchstone Crystal to find a sponsor in your area before signing up (this is a necessary step, since this company is essentially an MLM).
Here's all the information you need to know about becoming a consultant with Touchstone Crystal:
Starter Kits
Touchstone Crystal has two starter kits you can choose from, which will give you what you need to get started selling and hosting parties.
The first one is $139 and is marketed as a limited-time kit, although it seems like the company has one at this price point almost all the time.
This one comes with some jewelry from the upcoming season's collection, some business tools, and marketing materials.
Or, choose the enhanced kit for $299, which comes with a pack of catalogs, preview books, host brochures, order forms, a bridal brochure, a sparkle brochure, a ring sizer, some other marketing and selling materials, and more jewelry samples.
With either kit, you can choose to also pay $12 monthly to get a website set up to sell jewelry to your customers.
It's great that this is an option, but it's just a very basic website that looks similar to the Touchstone Jewelry site.
You can't blog, add pages, or do anything else that you would with a regular website because you don't get much control over it.
However, the extra cost each month might be worth it to you just for the convenience it brings to your customers instead of having them fill out paper order forms.
Compensation Plan
If there's one thing I dislike about MLMs, it's trying to figure out their ridiculously confusing compensation plans!
Instead of having a simple "you get this much commission on everything you sell," your commissions are all tiered, vary with products, etc.
Touchstone Crystal's seems a little less complicated than others, thankfully.
Basically, you can earn between 25 and 40% commissions on everything you sell, depending on what your seller status is.
With this company, you can apparently become a Leader by having as little as a three-person team, which will get you more in commissions.
Plus, you'll get another 9% commissions from everything your downline sells.
The company claims that most people make an average of about $225 from one party, which means that you could end up getting some, or all, of your starter kit costs back from your first party, depending on what starter kit you bought.
Incentives and Bonuses
Touchstone Crystal offers other ways to get paid or earn awesome bonuses by performing well.
For example, some consultants can win Swarovski products to keep for themselves and others can get up to a 70% discount on products.
Touchstone Crystal also rewards its very top sellers with stuff like vacations and cars each year.
Earn Everything… nearly!
Join Opinion Outpost, one of the few faithful and honest survey panels and earn cash and gift cards for your opinion. Stack your points and redeem them: Simple! No hidden fees and completely free!


Some of the incentives are monthly, though, so you can always work toward earning your way to some free stuff or special discounts.
How You'll Work
The main way that Touchstone Crystal promotes selling its items is through home parties, probably because jewelry is one of those things that people like to see in person before they buy.
You could go door-to-door, take orders over your social media channels, or pay $12 every month for a website and sell that way.
But the company heavily promotes home parties, so it's pretty clear that this is how they prefer you sell their jewelry.
During parties, you can show off some of your pieces, explain how ordering works, size fingers, and try to convince others to start selling with you on your team.
There are a lot of perks of home parties for this particular company, but this type of selling isn't for everyone.
You need to have plenty of people who are interested in joining your parties and inviting along their friends, and you need to feel comfortable selling face-to-face to really make your parties a success.
Remember that this is a multi-level marketing company, so you'll also need to find ways to get people to join your team if you want to take full advantage of the compensation plan.
You get 9% of everything your team members sell.
So, say you have 3 team members.
Team member 1 sells $125, team member 2 sells $320, and team member 3 sells $75 from their first home parties.
You'll make $11.25 from team member 1, $28.80 from team member 2, and $6.75 from team member 3.
That's a total of $46.80 for doing absolutely nothing – they're the ones who had the parties and had to put in all the work.
As your team grows and their selling skills grow, you can continue to make more and more passive income just from having your team on board.
While a good portion of this opportunity is about selling jewelry, it's equally as important to get new people interested in joining your team to really make the most of it.
What Do Others Think of Touchstone Crystal?
Look on the Touchstone Crystal website and browse for a while and you'll notice that the jewelry is really beautiful.
It looks like such an easy sell, right?
It could be, if you happen to have a bunch of people you know who can afford to buy jewelry frequently.
The truth is, that's usually not the case.
I read through several reviews from actual consultants with this company, past and current, to see what they thought of the business model and products.
While there were absolutely no complaints of the products themselves, it's clear that their prices tend to turn some people away, which can be a real bummer for consultants trying to sell them.
Here are a few of the cons I've found with Touchstone Crystal:
Expensive Products
First, the cost.
These pieces of jewelry aren't necessarily ridiculously high.
But think about it: People who want to spend a lot on jewelry aren't going to do it through an MLM consultant, most likely, unless they want to help out a friend or family member.
The prices of these pieces are what you'd find in a mid-range jewelry store.
From what I've ready, they definitely are worth the cost.
But the truth is that people who buy from MLMs aren't usually looking for super high price points.
They're looking for a mix of value, convenience, and helping out a friend.
Unfortunately, Touchstone Crystal jewelry might just be a little too pricey for consultants to sell easily, which can make it tough to earn a decent income with the company.
Jewelry Can Be a Tough Sell
Jewelry isn't something people need all the time, so the chances of your customers coming back each month or every other month to get more from you are slim to none.
Most of them might go several months, or even a year, without buying more.
That means that you'll need to keep prospecting for new customers to sell to.
When it comes to MLMs, so many people are wary of them that it's difficult enough to find just a few starter customers, let alone new customers every month.
But if you want to keep making consistent income, you're going to need to keep being on the lookout for people who want to buy some jewelry and attend your parties.
According to several consultants, this has been a significant challenge for them.
Bad Business Model
Touchstone Crystal is all about hosting parties, which is common for a jewelry, clothing, or accessories MLM.
However, the party model is really outdated.
It's literally what my mom and her friends did back in the 80s and 90s when they hosted Tupperware parties.
We're now almost into the 2020s, and the internet is where it's at for selling.
The company does give you the option of having a website, but you need to spend $12 a month on it – and it's just a very basic site without the option of adding landing pages, blogging, etc., to pull in online customers.
Honestly, it's just not a very sustainable business model and probably won't allow you much growth.
Other Alternatives for Direct Sales Agents
Stella & Dot is a direct sales company that specializes in jewelry, accessories, and clothing.
The company was designed to create flexible entrepreneurial opportunities for women, with products being sold primarily through in-home Trunk Shows by Independent Stylists.
It offers an attractive platform for individuals who are passionate about fashion and styling.
Consultants can earn income from personal sales and additional commissions from their team.
Paparazzi Accessories is known for offering affordable, trendy jewelry at a flat rate of $5 per piece.
It operates through a direct sales model, allowing consultants to buy jewelry at a discounted price and then sell to customers at a retail price, making a profit on each sale.
The company is built on the principle of empowering women to start their own businesses through easy, affordable opportunities.
Avon is one of the oldest and most well-known direct sales companies.
Founded in the late 19th century, Avon specializes in beauty products including cosmetics, skincare, and perfumes, but it also offers fashion and home goods.
Avon Representatives earn money by selling these products directly to customers, and they can also recruit other representatives to earn additional income.
The company offers a flexible earning opportunity with a wide range of products.
Tupperware is famous for its food storage, preparation, and serving products.
The company uses a direct sales model, with consultants hosting parties (both in-person and virtual) to demonstrate and sell products.
Tupperware consultants earn money from each sale and can also recruit others to sell products, for which they earn additional commission.
It's an excellent choice for individuals passionate about cooking, meal prep, and organization.
Mary Kay is a direct sales company specializing in skincare and cosmetic products.
Mary Kay Consultants earn money by selling these products directly to the end consumer.
They also have the option to recruit other consultants and earn commissions from their sales.
Mary Kay offers an attractive platform for individuals interested in beauty and skincare.
It has a reputation for high-quality products and offers comprehensive training for its consultants.
Touchstone Crystal Review: Is It Legit or a Scam Company?
I'm confident in saying that Touchstone Crystal is a legitimate direct sales company.
Some consultants absolutely love it and find success with it, while others just don't have much luck.
This holds true for any MLM, though.
You get what you put into it, and for some, even what you put into it doesn't give you what you deserve.
Direct selling isn't for everyone, and selling jewelry certainly comes with its challenges, no matter how incredible the products are.
For a minimum of $139 to start, this may be a company you'll really need to think long and hard about whether it's the right one for you before jumping in.
Touchstone Crystal consultants, past or present – Let us know what you think of your business in the comments below! We'd love to hear your thoughts and experiences.
Related Posts:
Earn Everything… nearly!
Join Ipsos iSay, one of the few Faithful and Honest survey panels and earn prizes, gift cards and donations. Stack your points and redeem them: Simple! No hidden fees and completely free!