Transcribe Anywhere – Learn More About Transcription Skills
Updated on: by Amy Kennedy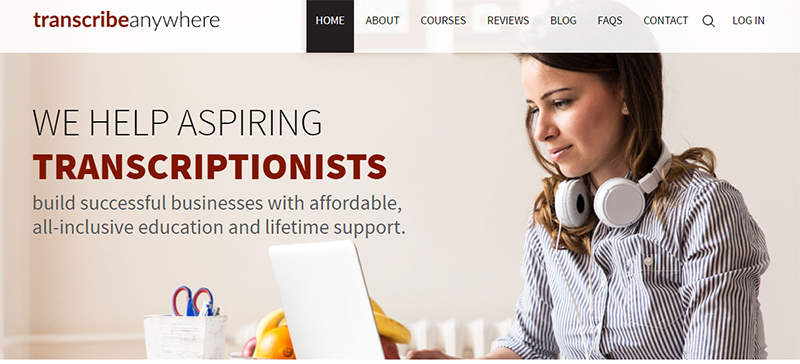 Unfortunately, you might have noticed that lots of transcription websites are really selective.
Need Easy Extra $350+/Month For Free?
They want people who actually know what they are doing.
So, where can you go to work on your transcription skills so you can get into some of the stronger and more appealing projects out there?
There's a place that you can work at if you're looking to get your skills to improve.
This place is called Transcribe Anywhere and it is a website that will help you learn to build your skills.
It offers courses on basic and legal transcription tasks.
Each course is detailed and will help you know all the ins and outs of working with transcription plans.
You're definitely going to benefit from all that hard work that you will put into studying here.
More importantly, this will help you understand all about what you can do if you're going to succeed.
I bet you'll feel a whole lot more confident in your skills after you complete some studies here.
About Transcribe Anywhere
Transcribe Anywhere is a website that helps you work on building only the best possible transcription skills.
It was formed nearly a decade ago by a transcriptionist who had her own transcription service company.
She built the place as a means of educating people in the hopes that they could work for her.
You could work for people like her if you are a great transcriptionist.
That's just what this site is all about. With Transcribe Anywhere, you will learn more about what you can do to be a better transcriptionist.
You can always post the studying you did here on a resume listing your skills to someone who you can work for.
Need Easy Extra Cash?
Pinecone Research, a leading name in online survey panel honesty, absolutely guarantees $3 cash for every survey you complete!
Take advantage of their time limited New Membership drive and register NOW. Join today: 100% free!


When paired with info on your skills and experiences with various bits of subject matter, you could easily get a great job with someone.
Best of all, you won't be worried when taking a test or completing a regular task because you actually know what you're supposed to be doing while on the job.
How to Apply
To apply, just go to the Transcribe Anywhere website and go to the enrollment page.
You'll have to take the mini-course on whatever subject you are interested in first.
They ask people to take this course simply so they can show that they are invested in the subject matter and that they want to learn more about how to complete certain tasks.
I bet you would certainly be more interested in transcription once you take one of those mini-courses as they really make the task at hand inviting.
What Will You Learn?
The things that you will learn while with Transcribe Anywhere are rather varied.
The place has two particular courses.
Each has its own mini-course that you will have to take for free beforehand.
First, there is a general transcription course.
It includes information from experts who will help you understand how to complete various jobs and how to find the right transcription equipment.
You'll learn about how to build upon your skills with time coding, text expanders and more.
They even have seven different transcription exercises of varying difficulty levels so you can figure out how well you're getting your work done.
Are you thinking about this?
If so then you can take part in a free mini-course that helps you understand the ins and outs of transcription.
This includes knowing how you will handle media files, use time codes and a certain style for work.
You can use this course to figure out if this line of work is right for you.
The second transcription course is about legal transcription.
It's really detailed as it offers fourteen modules.
You'll learn about how to work with proper templates and how to understand certain legal forms and documents.
The style guide is pretty well detailed.
There's a module here about using Microsoft Word.
There's another on understanding court procedures and even more modules on specific stuff like depositions, law enforcement reports and much more.
I really like how the court is so detailed in terms of what it teaches you.
There's also a free four-day course dedicated to legal transcription.
It offers lessons sent to you by email each day for four days.
These are all about how legal transcription works and what you can get out of a job in the field.
I know that it sounds odd that they would stretch all that stuff out to four days but at least they are specific and detailed.
They will encourage you to take a look at the full legal transcription course.
Earn Everything… nearly!
Join Opinion Outpost, one of the few faithful and honest survey panels and earn cash and gift cards for your opinion. Stack your points and redeem them: Simple! No hidden fees and completely free!


Lots of Helpful Resources
The courses include plenty of great resources to give you more control over how well you are learning new stuff.
You'll get plenty of quizzes and worksheets, video presentations, screencast demonstrations and more.
The various things that come with each course give you a clear idea of how well you can handle transcription projects.
The fact that all those transcription tests are varied in difficult especially works as they give you an idea of what to expect.
Three Key Levels
There are three levels of study that you can complete.
The first is about learning new skills.
The second is for practicing those skills.
The third is about building upon your skills and marketing them to other people.
Every level helps you know more about how to be a better transcriptionist and the specific skills you need to be successful.
What Does It Cost?
While you could make lots of money working on transcription jobs thanks to those skills you build with Transcribe Anywhere, you will have to spend money learning those skills too.
It's not like Transcribe Anywhere can just dole those details out for free.
It costs around $600 to $700 to get into either of the three-part courses.
You can also spend about $1,100 to get into both the general and legal courses.
You can also order each part individually but it is best that you stick with all three parts just to be safe.
Conclusion
I was very impressed at how well Transcribe Anywhere offers such much info in terms of what you can do for your transcription work.
I think you will definitely learn lots of good stuff off of the site.
It should be worth every penny when you consider how indispensable the information offered can be.
Apply to Transcribe Anywhere Here
Related Posts:
Earn Everything… nearly!
Join Ipsos iSay, one of the few Faithful and Honest survey panels and earn prizes, gift cards and donations. Stack your points and redeem them: Simple! No hidden fees and completely free!