How Much Can I Make Taking Surveys with Univox Community?
Updated on: by Amy Kennedy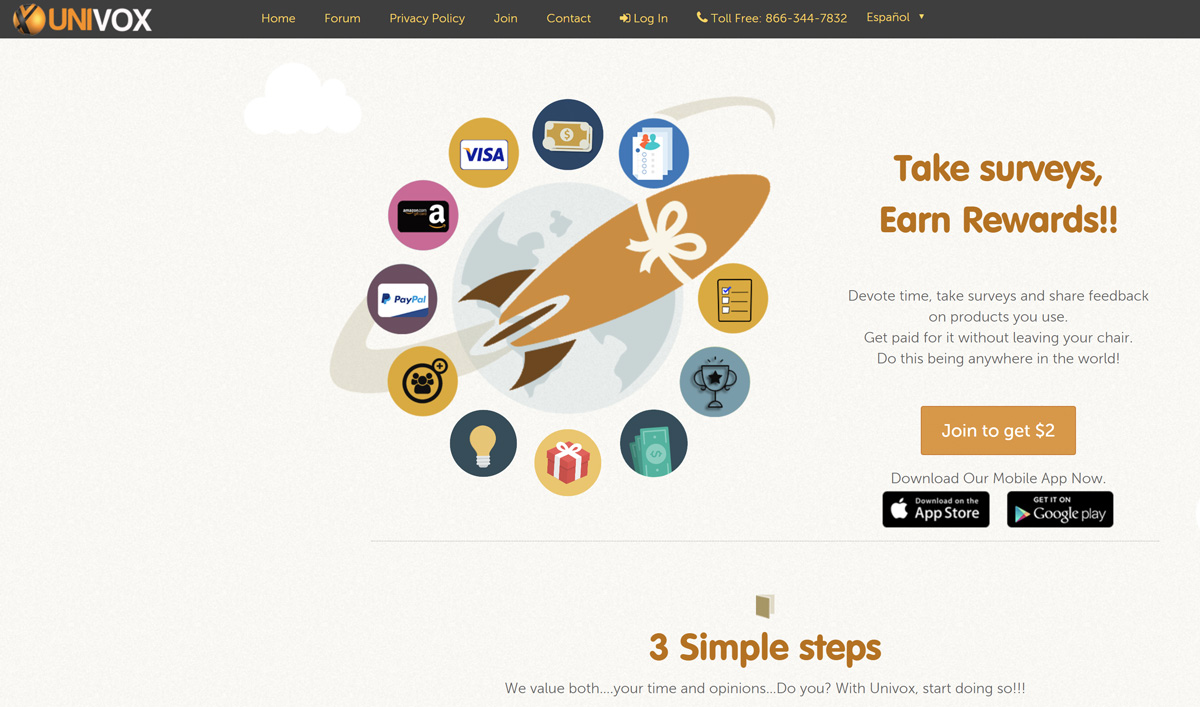 I'm all for making some easy money online (who isn't, right?).
Need Easy Extra $350+/Month For Free?
Taking online surveys is one of the ways I personally enjoy doing this, but only when I'm using my favorite sites that I feel pay me decently for my time.
Let's face it – some online surveys take a while to complete.
They're not all quick 5-minute surveys that pay $10 like some people would like you to believe.
Some of them can take 30 minutes or more and may only pay $5, or even less.
So, I'm very picky about the survey communities I join.
You should be too!
You're sharing your opinions and helping companies shape their products and services, after all.
That's huge.
You should want to get paid fairly for doing so.
That's why it's important that I review some of the lesser-known survey panels out there, to help you decide whether it's worth your time or just a waste of time.
This review is for Univox Community, a site that's strictly for online surveys rather than giving you rewards for a bunch of other tasks too.
If you're interested in joining another panel and want to learn how this one works, then this review will have all the information you need.
What is Univox Community?
Univox Community is an online survey site that rewards members for signing up and participating in its surveys.
The site comes from Market Cube, a market research company that helps businesses learn more about consumers like you, like what you like to do, where how shop, and what you buy when you shop.
The information you give Univox Community in surveys goes to its clients to help them shape their products, services, marketing campaigns, and other things that affect their business.
Need Easy Extra Cash?
Pinecone Research, a leading name in online survey panel honesty, absolutely guarantees $3 cash for every survey you complete!
Take advantage of their time limited New Membership drive and register NOW. Join today: 100% free!


Because you take your time to answer surveys, Univox Community pays you in return.
You'll get paid for each survey you complete, as well as referring your friends and winning contests.
The more you stay active here, the more chances you'll have to earn.
Who Can Join and How Can I Sign Up?
Interestingly, I can't find a FAQ page on the Univox Community website to answer the simple question of who is eligible to join.
Instead, I had to find this information by comparing other notes on the web.
It appears that people from any country are eligible to join, but you must be at least 18 years old.
However, like most survey sites, some countries may never get survey opportunities, or they may come few and far between.
A lot of market research is geared toward countries like the United States, United Kingdom, and Canada, so people in those countries will probably get the majority of survey invites.
If you want to utilize PayPal as a payment option, you'll also need to make sure that your country allows you to sign up for a PayPal account.
To join Univox Community, you can head to the home page and click the Join button at the top of the page.
Fill out the quick form with your information.
You'll need to confirm your email address by clicking the link in the email Univox automatically sends you, and then you should be able to login with the information you filled out in the form.
The site will then prompt you to complete your first survey, which is a questionnaire about you that it'll use to match you with future surveys based on your demographics.
Once you complete the whole sign-up process, you should get a $2 credit in your account.
Taking Univox Surveys
You'll get Univox Community survey invites to your email inbox, so make sure you sign up with an email address that you have access to and check frequently.
Like almost any survey panel online, Univox Community requires you to qualify for the survey by answering a few questions to see if you're a good fit.
The qualifiers should only take a few minutes.
If you are a fit, you'll automatically move onto the full survey.
If not, Univox will remove you from the questionnaire.
Fortunately, you still get paid a few points for your time completing the qualifying questions, unlike other survey panels that don't give you anything for those minutes you spend answering them.
Your survey payment varies with the length and complexity of each survey.
Some may pay 100 points ($1) if they're short, while others could award 500 points ($5) or more for your time.
When you receive an invite, you'll see approximately how long the survey will take and how much you can earn.
I browsed through the Univox Community forums and it seems that there are a decent number of surveys available for active members each month.
Some say they usually get to complete about 10 while others get 20 and up – either of which is much better than the 1 or 2 some other panels offer.
Referrals
From what I can tell from my research, you can earn 100 points for completed surveys that referrals take.
Some people also mention that you can get 10 points if they attempt to complete a survey, too, but don't make it past the qualifying questions to move onto the full survey.
If you have a lot of referrals who stay active in the Univox Community, they could definitely help you bump up your earnings.
Loyalty Program
Univox Community has different levels for members as a way to reward you for being active and participating in surveys.
Earn Everything… nearly!
Join Opinion Outpost, one of the few faithful and honest survey panels and earn cash and gift cards for your opinion. Stack your points and redeem them: Simple! No hidden fees and completely free!


Basic is the one everyone starts at and this is just a basic membership where your reward can take up to a week to process.
The next level is Verified, which gives you 72-hour reward redemption, live chat support, and a minimum cashout of $15 instead of $25.
Premium lets you get your reward in 48 hours and gives you other perks like premium survey invites and a higher win probability in random contests the site has for members.
Ambassador is the highest level you can reach.
You'll get 24-hour redemptions, the perks of the other levels, plus surprise rewards and a dedicated CRM.
Getting Rewarded for Your Time
Univox currently rewards you with points for every survey you complete.
100 points equals $1 and you need 2500 points ($25 equivalent) to cash out for any of the reward options (unless you've reached a higher level).
Univox Community has four reward options:
PayPal cash, which will go directly to your PayPal account once it's approved.
Virtual MasterCard, which will be mailed to your address on file. These cards work just like a debit card by taking the money used to pay for your purchase directly from your balance.
Amazon gift card, which gets delivered electronically.
Tango gift card, which also gets delivered electronically and can be used to exchange for any other gift card in the Tango marketplace you choose.
Univox Community Forums
Univox Community gets its "Community" title because it actually is an online community in addition to a survey taking platform.
Any member can post or reply in the Univox forums.
Even if you're not a member, you can read through the threads to learn more about the site and how it works.
In fact, I did just that to get a better idea of everything on Univox since I couldn't find an FAQ page on the site.
There's a lot of helpful information in here from members who are willing to help out others, so it's a good idea to check here first if you have any questions rather than contact support (I hear it could take a while to receive a response from the support team!).
It's also a good way to learn some tips and tricks for earning more on the platform.
There's also regular threads for chit-chat, so if you're interested in just getting to know some other people online, you can do that here too.
Univox Community Review: Is It Legit or a Scam?
Based on my research, I'd say Univox Community is legit.
There are plenty of members who post on the forums about getting paid, not having issues getting points for their surveys or referrals, etc., which is an excellent sign.
With that being said, there are some iffy things about Univox Community that I want to make you aware of, so you can better decide if it's a place you want to spend your time.
Fewer Surveys for Higher Levels?
I've seen a couple of threads in the forums from members who mention that it seems like their survey invites have dwindled since moving up in the loyalty ranks.
One Ambassador, for example, claims that they used to get several survey invites each day and week, but since becoming an Ambassador, that number has been zero on some days.
Another member insists that, since gaining a level, they no longer receive any surveys when they used to get several.
I assume that market research companies have to pay more to bring their surveys to higher-level members, so that definitely could affect your opportunities.
If they're looking for a bargain, they're going to stick to Basic members, especially if there's no incentive in it for them.
So, it seems like the level rewards may not really be rewards at all for some.
Chain Surveys
Another complaint is that some of the surveys continuously link to other surveys after members get disqualified instead of routing members back to Univox to try their hand at taking another one.
Yes, they get credited for disqualifying, but it can be annoying to be in an endless loop of surveys.
Hopefully, this is just a glitch, but a lot of members seem to be having the issue and I haven't seen anything about it getting resolved.
Support Isn't Very Supportive
I assume that part of the reason Univox Community has its forums is so that members can help each other out rather than leaning on support all the time.
However, there are just some issues that need the help of a support team.
From what I've read, the Univox support team isn't the most helpful.
It can take days or weeks for someone to get back to you about your issue, while some members never hear a response.
I also don't love that Basic members don't even get access to live chat support (that's a feature saved for Verified and higher levels.
That's something I personally feel should be available to every member.
Better Survey Sites than Univox Community
While Univox Community is a legitimate survey site, the following are better options:
Prolific is a UK-based online survey platform used by researchers from universities around the world.
The surveys typically involve academic research, which can make them more interesting than standard market research surveys.
The site has a reputation for providing fair compensation for the time spent on surveys.
YouGov is a global research data and analytics group that provides a variety of surveys on topics like politics, public affairs, products, brands, and other areas of interest.
YouGov's surveys are often used in news media, public affairs, advertising, and even academic studies, giving participants a chance to influence discussions on a broad scale.
MTurk, operated by Amazon, offers a wide variety of tasks, including surveys, data validation, and research.
Users can select the tasks they want to complete, providing more flexibility than some other platforms.
However, it's worth noting that the pay for individual tasks can be quite low.
Toluna offers users the opportunity to influence the products and services of tomorrow by participating in surveys today.
They offer a variety of surveys and also have a community where users can interact and create their own content for others to respond to.
SurveySavvy is an online survey platform where users can earn money for each survey they complete.
They've been around since 1999 and have a good reputation in the online survey space.
In addition to standard surveys, they also offer opportunities to participate in longer-term projects and product testing for additional compensation.
Conclusion
Univox Community is a legitimate survey site, but it isn't the highest paying or the most reliable.
Still, it does offer some side income for people who enjoy taking surveys when they have a little time to spare.
Are you, or have you been, a member of Univox Community?
We'd love to see what you think! Leave us a comment below.
Related Posts:
Earn Everything… nearly!
Join Ipsos iSay, one of the few Faithful and Honest survey panels and earn prizes, gift cards and donations. Stack your points and redeem them: Simple! No hidden fees and completely free!