Validately Review: Get Paid $10 or More to Test Websites
Updated on: by Amy Kennedy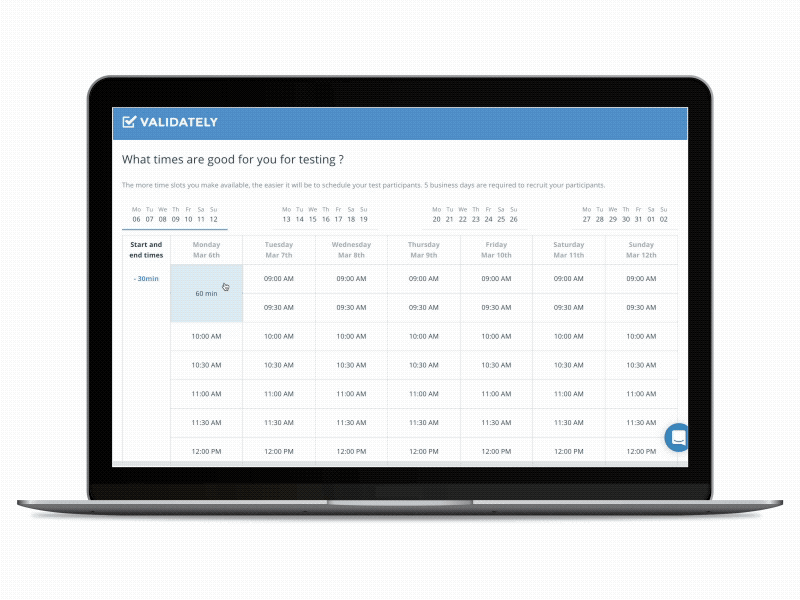 Getting paid on the web is only a matter of finding an opportunity that interests you.
There are so many options, from taking paid surveys to freelancing to clicking on ads.
But in order to make your side gig work, you need to have a vested interest in it and at least find it somewhat entertaining, right?
That's why a lot of people are trying the route of testing websites for cash.
That's right – you can visit sites on the web, give your feedback just like you'd leave a product review on stuff you purchase, and get paid for your time.
There are several companies that offer this type of paid testing, but the one we're going to talk about today is Validately.
What is Validately?
Validately lets you get paid to review websites.
More specifically, it's a market research company focused on website usability and the overall user experience for website visitors.
In other words, it helps companies and individuals learn what website visitors think of their sites in terms of design, navigation, features, helpful information, and more.
Validately started in 2013, which is around the time that several other similar companies popped up on the web.
Since then, it's been taken over by UserZoom, one of those companies that also offers usability testing.
But it's still operating under its own name for now and has a separate website where clients and paid testers can sign up.
Making Money with Validately
When you sign up for Validately, you'll become a paid tester who gets to review websites.
Instead of scrolling through the site to find what you need to know before signing up, we did the research for you and brought it all right here.
How to Become a Validately Tester
Validately testers must be at least 18 years old.
It appears that you can sign up from any country as long as you can speak and read fluently in English.
Validately testers can sign up for free on the website by filling out a quick form.
You'll need to confirm your email address by clicking on the link the company sends in an email after registering.
After this, you'll need to complete a test assignment for Validately.
This is standard procedure for these types of sites to see if you can follow their testing guidelines and all instructions provided to you.
If you make it through the test with a passing grade, you'll be eligible to start receiving invitation emails that invite you to usability tests as they come along.
In these emails, you'll be able to see an outline of the test and how much you'll get paid so you can decide if you want to do it or not.
Before you begin working with Validately, you'll need to make sure you have a working webcam and microphone to use during your tests.
You also need a PC or laptop that runs Windows 10 and has Google Chrome installed.
Validately also requires its testers to have a compatible iPhone or Android phone because it occasionally offers app tests, too.
Finally, you need a PayPal account to get paid, so if your country doesn't support PayPal, you won't be able to work with Validately.
What You'll Do
When you have a match for a test, you can click on the link in your email to get more detailed instructions and accept the assignment.
Validately says that there are tests available daily, but you may not see them that frequently because you won't always be a good match for a test.
Before taking a test, make sure you test all your equipment out to ensure that it's all working properly.
If not, you won't be able to get paid for your test.
You'll get a set of instructions that you'll need to follow for each website test.
These instructions outline any tasks you need to do while on the site, like clicking on specific links, scrolling, or adding something to a cart to see if everything works.
As you take a test, you need to speak your thoughts out loud because this is what owners of the sites will use as feedback to improve.
So, say anything you're thinking during the test, like what you think works well or anything that gave you issues.
Some tests may also have specific questions for you to answer, so make sure you jot them down and answer them during the test.
Once you're done with the test, there will be some follow-up questions for you to answer based on your experience with that site.
Make sure you complete these, too, or you'll risk not getting paid for the test!
Some of these tests are on the shorter side, around 5 minutes or so, but most of them will be in the 10 to 15-minute range.
Whatever you do, just be sure to answer each question and follow each step thoroughly to get credit for your test.
What You'll Need
If you were interested in becoming a tester for Validately (now integrated with UserTesting), the primary requirements generally included:
Internet connection: You need a stable internet connection to participate in the tests.
Devices: Most tests are performed on digital devices, like a computer, tablet, or smartphone.
English proficiency: Since many of the companies using these platforms are based in English-speaking countries, English proficiency is often required.
Good communication: You're expected to express your thoughts and reactions clearly while interacting with the product.
Honesty: The most important thing is to provide honest feedback. Your opinions help companies improve their products.
Basic Technical Knowledge: You should know how to operate your device and the internet, including screen sharing and video conferencing tools.
Validately Pay
Test payments can vary depending on how in-depth they are and how long they're expected to take.
On average, you can expect each 10 to 15-minute test to pay a minimum of $10.
However, longer tests or very technical tests can pay more.
When you complete your trial test, also known as a moderated test, you'll receive $25 because these tests are a little more involved with others.
You'll need to do them with a live video and share your screen with a moderator to make sure you're following all instructions, so you'll get paid a little more to complete it.
Every test pays with PayPal, so you must make sure you have your PayPal email address added to your account before you start working.
As long as your test is completed according to requirements, you'll receive your payment within seven business days.
You won't have to wait until you meet a minimum cash out requirement; Validately pays you for each test as you complete it, so money won't ever get held in your account.
Validately Review: Is It Legit or a Scam?
Validately is a legitimate way to earn some cash online by giving your feedback on websites.
And, since getting taken over by UserZoom, it's expected to go through some positive changes that can make everything more streamlined and even easier to use than before.
But with each of these kinds of sites comes some pros and cons.
To help you make up your mind about whether you think you should join or not and try it out for yourself, I've researched some of the most common praises and complaints about Validately:
Validately Positives
A major pro about using Validately is that it does pay on time.
I've seen several reports that testers do, in fact, receive their payments within seven business days after completing a test successfully.
Sometimes, they even get paid earlier than that.
Another positive is that the pay is pretty good for the time it takes to take a test.
Validately says that, at minimum, it pays $10 for a 10-15 minute test.
So, if you were lucky enough to get enough tests to fill up an hour, you could make between $40 to $60 in that hour.
That's not likely to happen, but at least it gives you an idea of how much you could make on the site.
Validately Negatives
One common complaint about Validately is that customer service is lacking.
Sure, there's an FAQ section, but even that's not super helpful, especially if you experience technical problems during a test.
In that case, you'd need the help of a support team member to guide you through what to do, but some members say that its support isn't very available.
And when it is, it's not very helpful anyway.
Another issue is that it's tough to qualify for the paid test.
When you sign up for Validately, you need to answer questions about your demographics.
These are supposedly to help match you with future opportunities.
However, several members say that every time they try to take the screener questions for a test that they're invited to, they still don't qualify, so it seems like there's something wrong with Validately's initial screening process.
Finally, I've seen a lot of complaints about tests being filled before a tester can even get a chance to take it.
This happens a lot with survey sites, too.
The thing is that each test will have a quota of takers it needs.
If you don't respond quick enough, you'll risk the test already being filled.
However, the issue here is that people are clicking to go to the test immediately after getting the invite email and still getting locked out of the test.
Final Thoughts
Validately is a legit company bought out by another legit and trusted company (UserZoom) on the web.
I believe that it could take some time to work out some kinks with the merger, but after the hurdles clear, I think these two sites could be a powerful force together.
The site is free to join and you'll get paid for your trial test as long as you complete the requirements, so you have nothing to lose for trying it out.
If you do register and complete some tests, please come back here and let us know how it worked for you!
Related Posts: