Vector Marketing Review: Should You Consider This Direct Sales Biz?
Updated on: by Amy Kennedy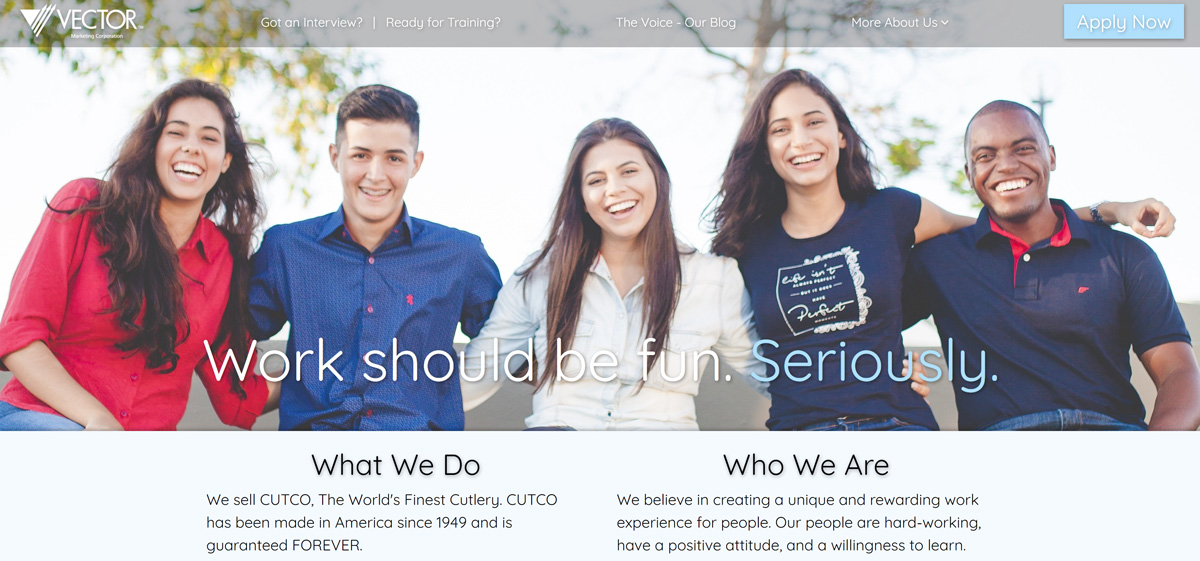 Are you looking for some legitimate work for students that won't take too much time away from your studies?
Need Easy Extra $350+/Month For Free?
Maybe you're a parent looking for a side gig while your kids are at school during the day.
Or, perhaps you're just a person who wants to earn a little extra cash when you have some free time.
If any of these apply to you, then direct sales could be the right gig for you.
Direct sales companies let you build your own business from home, usually selling products or services the company offers.
You get a commission, the business makes money, and you get to work with stuff you love.
Vector Marketing is one company that allows people to make money from home by selling CUCTO cutlery, which is one of America's leading brands of cutlery.
But is it a legitimate opportunity?
What are the start-up fees and how does it all work?
We have the answers right here, along with Vector Marketing and CUTCO reviews from real Vector Marketing sellers, so that you can decide if this business is for you.
What is Vector Marketing?
Vector Marketing's full name is actually Vector Marketing Corporation and it started in 1981 with the sole purpose of selling CUTCO cutlery from CUTCO Corporation, a company that has contracted independent sellers for years.
Vector Marketing quickly found success with its selling methods and became the company's top independent seller of its products.
Vector Marketing has now become CUTCO's primary seller all over America since 1985, when CUTCO bought the company because of its success.
The company has over 250 locations all over North America.
What is CUTCO?
CUTCO is a kitchen-focused company, making products that can help in the kitchen.
However, the company's main focus is its knife sets that allow you to cut anything from fresh veggies to meat easily.
Need Easy Extra Cash?
Pinecone Research, a leading name in online survey panel honesty, absolutely guarantees $3 cash for every survey you complete!
Take advantage of their time limited New Membership drive and register NOW. Join today: 100% free!


Other gadgets for the kitchen include fruit and vegetable peelers, cutting boards, knife sharpeners, and flatware.
The company has been around since 1949, making it one of the oldest and most popular companies of its kind in North America.
The Vector Marketing Opportunity
Let's get into the details of what Vector Marketing offers people like you who want to make some money with a business of your own.
Vector Marketing is all about selling.
If you don't care to sell or have no sales experience, this may not be the right opportunity for you.
You'll be selling to friends and family, their friends and family, and complete strangers.
If you don't sell products, then you won't make any money because this is a commission-based program like most other direct sales programs.
Here's what you need to know:
How to Join
Are you ready to apply to join Vector Marketing?
The company only requires its sellers to be at least 18 years old, or 17 if you've already graduated high school, and of course, a high school graduate.
To apply, you'll first need to see if there's a location near you, since Vector Marketing requires that you be within a reasonable distance from one of its locations for training purposes and to get your inventory to sell.
This business is very much about in-person interactions rather than digital online selling, so it's important that you can get to a Vector Marketing location when necessary to get your products, train, and learn.
To see if there's a location near you, you can click the Apply button on the top of the website and input your zip code.
The site will let you know if there's a nearby location and send you to the application if so.
You'll need to fill out the application with your details and then wait to hear back.
Vector Marketing requires all potential candidates to go through an interview process, much like an actual job.
You'll meet in-person with a local manager for your interview and the company will let you know what day and time you're scheduled.
The website offers some tips, like dressing nicely, bringing a notepad to take notes, and arriving at least 15 minutes early.
You should hear back within a few days after your interview whether the company would like to move forward with you as a representative.
Training
Once you complete the interview process and get accepted to the team, you'll need to go through training.
This is one of the reasons why Vector Marketing requires you to be near an on-site location.
The training takes place in a few steps.
First, you need to have an initial training session that usually takes two days at your local office.
At that session, you'll learn more about future sessions and when they'll take place.
The whole training process could take a few weeks, as it shows you more about the products and what you'll be doing with them.
Vector Marketing will also give you a demo set of cutlery to start practicing with.
You can use this to practice selling to friends and family before heading out to talk to strangers.
You'll also learn more about setting appointments, which are the actual meetings you'll have with potential customers to sell your products to.
It's important to note that, from what I've read, the training is unpaid and can be about 30 hours total.
Earn Everything… nearly!
Join Opinion Outpost, one of the few faithful and honest survey panels and earn cash and gift cards for your opinion. Stack your points and redeem them: Simple! No hidden fees and completely free!


That's something to think about if you're not into the whole unpaid training thing, but it's necessary if you want to pursue this opportunity.
What You'll Do
So, what exactly will you be doing as a representative?
Vector Marketing reps are salespeople who host meetings with people who might be interested in purchasing CUTCO products.
This company is a little different in that it's not really the door-to-door selling that you're used to.
Instead, you'll be setting up what Vector calls appointments to meet with individuals or groups to try to sell products to.
During these appointments, you'll give presentations that demonstrate the cutlery and how they're used.
You might also compare them to regular kitchen knives people usually buy.
In other words, through your presentation and demonstration skills, you should have some people interested in buying CUTCO cutlery.
You do get paid per appointment (I've read that it's between $12 and $20, usually), regardless of whether you sell anything.
During your appointments, you'll also ask your prospects for referrals so you can start building your database of potential customers and set more appointments.
The Pay
In addition to appointment pay, you'll also get commissions based on what you sell.
This is where you'll make most of your money with the company, as long as you're a good salesperson.
Unfortunately, there's no direct information from the company as to what you'll earn for your commission.
This all gets talked about during your interview with a manager.
However, Vector Marketing does say that it pays weekly, so you won't have to wait a couple of weeks or a month to see your earnings.
I also want to note that you won't have any start-up costs for the business.
The first set of demo knives you get is worth $425, but Vector gives you them for free as a loaner set so that you'll have a set to start with when you're ready to start selling.
If you want more sets to show to customers, though, then the cost for them will have to come out of your pocket.
Is This Vector Company a Scam or Legit?
After looking through a lot of online information about the company and reading reviews from real sales reps, I do believe that Vector Marketing is a legitimate company.
With that being said, the company definitely has had some mixed reviews over the years, and it's even been in the news for some not-so-great stuff, like misrepresenting its compensation plan and not paying its representatives what they should have earned.
Fortunately, it seems like most of this stuff is very old news at this point and that Vector Marketing has worked to turn itself around in a positive way.
The company currently has an A+ rating with the BBB and, although it does have some complaints, Vector Marketing seems to take care of its complaints quickly and fairly to maintain its positive rating.
On other sites, like Indeed, it looks like there's a good review for every positive one.
In my opinion, Vector Marketing probably works well for some people and not so well for others.
You have to really have a certain type of personality to make this type of selling work for you.
And, of course, the larger your network, the more people you'll have to buy from you.
If you're just selling to people you know personally, you're going to run out of prospects quickly.
What a lot of representatives seem to agree on is that the flexible scheduling is exactly what they're looking for in a gig like this.
You can literally work when you want, whether it's a couple of hours each week or every day.
Just be aware that working a couple of hours per week probably won't net you much cash unless you have some seriously successful appointments.
Conclusion: Vector Marketing Review
Vector Marketing is a legitimate way to earn some money, but it's probably best for people who aren't expecting a full-time income, and instead need some extra cash for spending or saving.
Like most direct sales companies, you'll never be guaranteed an income.
On the plus side, you'll always get paid for the appointments you set, whether someone buys from you or not, which puts Vector Marketing a step ahead of other companies that only pay commissions.
We'd love to hear from you if you've personally tried this company.
How did it work for you?
Did you earn a decent income?
What were your appointments like?
Let us know down in the comments!
Related Posts:
Earn Everything… nearly!
Join Ipsos iSay, one of the few Faithful and Honest survey panels and earn prizes, gift cards and donations. Stack your points and redeem them: Simple! No hidden fees and completely free!