Wildtree Review: Sell Recipes and Meal Prep Solutions from Home
Updated on: by Amy Kennedy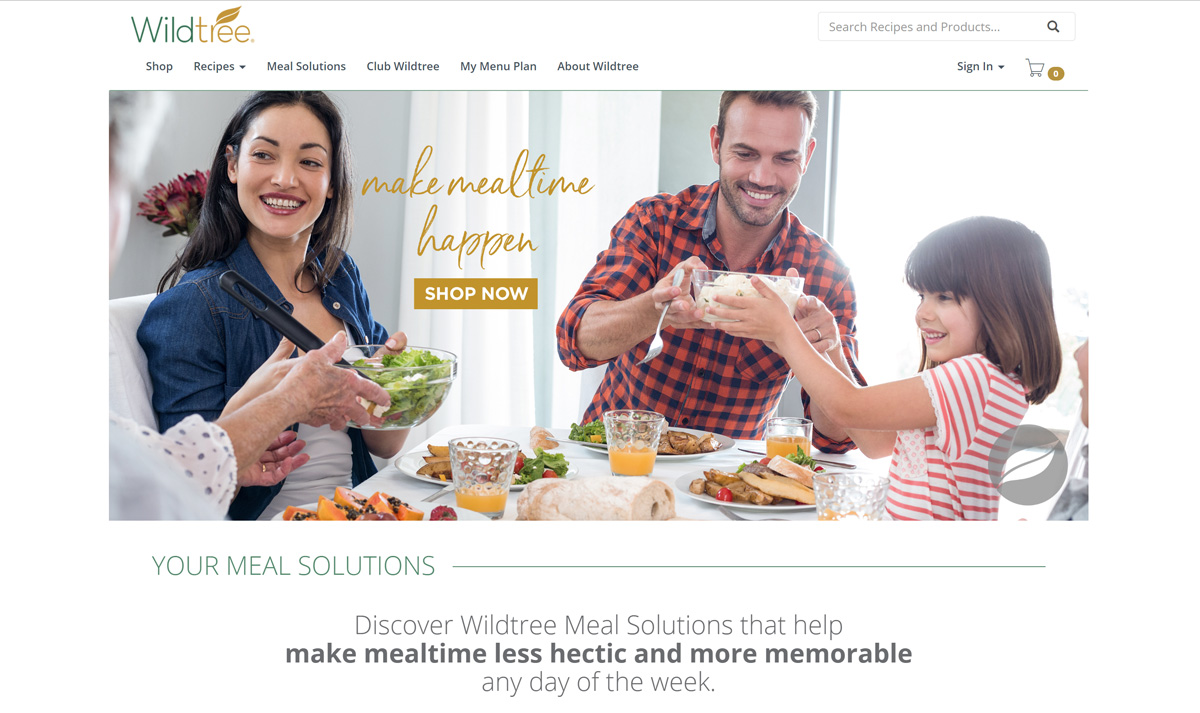 With so many direct sales companies available right now, it can be nearly impossible to decide which one to invest your time in.
In fact, I personally know a few people who have had such a tough time deciding on one company that they ended up in three or four direct sales businesses, only to spread themselves too thin.
The success from these businesses comes from investing your time wholeheartedly into your business.
If you pick up more than one, you're likely to leave one lagging behind while the other one gets most of your attention, without letting either one shine to their full potential.
That's why we like to write about several of the direct sales businesses that are getting attention, so that you can better decide if it's the right opportunity for you.
One that's been in the business a while but hasn't become overly saturated with representatives is Wildtree, a company that focuses on health, wellness, and making cooking meals easier.
What is Wildtree?
Wildtree is a child company of Southwestern, a business that was established way back in the 1800s.
Wildtree itself is now over 20 years old and continues to make meal planning products designed to make cooking meals easier for busy families and individuals.
Through Wildtree, you'll find balanced meal shakes, seasoning kits, and meal planning solutions that focus on being affordable and healthy additions to your daily eats.
Wiltree's primary mission is making healthy, non-processed foods and seasonings more affordable and accessible for the average family.
You can also become a representative for the company to sell its products to your customers and earn commissions on your sales.
This is great news for anyone who truly loves the products and wants to share them with others while making some money.
But it also does something else that's really a bonus in my eyes: Gives back.
WildtreeHerbs representatives can volunteer at a yearly conference for a charity the company chooses.
It's an excellent way to bond with other representatives from all over the country while helping others in need.
The Wildtree Business Opportunity: Make Money Selling Wild Tree Products and Meals
Wildtree offers a business opportunity for you to become a representative of the company, selling its meal plans, recipes, meal shakes, seasoning packets, and more.
If you're at all interested in living a healthy lifestyle and eating non-processed, organic foods, then this could be the right company for you!
What You'll Do
As a Wildtree representative, you'll be selling the company's products to your customers.
Every customer that orders Wildtree products has to go through a rep to order; even if they don't have one, they can find a local rep using the website.
That customer's sales then get credited to that rep's account.
Some of the products Wildtree offers for sale include:
Seasoning mixes, like Pizza Sauce Seasoning and Garlic Galore Seasoning Blend, designed to make your meal prepping easier
Wildtree Kits, which include recipes, seasoning blends, and instructions for making 10 make-ahead meals
Wildtree Fresh Dinners in a Dash, which include a few Wildtree products and 8 recipes for making quick, easy dinners for the family
Wildtree Wellness products, which are plant-based shakes designed to give you a balanced meal supplement
Bundles of products that include themed seasonings and other products, like the Kids' Favorites, which includes kid-friendly seasonings like Sloppy Joe Blend and Cheddar and Herb Skillet Meal Seasoning
Wildtree also offers recipes that customers can find on the website, along with links to add the special seasonings included in the recipes to their carts for purchase.
Business Benefits
So, what makes Wildtree different from other companies?
There are a few benefits it offers that you won't find with other direct sales companies.
One is its many ways to earn money, which include selling directly to your customers, earning commissions from your downline (people who sign up under you as representatives), and bonuses and incentives.
Reps can also get up to 50% off products when they purchase them, so you can even get the discount if you just want to purchase the products for yourself.
Another perk is that the company hosts several annual events to which reps can travel to network with other representatives and learn more about building their businesses.
Once a year, the business even hosts its annual volunteer day for reps to give back to the community!
How to Earn
There are two primary ways you can earn through Wildtree: Hosting events through a rep and becoming a rep yourself.
Hosting Events
As a host for a Wildtree event, you don't need to be a rep.
Instead, you'll go through a rep, who will receive some commissions on the products you sell through your event.
When you host an event, you'll become eligible for free products and 50% off products if you sell anything through your event.
You can also earn more rewards when people who come to your event book their own events!
The first type of event is a tasting.
At a tasting, you and your guests can try out some Wildtree products, make Wildtree recipes with the products, and shop for items you and your guests want to buy.
A workshop is the other kind of event you can host.
At a workshop, you and your guests will learn how to use Wildtree products to prep between 10 and 20 meals for you and your family.
You'll learn more about the products and how they can make your meal prepping tasks just a bit easier.
If you sell at least $200 worth of products through your event, you can get one product 50% off.
Sell at least $350 and you'll get 15% in free product plus 50% off one item.
When you sell at least $500 in orders through your event, you're eligible for free product that equals 20% of your sales, plus at least 2 items 50% off.
Hosting events is a good way to learn more about the company and its products and see if it's the right business opportunity for you.
You can always sign up under your rep at your event if you decide you want to become a rep yourself!
Compensation Plan
If you want to turn Wildtree into a business, you'll need to become a representative.
This is when you'll take advantage of the compensation plan that pays you real money in commissions when you sell products.
The Wildtree compensation plan took me a little bit to find, but once I found it, I was pleasantly surprised by how straightforward it is.
If you're familiar with plans from other companies, you probably know how confusing they can be.
This one's relatively simple to understand and laid out in a way that you can easily find what you need.
You start out as a Representative earning an initial 20% commissions on what you sell, plus another 5% on anything you personally sell to your customers.
As you make more sales, you'll earn more in commissions.
Reaching at least $2,000 in team sales (the sales your downline makes) and $1,000 in personal sales will give you up to 32% commissions on your personal sales and 3% of what your downline sells.
Move up further in sales and you'll become a Team Leader with 40% in commissions and 12% commissions from your personal recruits' sales.
You can continue to move up the ranks, based on sales, all the way to Senior Executive Director.
As you can see, the more representatives you have on your team, the better your chances of earning more from your business.
Pros and Cons of Being a Wildtree Representative
Any multi-level marketing company is bound to have its ups and downs, so I'm going to share some of the ones I found with Wildtree because we like being totally honest around here!
Pros
You're your own boss
This point is true for almost any direct sales business, not just Wildtree.
But I do like that Wildtree doesn't act like your parent once you become a representative.
You're free to sell things how you want as long as you adhere to company standards.
Since you're starting your own business, you can have a completely flexible schedule with Wildtree.
Work as little or as much as you want, when you want – you can even work around your regular job as you build your business!
Offers a lot of variety
Wildtree has a really good mix of products to sell.
It's not just makeup or leggings or books.
It's a whole selection of meal prepping products, recipes, and health-focused items that can appeal to a lot of people.
Unlike other companies that are limited in this area, you'll have a lot of possibilities when it comes to finding people to sell to.
It's easily sellable products – for the right people
Along similar lines as my previous point, Wildtree products can kind of sell themselves if you find the right customers.
People who are very health-conscious and love to cook healthy meals but don't want to spend several hours every week doing it are your ideal customers.
For these people, you shouldn't have any issue selling these products.
Awesome bonuses and opportunities
I like that Wildtree's compensation plan is straightforward, but in addition to its commissions, it also offers bonuses and incentives for its best representatives.
This can give you the little push you need to really dive into your business and grow it to make it successful.
Cons
You have a selling quota
One of the most common complaints about Wildtree is that it has a quota for its representatives that they have to reach every quarter.
I definitely don't love when companies do this (I've been a part of one and felt like I was spending more to meet my quota than I was making each month!).
Reportedly, Wildtree wants reps to make at least $350 in sales every quarter (every 3 months) to remain active.
That quota used to be for the year, but many have stated that it switched to every quarter – and that can be a hefty amount to try to sell if you're just doing it casually.
Home parties are a big part of the gig
To get more people to join your team – which is how you'll really start bringing in good money – it's almost necessary to find hosts for home parties and events.
This can be a huge disadvantage to people who would rather just sell products in person or online than go through the hassle of throwing parties.
They can be really time consuming and there's no guarantee that you'll make any money or get any new recruits to join.
Commissions are kind of low
Wildtree does have decent commissions for Team Leaders and higher ranks, starting at 40% base commissions plus more for everything your team sells.
But for regular Representatives – where most reps probably end up staying – the commissions aren't great until you hit the higher sales marks.
The products are pricey
Take a look at the Wildtree catalog and you'll notice that the products aren't necessarily cheap.
This can be an issue if people love the products but would rather spend less money going to the grocery store than ordering Wildtree items from you.
You'll definitely have to consider whether you think you'll have enough potential customers who are happy to pay Wildtree prices before going forward with starting your business.
How to Be Successful with Wildtree
Do you think Wildtree might be the right opportunity for you?
It absolutely can be, but here's a tip on making it really work: Get your website started now!
When you sign up as a rep, you'll get a Wildtree website to sell products.
However, these websites all look the same – there's nothing that sets you apart as a seller.
Instead, get your own hosting and site set up and use it as a place to share tips for healthy meal planning, affordable meal ideas, recipes, and anything else related to your Wildtree business.
Link to your favorite products in blogs, articles, and ads.
Remember to use up-to-date search engine optimization (SEO) methods to get searchers coming across your website and learning more about Wildtree and its products.
You should also take advantage of your social media channels, whether you prefer pictures on Instagram, stories on Snapchat, or videos on YouTube.
Use whatever you're best at to share about Wildtree's products and your business!
Alternatives to Wildtree
If you're seeking sales representative opportunities, there other companies that provide avenues for individuals to join their sales force and promote their products.
These companies offer a range of products and compensation structures.
Here are five such companies:
Avon is a well-known direct sales company that specializes in beauty, personal care, and household products.
As an Avon representative, individuals have the opportunity to sell a wide range of high-quality products and earn commissions on sales.
Tupperware is a company famous for its innovative food storage solutions.
Tupperware representatives organize home parties or events to showcase and sell Tupperware products.
Representatives earn commissions based on their sales and can also build their own sales teams.
Pampered Chef offers kitchen tools, cookware, and cooking accessories.
Their sales representatives, known as consultants, host cooking parties or online events to demonstrate and sell the products.
Consultants earn commissions and can receive discounts on products for personal use.
Mary Kay is a well-established cosmetics and skincare company.
Mary Kay independent beauty consultants offer personalized beauty consultations, sell products, and build their own customer base.
Consultants earn commissions on their sales and have the opportunity to earn rewards and recognition.
Scentsy is known for its fragrance products, including wax warmers and scented wax bars.
Scentsy consultants promote and sell these products through home parties, online sales, and social media.
Consultants earn commissions on their sales and can also earn bonuses based on team performance.
Wildtree Review: Is It Legit or a Scam?
Wildtree is a long-running direct selling company.
You may not hear about it as much as some other "trendier" companies, but that doesn't make it any less noteworthy.
From what I can tell about Wildtree through my research, it's absolutely a legit company with a decent compensation, bonus, and incentive plan.
One issue I can see with it is that you can't just sell these products to everyone.
You need to find customers who are really into meal planning and healthy living to have a successful business.
However, this can also be a good thing for you if you know a lot of people who already do live this lifestyle!
Another thing I don't love is that you can't find out how much your starting costs will be unless you talk to a representative or go through the sign-up process.
I prefer companies to be transparent about what becoming a rep entails before you have to give away any information.
Still, there are plenty of good reviews about the company and its long-lasting history alone is enough to prove that it's in the business for the long haul.
If you're ready to join Wildtree, you can click here to get started.
Wildtree reps: What's your experience been like? Do you have any tips to share with others? Leave your thoughts in the comments below!
Related Posts: