Wish.com Review: Is This Discount App Worth Your Money?
Updated on: by Amy Kennedy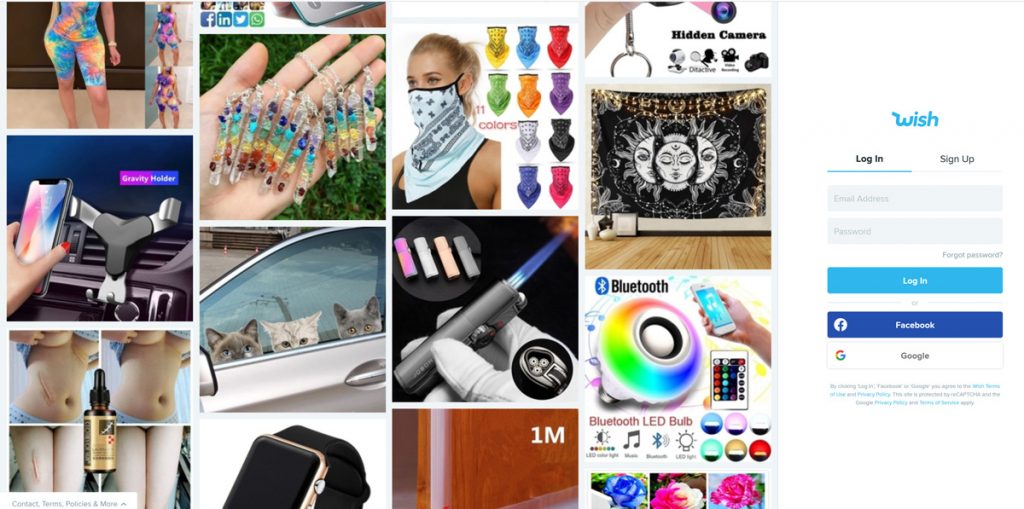 Scouring the web and shopping apps for sales and affordable items can sometimes be time-consuming and frustrating.
Need Easy Extra $350+/Month For Free?
There are so many sites and brands to browse!
But what if you could have thousands of affordable products are your fingertips, all on one site or app?
It can happen when you use the Wish app, which has everything from clothing to electronics for some of the cheapest prices you'll ever find online.
But is the app worth it? Do the products live up to the hype of Wish?
This 2020 Wish review will give you some insight into how it all works and whether it's worth your time and money – all from someone who has personally used it (me!).
What is Wish.com?
Wish.com is the website for the company, Wish, which is an eCommerce platform that curates products from various sellers and merchants to sell to its customers.
Basically, it's a dropshipping company that shows you all the products and then orders them from the sellers to send to you.
Wish is known for offering products at really steep discounts.
It's not uncommon to find shirts that normally would cost around $50 for $15 or jewelry for only $5.
There are a few reasons that Wish can offer these products so cheap:
Many products are made to look like brand-name stuff, but are actually knock-offs
A lot of products are from Asian countries, like China, that can manufacturer products more cheaply than other countries can, which allows them to sell them cheaper
Most products cut out the middleman, allowing them to come straight from factories to the customer's door, which also reduces prices
Product Categories
What kind of stuff does Wish sell?
There's a lot to see here!
One of its most popular product categories is women's clothing, but there's also:
Men's Clothing
Accessories
Jewelry
Hobbies
Makeup & Beauty
Baby & Kids
Wallets & Bags
Home Décor
Watches
Gadgets
Basically, you can find just about anything on Wish that you could in Walmart, Target, or a similar store.
The Wish App vs Website
Wish has both a website and an app, and you can use either one to go shopping.
Need Easy Extra Cash?
Pinecone Research, a leading name in online survey panel honesty, absolutely guarantees $3 cash for every survey you complete!
Take advantage of their time limited New Membership drive and register NOW. Join today: 100% free!


I personally prefer the app just because I feel like it's perfectly suited to what Wish has to offer, but there's no reason you can't use the site to shop.
They both offer the same features and browsing capabilities.
I just like that the app is accessible on a tablet or smartphone and it makes it easy for me to shop when I'm not at my computer desk.
How to Join Wish
You can join Wish through its website or by downloading the app from Google Play or the App Store and following the prompts to sign up.
You can use your email address, Facebook account, or Google account to create a new account.
How Does Wish Shopping Work?
Ready to learn how Wish shopping works? This guide has everything you need to know.
Types of Products
There are a few icons and labels you might see on products when you're browsing the Wish website or app, including:
Sponsored Products
Wish routinely promotes products that are listed on the site and in the app.
It does so at no charge to the merchant, but instead pays for the ads to help promote items that it feels could be popular and drive sales.
These products are usually ones that have already been selling well, so Wish uses promotions as a technique to make customers aware of them and, hopefully, make more sales.
You'll see these products denoted with a small box in the corner that reads "Ad."
Wish Verified
When you search for items on Wish or browse the product categories, you might see some items with a little checkmark and badge in the corner of their photos.
This means that they're verified by Wish.
A Wish Verified badge are only given to products that have received excellent continuous feedback from Wish customers.
This badge helps you quickly see that a product is highly rated on Wish, which can help inform your buying decisions.
You still should always read through the reviews to see exactly what people say, but the badge is a good indicator that others have had a good experience with the item.
Add-On Items
If you see an item that's marked "Add-On Item" in the listings, then that item can only be purchased when you fill your cart with at least two other items.
Those other two items can NOT be add-on items as well.
So, for example, you can't buy two add-on items in a cart that includes only one other non-add-on item.
Wish doesn't really explain why some items are add-ons and others aren't, but it's likely that the company tries to save on shipping costs by lumping some low-price products together with other orders.
Free Items (Pay Shipping Only)
I love these products!
When you're browsing Wish, you might see some products labeled as Free or Just Pay Shipping.
Yes, these items are really free, and you only need to pay shipping costs to get them!
There are two issues to be aware of, though.
One is that the shipping costs can sometimes be expensive for a small item, like $10 or more (although sometimes they're very reasonable).
Another problem is that not all sizes or colors of an item may be free just because it's marked as free.
Some sellers might be trying to get rid of overstock of a particular color or size and are therefore offering that one for free but charging for the others.
Once you switch sizes, colors, or other options, you might see that the one you want isn't free after all.
You might need to spend some time sifting through the options to find free stuff, but it's worth it if you score something you really like for just shipping costs.
Earn Everything… nearly!
Join Opinion Outpost, one of the few faithful and honest survey panels and earn cash and gift cards for your opinion. Stack your points and redeem them: Simple! No hidden fees and completely free!


Local Buys
Wish offers a section on its website and in the app where you can find local buys.
This means that stores near you participate as sellers on the Wish platform.
You can use the Wish app or website to click on the Local button to find these stores near you.
When you click on one and browse what they offer, you can choose to make a purchase.
The sale will go through Wish, which will then contact the merchant about your purchase.
When you buy something through the Local section, you won't have to wait on delivery because you can head to the store and pick the items up instead.
Blitz Buy
Blitz Buy is a fun way to save even more on the already cheap stuff on Wish.
Click on the Blitz Buy button to get taken to the spinning wheel. Spin the wheel and grab your discount.
This discount gives you a specific timeframe in which to shop to score that deal, so make sure you pay attention to the timer that shows on the side of the screen to make sure you can use it.
Buying with Other Shoppers
This is one of my absolute favorite features on Wish.
Some products will have extra discounts available if you buy them when other shoppers are buying them too.
It will show you a notification saying "Buy this item with [NAME]" along with a countdown timer to show you how long the discounted offer is effective for.
This feature is a great way to pay even less for your Wish products.
Sometimes, the same issues will apply with this as with the "free" products you find on Wish: not all colors, sizes, and variations will be included in the deal.
Still, I tend to find a lot of my discounted products this way.
Customer and Store Reviews
I can't stress enough how much I rely on customer reviews before I purchase anything online that I haven't personally bought before.
They're my go-to to learn how a piece of clothing fits, how a home décor item looks in real life, and how a toy actually works.
I love that Wish includes customer reviews for products.
Unfortunately, not all products have reviews available, and some have very few, which can make it difficult to know whether an item is worth the buy.
I tend to stick only with items on Wish that have several positive reviews.
You can read reviews by heading to that section in any product listing.
There's also a spot for store reviews, which you can see by clicking the seller's name in the listing.
This can help you determine if customers have had any particular issues with a seller, such as extremely slow shipping or inaccurate product descriptions.
Be sure to leave reviews of stuff you buy after you receive everything; they help customers like me know what to buy!
Shipping and Express Shipping
Shipping costs and times can vary greatly on Wish, but do be aware that many of the products on the site and app come from other countries.
Therefore, they can take a while to come, and it's unlikely that you'll end up with free shipping because of the costs associated with international shipping.
Once you click on an item, you can see how much the shipping costs will be for that item in addition to the product's price.
Wish does allow sellers to mark their items as offering express shipping to customers.
This is good for Wish customers because Wish is, unfortunately, notorious for long shipping times.
So if you're looking for something to arrive quickly, you'll want to look for the little truck symbol in the corner of product photos in the search and categories pages.
Express shipping is only for products that can arrive within 14 days of placing your order, so they're usually ones that are shipped within the United States only.
Payments
Wish offers several payment methods to customers to make your transactions simple, although not all of them will be available for all countries.
Wish currently allows payments with PayPal, Google Wallet, Klarna, iDeal, Ebanx, Apple Pay, debit cards, and major credit cards.
You can add your chosen payment methods to your account through the site or the app.
Returns
Even though Wish relies on sellers to sell products through its marketplace, it still has a return policy in place to return items easily without going through a seller.
You just need to request your return within 30 days of delivery.
You can also cancel your order if you decide you don't want it any longer, but you must do that within 8 hours of placing it.
Read the full return policy here.
Selling on Wish
Interested in becoming a Wish seller?
You can do that AND be a Wish customer at the same time.
Wish doesn't charge anything for sellers to market their products on the platform.
Instead, you'll pay a fee to Wish only when something sells. Wish combines the product price and shipping cost to determine how much a product sells for and how much you'll earn.
You can learn more about selling on Wish as a merchant here.
Is Wish Legit? What Do Wish App Reviews Say?
I mentioned that I've used Wish before myself. I've bought several items from the app, actually, including clothing, toys, and some beauty items.
Out of about 20 things that I've bought, I've only been disappointed in one of them.
That was a bathing suit that was pretty see-through, despite nothing in the pictures or item description noting that the material would be see-through.
That was also the only product I ever bought from Wish that had no customer reviews yet.
Remember how I said they were important?
Well, on Wish, they're necessities, and I've learned my lesson.
On a marketplace with so many different sellers, the truth is that you never know exactly what you're going to get.
So it's always best to err on the side of caution and follow customer reviews to get a good idea of the product before you buy it.
I've watched some videos from people who have reviewed items from Wish that were completely different than what the pictures showed.
I've also seen others that have loved everything they order.
The same goes with reviews I've read around the web.
Wish really seems to cause a mixed bag of opinions.
If you go to the business BBB page, you'll see that the company has an F rating and 1 out of 5 stars for reviews.
On Truspilot, the reviews are 3.6 out of 5 stars.
It seems that some people just have excellent experiences with Wish, including myself, while others don't.
I'm willing to bet that those with negative experiences may order items without looking through photos, reading descriptions, or checking out product reviews, but I don't know that for sure.
But in my experience, doing all those things has led me to scoring some incredible items for way less than I'd find in stores or other online shops.
Conclusion: Wish.com Review
I hope this review helped you decide whether Wish is a place you want to try or not.
I do suggest buying something super cheap through Wish, like a low-priced shirt, just to see what happens.
Make sure you look at reviews first and check out sizing charts (many items are from China where sizing is much smaller than in the United States).
When I first tried Wish, I bought only one item and didn't spend more than $10 for the item and shipping, so it wouldn't have been a huge loss if I didn't like it.
But I ended up loving it, and it sparked my subsequent Wish orders.
I'd love to hear what your thoughts are if you've already used Wish or want to go try it out and come back here to share your experience with me. Leave a comment down below!
Related Posts:
Earn Everything… nearly!
Join Ipsos iSay, one of the few Faithful and Honest survey panels and earn prizes, gift cards and donations. Stack your points and redeem them: Simple! No hidden fees and completely free!