World Global Network Review: Is WGN a Worthwhile Business Opportunity?
Updated on: by Amy Kennedy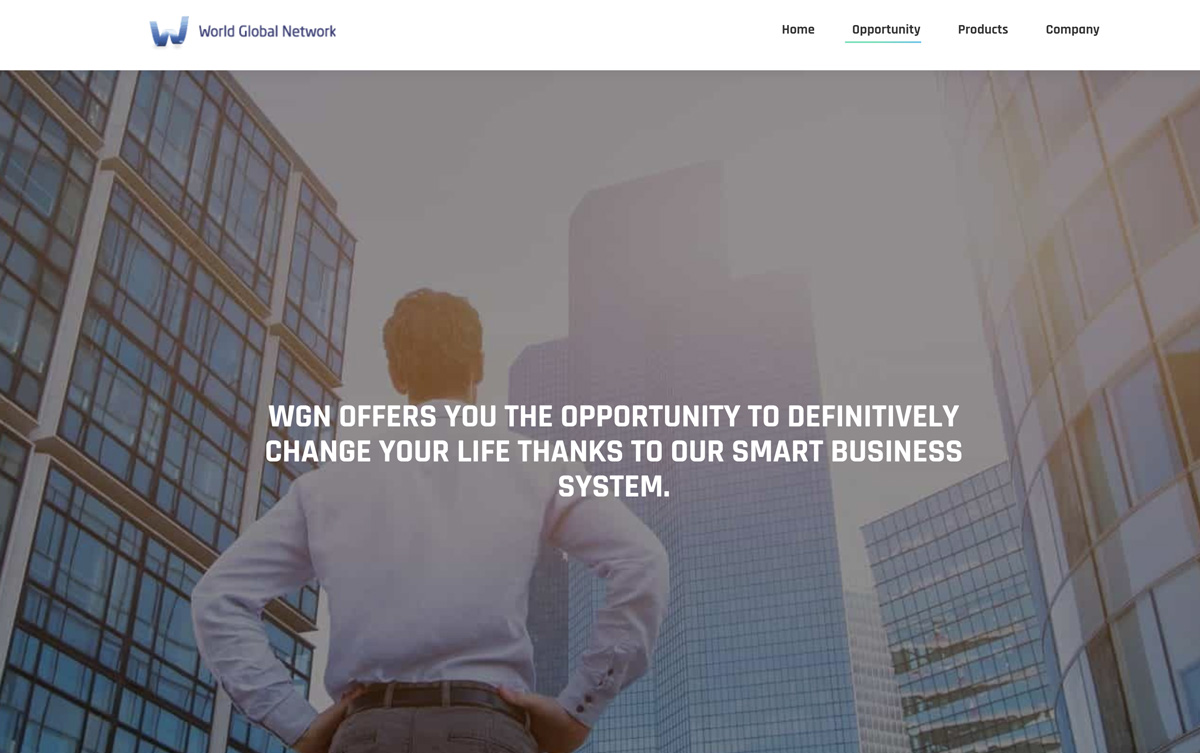 Today's review is going to introduce another multi-level marketing business known as World Global Network.
If you've followed along with some of our other MLM reviews, you know by now that a MLM is a type of business opportunity that pays you to promote and sell products or services for a company.
You also usually get people on your team that sell the products or services, too.
The process sets you up higher in the company's tiers so that you can earn more money.
WGN has a few different products focused on health and wellness that you can sell.
Over the past few years, the company has expanded to selling in 195 countries, so it's definitely moving forward.
But is its business model worth your time and effort?
Can you really make money and, if so, how much can you expect?
We have all the answers for you in this review!
What is World Global Network?
World Global Network started in 2011 as a technology company that focuses mostly on creating wearable technology products.
Since its start, the company has started a business opportunity for people who love its products to get in on the action and make some money with them.
It's a multi-level marketing opportunity that pays you to sell WGN products and build your team to start selling too.
The company's been involved in a somewhat recent lawsuit where WGN had to fire two of its top distributors based on "violations" that you can read more about in this press release.
However, there are plenty of other people still selling its products and claiming to do really well at it.
World Global Network Products
There are a few main product lines that WGN create.
They are focused on health and wellness.
Here's what you can sell when you work with WGN:
SmartLife
SmartLife is a brand that features products related to your overall wellbeing.
There's the SmartLife NutraPak, for example, with vitamins that meet the specific needs of your body.
There are also home DNA tests that can help you learn more about your genetic makeup.
Helo wearers (which I'll mention in a moment) can also combine the SmartLife DNA test and Helo information to get a personalized health action plan and SmartLife NutraPak focused directly on your needs.
Helo
The Helo MLM has been talked about a lot and seems to be WGN's most popular product line.
Helo offers wearables that help you keep your health and wellness in check.
For example, the Help Extense is a device that checks blood sugar levels simply by leaving it on your finger for a short period of time.
This device reportedly can replace a traditional blood glucose monitor that requires you to poke your finger to draw blood for accurate testing.
There are also Helo wearable wristbands that track health information, like your sleep patterns, heart rate, steps, and your calories burned.
These are similar to what you'd expect to get from a FitBit or another type of fitness tracker.
BioZen
BioZen is a medical device that is designed to protect you against radiation that's emitted by your mobile device, like a phone or a tablet.
There are a lot of reviews about BioZen on the web, but each BioZen review seems to be either really positive or really negative without much in between.
Some think the device is a scam while others say it works for them.
There's still a lot of scientific research going on about mobile device radiation and the potential health hazards it has, but evidence is still kind of up in the air.
So, in the case of BioZen, there's no way to really know if this is a legit device that does what it says or not.
If you're the least bit concerned about radiation from mobile devices, though, it could be worth it to you to buy.
The World Global Network Opportunity
Now that you know a little bit about what WGN offers customers and what you'll be selling, let's dig a little deeper into the business model that will help you make money.
Who Can Join?
Pretty much anyone who is interested in building a business with World Global Network and sell its products can join the company.
You'll also need to agree to pay your startup costs, which I'll talk about more in a minute.
To join, you can register an account online and choose the starter pack you want to purchase.
You'll also have an option to join the loyalty program that rewards you with discounts, special VIP privileges, and the ability to earn commissions every month.
It appears that you'll need to order some WGN products of your choice when you sign up, too, to get yourself started as a seller.
Startup Costs
When you join WGN, you'll have a few different options for packages of products you can buy.
They can be pricey, honestly, but it's also a good idea to have some of the company's products so you can try them out for yourself.
This makes it a lot easier to sell to other people when you know how they work and have some samples to show to people.
I can't seem to find a lot of information on all the packs that are available, but it appears that they range from $349 to $1,499, depending on what you buy.
You can also choose from a range of add-on options, like a smart band or a health watch.
If you choose to add the loyalty membership, you'll need to pay $59 per month to keep it.
After registering, you'll have access to the WGN marketing tools to help you scale your business online, including a website, back office, lead magnets, and other valuable tools.
What You'll Do
You'll be selling WGN products and services and helping to promote the company.
You'll also need to get more people on your team to build your own business.
So, it's a lot of marketing and selling involved.
Basically, you'll need to sell the products you buy in person with customers, or you can sell online using the marketing tools WGN gives you.
Getting Paid
There are a few different ways you can get paid with WGN.
Team members are the first tier of the pay system.
You'll get 10% of your customer sales when you become a team member.
So, a $100 order gives you $10.
A team builder is the next tier, and this is when you start getting other team members to come to your team.
On this team, you'll also earn 10% commissions for customer purchases, but you can also earn commissions from your team volume.
If you move up to a Team Builder Executive title, your commission bumps to 20%.
Finally, the Team Developer position is the last tier.
At this tier, you can be eligible for not only commissions, but tons of bonuses, like a $1,000 monthly car bonus, a recognition bonus, or a luxury jewelry bonus.
Basically, this is another one of the MLMs that has a really confusing compensation plan that almost requires you to have a doctorate just to understand.
And it doesn't seem like you can make much money unless you make it to the top tier of the business model and have tons of people selling on your team.
The latest average earnings statement the company provides is from 2017, and according to that report, the average income of WGN sellers for the whole year was just over $410.
It's safe to say that most people won't be earning a very stable income with WGN, but this isn't necessarily much different than a lot of MLMs.
World Global Network Review: Is It Legit or a Scam?
From my research, I believe that WGN is legitimate.
It's not going to make most people a ton of money, but honestly, that's to be expected with MLMs.
Unless you have a huge network of people you can tap into to join your team and sell to, you probably won't find a lot of success here.
That's not to say that it can't happen.
It appears that the company does pay its sellers what they've earned based on the many reviews I've read, so there's nothing here to indicate a scam.
However, to help you make your decision about whether WGN is a company you want to join, I've compiled a few pros and cons associated with its business model.
The Good
First, let's talk about WGN products.
These products – if they work (full disclosure: I haven't tried any myself) – are some awesome products.
Techie products like these, especially ones that are focused on health and wellness, are huge right now, so there's no reason they shouldn't sell.
In fact, it should be easy for you to convince people to buy them without much convincing at all.
There are a lot of positive reviews about the products online, so I think it's safe to say that they're popular and get the job done that they're intended for.
Another pro is that there are a lot of bonuses available in the compensation plan.
Unfortunately, you need to be at the top of the company with a large team to really qualify for them.
The Bad
I believe there are more cons to this program than pros, one of them being the crazy high costs for you just to get started with the company.
Other MLMs have much lower-cost options for people to get started rather than shelling out a bunch of money just to be eligible to start selling.
Plus, if you want the chance to earn loyalty rewards, you need to deal with a $59 per month subscription to do so.
It's very costly, especially to only make, on average, $410 a year if you're like most sellers.
That's only slightly more than the smallest package you need to buy to get started!
Another disadvantage for this company is that it's focused mostly on building a team even more than it is selling products.
If you don't have a lot of people to convince to join your team or some experience with marketing to get some strangers on board, then you're not going to have a lot of success here.
It's especially important in MLMs to have a strong network of people who you can count on to sell products, too.
Another complaint I've seen in some reviews is that management leaves a lot to be desired with this company.
Many sellers don't feel supported by the management team when they have questions that they need answers to or have some type of issue with their business.
That's a problem when you're trying to make money and might need help addressing a customer issue or payment hiccup.
Final Thoughts
World Global Network may be a legitimate MLM company, but it takes a really exceptional MLM company for me to recommend to others.
In my opinion, that's one that has an easy-to-understand compensation plan and makes it fair for just about anyone to find success with the company.
WGN isn't necessarily one of those companies I'd consider exceptional.
Its compensation plan is confusing and it's clear by its earnings statement that not many sellers make good money with the company.
In fact, the average earnings for all sellers is slightly more than $400, which isn't a good number at all.
It's tough to move up in an MLM like this if you don't have a solid network of sellers on your team, so unless you think you can pull that off, I don't recommend WGN as an opportunity to make money.
However, I'd love to hear what others think, especially if you've personally had success selling with World Global Network.
Please drop a comment below and let us know.
Related Posts: