WorldVentures Review: Can You Make Money as a Travel Agent?
Updated on: by anvitalis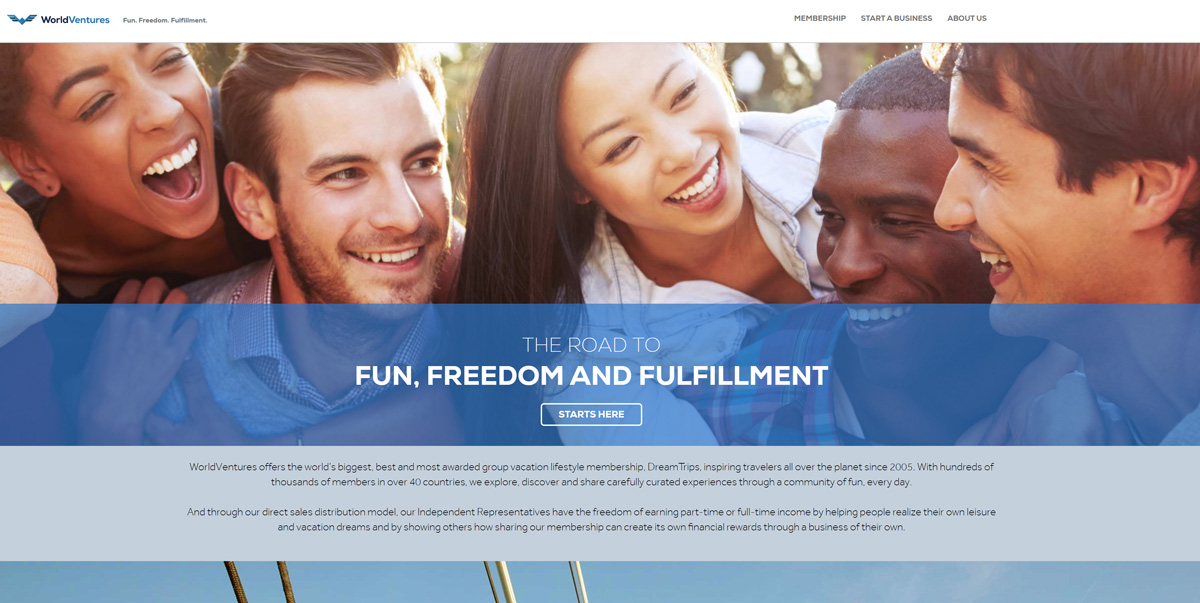 Selling travel discounts, memberships, and trips has become quite a popular gig in the last several years.
Need Easy Extra $350+/Month For Free?
This type of work usually allows you to work from home or remotely wherever you want, as long as you have a way to meet with clients online, like through Skype or email.
It can also be a fun way to learn more about places all over the world, plan fun trips, and connect people to their dream vacations.
You might even learn more about the trips you want to take while earning enough money to get you there.
There are several direct sales companies that will allow you to do this very job, but some are more revered than others.
One of these companies is known as WorldVentures, and it claims to pay its independent agents to help sell vacation club memberships.
But is it real or fake? Can it really help you earn a decent income?
We scanned the internet for information about this multi-level marketing (MLM) company to see how it works, what you'll be doing, and what the compensation is like.
After reading, you should be able to decide whether you think it's a good fit for you.
Let's go!
What Is World Ventures?
WorldVentures is a direct sales company that focuses on vacation club memberships.
The company seeks the help of people like you to become its independent agents starting their own businesses as travel agents to sell its packages.
More specifically, you focus on selling Dream Trips Memberships, which are the vacation club packages offered by the sister company of WorldVentures, Dream Trips.
WorldVentures started in 2005 and is currently leading several top business lists, like ranking #1 in the list of Top U.S. Mid-Market Companies.
I'm not sure if the company used to be known as Get Paid Nation, but there's a lot of talk about the phrase connected to WorldVentures on other online reviews and discussions in places like Reddit.
I can't seem to find out much information there, though, so it could be some kind of insider thing.
Need Easy Extra Cash?
Pinecone Research, a leading name in online survey panel honesty, absolutely guarantees $3 cash for every survey you complete!
Take advantage of their time limited New Membership drive and register NOW. Join today: 100% free!


The WorldVentures Opportunity
I researched information on the WorldVentures website and all over the web, like Reddit and other forum threads, to learn how WorldVentures works for people who want to sell vacation clubs.
Here's what I found out:
What Do You Do?
With WorldVentures, you'll be known as an independent representative.
That means that you'll essentially have your own business and will be an independent contractor rather than an employee of the company.
Like most MLMs, you'll have a product you sell along with the ability to build a team of other representatives who want to work with you.
The more you sell and the more people you get on your team, the higher your earning potential.
When you sign up for WorldVentures as an independent representative, you'll have access to representative-only tools to help train you to sell vacation club packages.
To be successful in this business, you'll definitely need an outgoing personality that's friendly and persuasive to encourage people to buy the memberships.
You'll also need to understand exactly what you're selling so that you can explain it to others!
You can sign up to become a representative by finding another representative to join their team.
This will be known as your sponsor.
When you sign up people on your team to start selling, you'll be their sponsor and will start earning commissions on what they make in addition to what you earn.
What are You Selling?
When you become an independent representative for WorldVentures, you'll sell DreamTrips memberships.
DreamTrips is the sister site of WorldVentures that actually offers the vacation club memberships you'll sell.
A DreamTrips Membership gives members access to travel discounts so that their dream vacations are more affordable.
Not only does DreamTrips allow members to explore new places all over the world for less money than they'd pay regularly, but it also gives them perks like:
24/7 concierge
A dedicated support team member
A loyalty points program
Discounted luxury trips and experiences
DreamTrips comes in different packages, like the Gold Membership with steep discounts on travel, travel insurance, and more, and the Platinum Membership that gives you access to telemedicine while traveling, airport parking discounts, and more.
The Titanium Membership has everything the other two packages do plus preferred pricing for airport lounges, 10-day advance booking access, and early check-in and late check-outs.
These packages come at a cost, though, which could be tough to convince people to buy.
For each membership, your customer will need to spend an initial fee and then pay monthly thereafter to keep their membership.
Gold is $143 to start and $56.99 monthly.
Platinum is $200 to start and $99.99 monthly.
Titanium is a whopping $850 to start and $149.99 monthly.
What Does It Cost to Join?
I, unfortunately, can't find the exact cost to join WorldVentures as an independent representative, which is a bit of a red flag for me.
The website simply says that reps are expected to pay an initial fee followed by a monthly fee to remain in active status as a rep, but there's no mention of how much you'll pay.
The fact that you need to pay monthly to make money in this business doesn't sit well with me, though, especially when the website won't even tell you how much you need to pay until you begin the sign-up process.
Transparency is always best, guys.
What Do You Get Paid?
Now, onto the compensation plan.
These things can always be confusing, so I'll try to break it down as much as I can for you.
Earn Everything… nearly!
Join Opinion Outpost, one of the few faithful and honest survey panels and earn cash and gift cards for your opinion. Stack your points and redeem them: Simple! No hidden fees and completely free!


Once you're enrolled and on active status as a rep, you can start receiving direct commission on any memberships you sell to customers, even if you have no one on your team.
To be on active status, you'll need to pay your initial fee and monthly fee, which gives you access to the Representative Business System (RBS) which contains your back-office sales system, selling website, etc.
Unfortunately, you have to actually check in your back-office system to see what your commission will be for each product (seriously – the compensation plan won't even tell you a commission percentage!).
It's obvious that transparency is not this company's strong suit!
Anyway, as you gain people on your team, you can become a part of the lifestyle bonuses, weekly team bonuses, and other bonus programs that boost your earnings.
With a three-star ranking, you can start to get monthly residual income, too, from your team.
WorldVentures has a cap on the commissions it'll pay its representatives, too, which it caps at 65% of all the sales revenue from representatives.
So, if reps had a total of $10,000 in revenue, the company will only pay out $6,500 to split among all earners, regardless of how much reps actually earned.
You'll get your bonuses every Friday for the week prior, while commissions are paid monthly.
The Pros and Cons of Selling for WorldVentures
WorldVentures definitely has its pros and cons like all MLMs.
Here are some of the more common praises and complaints based on reviews from the web:
Pro: Lots of Bonus Opportunities
I like when direct sales companies offer bonuses and other incentives for their representatives who work hard to bring in more money for the company.
WorldVentures definitely has a lot of bonuses in the form of cash, cars, and even homes.
The question is, are they possible to even earn?
The car and home bonuses require you to move up the ranks to the top positions which, if you know anything about MLMs, can be almost impossible.
In this case, the top tier of International Marketing Director requires you to have 3,000 ACTIVE customers and is a requirement for you to become eligible for the home bonus.
Con: The Compensation Plan is Beyond Confusing (and Unfair)
WorldVentures has one of the least transparent and most confusing compensation plans I've ever seen from an MLM.
Not only is it almost impossible to understand, but it's also really unfair to the reps who earn money for the business.
I don't appreciate that commission payments are capped at 65% of the company's revenue from representatives.
I've honestly never heard of such a thing from an MLM.
One bad selling week across the board could result in much less of a payment than you expected.
Con: Not Much Money to Be Made
According to a blurb on the BBB about WorldVentures, representatives don't seem to make much money with the company.
The blurb states that in 2016, just over 20% of reps actually made money with the company.
The median income earned?
A whopping $200.
I've seen a lot of sellers stating that they find it really difficult to sell these vacation club memberships because – let's face it – who can really afford to go on multiple vacations a year nowadays?
People either don't have the money or the time to do that.
And those that do probably take advantage of other vacation clubs that are either less expensive or offer more perks.
DreamTrips memberships can get really expensive with their initial and monthly fees, and trying to talk everyday people into buying them isn't likely going to work in your favor.
Con: Negative BBB Score
Speaking of the BBB, WorldVentures doesn't have a great rating over there.
The company isn't accredited, but it currently has a C+ rating, which the BBB says is because of a pattern of complaints it's received about WorldVentures.
Although the BBB has attempted to help WorldVentures resolve these complaints, the company has, so far, not followed through with it.
Some of the complaints have to do with the DreamTrips products themselves, like not being worth their cost, while others are complaints about the business side, like the company not giving reps the money they're owed.
WorldVentures Review: Is It Legit or a Scam?
This one is a toss up.
WorldVentures has plenty of people who stick up for it.
Others are very quick to say it's a scam.
There are definitely some sketchy things I don't love, like the lack of transparency with pay, people not getting paid on time, and the pricey products you need to sell.
I would personally stay away from this one, but it's your call to make.
If you've had any experience with WorldVentures, please drop your thoughts below in the comments!
Related Posts:
Earn Everything… nearly!
Join Ipsos iSay, one of the few Faithful and Honest survey panels and earn prizes, gift cards and donations. Stack your points and redeem them: Simple! No hidden fees and completely free!