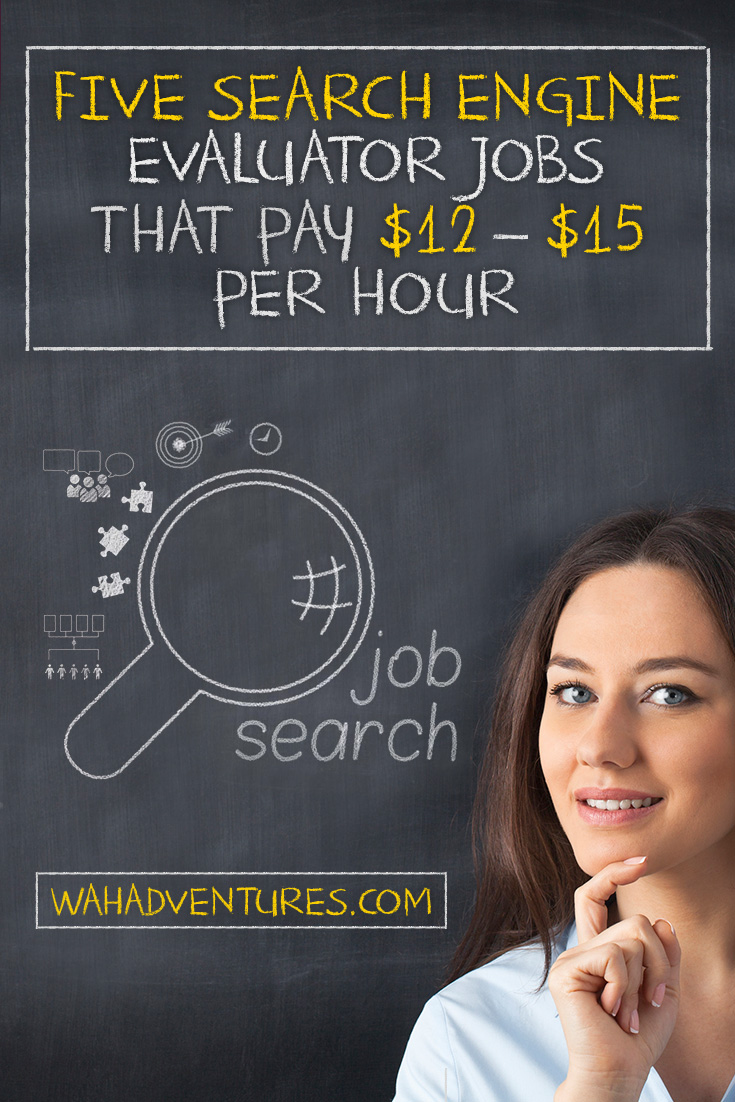 Need Easy Extra $350+/Month For Free?
If you're looking for a flexible way to make an income from your home office, a Search Engine Evaluator job might be right up your alley.
Most companies that hire Search Engine Evaluators, also known as a Web Search Evaluator, do not require you to work a specific schedule, but instead send along evaluations projects as they become available.
This leaves your schedule pretty flexible so you can pick the days and times you want to work, so long as you meet your project deadlines.
If you have a knack for finding information online and know the general ins and outs of how web searches work, you could find a rewarding career as a Search Engine Evaluator.
What is a Web Search Evaluator/Search Engine Evaluator?
A Search Engine Evaluator job is much like it sounds. You'll be evaluating search engine results for relevancy to a search query.
Basically, you are given a search term and the results for that search term from a specific search engine, like Google or Bing.
Then, you'll determine whether the results are a good fit for the search term, or query.
You base your evaluation on a number of factors and then rate a result based on your findings.
That's right – search engines still use humans to evaluate results because, believe it or not, technology isn't always 100% accurate.
Search engines use techie algorithms to help people find what they're looking for, but they need humans to constantly test those algorithms to make sure that they're working correctly.
How Does Search Engine Evaluating Work?
As a Search Engine Evaluator, you'll be rating search engine results given to specific queries. Since this type of work reveals a lot about the algorithms of a search engine, you are required to sign a non-disclosure agreement before you begin work.
This agreement states that you will not disclose any confidential information about a search engine's algorithms or the specifics of the search engine evaluation job, including your pay rate and specific tasks.
So, for the purpose of this article, I am providing public information about the search engine evaluation job.
To get a Search Engine Evaluator position, you will go through a training process and evaluator test that will explain, in depth, your specific tasks.
As a Search Engine Evaluator, you'll be given a specific query, like "Dallas restaurants". You would assume that this person is attempting to find a restaurant to eat at in Dallas, Texas. However, sometimes search engines give some wonky results.
If results pulled up information about Dallas, the TV series, the searcher probably wouldn't find that relevant to his search for "Dallas restaurants"
That's where you come in as an evaluator to help search engines weed out the quirks in their algorithms.
How Much Can I Earn?
As a Search Engine Evaluator, you'll be hired as an independent contractor rather than salaried employee. Most Search Engine Evaluators report making between $12 and $15 per hour, but the tasks can sometimes be few and far between.
It's important to think of this job as side income or part-time employment rather than full-time employment because your pay depends on the number of tasks available, how well you perform them accurately, and how much work you decide to take each week.
Your tasks are also timed so you cannot go past a specific time limit.
As you get more used to evaluating, this shouldn't be a problem.
But, take this into consideration, as it does affect your hourly pay.
Still, several independent contractors for Search Engine Evaluator companies report making a decent part-time income.
Want more money?

Join Opinion Outpost, one of the few faithful and honest survey panels and earn cash and gift cards for your opinion. Stack your points and redeem them: Simple! No hidden fees and completely free!


The Benefits
As with any job, the Search Engine Evaluator job comes with pros and cons. You'll have to weigh them for yourself to make sure this job is a good fit for you.
One of the biggest perks about being a Search Engine Evaluator is that you can pretty much do it in your own time.
If you want a little extra money, pick up a few tasks after you get home from work or on weekends. Most search engine evaluation companies allow you to work anywhere from just a few hours to 20-25 per week.
And, you can do it at home in your pajamas if you want!
For those looking to make income at home without making phone calls or starting a business, this could be the opportunity for you. You're also saving on commuting costs – there's nothing cheaper than walking to your computer to work!
The Negatives
Unfortunately, if you're looking for steady work with a consistent income, search engine evaluation may not be the best choice for you.
The number of available tasks can vary on a weekly basis. Some weeks, you could have plenty available and other weeks, a shortage. It's not typically income you can rely on month to month.
As an independent contractor, you're also responsible for your own finances.
That means no employee benefits or perks and you have to pay your own taxes. And, not only will you have to closely track your hours for your own records, but you'll also need to track them to invoice the company so you get paid.
Where Can I Find Search Engine Evaluator Jobs?
There are several trusted companies who hire Search Engine Evaluators throughout the year. I recommend using Glassdoor to find some reviews from current and former employees of each company.
You can also use the search feature to search for "Search Engine Evaluator" and find more companies that occasionally open up evaluator positions, some salaried and some contracted.
These companies are the most common ones to find a Search Engine Evaluator position with, no experience required:
1. Introducing Leapforce.
Leapforce is, perhaps, the most well-known company hiring Search Engine Evaluators.
Its current and former contractors report earnings of about $13-$14 per hour as a Leapforce At Home independent agent.
Leapforce pays once per month via direct deposit.
Payment comes within 30 days after you invoice them for your hours worked. It's extremely important that you track all time worked accurately so you can get paid for every minute of every task.
The Leapforce At Home independent agent qualification test is pretty in-depth and many people fail it the first go-around (or thereafter!).
To have the best shot at passing the three-part exam, take a couple of days to really delve into the guide Leapforce provides.
This will help you answer the questions and understand the rating system.
Leapforce has mixed reviews from current and former contractors.
Its independent agents love the flexibility, but say that tasks can sometimes be few and far between.
Some also report that the independent agent rating process is frequent, and one bad review of your work can significantly restrict further opportunities for tasks.
Check out the Leapforce At Home independent agent FAQ section for more information about this Search Engine Evaluator opportunity.
2. Introducing Lionbridge.
Lionbridge offers several work from home positions all over the world, but they don't consistently have open positions for Search Engine Evaluators.
However, you can continue to check with its job opportunities page for Internet Search Evaluators and Internet Assessor positions.
The Internet Search Evaluator position is Lionbridge's Search Engine Evaluator job. As an Internet Search Evaluator or Web Assessor, you'll be an independent contractor for Lionbridge. Current and former contractors report an average of almost $14 per hour for both positions.
The Internet Assessor position requires you to rate online advertisements to help improve their quality.
Think of it as a Search Engine Evaluator for advertisements. It's a similar rating process and you'll be looking for many of the same features to assess.
To excel in either position, you should have familiarity with current news, pop culture, media, and cultural affairs in your country. This will help you better assess the online advertisements you're given to evaluate.
You'll also need a working computer with internet access and an Android smartphone to complete mobile tasks.
Lionbridge reviewers dislike the initial testing process and consistent review of performance. But for others, the ability to have a flexible schedule outweighed the cons.
3.Introducing iSoftStone.
iSoftStone has Search Engine Evaluator positions available in different parts of the world at different times, so you may need to keep checking its careers page to find an open position in your country.
Additionally, you can check job listings on Craigslist and Indeed, as it sometimes advertises open positions here.
The reported pay rate for iSoftStone's Search Engine Evaluator position is $12-$13 per hour. Its flexible schedule is a perk for current and former contractors, but some report that iSoftStone doesn't give enough guidance to allow its contractors to excel at the position.
As a Search Engine Evaluator for iSoftStone, you'll be entering specific search queries into search engines and evaluating them based on the iSoftStone rating system.
You should be able to use your own knowledge of what's important and trendy in your location to accurately evaluate each result.
iSoftStone provides free training and allows you to work between 10 and 25 hours per week on your own schedule.
4. Introducing ZeroChaos.
ZeroChaos is a fairly new company, but similar to all of the rest of the companies listed here. ZeroChaos doesn't mind if you work for others similar companies. Here you will be providing services for the Ads Quality Rater for $15 an hour for 10 to 30 hours as a part-time employee.
The best part is the hours are flexible, and you can log in whenever you want. However, you will need to provide between 10 to 30 hours a week without going into overtime. Again, you are considered a part-time employee of ZeroChaos. You must own your own computer and have high-speed Internet. Training is provided, which is also paid.
You will need to pass a two-part exam by finding their job postings on http://www.zerochaos.com/careers.php or Craigslist or Indeed where they prefer to post their job openings.
5.Introducing Appen.
Appen is made up of a global network of virtual teams to help global markets create and implement new products and technology. It often has job openings for web search evaluators and social media evaluators in the United States.
A social media evaluator is, basically, a Search Engine Evaluator that rates the performance of search results within social media networks.
Appen requires you to commit to 20 hours per week, but you can be pretty flexible with the times you work. In the job description, Appen specifies a requirement of 4 hours per day, 5 days per week, but what days and times is up to you.
The requirements for web assessor are similar to Leapforce's: General knowledge of search engines, attention to detail, ability to follow instructions, etc. To qualify for Appen's social media evaluator position, you should have vast knowledge of the major social media networks, like Facebook, Twitter, and Instagram. Preferably, you should be a daily user of these networks with your own accounts.
Appen states that your performance will be monitored consistently and will affect your ability to qualify for new tasks.
Most Appen reviews praise its evaluator positions as excellent work from home opportunities, but some call the work "tedious".
Become a Web Assessor Today
Check job listings for each of these positions on their company websites or job boards a couple of times per week.
Work from home jobs tend to get snagged quickly, so they may not be open for long. Try the search terms "search engine evaluator" or "web search evaluator" for best results.
If you come across other companies that offer work from home search engine evaluator positions, feel free to let us know. Good luck in your job search!
Related Posts:
Get Money: Cash In!

With American Consumer Opinion (ACOP) the numbers truly do speak for themselves: $30 million+ in payments so far, 7 million+ international members, 20 million+ surveys completed!