14+ Ways to Sell or Trade Your Amazon Gift Cards for Cash (Plus Ways to Trade for Other Stuff!)
Updated on: by Amy Kennedy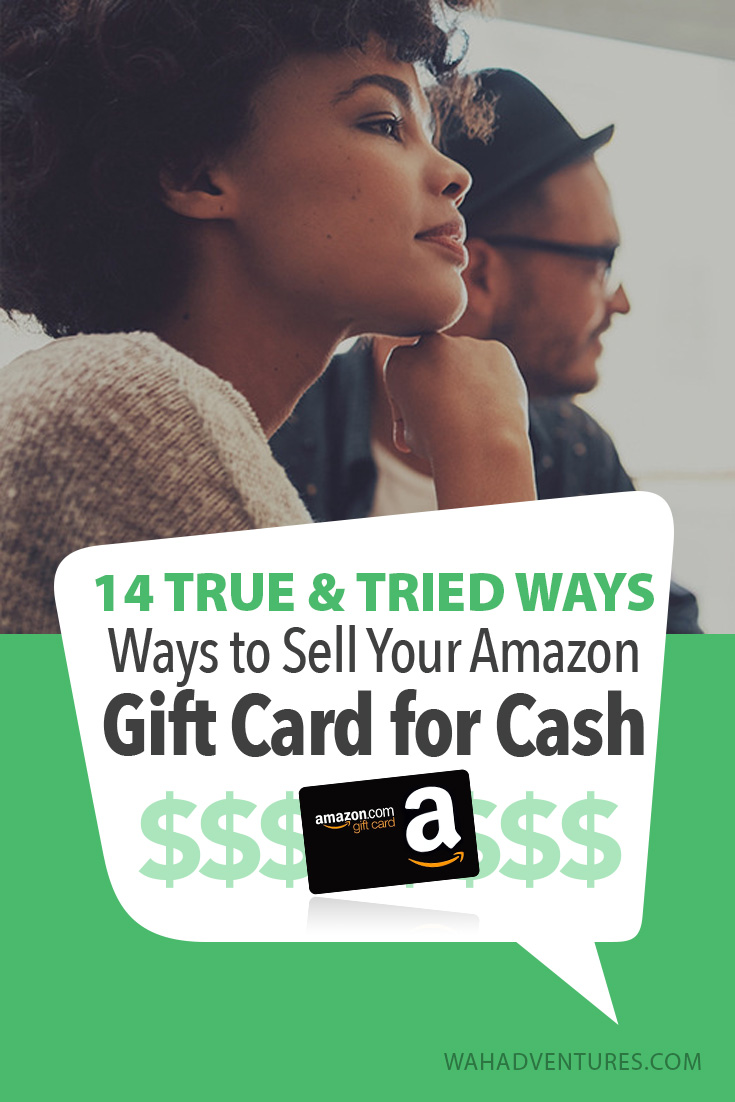 No matter how much you love Amazon, you may not need a bunch of gift cards for the online retailer.
Need Easy Extra $350+/Month For Free?
Or, you may simply need to transfer Amazon gift card to cash because you need the money more right now.
It happens!
Fortunately, there are several ways you can convert an Amazon gift card balance to cash or trade them in exchange for other gift cards.
Let's take a look first at some of the ways to trade Amazon gift card for cash.
How to Trade or Sell Amazon Gift Card for Cash
Don't Be Scared: Ask Amazon!
It sounds funny, but Amazon may just be willing to give you credit for your unused Amazon gift card balance.
You don't know until you ask and it doesn't hurt anyone to find out!
Amazon has amazing customer service and always tries to make its customers happy.
So, there's no harm in contacting customer service about your unwanted gift card.
Let the customer support agent know exactly what your balance is and that you're looking to get rid of your card.
It's possible that they'll suggest using it to buy a different gift card, or they may offer to give you money back on your linked payment method to turn Amazon gift card into cash.
You never know!
Sell Amazon Gift Card on Ebay
If you want to transfer an Amazon gift card into cash, one of the best ways to do it is on Ebay.
Not only is the auction website super easy to use, but you can possibly get someone to buy your gift card for its full value, or very close to it.
Sometimes, gift cards even sell for MORE than their face value!
There's a few theories on why someone would pay more for an Amazon gift card than it's worth.
Need Easy Extra Cash?
Pinecone Research, a leading name in online survey panel honesty, absolutely guarantees $3 cash for every survey you complete!
Take advantage of their time limited New Membership drive and register NOW. Join today: 100% free!


People in other countries may be able to use it to their advantage by working their magic with currency conversion.
Others may use their eBay Bucks, which is Ebay's equivalent of a reward system for purchasing on the website, to buy a gift card.
If they have a lot of Ebay Bucks accrued, but don't have anything in mind to use them for, some people may not mind paying a few extra dollars for a gift card if it goes over face value.
Also, several cashback websites, like Ebates and Swagbucks, give members cashback for shopping on Ebay.
A person may earn more in cashback from your purchase than he's spending on the overage with the gift card, so it's a winning situation for him!
Whatever the reason, there are definitely people willing to spend more for gift cards than they're worth, so you may get lucky.
And, even if it doesn't go over face value, you can still likely get very close to its value when you sell it.
I've sold gift cards on Ebay for only a few cents less than what they're worth.
Just be sure to purchase tracking with shipping if you're sending the card through the mail so you don't get scammed.
Some buyers will claim they never got the gift card, but if you can prove it was sent through tracking, you can cover yourself.
And NEVER post your gift card's details, like gift card number and PIN, on Ebay.
Ask Friends & Family
Have you asked your friends or family if anyone is willing to buy your Amazon gift card?
Facebook is wonderful for this!
Send out a quick status about the gift card and how much is on it, and gauge interest to see if anyone would be willing to buy it for a few dollars cheaper.
You'd be surprised how many friends on your Facebook list want to save a few bucks to purchase something they've been eye-balling on Amazon!
Craigslist
Craigslist is a good place to find local buyers for your gift cards.
The good thing about this is you won't have to worry about shipping the card and falling victim to a scam.
If you have an electronic Amazon gift card, you can physically present the gift card to your buyer by printing out the information and delivering it.
You can even offer to wait with the buyer while he uses his phone to double check the balance on Amazon.
You may have to sell for a little less on Craigslist than you would Ebay, but it can save you some peace of mind with a smooth transaction.
Here are a few more websites like Craigslist to try too!
CoinStar
Many people don't realize that CoinStar kiosks are for more than just turning your loose change into cash.
They can also exchange your gift cards for cash!
Well, at least some kiosks do.
You can search for a kiosk near you and the CoinStar website will let you know if the service is offered in your local kiosk.
Your gift card will have to be a physical card and be worth at least $20.
Put it in the machine, review your offer, and then you can print your voucher. Take it to a cashier to get the money!
Gift Card Websites
There are several websites on which you can sell or swap your gift cards.
But, they're not all legit, so it's important to stick with the tried-and-true websites that have proven themselves not to be scams!
Earn Everything… nearly!
Join Opinion Outpost, one of the few faithful and honest survey panels and earn cash and gift cards for your opinion. Stack your points and redeem them: Simple! No hidden fees and completely free!


Most of these websites generally work the same.
You'll register an account, enter your card information, and the website will give you an offer.
If you choose to accept the offer, you can get your cash through a check in the mail or PayPal.
Some websites will let you swap your balance for another gift card available on the site.
Here are a few you can trust:
Make Purchases in Exchange for Cash
You can always ask your family and friends if anyone wants something from Amazon that you can cover with your gift card.
If so, make the purchase for them and they can pay you in cash. It's similar to selling your gift card, but you can earn your full amount you spent in cash this way.
Just make sure to ask trustworthy people who you know will hold up their end of the deal!
Reddit
Reddit has a section just for gift card exchanges.
Make sure you read the pinned exchange guide before attempting to sell or trade your Amazon gift card.
Create your own post to let others know you're selling your gift card (but remember not to post its numbers!).
This subreddit is very active. Even as I write this, people are creating new posts and responding to others, so there's a good chance you can find a quick bite.
Use Prime Pantry
This is a round-a-bout way of getting cash for your Amazon gift card, but it can work in a pinch.
If you haven't yet heard of Prime Pantry, now is the time to learn.
Amazon's Prime Pantry has tons of food and household goods, just like the grocery store. You can fill up a box with items and have the full thing sent to you for only $5.99 in shipping costs.
And it's usually a big, heavy box!
If you're in a pinch and need cash instead of your Amazon card, use your gift card to purchase your groceries on Amazon.
You'll keep your cash in your wallet, essentially trading your gift card for cash.
Use the Raise App
Raise is like a cross between Ebay and gift card selling websites.
You can list your gift cards for sale and wait for other people to buy them.
Raise says most gift cards sell on its website within about 24 hours!
But, even more convenient is the Raise app, which is available for iOS and Android devices.
You can list your cards through the app and keep track of your listings and earnings easily.
Better yet, you get paid directly to your bank account once the sale is finalized!
Sell on Gift Card Marketplaces
There are online marketplaces specifically designed for buying and selling gift cards.
These platforms connect sellers with potential buyers, allowing you to sell your Amazon gift card for cash. Some popular gift card marketplaces include:
You can list your gift card on these platforms and set your preferred selling price.
Once a buyer purchases your gift card, you can receive payment through various methods.
Use Online Auction Platforms
In addition to eBay, there are other online auction platforms where you can sell your Amazon gift card to the highest bidder.
These platforms often attract buyers looking for discounted gift cards. Consider exploring auction websites like:
By listing your Amazon gift card on these platforms, you can potentially earn cash from the highest bid received.
Sell Locally through Classified Ads
Utilize local classified ad platforms to reach potential buyers in your area.
Websites like Gumtree, or local newspaper classifieds allow you to list your Amazon gift card for sale. Interested buyers can then contact you directly, and you can arrange a local meet-up to complete the transaction and receive cash payment.
Gift Card Buyback Websites
Some websites specialize in buying gift cards directly from sellers.
They offer a straightforward process where you can sell your Amazon gift card for cash.
While the buyback rates may be slightly lower than face value, these platforms provide a convenient option for quick cash.
Examples of gift card buyback websites include:
On these websites, you can enter your gift card details and receive an offer for its value.
If you accept the offer, you can choose to receive payment through methods like check, PayPal, or direct deposit.
How to Use or Sell Amazon Gift Card for Other Stuff
If you don't necessarily care about getting cash for your Amazon gift card, you can check out these other ways to use it or exchange it for other stuff.
Buy Other Gift Cards on Amazon
Amazon is unique in that it doesn't just sell gift cards for its website.
It sells gift cards to tons of other places too!
So, if an Amazon gift card just isn't what you're after, you can use it to purchase another gift card on Amazon.
Amazon sells both e-gift cards and physical gift cards, so you can choose the type you want and browse the options.
Some of the more popular gift cards Amazon sells are for Applebee's, Subway, AMC Theaters, Sephora, and Sears, but there are hundreds to choose from!
Exchange for Bitcoin
Trading your Amazon gift cards for Bitcoin is another option.
Bitcoin is a form of payment that keeps all of your details anonymous. It's perhaps the most secure way for you to pay for anything online, because your name and other identifying information is kept private.
Think of it like PayPal, only an anonymous version.
Purse is a website dedicated solely to exchanging Amazon gift cards for Bitcoin.
It's like a marketplace for you to find buyers. Others will post the items they want from Amazon, and you agree to purchase the items using your gift card.
The person funds an escrow account to ensure you get paid to complete the process.
Once it's all finalized, the other person gets his items from Amazon and you'll get Bitcoin that you can spend however you choose online.
Since Purse deals exclusively with Amazon, it's a good one to use. But, you can also try Paxful and LocalBitcoins, both of which let you sell gift cards, including Amazon, for Bitcoin.
Use Amazon Pay
Did you know that you can use your Amazon gift card to purchase items from other retailers?
That's because Amazon has its own payment method, called Amazon Pay, that several online merchants are now accepting as a form of payment!
If the merchant accepts Amazon pay, you'll see a small button in the checkout process that says something like "Pay with Amazon".
Click that button, and you'll be directed to your Amazon account, where you can choose to use your gift card as a payment method. It works very similarly to paying with PayPal.
Amazon partners with new merchants all the time, so even if the one you want to buy from isn't currently accepting Amazon Pay, it could be soon.
Check this list of current merchants to see what ones accept Amazon Pay!
Donate Them to Charity
I know you came here looking for ways to sell or trade an Amazon gift card, but I figured I'd lay out this option because it may float someone's boat, and it's a really awesome cause.
You can donate your Amazon gift card to charity using GiftCards4Change.org.
Even if you have only a small balance left, you can send it to the organization.
What it does is use the remaining balance of gift cards of any kind to make purchases for food, clothing, shelter, and other necessities for those in need.
You can imagine that an Amazon gift card would help wonders for this cause!
You can even earn a charitable donation receipt to deduct the donation on taxes.
The organization will send you one, if requested, via e-mail within 48 hours.
Did you know you can earn free gift cards online without having to take surveys? Check out this post for ways to earn them! And, don't forget to leave us a comment letting us know how if we missed any ways to sell or trade Amazon gift cards!
Related Posts:
Earn Everything… nearly!
Join Ipsos iSay, one of the few Faithful and Honest survey panels and earn prizes, gift cards and donations. Stack your points and redeem them: Simple! No hidden fees and completely free!