What are the Best Places to Sell Antiques Near Me and Online?
Updated on: by Amy Kennedy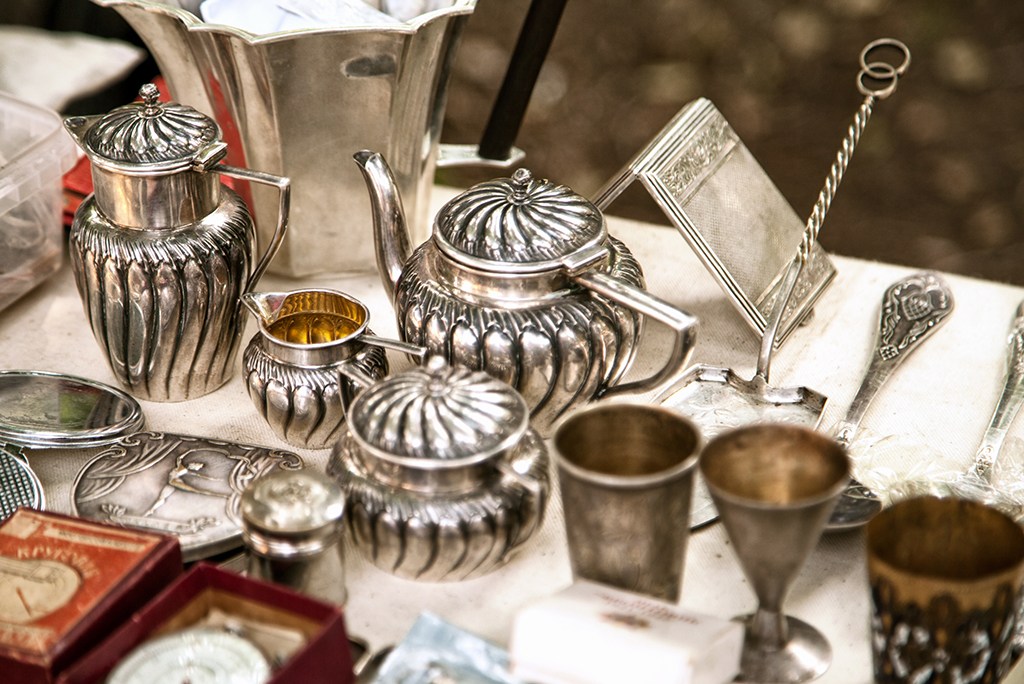 Antiques can be some of the most profitable objects to sell, especially when you have collectibles on your hands that have been passed down through generations.
Need Easy Extra $350+/Month For Free?
But the antique shops that once existed are no longer as prevalent as big-name department stores and malls take over.
So, where can you sell your antiques you no longer want?
And is it possible to still make money with an antique selling business?
The answer to the last question is a definite yes. And there are still many places to sell your antiques, whether you just have a few to get off your hands or you want to start an antique business.
Keep reading for all the details about where to sell antiques locally and online.
Where to Sell Antiques for Cash Online
Selling antiques online could give you some of the best prices because you're selling to a wide range of people rather than those who live near you.
That means that you could find the absolute perfect buyer for your goodies who's willing to spend more to get what they want.
The following are some excellent online spots to sell your antiques:
I love using Etsy for finding unique gifts for people or décor for my home.
It's also an amazing spot for online antique shopping.
You can set up an Etsy store to host your antiques to be available to Etsy buyers.
You'll have some costs associated with running your store and selling items, but they're minimal compared to the money you can make from selling antiques.
Webstore is an online auctions site where you can sell antiques and other items.
This place has no listing fees, no commissions, and no final value fees, so you can keep all of the profits you make on everything you sell.
It's also completely free to register for an account!
Need Easy Extra Cash?
Pinecone Research, a leading name in online survey panel honesty, absolutely guarantees $3 cash for every survey you complete!
Take advantage of their time limited New Membership drive and register NOW. Join today: 100% free!


Artfire is a site where you can host your own online boutiques.
People sell clothing, accessories, household décor items, and other stuff here.
Antiques sell well here, too!
There are different Artfire shop plans to choose from depending on how much you plan to sell, so you can find something that fits your budget.
Artfire also has a bunch of marketing tools to help you promote your listings and sell more.
Sotheby's is a place for online auctions for items like art, jewelry, and even wine.
So your collectibles and antiques might have a home here.
You can become a seller by applying for submission and having a specialist review your items.
The specialist will also let you know which method would be best for selling (through an auction, on the website, or via a private sale).
Bonanza is a good place to sell items that are different, collectible, etc., so antiques work well here.
You can open a shop for free and have no listing or setup costs.
Bonanza also connects to other online selling places, so you can potentially have your eBay or Etsy shop synced with your Bonanza shop to keep track of your orders and inventory easier.
eBay is one of the best places to sell online.
You can choose to sell with online auctions or a fixed price selling model.
The latter is best to use if you know exactly what something is worth and don't want to get less than that amount for it.
Auctions are helpful when you think a product could sell for even more than its worth because of how desirable or collectible it is.
eBay offers a lot of helpful tools for sellers to customize the look and feel of your listings, so it's possible to create a fully branded spot on the web for your auction house.
1st Dibs sells a bit of everything, like home goods and antiques.
You'll need to apply to become a seller, and 1st Dibs has strict requirements for the stuff it'll let you sell, so make sure your antiques are more high-end before applying here.
Everything But the House helps people work through moving sales, estate sales, and more – but it'll also let you list your antiques on the site.
You can choose just to sell a couple of things or sell a bunch of things.
Apply online by sending some photos of what you have in stock for a specialist to review.
There's also a section where you can make notes about your items that could help the site know more about them and approve them for listing.
Ruby Lane features antiques and vintage items of all types for sale.
You can register as a seller for free, but you'll need to have at least ten items for sale in your shop at all times to remain open.
Ruby Lane has no listing fees, but there is a monthly shop fee and selling fee to support your shop.
This site, like its name suggests, sells antiques!
You can either sell a few items on the site by opening classified ads for them or open a shop to sell several items if you plan to sell frequently.
Opening a shop goes allows you to have unlimited listings, no listing fees, and syncing with Google and eBay shopping.
Earn Everything… nearly!
Join Opinion Outpost, one of the few faithful and honest survey panels and earn cash and gift cards for your opinion. Stack your points and redeem them: Simple! No hidden fees and completely free!


You can also try it out for free for 60 days before committing.
Host an Instagram Auction
Did you know that you can start auctions on Instagram?
It's something a lot of brands are starting to do, especially once they get large followings for their accounts.
Basically, you can host an Instagram live (let your followers know what time you'll air) and hold an auction during that time to sell some pieces.
People can comment during the live and respond to you with their emails for invoicing.
You can then invoice the winners (the highest bidders) and wait for your payment before shipping them off.
Your Own Website
Last but certainly not least: You can start your own website for selling antiques!
If you have a website already that's relevant to antiques, you might add a Shop section with listings.
If not, you can always start a new one with Shopify or another website builder to start selling products.
This can be one of the best routes to go if you have some time and money to set up your site because it gives you all the control over pricing and selling every item in your collection.
Read More:
25 Places to Sell My Vinyl Records Near Me (or Online) for the Best Price
Top 36 Ways to Sell Used Furniture Fast Locally and Online
Antique Dealers Near Me
If you prefer the local store or local selling scene, then these options might be better for you.
Here are some of the best places to sell your antiques locally.
Local Antique Shops
You probably have some local antique stores right in your neighborhood or nearby that will gladly accept your antiques.
Unfortunately, these shops may not pay you what you were expecting for your items because they'll need to make a profit too.
But you never know unless you ask.
Always go in armed with as much information as you know about your items and their current estimated value, so you have room to negotiate.
Consignment Stores
Consignment shops are very similar in that they take used stuff and resell it for a profit.
If you don't have local antique stores, consignment stores could be a good alternative option.
Again, bring in all the information you have about your antiques, so you don't sell yourself short.
Alternatively, you could ask the consignment shop owner if they know of antique stores near you that you could try (often, these types of stores know about each other and may even connect with each other to swap items on occasion).
Pawn Shops
You could strike it big at a pawn shop, especially if the person you talk to is really into antiques – specifically, the types of antiques you have in stock.
You can sell to most pawn shops instead of pawning something, so it's best to ask for that option rather than pawning so you're not stuck paying back money.
Mom & Pop Shops
If you have Mom & Pop shops in your area, check with a few to see if they'll accept your antiques!
These kind of small-town stores usually love finding stuff you can't find anywhere else to keep shoppers interested, and your antiques could be just what they're looking for.
Don't expect top-dollar pricing, but this could be a good route for stuff you're not super particular about getting a specific dollar amount from.
Auction Houses
Auction houses always deal with antiques, and auctions can lead to some of the highest profits.
People can bid what they want, and really popular pieces might see their prices go up, up, and away as more people keep bidding.
If you have an auction house in your area, contact it to see when antique auctions are taking place and what the requirements are to get your pieces included.
Flea Markets or Yard Sales
Set up your own table at a flea market if you have a lot of antiques to sell.
You'll need to pay to set up at most flea markets, but selling just one or two antiques could make up your costs – and then some.
Or, you can see what yard sales are going on in your area.
Ask if you can set up your own table at a yard sale – or create your own – to sell your antiques.
Partnering with other yard sale sellers can bring more attention to your items, though.
Facebook
You can use Facebook's Marketplace to sell near you.
The section of the site is specifically designed to help people sell stuff to others in their area, but Facebook recently allowed people to start shipping through Marketplace, too.
You can also post what you have for sale on your Facebook profile for people you know to look through and shop!
Craigslist is an online classifieds site that's used a lot for selling stuff.
You can think of it kind of like an online yard sale, but it can also be a good spot to find buyers for collectibles and antiques in your area.
You can also sell outside of your area, but be prepared to have to travel a bit to meet up with your buyer.
Make sure you also note in your listing where you're located and where you're comfortable meeting so the buyer is aware that some traveling may be required.
Selling Apps
Selling apps help you sell your antiques right from your smartphone or tablet to other people who live near you.
Most apps don't have any costs associated with them to start selling, and you can edit your listings, add photos, and contact buyers from your device.
Here are a few of the best local selling apps to try:
eBay
I listed eBay as a place to potentially sell your antiques online, but you can also use it to sell locally when you fix your settings to allow local buyers only.
This is a good option if you're familiar with creating eBay listings and want to reach a lot of eBay shoppers you are located near you.
Tips to Help You Sell Antiques Near Me and Online
Understand Your Item's Value
Firstly, it's crucial that you understand your antique's value.
This might involve doing some extensive research to compare similar items, and possibly even consulting with an expert appraiser.
You must consider factors such as the item's age, condition, rarity, and demand. Understanding the market value of your antique is crucial in setting a fair and competitive price.
Document and Present Your Antiques Effectively
Good presentation is key to selling antiques.
Take high-quality, clear photos from multiple angles to showcase the item's condition and finer details. Include dimensions and any other pertinent information.
If there are any flaws or damage, be honest and document these as well.
A well-presented, honest listing can greatly increase a potential buyer's trust and interest.
Use Online Marketplaces
Consider using online marketplaces, such as eBay, Etsy, or specialized antique selling websites.
These platforms offer a large audience of potential buyers.
Ensure your listing is detailed and accurate, use the right keywords to help buyers find your item, and follow the platform's guidelines to maximize your chances of a successful sale.
Leverage Local Antique Dealers or Consignment Shops
If you're selling locally, take your item to a few different antique dealers or consignment shops to get a range of opinions and offers.
This is also a great opportunity to gain more insights into the market and your item's value.
Be aware, though, that dealers might offer less than the retail price, as they need to account for their own profit margins.
Network with Antique Collectors and Groups
Networking can be highly beneficial when it comes to selling antiques.
Attend local events or fairs, join online forums, or engage with social media groups that focus on antiques.
This not only helps you find potential buyers, but also lets you gain further knowledge about your items and the current market.
You can also establish relationships with fellow enthusiasts, which could lead to future sales or trades.
Finding Antique Buyers: The Best Places to Sell Antiques Near Me and Online
Antique selling is an excellent way to make money for things you have around the house.
It can also be a great idea for a new business venture!
Either way, you now have lots of new places to try to sell your antiques.
You can sift through the list, contact your favorites, and get an idea of how much you can make selling at each place.
Then, decide which one offers you the most benefits and the best profit.
Good luck!
Related Posts:
Earn Everything… nearly!
Join Ipsos iSay, one of the few Faithful and Honest survey panels and earn prizes, gift cards and donations. Stack your points and redeem them: Simple! No hidden fees and completely free!