30 Best Places to Sell College Notes Online for Cash
Updated on: by Amy Kennedy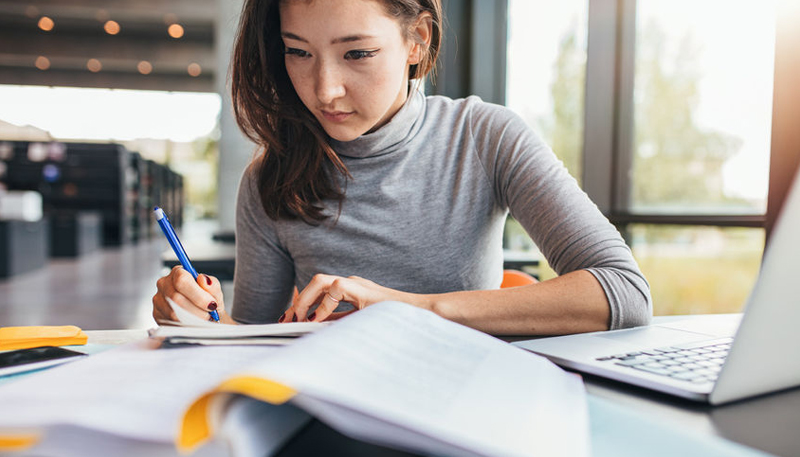 When you're a college student, it can be tough to make money because you're limited on time.
Need Easy Extra $350+/Month For Free?
You already have classes to take, papers to write, and maybe even a work-study job to help you pay off loans.
Fortunately, there's a way that college students can make some extra money by doing something they have to do every day anyway: take notes!
If you're an exceptional note taker, then it's totally possible for you to make money to sell study guides and thorough notes to other students who need some help.
I was a college student once, so I know the struggle that students face when trying to pay their way through college but not having a lot of money-making options available.
That's why I put together this roundup of websites that let you sell your college notes and make a little extra money between classes.
Sell College Notes Online for Cash!
I do want to start off by saying that you won't get rich selling your notes.
However, remember that taking notes is something you're doing anyway, every single day.
There are no extra steps to take or extra time taken from your day when you sell your notes.
You'll already have them, have used them, and can now pass them along to someone else who needs more.
And you'll earn some extra money from doing it.
So, while you shouldn't expect to earn enough income to replace a job, you can expect to earn some extra cash to help you out through college.
Totally worth it!
Let's get onto the sites:
Campus Shift is a marketplace for notes where you can find other students who want to buy yours.
You'll get 85% commission on the notes you sell and can set your prices.
Need Easy Extra Cash?
Pinecone Research, a leading name in online survey panel honesty, absolutely guarantees $3 cash for every survey you complete!
Take advantage of their time limited New Membership drive and register NOW. Join today: 100% free!


Campus Shift also lets you sell used textbooks, so you won't have to search for another site to use to make money off those too.
Course Hero is a place where you can sell notes, study guides, and other helpful resources to other students.
This site also has tutoring, 24/7 questions and answers, and other helpful resources for any struggling college student.
If you're an awesome note taker or write a lot of in-depth study guides for classes, then you can definitely benefit from selling your stuff on this site.
Course Hero used to offer cash to people who uploaded their resources for others.
Now, the only way you can earn money is by becoming a tutor.
However, you can earn money toward a monthly subscription to the site by uploading documents and by referring friends, which can save you money while you get some excellent study help for school.
GradeBuddy lets you earn cash for your notes in two ways:
Upload your notes to the database for others to purchase, or
Apply to become a note-taker for the ability to earn up to $500 per semester.
The second option usually gives you a better chance of earning money, but it also takes up more time because you'll need to attend specific classes at specific times.
If you just want to upload your notes, you can sign up with the quick online form and begin uploading them to the database for students to buy as they need them.
Nexus Notes is a marketplace for notes and helpful resources for students.
When you upload your notes and study guides here, Nexus Notes actually checks them for accuracy and helpfulness before they're added to the database.
Once approved, others can purchase your notes for $35. You'll receive 50% commission for every set that sells!
Nexus Notes will pay you your commission at the beginning of each month via PayPal.
Notesale is a place for UK students to go to buy and sell college notes.
Here, you can set your own prices for your work.
It's a good idea to be somewhat competitive in your pricing, though, or you may not get many bites from broke college kids!
You can upload your notes quickly and they'll automatically be available for download and purchase by other students.
It's not clear how Notesale pays or what your commission price will be, but you can always contact the company via the website to ask further questions before you start selling.
Notesgen actually focuses on more things than just notes.
Here, you can sell things like:
Case studies
Presentations
Study guides
Lab results
Research
Think of it like a one-stop shop for any type of valuable educational material that can help college students.
You'll set your own prices here and can get paid every Friday for your sales.
You'll get 60% commissions for sales.
Notesgen also has an app for Android and iOS devices that lets you access your account and upload notes quickly and easily.
Notesmate is another website that lets you find buyers for your college notes.
There's also an app available for iOS and Android devices.
You can set your own prices for your notes, or even give them away for free if you feel like being generous.
This place is somewhat like a social media network too.
Earn Everything… nearly!
Join Opinion Outpost, one of the few faithful and honest survey panels and earn cash and gift cards for your opinion. Stack your points and redeem them: Simple! No hidden fees and completely free!


Others can follow you, which can help you get more eyes on your notes.
You can get your payments transferred directly to your bank account, although the website doesn't mention specifics on how often you're paid or your commission.
This is a UK-based site that lets college students buy and sell their notes online.
To become a seller, all you need to do is click the Become a Seller button and fill out your information to start uploading notes to the site.
You'll notice if you browse through the recently sold notes that many of them are free samples.
This is a good strategy offered by sellers that I'll explain more about in my successful note-taking tips below.
This site is for Australian students who want to earn some money from their notes.
It's free to use the marketplace and set up a shop for your notes.
You can even set your own prices.
The best part is that you'll earn 100% of your sales through NoteXchange!
The only trick is that you can only earn 100% commission if your buyer purchases notes through your own marketing tactics.
If NoteXchange helps someone see and buy your notes, then you'll earn 50% commission, which is still a great number.
You'll receive payments once at the end of each month via your bank account.
Omega Notes lets you sell a variety of helpful resources, including cheat sheets and study guides, for other students.
You can price all your downloads yourself, but Omega Notes does offer a helpful recommended pricing guide to get you started.
The recommended prices are based on what students tend to actually pay for those types of resources.
Omega Notes offers 70% commission.
There are some other fees to note though.
You'll get charged certain fees for pricing something above $35, as well as listing something for 24 months or more.
Large uploads may also be subject to a fee.
The best thing about this site is that you won't have to wait to get paid.
Omega Notes sends you your money via PayPal for your notes immediately after someone purchases them.
OneClass works a little differently than the others.
You won't get cash for your sold documents but will instead earn credits.
You'll earn credits for uploading your helpful notes for others to download.
If you have excellent note-taking skills, you can become an Elite Note Taker, which gives you three times as many credits per upload.
You can exchange your credits for cash and prizes, like Amazon Gift Cards.
If you know friends who could use some extra study help, refer them!
You'll earn 50 credits for each friend who signs up under you.
Oxbridge Notes is among the most popular note-selling websites.
It covers students in several countries, including the United States, Canada, and the United Kingdom.
You can sell a variety of materials here in addition to notes, like outlines, PDFs, sample test questions and answers, and more.
You'll receive 72% of the net sales price that Oxbridge Notes receives after PayPal fees and sales tax are taken out.
The website states that the average seller makes about $250 a year selling their materials, which is $250 extra in your pocket that you didn't have before.
Knetbooks
Knetbooks is primarily known for being a platform where students can rent or buy textbooks at a significantly lower price.
While it doesn't have a dedicated section for note selling, it does offer an option for students to sell their used textbooks.
Given its large user base, you could potentially find ways to sell your notes as well, although you should verify this with Knetbooks directly to ensure it complies with their terms and conditions.
DocMerit
DocMerit is a platform that not only allows the exchange of notes but also offers a marketplace for students to sell or buy study guides, assignments, presentations, and solutions.
This could be a suitable platform if you have a variety of academic resources to sell, and not just class notes.
However, you should check their specific commission rates and selling policies.
StudentNest
StudentNest is primarily a tutoring platform, but it also allows for the selling of study materials.
As a tutor, you can share your knowledge and earn, and in the process, sell your academic notes and materials to your students or others on the platform.
Make sure to clarify this option with StudentNest to ensure it's allowed as per their guidelines.
Flashnotes
Flashnotes is an online marketplace where students can buy and sell notes, study guides, and flashcards.
The platform also allows for live video tutoring.
Payments are made via PayPal, and the platform encourages the selling of quality notes by allowing students to rate and review their purchases.
StudyBlue
StudyBlue is a massive online study library with over 400 million flashcards, notes, and study guides from students like you.
Here, you can upload your study materials and in return, get access to other students' notes.
While it doesn't directly pay for your notes, the platform operates on a shared learning model which could be helpful if you're looking to gain access to a wide array of academic resources.
Thinkswap
Thinkswap is an Australian-based platform where students can buy and sell their course notes, study guides, and other academic documents.
Each document is priced in exchange credits and students earn credits when their documents are bought by others.
Credits can be used to buy documents from the website or can be cashed out.
Quest Notes is a simple marketplace for students to buy and sell notes.
Upload your notes and Quest Notes handles the rest.
You can have multiple sales on one set of notes.
The only downside is that you can only earn up to $0.20 per upload.
However, you'll also get free credits that you can use toward other notes that you might need, which can save you money.
You get 70% commissions on your sales and you can withdraw your money once you have at least $10 via PayPal.
This site is for University of Georgia students only
You'll need to send in an application to become a notetaker for Student Notes.
This site focuses on in-depth notes to help others study for tests in specific classes.
You can earn cash for the notes you take for every test in your class.
The amount you make will vary depending on how well you took notes and how many pages they are.
The website states that, on average, a set of notes sells for $75. You'll get 5% of the sale.
You'll need a GPA of at least 3.4 to be eligible to become a notetaker for Student Notes.
StudentVIP is a large Australia-based marketplace for student resources.
You'll get 75% commission on your notes and are allowed to price them up to $59.
StudentVIP will review all materials you upload before they're eligible to be sold on the site.
So make sure they're great!
You can request a transfer to your bank account and can expect to see it within 14 days.
StuDocu is a little different than other note-taking sites in that it will buy your notes directly from you instead of making you upload them for other students to buy.
Once you sign up for an account and upload your documents, StuDocu will give you an estimate for everything you send in.
You can choose to accept it or not.
If you do accept the price for your notes, you'll receive PayPal cash, usually within two business days.
In some cases, you may receive an offer for a 30% markup on your quoted price, which gives you an extra 30% if you choose to accept your offer right away.
You can apply to become an Elite Notetaker with StudySoup.
You can choose to cash out your earnings via PayPal or direct deposit.
Either option should give your money in 2 to 5 business days.
The site does cap sellers on selling only three study guides per semester.
Stuvia is another place to go to get paid for your notes.
This site accepts study guides, outlines, flashcards, and more.
You'll need a minimum of 10 euros in your account to cash out.
When you do choose to withdraw your money, Stuvia will pay it out the following Monday, every week.
You can set your prices for your notes and Stuvia will take a commission, although I can't find an exact amount on the website.
Read Also: 28 Best Places to Sell College Textbooks for the Most Cash
Other Ways to Sell College Notes
Want a few more ideas for ways to sell your college notes?
Here are some more places:
While you won't be able to upload your notes directly to Upwork to have them sell to clients, you can market yourself on your profile as a college note-taker.
Doing so can get you note-taking jobs from clients who post them!
Upwork allows different profiles for different skills, so as long as you're already a freelancer there, you can add another profile specifically for note-taking.
When you apply to jobs that involve taking notes, you can apply with that profile so that clients can see your skills, experience, and portfolio.
Not on Upwork yet?
Don't worry – you can still apply.
Choose a skill you want to sign up with and you can always tweak your profile later.
One awesome thing about this marketplace is that it has an escrow payment system that clients pay into and release the funds to you when your project is complete, making sure you get paid for your work!
Craigslist
Craigslist is another option for note-takers, especially if you'd rather sell locally than online.
You can position yourself as the go-to note-taker in your area on Craigslist – bonus points if you live in a college-heavy area! – and have people come to you for help.
You might create a post advertising notes that you've already written.
Or, you can create a post to let people know that you're available to write notes for them along with letting them know what your hourly rate is.
Facebook Marketplace
Facebook Marketplace is another (free!) option for selling your notes locally.
Just create a listing explaining what your notes are about and adding a sneak peek photo.
Then, Facebook lets you not just share them to the Marketplace, but also gives you the option to share them in groups, on your page, or on your profile.
If you have friends on Facebook who might be interested, you can also share your listings with them through Messenger.
eBay is another option for note selling!
This site lets you either make an auction or set a flat fee for your notes.
Make sure to use keywords in your listing title and description to help college students find your notes.
For example, you might want to name the title of the class or the university in your title.
The listing and selling fees on eBay are minimal, but you can also pay a little extra to get fancier listings that could stand out a bit more.
On eBay, you're able to choose if you want to ship your notes or sell them locally, but offering shipping is probably your best choice to reach a wide range of students all over the country or the world.
Your Own Website
Do you own a website that's relevant to college life in some way?
Then you might have the perfect hub for selling your notes at your fingertips already!
Utilize your website and your audience to create a selling spot for your notes.
You can offer them as digital downloads for people to purchase over and over again, which could end up becoming a decent side hustle for you.
You can also use your website to link to other places you might use to sell your notes, like eBay listings or on Upwork, through blog posts that your audience reads.
Start a Note-Taking Business
This last idea can become a game-changer for you if you do it right.
Starting your own note-taking business can be an excellent way for you to get steady income from your note-taking talent.
You can either be the sole businessperson and market yourself as a note-taker for college students.
Or, you can start a business similar to those above where college students post their notes for others to buy.
If you go the second route, though, be sure to offer something different than other companies are offering.
You'll be competing with established companies, so your business will need to stand out in a way that makes note-takers want to come to you with their notes.
The Anatomy of a Successful Note Taker
What do you need to become a successful note-taker that people want to buy from?
Here are some necessary skills and habits you'll need:
Attention to Detail
Note takers need to pay attention when in class.
But not just pay attention – they need to have a keen sense of the important details that they'll need to jot down.
It also helps to be able to actively listen and write at the same time, so you won't miss anything that's being talked about as you're writing.
Organization
Most of the sites above won't accept your notes if they're sloppy or not organized in a way that makes sense.
College notes should flow well, use headings and sub-headings to break down information, and be written with neat handwriting.
In fact, some of the sites that accept college notes have an upload process that checks for these things before accepting your notes on the platform.
The more organized your notes are, the better your chances of getting them approved and sold.
Don't be afraid to use highlighters (but use them correctly), underlines, etc., to help different parts of your notes stand out.
Note-Taking Skills
Note takers who want to sell their notes need excellent note-taking stills – ones that you probably learned in middle and high school!
Most importantly, you should know how to pick out important details as you listen to a lecture.
Writing down everything will overwhelm your notes.
Besides, that's not what notetaking is all about.
Notes should be clear, succinct, and tell the overall story of what a lecture was about rather than explaining the whole thing.
Other traits good note-takers need include:
An ability to write in your own words (not word for word from a lecture)
An understanding of abbreviations or short hand writing
Quick, but clear, handwriting
An ability to create tables, bullet point lists, and other elements that break up a page and offer more resources for those reading the notes.
Opt for Digital Notes, If Possible
If you're allowed to bring a laptop to class, you might want to consider using digital notes instead of handwritten ones.
Most people can type faster than they write.
Plus, it's easier to fix mistakes on digital notes than handwritten ones.
And the last thing you want to do is rewrite a full page because it's sloppy or you made a mistake!
Digital notes can be organized quickly and easily with a few edits after you're done typing them, making them excellent options for people who want to sell them.
They're super easy to upload, too, because they're already in digital format!
Don't Miss Class
Attending each class that you're taking notes for is crucial to the overall process.
Students aren't going to want to pay if you miss classes because they won't get the full notes for each lecture.
Make sure you don't overpack your schedule in a way that doesn't allow you to attend each class you need to.
Avoid Plagiarism
Colleges and universities take plagiarism very seriously, so it's not something you want to come close to doing.
The best way to avoid it is to always write notes in your own words, your own tone, and your own voice.
Never write exactly what a textbook or professor says during a lecture.
Also, avoid taking bits and pieces of other people's notes or class handouts, which could also spell trouble in the form of plagiarism.
Offer a Free Sample
I mentioned above that some college note takers give students a free sample of their notes before they buy anything.
This is an ingenious way to make sales, even though you're giving something away for free.
In doing so, you're letting students see what you have to offer and make sure your style is what they're looking for before they actually spend money.
Most college kids don't have a lot of extra cash to spare, so they want to use it wisely.
If you're offering a sample and someone else isn't, they'll probably come to you first to see how you do.
And if they like you're work, they probably won't be as hesitant to spend their money on you!
So, when possible, offer a free sample.
You can give the same free sample to everyone so you're not constantly writing notes for free.
And it doesn't need to be pages, either.
Your sample can simply be just one page of your very best notes to keep customers coming your way.
Conclusion: Get Paid to Take Notes in College Classes
You're a struggling college student who needs some extra cash to buy food, textbooks, and all the other essentials.
Don't worry!
I've been there, and I made it through.
Although I've never tried selling my notes (only because I wasn't aware that it was possible at the time!), I found other ways to make some cash through college.
Selling notes seems much easier than some of the other methods out there!
After all, you take notes every single day.
You usually don't need them after you're done with the class.
So why not sell them and make some money while you help out other students?
Good luck!
Have you ever sold your college notes?
If so, have you used any of the above sites or know of others that let you make some money in similar ways?
Let us know in a comment below!
Related Posts:
Earn Everything… nearly!
Join Ipsos iSay, one of the few Faithful and Honest survey panels and earn prizes, gift cards and donations. Stack your points and redeem them: Simple! No hidden fees and completely free!