30 Best Places to Sell College Textbooks for the Most Cash
Updated on: by Amy Kennedy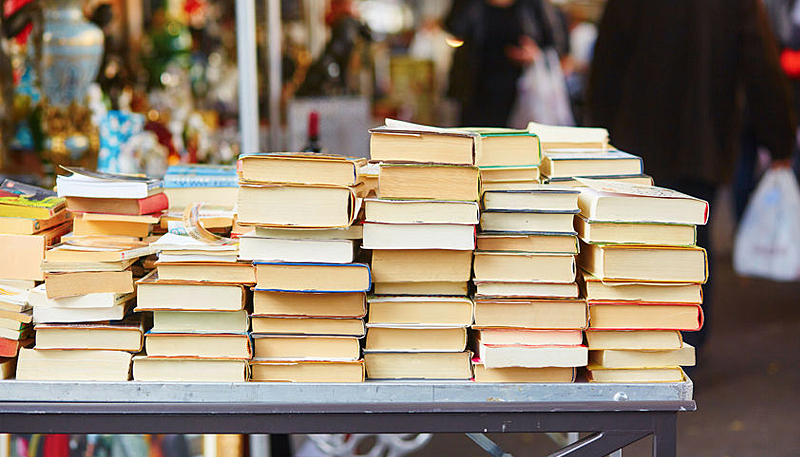 Did you spend tens of thousands of dollars buying college textbooks while getting your Bachelor's degree? If so, it may be time to sell those books and make some money back.
Need Easy Extra $350+/Month For Free?
Instead of selling your books back to the campus bookstore for a low price, we've detailed 28 best places to sell college textbooks for a good price below.
We will first start with the highest paying book buyback so that you can make the most bang for your buck.
You could even make enough money selling your textbooks to spend the summer jobless! Enjoy that summer breeze at the pool instead.
Best websites to sell textbooks
1. Book Scouter: Best Place to Sell College Textbooks for a High Price
If you're looking for the highest price for your college textbook, you won't go wrong with the Book Scouter website.
This site lets you enter in information about the textbook you want to sell and then look for a place online that will buy the textbook for the highest price.
You can search for places that offer high prices by typing in the title or ISBN number of your college textbook. You can compare prices and reviews.
You can even ship your books for free after picking a buyer!
Best of all, you can get a Book Scouter mobile app to view vendor ratings and buyback prices for greater ease and convenience.
2. Cash 4 Books
For those looking for a quick way to receive payment, one of the best places to sell college textbooks is the Cash 4 Books website. This website makes sure that you get paid within three days after selling your textbooks to them.
You can quickly get a quote from the seller and even ship your books for free!
3. Sell Back Your Book
For another place where to sell used textbooks, Sell Back Your Book is known for bulk purchases. If you have several years of textbooks collecting dust on your bookshelf, this might be the best site for you.
4. Valore Books
If you want to get one of the highest prices available for your college textbooks, consider selling through Valore Books. This site is known for some of the highest book buyback prices out there.
5. MoneyForBooks.com
Now if you're solely looking for free shipping and quick payment straight to your wallet, MoneyForBooks.com may be the place for you. This company sends checks directly to you using USPS First Class Mail.
6. Sell Back Books
Who wants to wait a week or more to receive a check in the mail? Sell Back Books uses Direct Deposit instead of sending checks. After selling your college textbooks, you will get payment through Direct Deposit straight into your bank account. You will also get a price quote instantly.
7. BookByte
If you sell your textbooks for more than $49, you will get free shipping from this company. BookByte can even let you rent textbooks for cheap if you need more books over the coming semester.
Need Easy Extra Cash?
Pinecone Research, a leading name in online survey panel honesty, absolutely guarantees $3 cash for every survey you complete!
Take advantage of their time limited New Membership drive and register NOW. Join today: 100% free!


8. BooksIntoCash
BooksIntoCash is a well-rated company with a good reputation that has a long history of fast payment and free shipping. The company takes a minimum of $50 for textbook orders.
The company takes textbooks from students as well as faculty, college professors and bookstores.
9. KnetBooks.com
KnetBooks.com is another website that buys back your textbooks and rents out books to students and others.
You can search for the ISBN number when selling your book and receive a price quote. Then you can quickly and easily ship the books to the seller for free. You can get paid really fast through Direct Deposit.
10. BIGWORDS
This particular website provides you with a price comparison tool. This means that you can compare the buyers that are available and find the one offering the highest price. You could get back as much as 75 percent of the cost of the textbook.
This is a surefire way to get more money in your pocket!
11. Blue Rectangle
In much the same way as the other sites, the Blue Rectangle uses ISBNs to search for your textbook, provides the highest prices available, and ensures free shipping for your textbook buyback.
12. CKYBooks
If you want to make sure you get paid for your textbook in one or two days tops, then CKYBooks is the website for you!
Sometimes we're all strapped for cash and need to pay that electric bill or pay our rent. CKYBooks will get you the cash you need quickly and easily.
13. BetterWorldBooks
If you're not looking to sell your college textbooks but just need someone to take them off your hands, you can donate them to BetterWorldBooks. This company can both buy back your books or you can donate.
Where to Sell Used Textbooks
14. Textbook Buyer
Are you searching for a place that sells specifically textbooks? Then you can't go wrong with Textbook Buyer!
If you have high school or college textbooks to sell, you'll be happy to learn that Textbook Buyer will take your materials as well as manuals and other teaching publications.
15. TextbookX.com
Do you want to obtain as much money as possible for your college textbooks? Then the website TextbookX.com may be right for you. When compared to standard bookstores, this website will pay about twice as much for the textbooks you're selling.
You can search for books on the site using the author name, ISBN, and title. And if you need to buy a textbook for the next semester, they offer free shipping on orders over $49.
16. CollegeSmarts
CollegeSmarts is a website where you can both sell your college textbooks as well as trade any textbooks with other students for future semesters. If you want to keep your future textbook costs low, trading may be a great route for you.
You can get a CollegeSmarts app on your mobile phone or tablet. Along with being able to sell or trade textbooks, the app provides a community of students that offer their best advice on college life.
17. eCampus
Getting the best price for your college textbooks is important. Why lose out on money when you don't have to?
On the eCampus website, the buyback price for books is excellent. You can also rent books here for future semesters and the company offers free UPS shipping on any textbooks you sell.
18. eTextShop.com
Do you need to pay a bill, rent, or other living expenses? If you're in need of money on a tight deadline, eTextShop.com has a system in place to get you paid quickly and efficiently.
19. TextBook Rush
If you want to compare price quotes among different websites, you'll be glad to learn that TextBookRush.com ensures that their price quotes remain valid for a minimum of 20 days.
20. BookFinder: This Platform Aims for Simplicity
Are you looking for an easy, no-hassle way to sell your college textbooks?
BookFinder might be your ideal choice. Like other similar websites, it uses ISBN to identify your books and provide a quote.
What sets BookFinder apart is its straightforward and user-friendly interface.
It compares the prices from various buyback vendors and provides you with the best possible price for your textbooks.
If you agree with the price offered, the process of selling your textbooks is a breeze.
Their website is easy to navigate, making your book selling experience quick and stress-free.
Are you trying to unload a whole stack of textbooks?
TextbookRecycling makes selling in bulk easy.
Earn Everything… nearly!
Join Opinion Outpost, one of the few faithful and honest survey panels and earn cash and gift cards for your opinion. Stack your points and redeem them: Simple! No hidden fees and completely free!


This website specializes in buying back used textbooks in large quantities, making it an excellent choice if you have a lot of books to sell.
They offer competitive prices and, like many other textbook buyback sites, they provide free shipping for your books.
Once your textbooks have been received and checked, they offer a fast payment, which can be made either by check or PayPal.
So, if you're trying to declutter your study space, TextbookRecycling can help you out.
Popular Places to Get Money for Textbooks
22. Amazon
Amazon is a place where you can find practically anything so this may not be the individualized market you need to sell college textbooks. However, it still works for book sellers.
If you're looking to sell books or any other products online through Amazon, check out this guide for promoting your materials online through blogs and social media.
23. Barnes and Noble
Did you take a business class in college? If you have a used business textbook to sell, then Barnes and Noble is the perfect place for you. You can quickly enter in the ISBN number of your textbook and get a quote immediately.
24. eBay
If you want to sell your textbooks on eBay, you will have more control. You won't need quotes from different buyers. You can set the prices yourself.
However, you will need to attract buyers to your eBay page.
Did you know you could actually make a living wage by selling products on eBay? Check out this guide to learn how you can make a living selling textbooks and other items on eBay.
25. Half.com
Half.com is an affiliate of eBay and is operated by the parent company. You likely have plenty of textbooks sitting around and collecting dust. Half.com is an excellent website for selling and getting rid of those unnecessary books.
26. Facebook Marketplace
Social media platforms are a perfect place to find other college students especially freshmen entering school. The Facebook Marketplace is filled with students who are looking to buy used textbooks for college.
You should be able to find a good price for that old textbook of yours through this marketplace.
27. Craigslist
Craigslist is a great place to sell anything you have in your home including your college textbooks or even miscellaneous electronics. If you want to get these items off your hands quickly and you're not concerned about how much you make, Craigslist is the place for you.
28. eBay Classifieds
Do you have both textbooks and other school supplies such as calculators or rulers that you want to sell? Then eBay Classifieds may be the right marketplace for you.
The Kijiji classifieds section, in particular, allows people to find products and services in their local area. So your buyer can take a look at your college textbooks and buy these items in person.
A Few Last Options Where You Can Sell Textbooks
29. Chegg Books
If you go with Chegg Books, you'll be able to get price quotes immediately and ship your books for free. Although, you should be aware that you may not receive payment for up to three weeks. Once the company receives your books, you'll get paid.
30. Uloop
On Uloop you can sell those older textbooks for a fair price. Once you package and drop off your books at UPS, you'll be on your way to getting paid. If you're looking to get college textbooks for an upcoming class, Uloop allows you to rent textbooks for cheap.
Conclusion: Now You're Ready to Make Cash and Sell Textbooks
Hopefully, these 28 choices have given you a great idea of where to sell your college textbooks and put some money in your pocket!
You can't let those old books continue collecting dust, so be sure to pick a marketplace where you can sell them.
Have you already sold some textbooks? Where did you decide to sell your college textbooks? How did it go?
Let us know in the comments below!
Related Posts:
Earn Everything… nearly!
Join Ipsos iSay, one of the few Faithful and Honest survey panels and earn prizes, gift cards and donations. Stack your points and redeem them: Simple! No hidden fees and completely free!