Best Way to Sell Gift Cards for Cash Instantly at a Gift Card Kiosk!
Updated on: by Amy Kennedy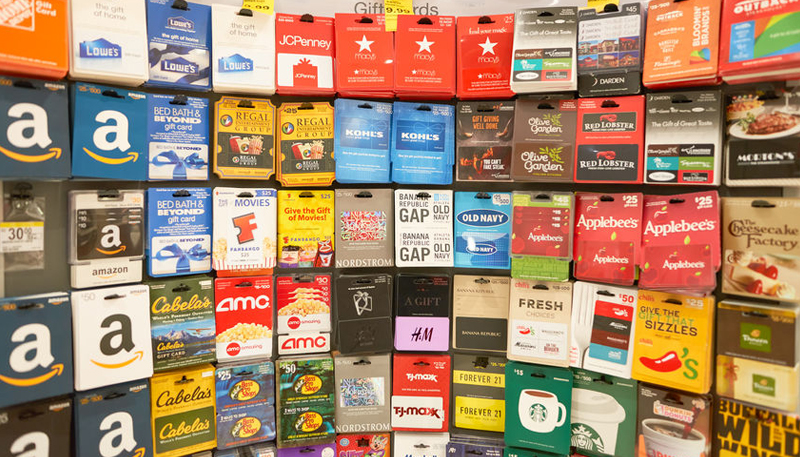 We've all been there: gotten a gift card for your birthday or a holiday and it's not for a store or restaurant you ever visit.
Need Easy Extra $350+/Month For Free?
Those gift cards usually sit around for weeks, months, or even years.
Sometimes we even forget about them!
That's cash right in the trash that you could have used for something else.
I'm sure you're wondering, "What are you talking about? You can't use a gift card for anything other than the place it's for!"
That's true.
But there's another way to go about getting money from your gift cards you don't want.
Or, maybe you just need some fast cash more than you need the gift card!
Either way, I can help you.
I'm going to talk about the best way to cash in your unused gift cards (or even ones that you've used but still have a balance!), so there's no more cash going to waste.
Sell Your Gift Cards with Cardpool's Gift Card Kiosks
I'm sure you've heard of Cardpool, a website that helps you sell your unwanted gift cards for cash for up to 85% back!
Well, Cardpool also offers a way for you to do this locally, so there's less waiting around for your money.
It's called Cardpool Gift Card Kiosk, and you may have heard it called CoinStar Exchange.
Cardpool bought out the CoinStar Exchange kiosks, but the process works the same way.
How to Exchange
You know those CoinStar machines in various stores where you can turn your coins in for bills?
The company used to also offer a gift card exchange in some of its machines where you could turn your unwanted gift cards into cash.
Need Easy Extra Cash?
Pinecone Research, a leading name in online survey panel honesty, absolutely guarantees $3 cash for every survey you complete!
Take advantage of their time limited New Membership drive and register NOW. Join today: 100% free!


Now, the machines have been taken over by Cardpool.
It makes sense because Cardpool is an industry leader for buying and selling gift cards!
Cardpool kiosks are solely for the purpose of making money off gift cards you don't want or need.
The process is rather straightforward too:
Check your card's balance
Enter the gift card information and identification information
View the offer for your card on the display
Accept or reject the offer
If you accept, you'll need to insert your card into the slot and you'll get the cash; if you reject, the kiosk will cancel the transaction.
What to Bring with You
You don't need to much with you to exchange a gift card for money with a Cardpool kiosk.
However, it will require some identifying information to ensure that you're not scamming anyone.
Generally, the kiosk will require that you have a photo ID, like a college ID or driver's license, and a credit or debit card.
You can get a full list of accepted identification here.
Your credit or debit card will not get charged (unless it's a fraudulent card), but you will have to insert it into the machine to verify that you are who you say you are.
Cardpool kiosks work closely with law enforcement to ensure that no fraudulent activity happens, which can make you feel a bit safer using the machine.
Using the Kiosk
Using the kiosk is super simple because it will walk you right through the process.
Before you use the kiosk, though, you'll want to make sure that your gift card has a balance of at least $15 on it.
That's the minimum amount that Cardpool requires a gift card to have before it'll buy it from you.
Once you make sure you have the amount you need, you can enter the gift card information on the screen.
At this point, you'll also need to enter your identifying information.
The Cardpool Kiosk will run your gift card and, after a few seconds, will give you an offer that's up to 85% of your gift card's value.
The offer you receive mostly depends on what kind of gift card you have and how in-demand it is.
Some gift cards, like Best Buy, for example, might have a better offer than a restaurant gift card because more people want it.
Once you see your offer, you can choose to accept or decline it by following the instructions on the screen.
If you decline the offer, the kiosk will cancel the transaction, and you're free to go.
If you accept, you'll need to insert your card into the slot.
Once the kiosk receives it, you'll get paid!
Some kiosks will pay you with cash from the machine.
Others will give you a receipt with your offer's value listed on it.
You can take that receipt to a store clerk to get your cash.
Some kiosks will also offer you a VISA gift card in exchange for your gift card, rather than cash.
What Kind of Gift Cards Can I Exchange?
Cardpool's kiosks accept gift cards from over 150 retailers.
However, the ones that your local kiosk accepts may vary because of the businesses available in your area.
You can view the full list of accepted gift cards here.
Earn Everything… nearly!
Join Opinion Outpost, one of the few faithful and honest survey panels and earn cash and gift cards for your opinion. Stack your points and redeem them: Simple! No hidden fees and completely free!


But the only way to guarantee that your local kiosk will take your card is to visit it and make sure.
Or, use the kiosk locator to see a list of gift cards your nearby kiosks accept!
I also want to note that it's not just physical gift cards that Cardpool kiosks will accept.
You can also sell your electronic gift cards!
You'll do this the same way as you would physical gift cards, by entering the gift card number, PIN, and balance into the kiosk.
You can exchange gift cards that have balances between $15 and $1,000 through a kiosk.
How Many Gift Cards Can I Exchange at a Time?
The rules on how many gift cards you can exchange at one time at a Cardpool kiosk aren't very clear.
However, the website does state that:
"In order to protect against fraud, we have to limit your number of visits to Cardpool Kiosks, as well as the number of gift cards you can sell. If you have more gift cards to sell and you've hit your limit, please wait 24 hours before you visit a Cardpool kiosk again."
I assume from this information that each kiosk may have its own rules to help prevent fraud.
Once you go over the limit, you'll likely get a message on the kiosk screen telling you so.
But, it's safe to say that you probably can't use the kiosk more than a few times a day because it may appear that you're being fraudulent.
There's another part of the FAQ that also states that if you have more than $5,000 in gift cards to exchange, then you should contact the Bulk Sales Department to handle it.
How Much Can I Get for My Gift Card?
Although the Cardpool website pays up to 92% percent of a gift card's value when you sell it that way, the kiosk only allows for up to 85%.
This is likely because Cardpool has to employ extra safety measures to prevent fraud through its kiosks.
Still, for a gift card that has $50 left on it, you can potentially earn $42.50, which isn't bad!
It seems like most gift card payments fall somewhere between the 60% and 80% range, which is still better than leaving your gift card sitting on the desk doing nothing.
Where Can I Find a Gift Card Kiosk Near Me?
If you're looking for gift card kiosks near you, there are various options you can explore:
1. Cardpool Kiosk Locator
If you want to find a Cardpool kiosk near you, you can use the kiosk locator on the Cardpool site. Enter your city or zip code, and the locator will pull up all the kiosks near you.
You can also use the map to find kiosks in other areas if you plan to need one while you're traveling.
When you click on the Details link of the kiosk you plan to visit, you'll see a list of the accepted gift cards at that kiosk.
That way, you won't have to waste a trip there if the kiosk doesn't take your gift card!
2. Gift Card Granny Kiosk Locator
Another option is Gift Card Granny's kiosk locator.
Visit their website and use the kiosk locator feature to find the nearest kiosks.
The locator will show you the accepted gift cards at each kiosk, helping you choose the most suitable option.
3. Shopping Malls
Many shopping malls have gift card kiosks located within them.
These kiosks typically offer a variety of gift cards from different retailers.
Check the website of your local shopping mall or explore the common areas to find the gift card kiosks conveniently located.
4. Grocery Stores and Supermarkets
Certain grocery stores and supermarkets have gift card kiosks or dedicated sections where you can purchase gift cards.
Popular chains like CVS, Walgreens, Rite Aid, and 7-Eleven often have such options.
Check with your local stores to see if they offer gift card kiosks or displays.
5. Drugstores and Convenience Stores
Some drugstores and convenience stores may have gift card displays or kiosks near the checkout counters.
Examples include CVS, Walgreens, Rite Aid, and 7-Eleven. Check with your local stores to see if they offer gift card kiosks or displays.
6. Online Gift Card Marketplaces
If you can't find a physical kiosk near you or prefer a digital option, you can explore online gift card marketplaces.
Websites like Raise, CardCash, and GiftCardMall allow you to buy and sell gift cards electronically.
You can purchase e-gift cards or have physical gift cards delivered to your address.
What If There Are No Kiosks Near Me?
Although Cardpool is working on getting more kiosk locations throughout the United States, you may not live close enough to one right now to warrant a drive over there.
In that case, you have two other options:
Sell the card on Cardpool.com
Find a GiftCardBin partner near you
Selling on Cardpool may take a little more time, but you may also get a little more money from your cards.
To start selling, just visit the site and enter the gift card retailer's name.
Then, enter the balance, choose from an Amazon gift card or a mailed check, and receive your offer.
You'll earn more – up to 6% – by choosing an Amazon gift card, and you'll get your money faster.
Alternatively, you can check out GiftCardBin, which also has kiosks that work similarly to Cardpool's.
GiftCardBin doesn't have as many locations as Cardpool, but you may find that you have one closer to you than a Cardpool kiosk!
You can visit the kiosk locator to find out.
Read Also: 
14 Ways to Sell or Trade Your Amazon Gift Cards for Cash (Plus Ways to Trade for Other Stuff!)
15 Ways to Get Free Gift Cards Without Surveys & Offers
21 Best Apps That Give You Free Gift Cards
Conclusion: Sell Gift Cards for Cash Instantly
No more excuses for all those unused gift cards that are sitting around your house!
Get them into a Cardpool kiosk today and get some cash from them fast and easily.
Or, you can always sell them online with Cardpool if you don't have any kiosks nearby.
Have you used a Cardpool kiosk (or one of the former CoinStar Exchange kiosks)?
Let us know about your experience in a comment below!
Related Posts:
Earn Everything… nearly!
Join Ipsos iSay, one of the few Faithful and Honest survey panels and earn prizes, gift cards and donations. Stack your points and redeem them: Simple! No hidden fees and completely free!