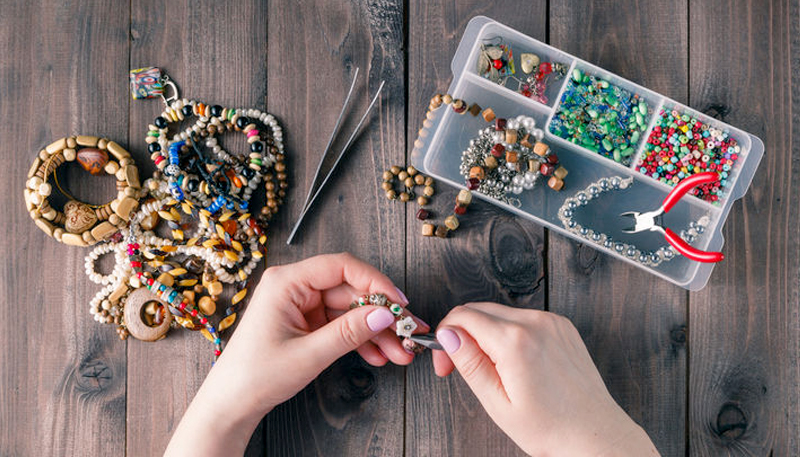 According to a recent CNN article, more than 44 million Americans have a side hustle.
Need Easy Extra $350+/Month For Free?
If you're one of the crafty few who make and sell handmade jewelry, then this article is for you.
We have put together a list of online jewelry stores, including places to sell jewelry online and how to make money selling handmade jewelry, so that your side hustle turns into a legit money maker.
Whether you are a tech-savvy selling superstar, or just looking to get your feet wet, this list will help turn those crafts into cash.
This list is full of the best websites to sell handmade jewelry; but if you're not a jewelry craftsman, don't fret!
Check out our other list of The Best Places to Sell Handmade Crafts Online and sell your other handmade goods.
The Best Websites to Sell Handmade Jewelry
Etsy is the best place to sell handmade jewelry online.
They are the go-to source for most handmade items, so you'll find a loyal customer base just waiting for your handmade goods.
Amazon recently waived their monthly fee, so sellers now pay only a 15% referral fee.
That's a great deal in exchange for having your work featured on one of the most-visited websites.
Aftcra features only work handmade in the United States, which means that you won't be competing with the mass-produced goods on other websites. Not only that, but you can import your listings directly from Etsy!
Not only that, but you can import your listings directly from Etsy!
Artfire allows you to choose from three different membership levels, so you are never paying more than you should be for listing your items.
Big Cartel's sleek marketplace design is totally enticing for customers.
Their easy to use interface and a range of membership levels allow you to completely customize your listings, making selling a snap!
It's no surprise that EBay is on this list.
This is a great way to get your start selling, as the bid prices can give you an estimate of what your customers think your best products are (and what they should cost).
If you're looking for somewhere that is completely fee-free, then ShopHandMade is for you.
When you sell on their site, you get to keep 100% of the money you make selling on their site!
Storenvy is a combination marketplace and social media platform, where customers help promote your items by "watching" your store.
Need Easy Extra Cash?

Join Opinion World #1 paid survey site. Take paid surveys anytime and anywhere via PC or Mobile App and earn PayPal credit, gift cards and more! No hidden fees and completely free!


You exposure increases with each watcher and upvote your store and items receive.
Shopify is a perfect option if you want your own space to sell, rather than being listed alongside a dozen other shops.
Easy to use templates and pre-made designs make creating your website a snap.
If you're fairly tech savvy and jewelry-making is more than just a hobby, Squarespace is the way to go for ultra-professional looking websites with a few simple clicks.
Have a super-specific niche, like steampunk jewelry or goth chokers?
Well, Rebels Market has a space for you!
Instead of waiting for your ideal customer to find you, why don't you set up shop where they already hang out?
Folksy is a UK Marketplace for UK sellers, so if the other suggestions on this list aren't cutting it, check this one out.
If you're looking to break into your local market, then the first place to start is Scott's Marketplace.
Designed for buying and selling locally, you'll find a strong customer base before you even attend a craft fair!
Bonanza allows you to import your items from platforms like Amazon, Etsy, and Shopify without charging you any fees.
15. Social Media
Believe it or not, there are thousands of artists selling their handmade goods on social media.
Whether you sell through Facebook Marketplace or on Instagram, you are bound to find the perfect audience with the help of some key hashtags.
The Best Place to Sell Jewelry Online
The truth is, the best place to sell handmade jewelry online can vary from maker to maker.
Do a little research on each of sites listed above, and see where you best fit in.
What does that mean?
Look for the place where your customers are already shopping, and start selling.
Of course, not all of us are internet gurus.
That's why we have five more places to sell handmade jewelry that are out in the real world.
Selling IRL
Craft Fairs
Two words: craft fair.
Check in with your local chamber of commerce to see when there are craft fairs scheduled for your area.
Craft fairs are a great way for people to interact with your jewelry, see how it sparkles in the sunlight, and impulse shop!
Most craft fair attendees are there to spend money, so you're more likely to make a sale.
Local Small Businesses
Small Business Saturday falls on the first Saturday following Thanksgiving in the US.
Take advantage of this special shopping day and team up with local small business owners to get your items featured in their store!
If they find that your items sell well, you can always negotiate a long-term rental situation, in exchange for a small percentage.
Farmer's Markets
Farmer's Markets are so much more than produce and flowers these days.
Rent a space at your local farmers market, or even split a space with another local artist!
Pop Up Shop
Check in with local businesses like that cool coffee shops on the corner, or even your local library, to see if you can stage a one-day pop up shop for your handmade goods.
Then advertise the heck out of it on social media.
A big turnout means sales for you and the local business.
Win-win!
Open Your Own Space!
If you're super committed to selling your handmade jewelry, perhaps it's time to take the plunge!
Whether you decide to rent a small space at an antique store or handmade marketplace, or find your very own brick and mortar store, there are a ton of options out there.
If you've gotten a taste for making money off your jewelry making hobby, you should see our list of 48 Hobbies That Make Money Online and Offline.
Perhaps you'll find even more money-making skills to your repertoire.
How to Make Money Selling Handmade Jewelry
Unfortunately, you're not guaranteed to become a world-famous jewelry maker overnight, but we do have some tips to make you some money.
First, price things appropriately.
It might seem like a good idea to sell your items at a low price to entice more buyers, but doing so only devalues your work, time, and effort.
Second, high-quality photos are a must for online sellers.
Either take a product photography class, or hire a professional.
The best images are taking in bright light with a white or neutral background.
Finally, keep up with the trends!
Know which pieces are hot sellers, and which are timeless statements.
There you have it, jewelry makers!
With 20 different options for selling handmade jewelry, you're sure to find the perfect spot to make some money.
Related Posts:
Want more money?

Join EarningStation, he highest paying site out there, where users get paid to Take Surveys, Watch Videos, Play Games, and Shop Online. No hidden fees and completely free!