The 30 Best Websites to Sell Handmade Jewelry, Plus 5 Bonus Tips!
Updated on: by Amy Kennedy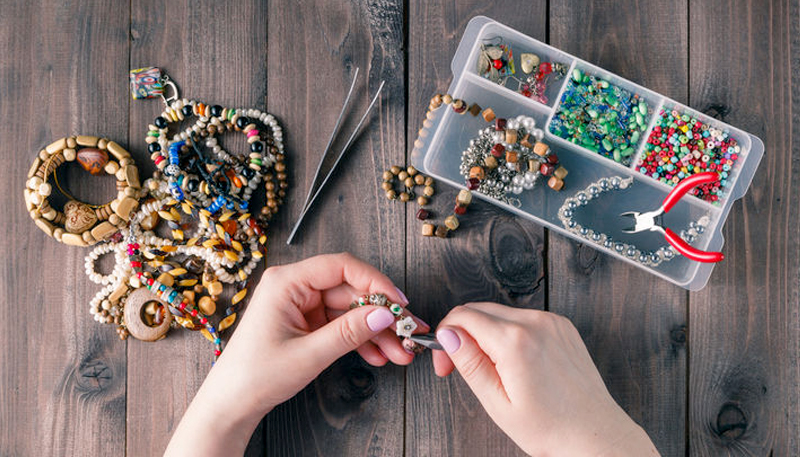 According to a recent CNN article, more than 44 million Americans have a side hustle.
Need Easy Extra $350+/Month For Free?
If you're one of the crafty few who make and sell handmade jewelry, then this article is for you.
We have put together a list of online jewelry stores, including places to sell jewelry online and how to make money selling handmade jewelry, so that your side hustle turns into a legit money maker.
Whether you are a tech-savvy selling superstar, or just looking to get your feet wet, this list will help turn those crafts into cash.
This list is full of the best websites to sell handmade jewelry; but if you're not a jewelry craftsman, don't fret!
Check out our other list of The Best Places to Sell Handmade Crafts Online and sell your other handmade goods.
What Is The Best Place to Sell Jewelry Online?
Etsy is the best place to sell handmade jewelry online.
If you're looking for a place to open up an online shop quickly and easily to sell to your customers, then Etsy is it!
The site is the go-to source for most handmade items, so you'll find a loyal customer base just waiting for your handmade goods.
And jewelry sells really well here.
You can browse through the listings on the site to see what kind of jewelry people are selling and how to make your listings stand out.
As you can probably see, going into detail about your products and what customers can expect from you and your jewelry is going to make your descriptions catch eyes.
Plus, having gorgeous photos of your jewelry is going to make people want to look at them!
Etsy makes it easy to gain customers that don't even know about you yet, too.
All people have to do is search for jewelry and your listings could come up if you target keywords properly.
Etsy does have some fees associated with selling, but they're minimal and can come right out of your earnings if you're selling jewelry.
Need Easy Extra Cash?
Pinecone Research, a leading name in online survey panel honesty, absolutely guarantees $3 cash for every survey you complete!
Take advantage of their time limited New Membership drive and register NOW. Join today: 100% free!


One of the most important things to remember when you're selling on Etsy or any similar site is the shipping costs.
It usually doesn't cost much to ship jewelry, but if you intend to package your pieces in jewelry boxes or another special way, then you'll probably pay more in shipping.
You can charge your customers for shipping, but you should consider investing in a package scale and plugging the information into a shipping calculator to make sure you're charging properly.
You can even calculate and print shipping labels directly from your Etsy account.
Other Best Websites to Sell Handmade Jewelry
Etsy doesn't have to be the only place you sell your jewelry – or even where you sell at all!
I wanted to list several other options that might turn out to be a better idea for you and your jewelry.
Each spot offers something a little different than others, so check them all out before deciding where to place your listings.
Aftcra features only work handmade in the United States, which means that you won't be competing with the mass-produced goods on other websites. Not only that, but you can import your listings directly from Etsy!
Not only that, but you can import your listings directly from Etsy!
Amazon recently waived their monthly fee, so sellers now pay only a 15% referral fee.
That's a great deal in exchange for having your work featured on one of the most-visited websites.
Artfire allows you to choose from three different membership levels, so you are never paying more than you should be for listing your items.
Big Cartel's sleek marketplace design is totally enticing for customers.
Their easy to use interface and a range of membership levels allow you to completely customize your listings, making selling a snap!
Bonanza allows you to import your items from platforms like Amazon, Etsy, and Shopify without charging you any fees.
6. Craigslist
Don't forget about Craigslist as a website that you can use to sell locally!
Craigslist is free to use in most areas, and people who are looking to buy some jewelry could very well end up on the site to get unique pieces.
The downside of Craigslist is that you'll need to be diligent of scammers because the site doesn't oversee listings.
So, use your best judgment. Never meet buyers alone or send anyone products without receiving payments first.
Have you ever thought about doing something a bit different with your jewelry sales – like putting your products into a subscription box?
If so, CrateJoy can help you get all set up for subscription box sales of your handmade jewelry!
You can, for example, send 2-3 pieces of jewelry to subscribers a month and maybe add in a couple of other fun accessories or a top that matches.
There are no monthly fees to set up your sales; you'll just pay transaction fees.
Once your set up, your box will be in front of more than 40,000 CrateJoy customers!
It's no surprise that EBay is on this list.
This is a great way to get your start selling, as the bid prices can give you an estimate of what your customers think your best products are (and what they should cost).
eCrater lets you start an online store for free to sell whatever it is you want to sell – including your unique jewelry pieces.
Your store comes with a ton of features to help you sell to your full potential, too, like connecting to Facebook, Google support, and shipping calculators.
10. Facebook Marketplace
Facebook Marketplace is a good place to try if you're active on Facebook.
Earn Everything… nearly!
Join Opinion Outpost, one of the few faithful and honest survey panels and earn cash and gift cards for your opinion. Stack your points and redeem them: Simple! No hidden fees and completely free!


It's free to use, and you can upload as many listings as you want.
Once you add pictures and write descriptions for your products, you can share them across Facebook, like on your profile, a business page, or in buying and selling groups you're a member of.
Folksy is a UK Marketplace for UK sellers, so if the other suggestions on this list aren't cutting it, check this one out.
GLC Mall is an online shopping mall that features crafty people like you from all over the globe.
Here, you can sell everything from clothing to handmade glass items to, of course, jewelry.
You pay a fee to keep your store running, and then you'll get messages and orders directly from buyers.
People visit Handmade Artists to support handmade crafters of all items, from painted artwork to handmade bags and accessories.
You can use this site to sell your jewelry, too.
You'll need to pay for a subscription to set up your shop, but after that, you won't encounter any fees to list or sell items.
On iCraft, you can list all your handmade jewelry and take advantage of getting customers who love crafty stuff!
Sellers get access to special selling tools and a management system that keeps track of all your orders and customers.
You'll also get automatic product promotion through iCraft!
You can run your IndieCart store for as little as $7.50 a month to sell your jewelry.
This place is all about giving independent sellers like yourself a place to showcase and sell their products online.
16. Instagram
Did you know that business owners use Instagram to sell their products?
Although you can't leave links directly in your captions of your photos, you can link to your products in other ways.
For example, you can use Linktree to add product links to your profile.
You can also get your account approved for Instagram Shopping, which will allow you to feature your products and their links right in your photos or stories.
Even if you don't do these things, you can still use Instagram to showcase all your photos and then leave a link to your Etsy shop, website, or wherever else you sell, in your profile.
Have a super-specific niche, like steampunk jewelry or goth chokers?
Well, Rebels Market has a space for you!
Instead of waiting for your ideal customer to find you, why don't you set up shop where they already hang out?
Ruby Lane is mostly geared toward vintage and antique items, but it also allows products that are considered "artisan."
This means that your jewelry can sell here if it's considered artisan, which means incredible unique and inventive.
In other words, your pieces should be ones that don't look like anything else out there.
Even better if they have a vintage vibe, like old-school jewelry that gets passed down through generations in a family.
If you're looking to break into your local market, then the first place to start is Scott's Marketplace.
Designed for buying and selling locally, you'll find a strong customer base before you even attend a craft fair!
If you're looking for somewhere that is completely fee-free, then ShopHandMade is for you.
When you sell on their site, you get to keep 100% of the money you make selling on their site!
Shopify is a perfect option if you want your own space to sell, rather than being listed alongside a dozen other shops.
Easy to use templates and pre-made designs make creating your website a snap.
If you're fairly tech savvy and jewelry-making is more than just a hobby, Squarespace is the way to go for ultra-professional looking websites with a few simple clicks.
Storenvy is a combination marketplace and social media platform, where customers help promote your items by "watching" your store.
You exposure increases with each watcher and upvote your store and items receive.
Tophatter is an online marketplace with quick auctions.
Think of it like a lightning-round of shopping on eBay.
Each auction is quick and live, so you can end up selling your jewelry fast here.
Zibbet is a bit different than other sites I've listed here.
That's because this site helps you sell on a variety of platforms rather than just one.
When you list your jewelry on Zibbet, you can sync them together with multiple selling platforms to track your inventory more easily.
It's perfect if you sell in multiple spaces.
Think of it more like a tool to help your business rather than a selling website.
Poshmark started as a platform for people to buy and sell used brand-name clothing, but it has since evolved.
Now, it also serves as a marketplace for a range of handmade items, including jewelry.
It has built a robust community of creative artisans and interested buyers, providing a unique marketplace that's not solely reliant on traditional retail items.
Sellers can easily list their products and interact with potential buyers, making it a dynamic platform for selling handmade jewelry.
Depop is a social shopping app that has become a popular platform for the sale of unique and handmade fashion items, including jewelry.
It is known for its creative and independent sellers, who often use the platform to sell their unique, custom, or vintage items.
The app has a youthful, trendy vibe, which may appeal to a younger demographic. If your jewelry aligns with this demographic and style, Depop could be a great platform for you.
Mercari is a mobile selling app that simplifies the process of selling and shipping your handmade jewelry directly from your phone.
It's a user-friendly platform that's designed to make buying and selling items as easy as possible.
With Mercari, you can list your items in just a few minutes, and the app handles most of the transactional details, such as facilitating payments.
This could be an attractive option if you prefer to manage your sales on the go.
29. Social Media
Believe it or not, there are thousands of artists selling their handmade goods on social media.
I already mentioned potentially selling through Facebook or Instagram.
But there's also Snapchat, Twitter, and tons of other platforms that could become your new selling platform.
You can market directly to your ideal audience with the help of some key hashtags.
30. Start Selling on Your Own Website
Have you thought about having your own website to sell jewelry on instead of relying on other selling websites?
If not, you should at least consider it.
Having your own website positions you as a legit business that sells jewelry.
People can learn more about you and your products from your website, browse everything you have in stock, and even place orders.
Plus, some selling websites don't give you much control over how you sell your products or even how much you sell them for.
If you want full control over what your listings look like and how you run your business, you're going to want to do everything from your website.
Until you start getting more customers and orders, you can keep working on your site and selling on other places like Etsy.
But once you start to grow, you can switch mostly over to selling on your website to really see your business flourish.
Alternative Options to Handmade Jewelry Websites: Selling In Real Life!
The truth is, the best place to sell handmade jewelry online can vary from maker to maker.
Do a little research on each of sites listed above, and see where you best fit in.
What does that mean?
Look for the place where your customers are already shopping, and start selling.
Of course, not all of us are internet gurus.
That's why we have five more places to sell handmade jewelry that are out in the real world.
Craft Fairs
Two words: craft fair.
Check in with your local chamber of commerce to see when there are craft fairs scheduled for your area.
Craft fairs are a great way for people to interact with your jewelry, see how it sparkles in the sunlight, and impulse shop!
Most craft fair attendees are there to spend money, so you're more likely to make a sale.
Local Small Businesses
Small Business Saturday falls on the first Saturday following Thanksgiving in the US.
Take advantage of this special shopping day and team up with local small business owners to get your items featured in their store!
If they find that your items sell well, you can always negotiate a long-term rental situation, in exchange for a small percentage.
Farmer's Markets
Farmer's Markets are so much more than produce and flowers these days.
Rent a space at your local farmers market, or even split a space with another local artist!
Pop Up Shop
Check in with local businesses like that cool coffee shops on the corner, or even your local library, to see if you can stage a one-day pop up shop for your handmade goods.
Then advertise the heck out of it on social media.
A big turnout means sales for you and the local business.
Win-win!
Open Your Own Space!
If you're super committed to selling your handmade jewelry, perhaps it's time to take the plunge!
Whether you decide to rent a small space at an antique store or handmade marketplace, or find your very own brick and mortar store, there are a ton of options out there.
If you've gotten a taste for making money off your jewelry making hobby, you should see our list of 48 Hobbies That Make Money Online and Offline.
Perhaps you'll find even more money-making skills to your repertoire.
Making the Most of Your Business
Want to make sure you're doing the very best that you can when selling your handmade jewelry?
Here are a few tips that the pros are already doing to help you get the most out of your sales:
Make Your Products Different
Before you even get started with making products, you'll want to figure out a niche for your jewelry.
In other words, you need a type of jewelry to specialize in so that you can develop branding to market your business.
For example, you might make elegant jewelry, boho jewelry, or costume jewelry.
Try to fit most of your pieces into that niche because your niche is what's going to bring in your ideal customers and make people choose your store over those that are more general.
The key is to be unique.
Whether you're selling on Etsy or Craigslist, you don't want to do the same thing everyone else is going.
You want your items to stand out and make people think, "Wow, I love this style!"
Consider Getting a Website and Social Media Accounts
Even if you plan to sell mostly on Etsy, eBay, or another website, you should still consider spending some money on a website of your own and setting up social media accounts for your brand.
Why?
Think about it: What would happen if Etsy shut down?
All your listings and ability to sell would be wiped away with it if that was the only place you were selling.
Plus, do selling websites really give you a way to brand yourself and market yourself as a business?
To an extent, yes – but not in the way that your own website can.
You want a hub for your business that people can go to learn more about you and what you sell.
It's a good way to showcase your products and can even become an extra path for selling.
Plus, your website allows you to draw more people in through search engine optimization with a blog, landing pages, and web content!
Do Some Advertising
Have you thought about advertising your jewelry beyond just listing it on your site or a selling site?
Advertising – even only for a small budget – can really help drive sales by getting more people to learn about your products.
Sometimes, you can even find free advertising credits for Facebook and Google, so keep your eyes peeled on these offers!
For example, some hosting companies give you free credits for Google ads when you sign up for specific hosting packages.
You can also sometimes get extra Facebook ad credits when you start a new campaign or increase your advertising budget.
So, once you get a few sales coming in, consider setting up a few ads and see what happens.
Make Your Jewelry Stand Out in Photos
Photography is everything when it comes to selling – but perhaps even more so when you're selling unique, handmade products that people can't find anywhere else.
Your photos are what people will rely on to determine if they want to buy your jewelry over someone else's since they can't see it in person when you're selling online.
Try to avoid using busy backgrounds that don't allow the jewelry to pop on its own.
Customers should be able to see the jewelry both being worn and on display without other colors or patterns distracting from the pieces.
It's easy to take and edit your photos with a modern smartphone, but as your business expands, you might want to consider having a professional take perfect, updated photos for all your products – especially if you want to advertise them on Instagram!
Work on Product Descriptions
Your product descriptions will tell the story of your jewelry and your brand.
People want to learn the reason behind your creation of each piece, how you made them, and why they should buy from you.
Product descriptions need to be clear and succinct while still adding in all the pertinent information that customers need to know before they purchase.
Be sure to explain coloring, materials, and the jewelry's purpose.
You can also add in information about shipping, packaging, returns, exchanges, etc.
Think about what you'd want to know as a customer purchasing your products and address all of those questions in each listing.
It's always a good idea to have a Frequently Asked Questions (FAQ) section available, which can also help add some SEO to your descriptions.
How to Make Money Selling Handmade Jewelry
Unfortunately, you're not guaranteed to become a world-famous jewelry maker overnight, but we do have some tips to make you some money.
First, price things appropriately.
It might seem like a good idea to sell your items at a low price to entice more buyers, but doing so only devalues your work, time, and effort.
Second, high-quality photos are a must for online sellers.
Either take a product photography class, or hire a professional.
The best images are taking in bright light with a white or neutral background.
Finally, keep up with the trends!
Know which pieces are hot sellers, and which are timeless statements.
There you have it, jewelry makers!
With 20 different options for selling handmade jewelry, you're sure to find the perfect spot to make some money.
Related Posts:
Earn Everything… nearly!
Join Ipsos iSay, one of the few Faithful and Honest survey panels and earn prizes, gift cards and donations. Stack your points and redeem them: Simple! No hidden fees and completely free!